Nutritional Rehabilitation Homes
Nutritional Rehabilitation Homes (NRHs) are special clinics designed to address pediatric malnutrition throughout Nepal.
Children who arrive at a hospital presenting with malnutrition are encouraged, after hospital discharge, to spend several weeks receiving free, holistic, individualized, intensive nutritional care at the nearest NRH. The outcomes for these children are near-miraculous.
Over the course of several weeks, children who arrive painfully thin, listless, and in distress begin to blossom, making developmental gains quickly as they put on weight and add muscle. As mothers regain their own nutritional health, they are delighted to engage with their growing children, who have gained the energy needed to be playful, curious, and mischievous.
At discharge, parents are enthusiastic about maintaining their children's progress. Best of all – the vast majority succeed.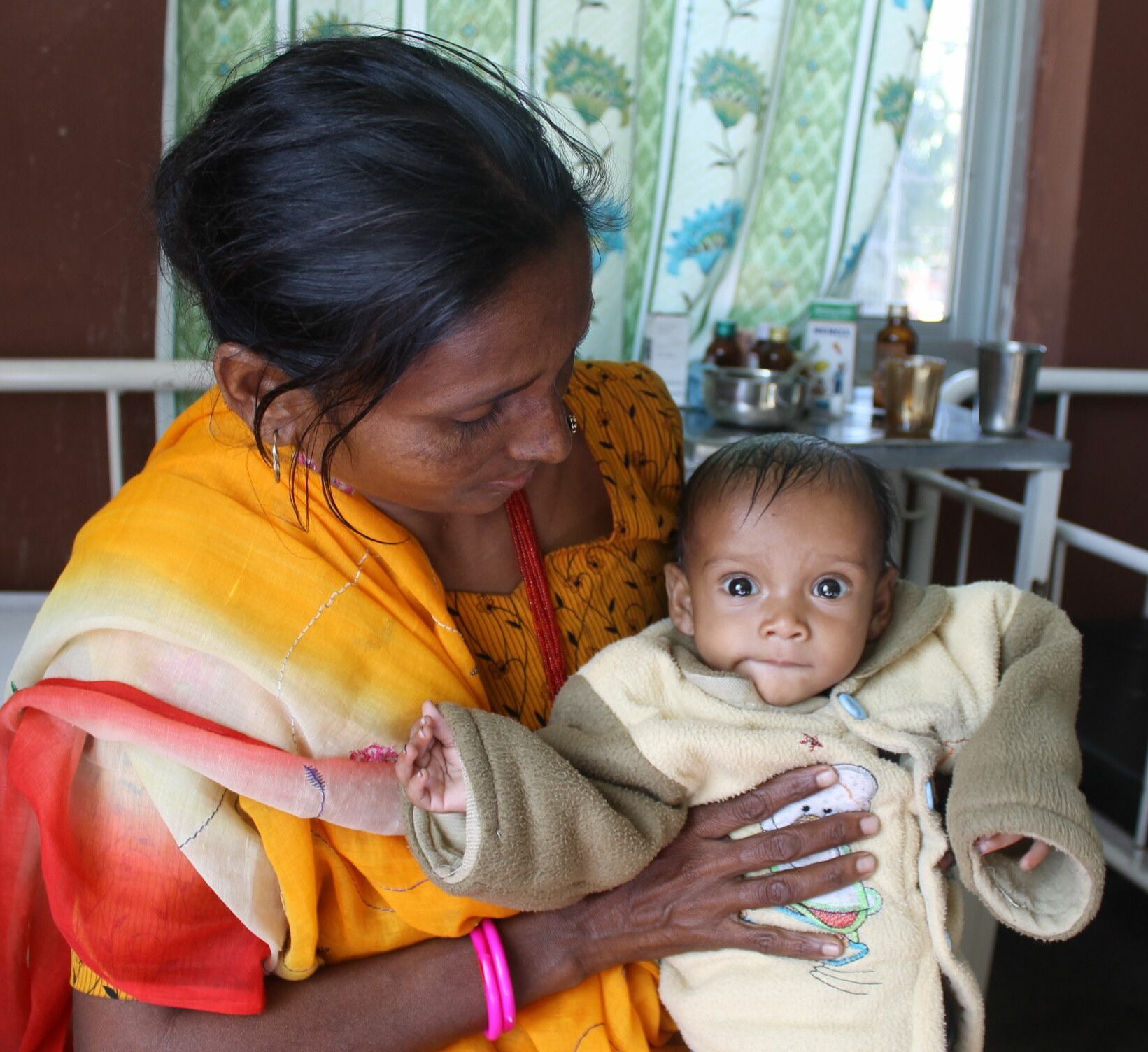 When Rupa*, 27, arrived at the NRH with 15-month-old Chandra*, she was incredibly worried about her son. Motherhood is a challenge, especially when a child is in pain and no solution seems to help. Both mother and son were experiencing malnutrition, and NRH staff members were quick to reassure Rupa. Within a week of carefully-prepared diets, both were already feeling much better - and Chandra was starting to grow, develop muscle, and interact with the world around him. Soon he'll be quickly reaching developmental milestones and catching up to his agemates! Rupa is eagerly learning food preparation tricks from the NRH cooks. It fills her with joy to know when she returns home with Chandra, she can help him grow and develop healthily for the rest of his childhood.
How We Work
Under the supervision of a nutritionist, children at the NRH are fed a nutrient-rich diet to allow their bodies to grow strong.
Meanwhile, caregivers are given lessons in hygiene, food preparation, nutritional health, and family first aid, each of which are tailored to their individual circumstances, empowering them to maintain the health of their families moving forward.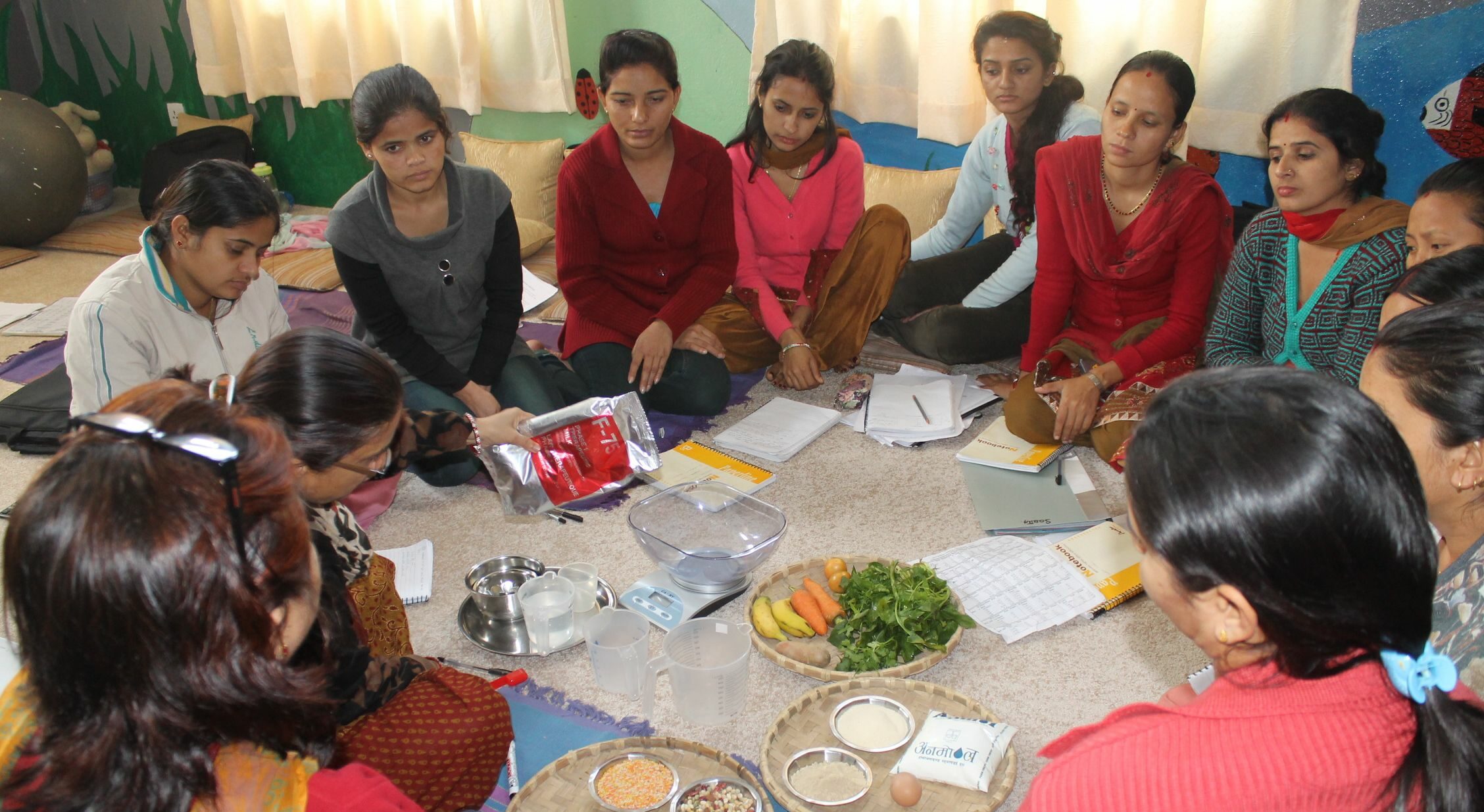 Much of the work at the NRH is hands-on, with the NRH cooks standing beside mothers and coaching them in food preparation. Here, a group of mothers listen as NYF's lead nutritionist explains some of the science behind good nutrition for children and families. During their weeks-long stay, these moms have plenty of time to ask follow-up questions and receive thoughtful, encouraging answers. They also have time to exchange tips and recipes with each other!
Since 1998, NYF's Nutrition programming has been succeeding on a national scale in partnership with the Nepali government. NYF built 17 Nutritional Rehabilitation Homes throughout the country, each supporting a government-run hospital in pediatric cases involving malnutrition. By late 2021, these facilities had treated more than 26,000 children while their caregivers (mostly mothers) learned to keep their families well-nourished with readily available local foods.
With the exception of our flagship Kathmandu Valley facility, NYF built each NRH with the promise from the Nepali government that after five years, these clinics would be funded and run entirely by Nepal's own health system. Effective July 2022, all 16 of the NRHs built for this purpose are now part of Nepal's health infrastructure. Our flagship NRH in Kathmandu Valley will always remain under NYF control.
Our NRH model has been so successful that it has become the standard of care for pediatric malnutrition throughout Nepal. Besides the NRHs built by NYF, the Nepali government has now begun building their own, with 7 additional clinics in operation by the end of 2021.
Our flagship NRH in Kathmandu Valley serves as the training hub for prospective staff members for Nutritional Rehabilitation Homes throughout the country. Health workers and medical students are also regularly offered training workshops here, and certifications earned at our Kathmandu NRH are well-respected throughout Nepal.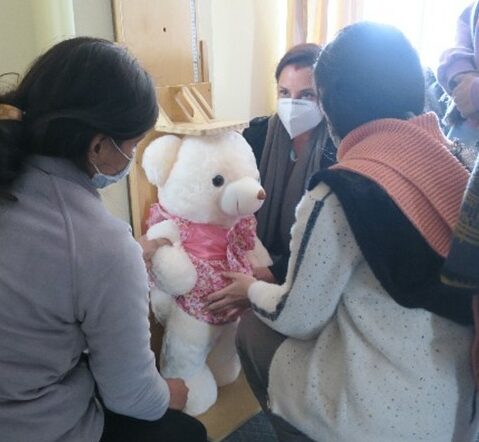 While teaching an intensive training session for professionals working in government-run NRHs throughout Nepal, NYF's Nutrition Coordinator, Sunita Rimal (center, facing camera) demonstrates the proper way to measure the height of a child. Like the teddy bear, small children sometimes struggle to stand still and stand upright long enough to get an accurate measurement - and some may be too weakened by malnutrition to do so. Workshops run at the Kathmandu Valley NRH are a core part of strengthening Nepal's capacity to treat pediatric malnutrition, as these professionals work to combat this widespread issue.
Sunny's Story
Sunny* was 22 months old when he arrived at a Kathmandu hospital in August 2019—but the little boy weighed only 16 pounds, less than a healthy 5-month-old in the United States. One of his legs was injured, he could not stand, and he was sick with pneumonia.
Sunny's mother, Anandi*, was frantic with worry. A day laborer, she had only so much rice to provide her son each day. The boy never seemed to grow. Traveling to Kathmandu from her rural village in Dhading District was an enormous financial risk—but Anandi did not know what else she could do to support her son's health.
Due to severe malnutrition, Sunny's little body was too weak to fight off infection. He spent over a week in the hospital, where Anandi learned about the services available at the nearby Nutritional Rehabilitation Home. She wasn't sure she could afford such a lengthy stay in Kathmandu, let alone special residential services. But the hospital nurses assured her that care at the NRH was free—and shared many stories about children just like Sunny whose lives were transformed after just a few weeks of holistic care.
Anandi looked at her son, who still seemed so frail lying in his hospital bed, even though the worst of his symptoms had been resolved. Could the special clinic really help as much as the nurses said? Anandi decided to risk the longer stay in Kathmandu, and when Sunny was discharged, she brought him directly to the Kathmandu NRH.
At the NRH, Sunny received a personalized diet, as well as 24-hour nursing service. The orthopedic hospital in Kathmandu consulted with NYF to help heal his injured leg. Meanwhile, the NRH staff members worked with Anandi, identifying the best ways to help her support her family's health with her limited income in mind.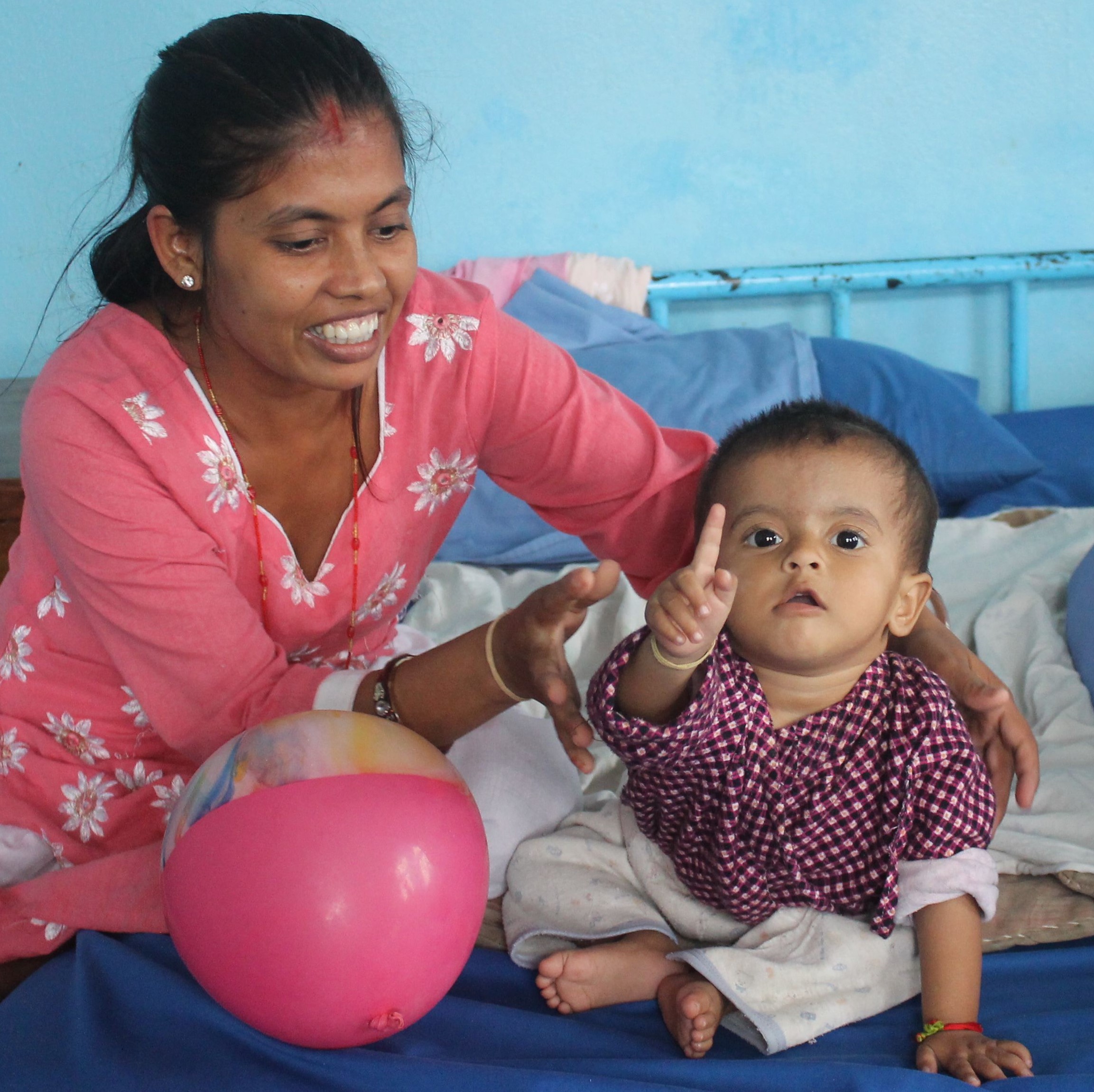 In the beginning, Sunny was shy, withdrawing from the other children staying at the NRH. But after a couple of weeks of intensive treatment, he became more alert, more active, more engaged. After only 26 days at the NRH, Sunny had gained 5 pounds – bringing him to a healthy weight for his height – and had blossomed into a smiling, happy child.
During this time, Anandi learned a great deal about nutrition, and the importance of fruits and leafy vegetables for growing children. As they left to return home to Dhading District, she told NRH staff she intended to plant green vegetables in her household garden.
Six months later, in February 2020, NYF field staff met with Anandi and Sunny in their village. The little boy was nearly unrecognizable. A grinning Anandi spoke of how quickly her son was growing out of his clothing, and of the mischief he was up to now that he'd started walking.
Sunny's neighbors could hardly believe this was the same child. That little boy had cried constantly, and he was always sick. This child was happy, healthy, and a bit taller every day. Anandi is happy to share her newfound nutritious recipes with anyone who asks.
*Names have been changed
Pediatric Malnutrition in Nepal
According to UNICEF, over half of the pediatric deaths in Nepal are linked to undernutrition, with over a third of Nepali children impacted by stunting. This is an improvement from the situation 20 years ago, but it is still a serious concern—especially when considering the ways childhood malnutrition can limit development in those who survive.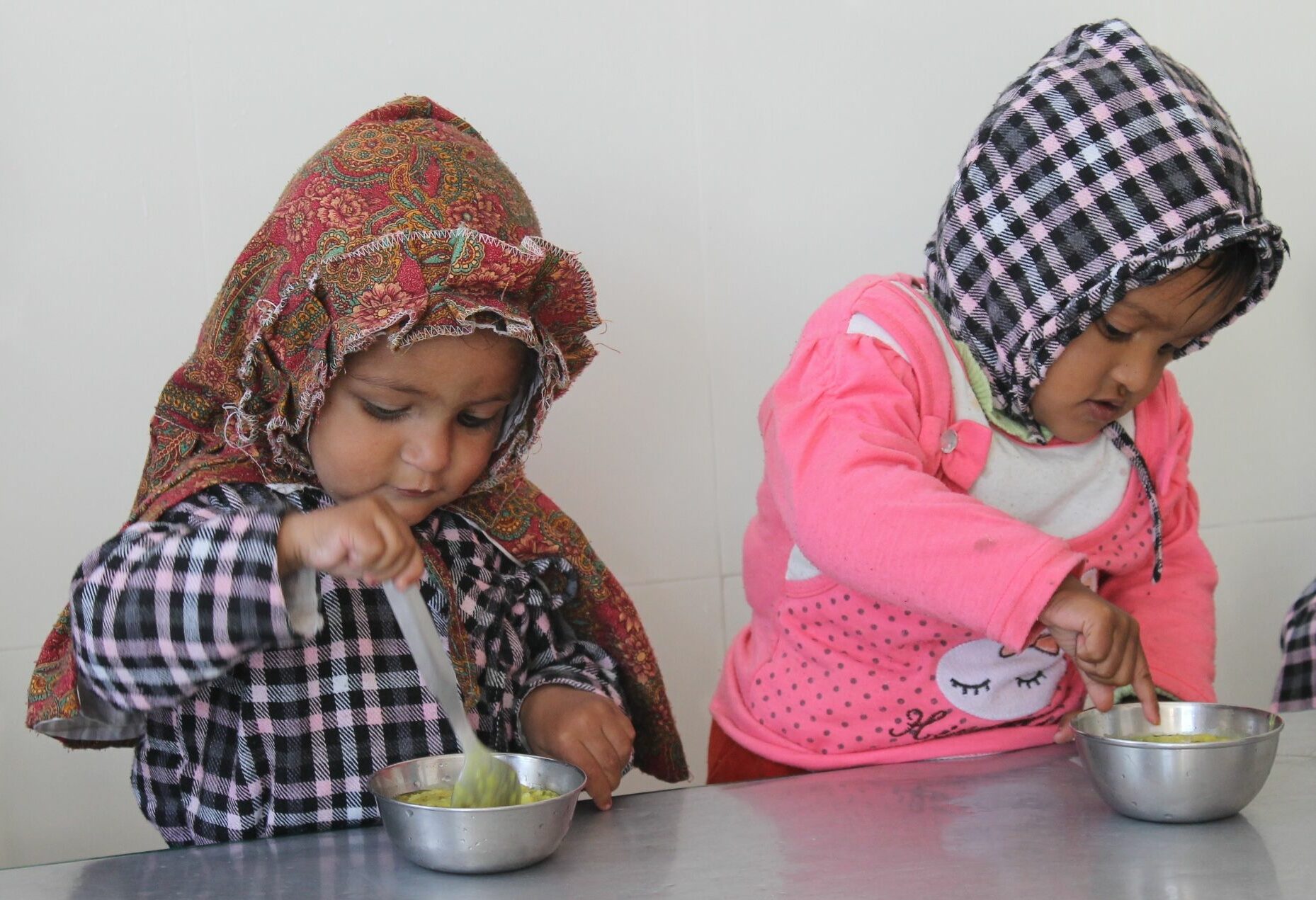 Siblings Ashok*, 2, and Nisha*, 3, enjoy their last NRH meal before heading back to their home village with their mother. Both children arrived at the NRH listless, underweight, and disinterested in the world around them. Their mother thought their behavior was strange, but she hadn't known malnutrition was to blame until a health care worker at a rural clinic told her how underweight they each were. A week after the children arrived at the NRH, they began brightening, laughing, playing with each other, and engaging other children - and their mother leapt wholeheartedly into learning what the NRH nurses were teaching in their nutrition workshops.
Physical and mental disabilities are common results of malnutrition in children, especially those under the age of 5. Better nutrition is related to stronger immune systems and physical health, improved learning, and higher productivity.
When children arrive at Nepali hospitals suffering from common symptoms like severe cough, nausea, and infection, they are often also suffering from malnutrition. Unfortunately, hospitals are not equipped to provide care beyond the medical interventions needed to resolve the illness itself. Children in this situation are often discharged when their symptoms subside, only to return soon because their bodies were unable to fight the next pathogen that came along.
NYF is dedicated to giving Nepali kids their best opportunities to live their dreams and realize their incredible potential, and for many children in Nepal, this means empowering their bodies early by fighting malnutrition in individuals, in households, and in communities. We are proud to be working alongside the Nepali government to address this critical issue.
Healing Children & Empowering Families
Immediately responding to each child's health is the primary concern at NRHs. Severely malnourished children require special monitoring and personalized care as their bodies begin to grow, replenish fat stores, develop muscle tone, and allocate critical nutrients. Health care workers and staff at the NRHs have seen hundreds of remarkable transformations over the years as toddlers put on weight, begin engaging their environments, and start to quickly hit developmental strides their bodies were too weak for only days before.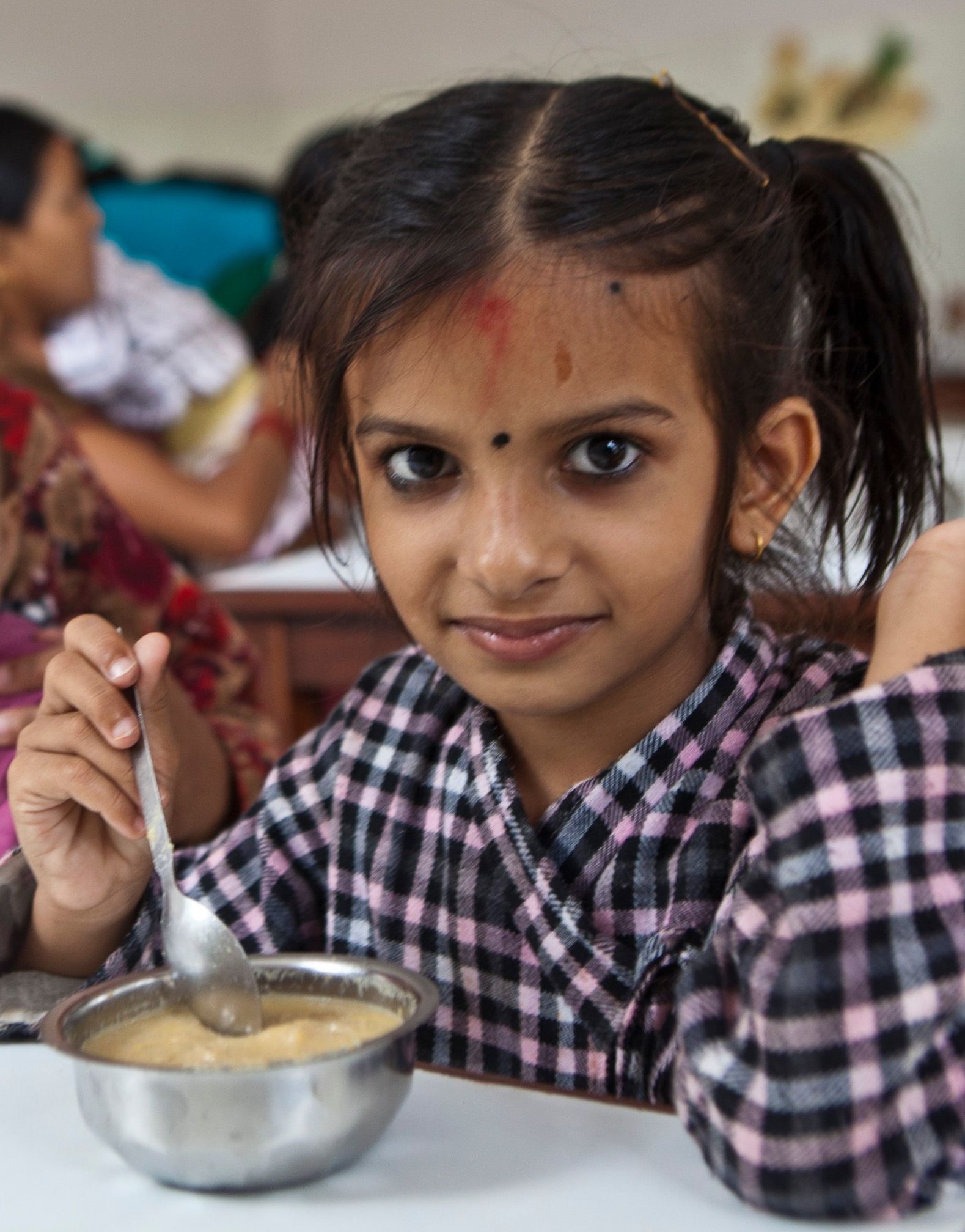 Janaki*, 9, became frightfully thin after her parents lost their jobs at the beginning of the COVID-19 pandemic. Fortunately, the Kathmandu family learned about the free services available at the NRH. Janaki's parents were delighted to learn that even with their limited space, they could grow nutritious greens to supplement their family's diet. Even better, Janaki noticed how much better her body felt after only a few days of the NRH's vegetable-rich diet. She told the nurses she would always make sure she ate enough vegetables from now on. Good nutrition is her favorite medicine!
Children old enough to understand the nutritional information recognize the tremendous difference diet makes in their overall wellness and speak with incredible maturity about their commitment to always prioritize nutrient-rich vegetables. And caregivers, often malnourished themselves, see the differences clearly in themselves and in their children—and realize how accessible these differences are to their families, with the right information.
Each caregiver receives personalized counseling based on the realities of their family situation. How much access to meat and dairy does the family have? How much land can the family use for gardening? What region is the family from? How accessible is clean, fresh water? What does the family use for cooking fuel? How picky is the child? Practical solutions are discussed in each case. Many caregivers are surprised to learn that traditional Nepali recipes are frequently more densely nutritious than they realized.
Lasting Change
When NYF follows up with children discharged from Nutritional Rehabilitation Homes, about 90% have been able to maintain (and usually improve upon) the nutritional gains made during their stay. Caregivers are committed to continuing the work of providing nutrient-rich meals to their entire family.
Neighbors and extended family members, shocked at the improvements they see in the child, learn new recipes and techniques from the caregivers themselves. Any doubts they may have about the unfamiliar techniques are quelled by the undeniable evidence of the child's incredibly good health.
Work done through the Nutritional Rehabilitation Homes is gradually improving the state of pediatric nutritional health in Nepal – not only by healing individual children but by empowering families and communities to continue the work themselves.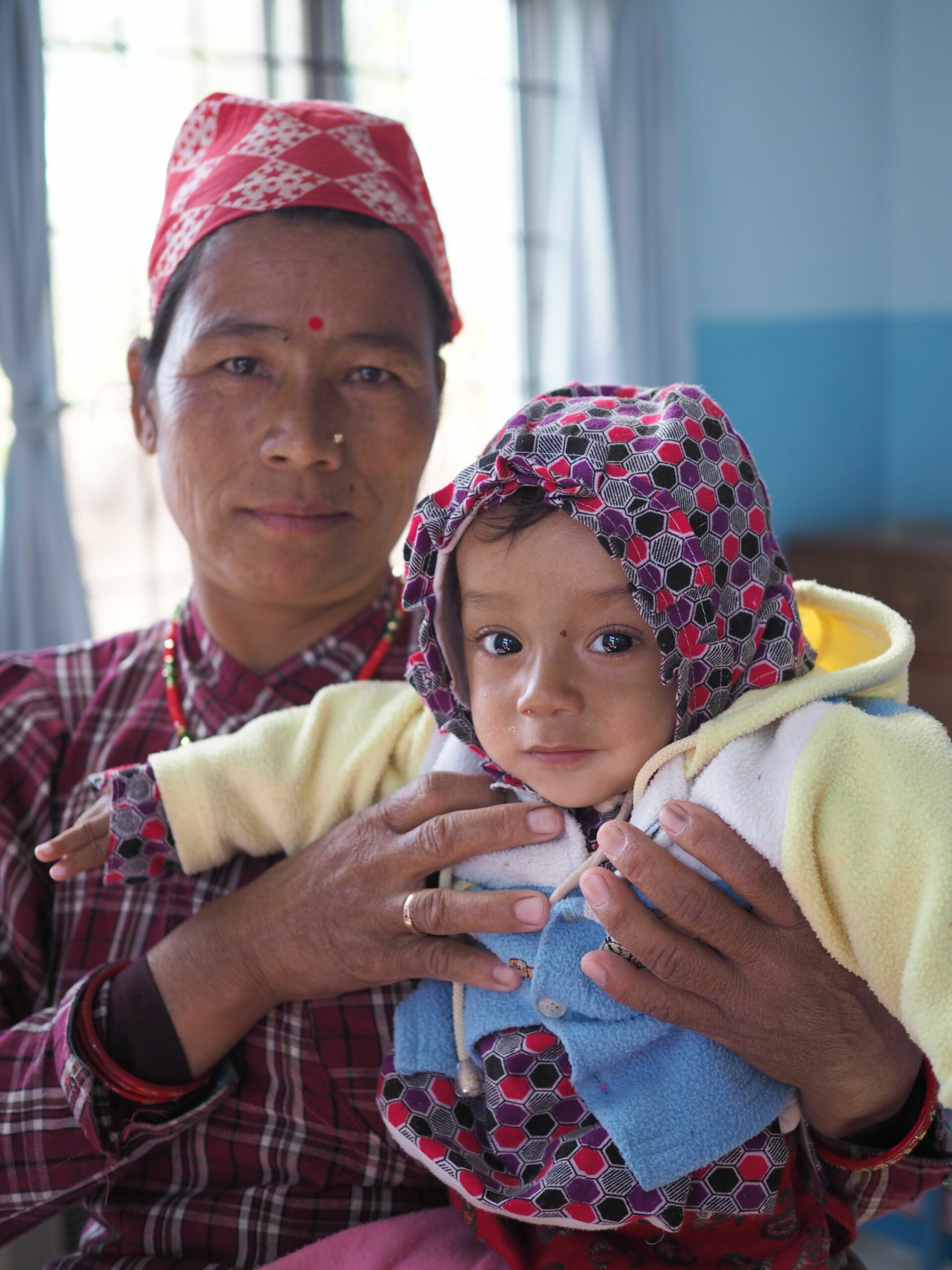 Staff members at NYF's NRHs have been witnessing miraculous transformations in children for years now - but it never becomes less joyful. Not only are they saving individuals lives - they're also empowering families to establish healthy habits that will last a lifetime. The caregivers trained at the NRH benefit tremendously as a sense of hopelessness changes to accomplishment and pride in their ability to give their children the good health every child deserves.
The Nutritional Rehabilitation Home Model
Soon after NYF developed the first NRH in Kathmandu in 1998, the WHO praised the work done here, recommending the model to the Nepali government as a program to emulate. Government officials requested a new facility near a hospital in Nepalgunj, in western Nepal. NYF, realizing that financially supporting many different NRHs would be unsustainable in the long-term, proposed a cost-sharing plan. Existing hospitals would provide NYF with the land required for the facility. Construction costs for each NRH would come through generous support from NYF funders; we would then recruit staff members, equip the facility, and provide all the operational costs and training for the initial three years of operation.
In year four, the Nepali government would provide 25% of the funding required to run the NRH. In year five, the government would contribute 50%. Finally, on the first day of year six, full responsibility for the NRH would belong to the Nepalese Health Ministry. They would commit to run each NRH exactly the way NYF had done, and would commit to retain all the staff members hired and trained by NYF. New staff members would be trained by NYF as well. But the NRH would officially become a part of the Nepali health infrastructure.
The government agreed to these conditions, and when the time came for the initial 25% of funding to arrive, the Nepalese Health Ministry made good on its promise. The process of integrating NRHs into Nepal's existing network has proceeded so well that Nepal has begun building its own NRHs from scratch—always working with NYF to ensure their staff members are specially trained to maximize impact.
NYF built 17 Nutritional Rehabilitation Homes in total, with 16 of them meant to eventually transition into the Nepali health system infrastructure. (The original NRH, the flagship facility in Kathmandu Valley, will always remain under NYF control, though it, too, functions in coordination with nearby pediatric wards.) The final NRH to transition, NRH-Dadeldura, passed to the Nepal Health Ministry in mid-2022.
The presence of a Nutritional Rehabilitation Home on hospital grounds has become a source of great pride for hospital directors throughout the country. These directors always include the NRH when conducting visitor tours of their hospitals, touting the incredible impact of these facilities on the region's overall pediatric health. During the COVID-19 pandemic, many of these facilities served temporarily as quarantined COVID patient spaces, allowing overwhelmed hospitals to slow the spread of the deadly virus, saving countless lives.