Workplace Giving
Support NYF through your work! If you are a federal employee or retiree, you can make a difference through the Combined Federal Campaign. And if you work for a company, it is likely that they have a corporate social responsibility program which could include a matching gift program.
Combined Federal Campaign
The Combined Federal Campaign, or CFC,  is the official workplace giving campaign for federal employees and retirees. It offers federal employees and retirees the opportunity to support the causes they care about by giving to their charity (or charities) of choice. Pledges come directly out of your payroll — so giving back to the causes you care about has never been easier!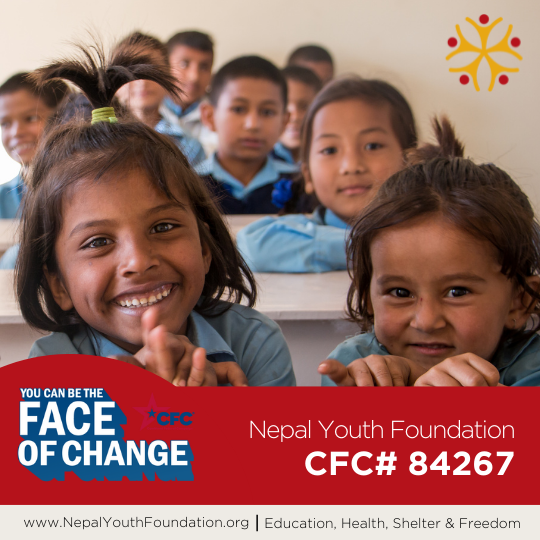 The 2022 CFC online giving system will open on September 1st.  You can find NYF and add via the online charity search!
To select Nepal Youth Foundation as your charity of choice, follow the steps below:
Visit GiveCFC.org and click DONATE
Create an account or log in to your existing account
Complete or update your profile
Search for Nepal Youth Foundation. NYF's CFC nonprofit code is: #84267
Make your pledge by selecting NYF  and allocating funds!
Let us know so we can thank you!
Employer Matching Program
The impact of your gift to NYF may be doubled or possibly tripled! Many employers sponsor matching gift programs and will match any charitable contributions made by their employees. Matching donations are usually made on a 1:1 ratio, but some companies will match at a 2:1, 3:1, or even a 4:1 ratio! Some companies will even match gifts made by retirees and/or spouses.
To find out if your company has a matching gift policy, check with your Human Resources Department. If so, request a matching gift form from your employer, and send it completed to NYF with your gift amount and signature. We will do the rest for you and notify you when we receive the match. If you have any questions, contact us through the website or call (415) 331-8585.