Nutritional Outreach Camps
Nutritional Outreach Camps take nutritional intervention into remote regions of Nepal, providing free medical check-ups, nutritional assessment, and care to children, as well as focused, practical education for caregivers, with emphasis on nutrition and hygiene.
Each 3-day camp serves approximately 1,000-2,000 children, most under the age of 6. Many families walk over two hours to attend.
Pediatric Malnutrition in Nepal
According to UNICEF, over half of the pediatric deaths in Nepal are linked to undernutrition, with over a third of Nepali children impacted by stunting. This is an improvement from the situation 20 years ago, but it is still a serious concern—especially when considering the ways childhood malnutrition can limit development in those who survive.
Better nutrition is related to stronger immune systems and physical health, improved learning, and higher productivity. NYF is dedicated to giving Nepali children their best opportunities to live their dreams and realize their incredible potential, and for many children in Nepal, this means empowering their bodies early by fighting malnutrition in individuals, in households, and in communities.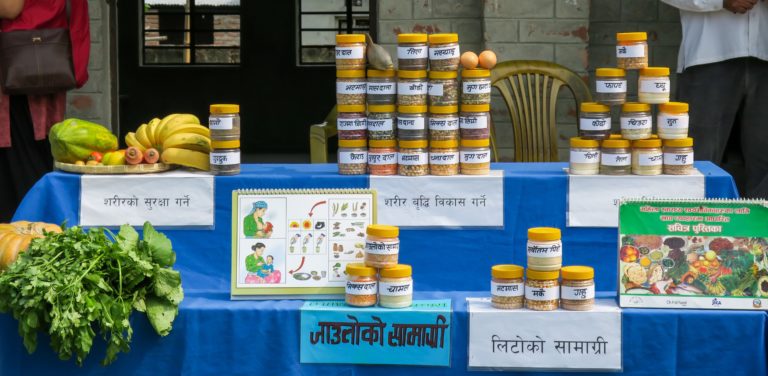 While families wait their turn for pediatric check-ups, NYF nutrition experts give group discussions on practical ways to maximize the nutritional value of everyday meals. All of the ingredients are ones attendees will recognize - though many have always considered some items to be unsuitable for humans! Caregivers are relieved to learn affordable, practical ways to help their kids thrive. Many adjustments can be made from the moment these families return home.
Between 1998 and 2021, our Nutrition Rehabilitation Homes (NRHs) have treated more than 26,000 children with life-saving nutritional care while their caregivers (mostly mothers) learned to keep their families well-nourished with readily available local foods. But many families in remote Nepal can't reach one of these facilities.
Since 2011, Nutrition Outreach Camps have brought NYF's nutrition resources to extremely remote villages in Nepal's hard-to-reach areas. We're eager for more!
Remote Nepal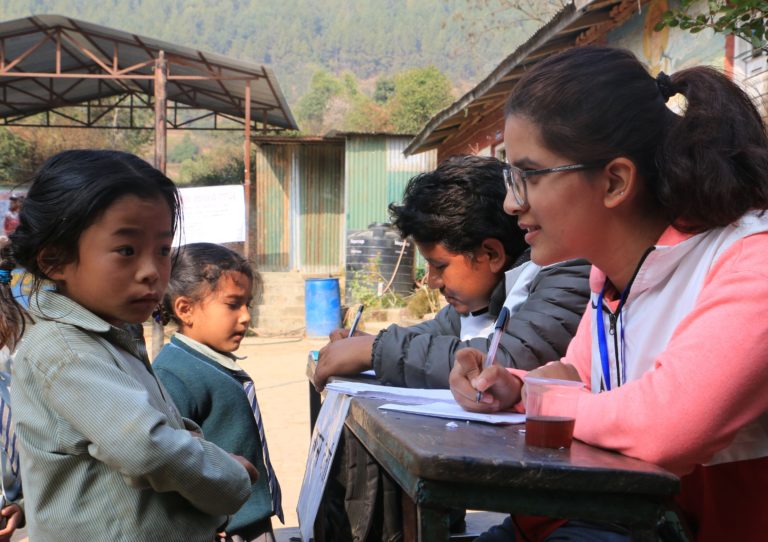 Little Shova* (6) hasn't met many strangers before - and today will be her first time seeing a doctor for a routine check-up. NYF staff members answer a few of her questions as they take down her name and assign her a number so she and her friends can play while waiting their turn.
Nepal's incredible geography poses significant challenges for transportation throughout the nation. The small, landlocked nation is home to a staggering elevation range of 28,835 feet (8,789 meters) between Mt. Everest and the tropical lowland plains. For comparison, the elevation range within the entire North American continent is only 20,602 feet (6,280 meters, between Mt. McKinley in Alaska and Death Valley in southern California).
As a result, though Nepal is a relatively small country, its terrain can be rocky, unforgiving, and difficult to navigate. Road building and maintenance are nearly impossible in many areas. Traveling to and from some villages can take several days, even when they seem much closer on a map. Resources and information that are becoming widely available in Nepal's cities are still difficult to share in remote parts of the country—and that includes valuable knowledge about diet, hygiene, and home first aid.
Our Nutritional Outreach Camps are often held in partnership with the district- and municipality-level NGOs, with participation from local governments. These partners identify venues, provide volunteers, find safe overnight spaces for our staff members, and help transport items from the nearest roads—sometimes for miles through thick vegetation, over rugged terrain, or across creeks and ravines. Partners also provide outreach to ensure large turnouts.
Educating Caregivers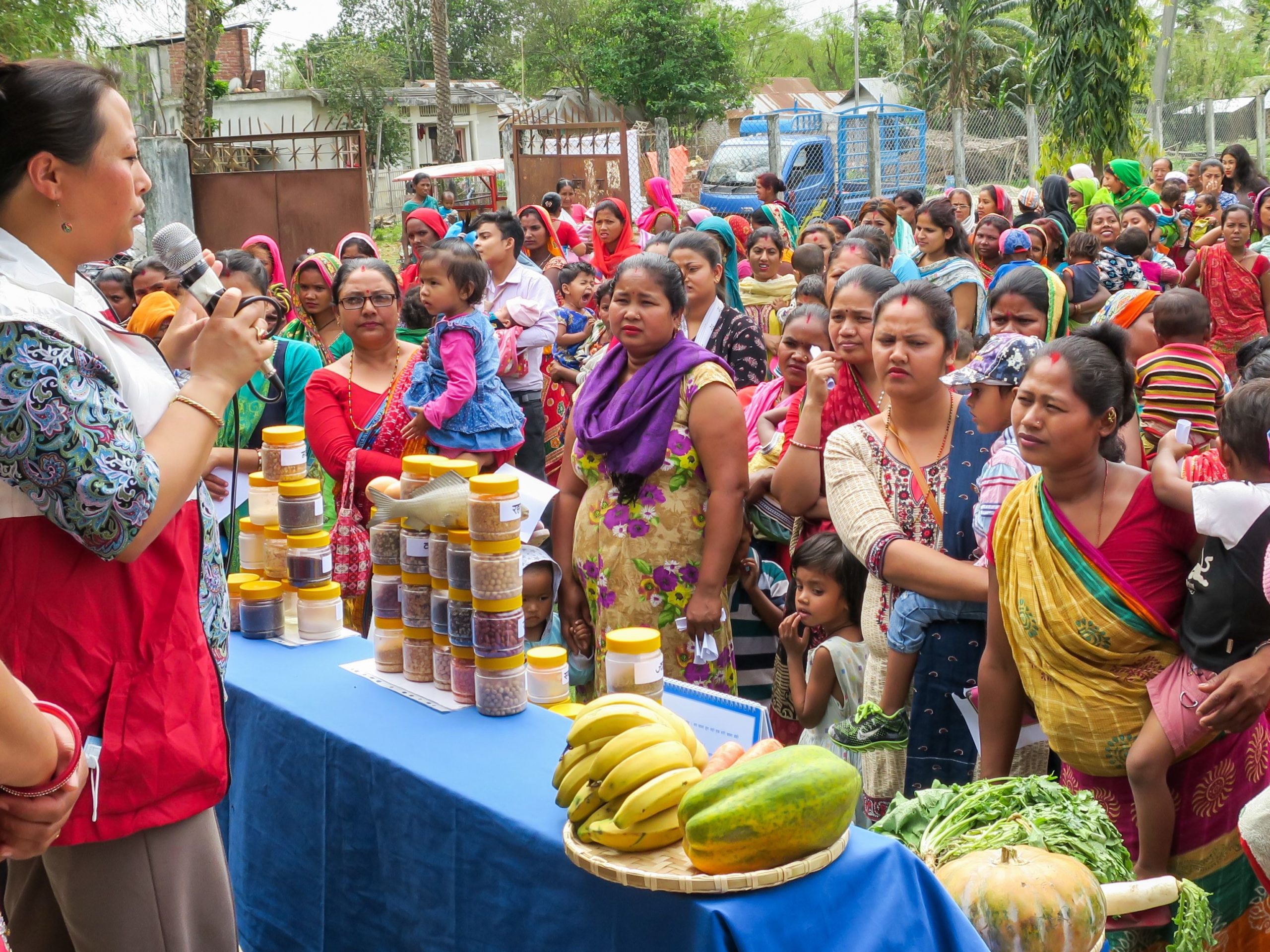 Caregivers - mostly mothers - listen attentively to the lessons on home nutrition. This is a special opportunity for many communities, when valuable, actionable information is presented for free. It's easy to feel disheartened when "helpful" information doesn't apply to a particular family's situation - but NYF has developed a strong reputation for providing the kind of down-to-earth advice that helps mothers across the country see results right away.
While malnutrition in Nepal, as in other parts of the world, is partly rooted in cycles of poverty, there are significant cultural elements at play as well. For example, some communities in rural Nepal believe raw leafy greens are unhealthy for human consumption and are only suitable for feeding pigs. One mother reported being told by older women in her village that citrus fruits would give children the common cold. Other parents mistakenly believe that foods imported from the West—like potato chips—must be healthier than traditional Nepalese dishes, and with the best of intentions, they spend extra money on items with little nutritional value.
These loving parents and caregivers are eager to change their families' diets for the better. Throughout the varied rural regions of Nepal, these outcomes are often possible using items grown in a family's garden.
Workshops are provided for groups of caregivers, sharing recipes and cooking techniques to help families maximize the nutritional value of each meal.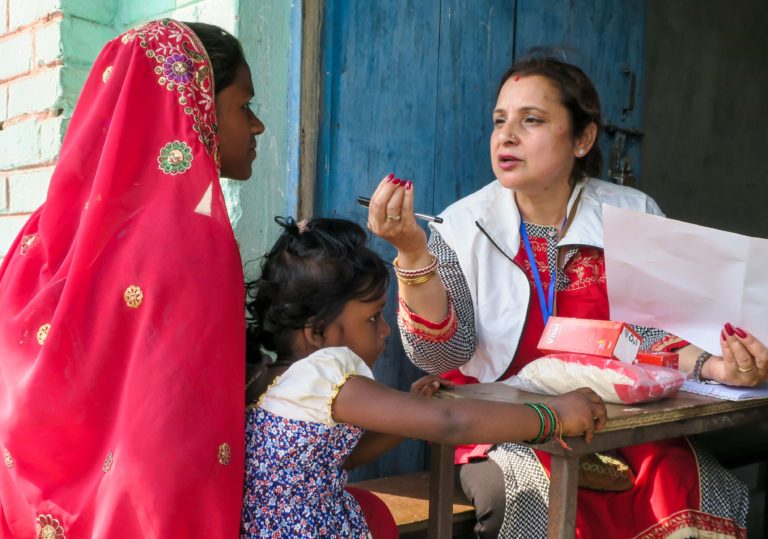 Rojina*, 23, brought her daughter Asmita*, 8, to a Nutrition Outreach Camp in a rural area in the Himalayan foothills. Asmita is often tired, listless, and less engaged than other kids. Rojina wondered why. Asmita is not alarmingly thin, but she is small for her age, and Rojina was right in observing her child's persistent fatigue. Here, NYF's lead nutritionist, Sunita Rimal, explains how malnutrition can cause these issues. During this nutritional counseling session, Rojina will learn achievable ways to improve the nutritional value of the meals she prepares at home.
The caregivers of children experiencing malnourishment are given personal counseling. NYF nutrition experts work to understand each family's situation and to identify practical solutions most likely to succeed within their circumstances.
Many caregivers are surprised to learn that traditional Nepali recipes are frequently more densely nutritious than they realized. This important outreach extends to hygiene practices like handwashing, which in some regions of Nepal is not commonly practiced due to the scarcity of water. In a family where heavy water buckets must be carried from a well an hour or more away on foot, handwashing can seem wasteful in comparison to watering crops, cooking, and drinking until the tremendous health benefits of doing so are fully understood.
Medical and Nutritional Care for Children
Children at Nutritional Outreach Camps are screened for their nutrition status based on WHO guidelines. Each child is also given a full check-up by a pediatrician—often their first visit with a medical professional—and parents are encouraged to voice any concerns or questions they may have about their child's health. Team doctors come prepared to distribute vitamins, as well as medicines to address common complaints, including skin problems, fevers, and gastroenteritis. Children with more severe medical needs are referred for additional treatment.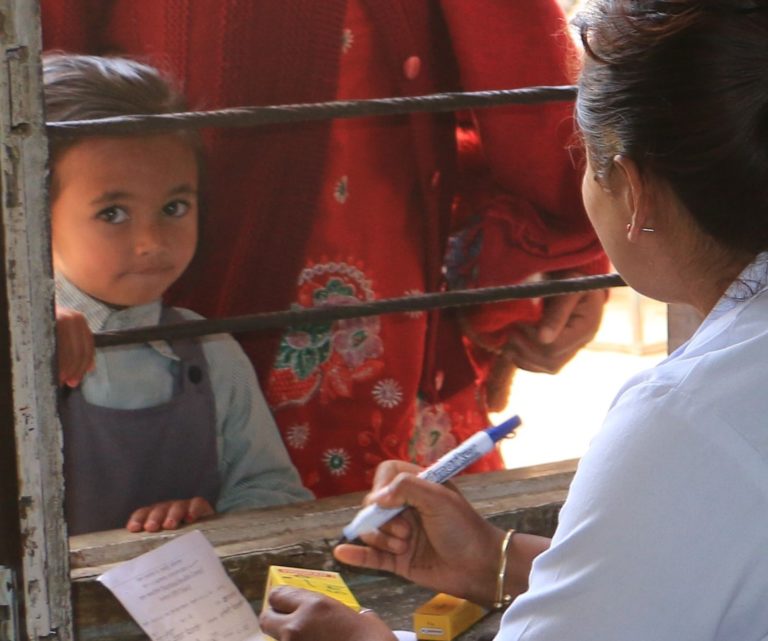 Purnima*, 8, sneaks a shy smile at the camera while an NYF nurse explains medicine dosage to the girl's mother. Purnima's brother has an ear infection, but with the right care, he'll be feeling better in no time. Purnima has a clean bill of health.
NYF works to assist these families where needed. Generally, almost one quarter of the children screened at our Outreach Camps are experiencing some degree of malnourishment. Around 5% of the children are moderately to severely malnourished. The caregivers of these children are offered care at the nearest Nutritional Rehabilitation Home if necessary, especially in more urgent cases.
Each family with children under the age of 5 are given a 1 kilogram packet of Lito—a homemade "super flour" blend of roasted wheat, soybeans, and corn that serves as a densely-packed source of necessary nutrients. Children in Nepal have eaten Lito as a hot cereal for centuries, and NYF has found that it is an excellent way to restore nutritional health quickly and effectively.
Mothers who are identified as malnourished themselves (a common occurrence) received additional nutrition counselling and information.
Lasting Change
At the conclusion of each camp, NYF staff train members of the municipality to continue identifying malnourished children. These experts refer malnourished children to the Kathmandu NRH for free rehabilitation services.
Municipality officials report that community health improves following Nutritional Outreach Camps. As we become able to offer these services more broadly, we look forward to returning to areas served to monitor and strengthen their progress.
Your Donations
Nutritional Outreach Camps are supported by generous donations made by individuals and organizations who are passionate about sustainably improving childhood nutrition through the empowerment and education of mothers.
Please reach out to us if you are interested in sponsoring a full Nutritional Outreach Camp!