December 15, 2013
Visiting Nepal with a Playful Purpose, Brings Children Back to Health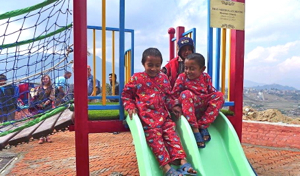 Visiting Nepal, the children at our flagship Nutritional Rehabilitation Home (NRH) and training center in Kathmandu are swinging, running and jumping their way back to health thanks to a dedicated group of NYF supporters who erected a new play structure at the clinic last fall.
The new playground was dedicated in December with a plaque commemorating Fran North, a Colorado woman who loved Nepal — especially the children. After Fran died of breast cancer in 2006, her friends and family contributed $7,000 to a memorial fund at Montview Boulevard Presbyterian Church in Denver.
Friends helping friends
The story behind the plaque reveals a deep, layered network of friendship and philanthropy, spanning the globe from the Colorado Rockies to the Himalayas. One of its key characters is Lynn Hetterich, also from Colorado and a member of Montview Church. Lynn is a longtime supporter of NYF and a close friend of Olga and Som, meeting them through NYF volunteer Sajani Amatya for the first time in 2000.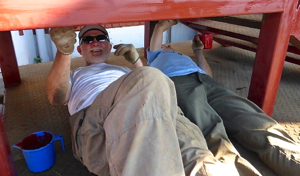 Thirty-two years after her first trip to Nepal — with 14 visits as a Montview liaison since then — Lynn returned this past fall with 22 friends from Montview Church and the Denver community. The group spent a dusty day at the NRH, sanding and priming the new play equipment. Lynn and Fran were good friends. "Fran loved children," said Lynn. "This memorial couldn't be more fitting."
The NRH restores children to good health
The purpose of the NRH is to nurse severely malnourished children back to health. Staff also teach the parents of the children, usually the mothers, how to prepare nutritious meals using local food. NYF has built sixteen nutritional homes throughout the country, one in each zonal hospital. NYF manages the homes for five years, at which time the government assumes management responsibility — except NRH Kathmandu, which remains under NYF's leadership as its flagship and training center. To date, eight of the sixteen nutritional homes have been handed over to the Nepali government.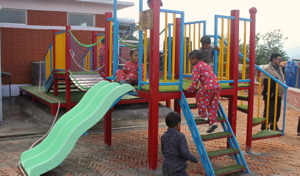 Montview has a long history with the NRH in Kathmandu. In 2006, Montview members raised $30,000 towards the purchase of the land for the new facility and three years later, contributed another $100,000 towards its construction. NYF opened its permanent NRH — a beautiful, clean, airy, spacious new building just outside of Kathmandu — in February of 2012.
Speaking on behalf of Montview, Lynn acknowledged the relationship she and others have nurtured. "Montview has a long history with the nutritional homes. The NYF story sparked a fire in me. Our (Montview) group is committed to our work in Nepal."
Learn more
Watch a video about NYF's Nutritional Rehabilitation Homes.
Learn more about Nutritional Rehabilitation Homes.