August 19, 2020
NYF's Ongoing COVID Response: Access to Education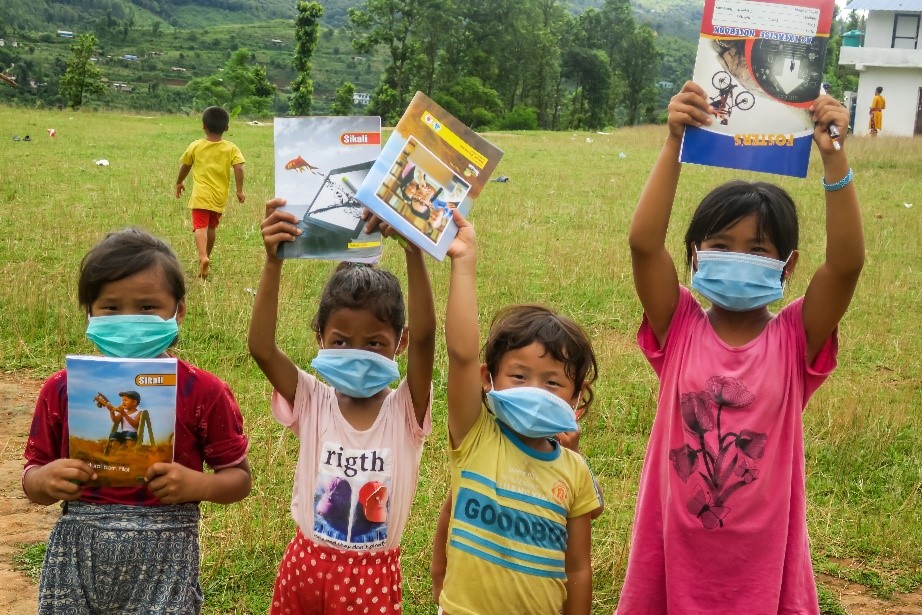 In February 2020, Maya*, an 18-year-old in Dhading District, was excitedly preparing to become the first person in her family to attend college. The oldest of four siblings, three girls and one boy, Maya had worked hard in her studies—often in the face of extreme prejudice—to complete the 12th grade with good marks. Graduation was an exhilarating achievement.
And college promised to open doors to further possibilities.
It's hard to overstate the importance of these milestones in Maya's life. Maya and her family were born into the Dalit caste—a minority group in Nepal and India who have historically been considered impure or "untouchable" by those of higher status. This tradition translates into widespread discrimination across all facets of life: education, healthcare, law enforcement, crime, housing, political power, occupational opportunities, and more.
Despite all this, as well as the compounding challenges faced by young women in her community, Maya had completed high school! So, in February 2020, Maya's hopes were high, and her future looked bright. Her parents, wage laborers carrying bricks and concrete at construction sites, had been successful enough since 2015 to send all four of their children to school.
But in March, when Nepal locked down against the COVID-19 pandemic, construction abruptly halted—and everything changed.
Within a short time, Maya's family ran out of money for rent and food, and it seemed the only thing to do was to marry Maya off to someone who could feed her. The marriage was held dizzyingly fast, without Maya's consent—and immediately, she discovered her new husband was both abusive and an alcoholic. Thankfully, Maya realized quickly that her situation was unsafe, and she left to return to her family.
Maya hopes college is still a possibility for her, as well as for her siblings. But with COVID-19 spreading widely throughout Nepal, and with the family struggling to stay housed and fed, all her dreams are in jeopardy. She fears she is forgetting the material she learned last year and will be unprepared for college when schools reopen.
Students throughout Nepal, especially those already facing discrimination and systemic disadvantages, are facing the terrible prospect of losing the educational opportunities they have worked so hard to achieve. Young women are at an especially high risk of early marriage.
As the lockdown continues, Nepalese students at all grade levels—from kindergarten through university—are falling behind. In urban areas, online classes from top-tier schools are running effectively, but these are only accessible by a few. The "digital divide" is widening between students with access to virtual classrooms and those without. This effect threatens to discourage families from sending their children back to school when the crisis has passed—which in turn will limit each child's future opportunities.
NYF's earliest programs were designed to help provide a good education for children in Nepal, and we are still committed to that mission. That's why we've launched Access to Education, an innovative program that confronts the current crisis through village-based "satellite learning centers."
Access to Education equips local teachers with laptops preloaded with digitized government curriculum's, a wide screen television, and teaching materials. Instructors are trained in Multi-Grade Teaching and Team-Teaching approaches using the available technology and students are provided with Education Kits containing related materials. Available learning spaces are identified in each village—meeting halls, local health posts, even cow sheds, if necessary—to ensure students can learn with enough room between them for social distancing. In this way, students of all grades attend classes in shifts, keeping up with their curriculum and ensuring their minds remain fresh and agile.

Lopika*, age 15, told us, "Schools have been closed for 4 months already and I had forgotten everything. Now I am so happy to be attending classes in the learning center. The teachers are helping me a lot." Her friend Gavya* added, "I wish I could learn like this even after the pandemic!"

A recent Nepalese television report commended the new program's success, observing that besides helping students learn, the satellite centers were "creative opportunities for students to interact with friends and teachers, minimizing the psychological distress" from the pandemic. (Full video report)

Each satellite center costs $1,000 to establish and can handle over 100 students! NYF has already been approached by mayors in many rural municipalities hoping to join the program. We hope to open 46 new centers within the next month.
Our earliest sites in Dhading District have received enthusiastic support from parents, teachers, and students alike—and now, NYF needs your help to expand our reach! To join us in supporting the future of more smart young women like Maya, click here to donate now.
*Names changed to protect privacy.
---
Credit card donations via our website are still being processed without delay, as are direct bank transfers (EFTs). If you mail a check to our office (1016 Lincoln Blvd., Suite 222, San Francisco, CA 94129), please know that we continue to check the mail twice per week, so there will be a delay in our thank you letter being mailed to you.
If you need to reach us, staff are monitoring individual emails and the email address Info@NepalYouthFoundation.org daily. You can also call us at 415-331-8585 and leave a message, as staff will be periodically be calling in to check voicemail.