July 12, 2020
Staff Spotlight: Olgapuri House Parents Bishnu Rana and Pushpa Thapa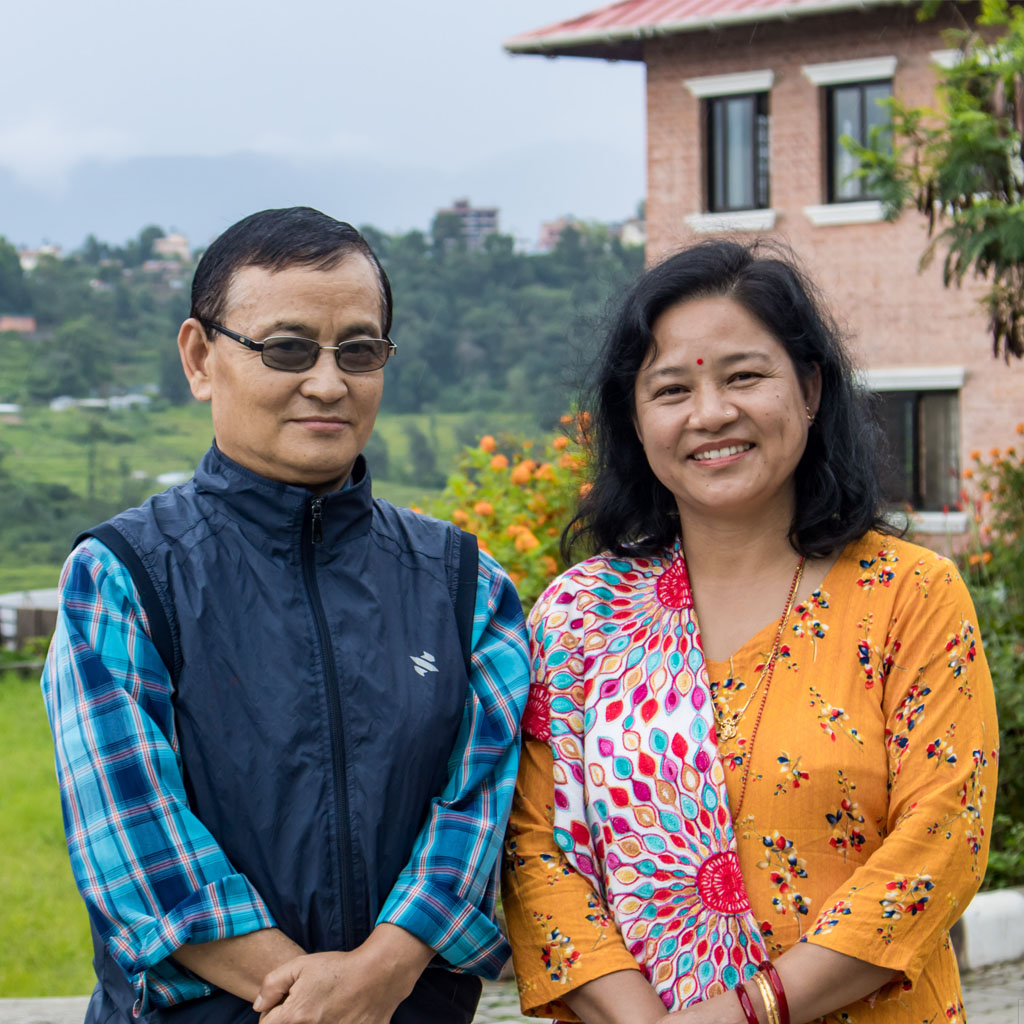 Days start slowly in the junior girls' house at Olgapuri Children's Village. The sun rises over Kathmandu Valley, and Bishnu-Uncle and Pushpa-Aunty sit down together for meditation and a cup of tea as their 20 young girls start waking up.
Some of the smaller girls ask the older ones to braid their hair—French braids, tiny accent braids, lace braids—the more creative the better. The girls range from age 2 to 13, and the youngest ones have loved the extra sister-time during Nepal's months-long lockdown. The older girls enjoy the practice. They loved this nurturing attention when they were little, too.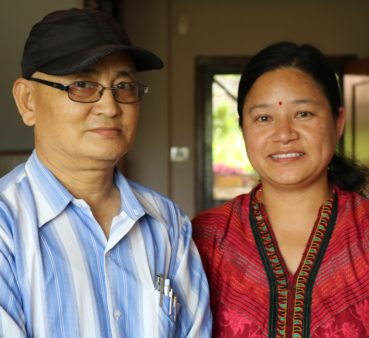 For Bishnu and Pushpa, the husband-and-wife team responsible for parenting in the junior girls' house, the lockdown has been hectic, with added responsibilities and no time off. But they love the children as they love their own daughter and son, who live with them in the junior girls' house, and these early moments of quiet meditation help ground them in the incredible importance of the work they're doing.

Pushpa started her journey with NYF in 2004, when she was a social worker. She knows almost all the NYF children and has remained in close touch with them. Many of them see her as their own guardian.
Meanwhile, Bishnu enjoyed a successful career in banking. But when he retired, he felt called to join his wife helping the children at NYF. The pair became the junior girls' Olgapuri house parents in 2018.
Providing parental care to 20 young girls is a challenge in the best of circumstances, but as parents the world over deal with lockdown conditions, Bishnu and Pushpa are pushing their drive and resourcefulness to the limit.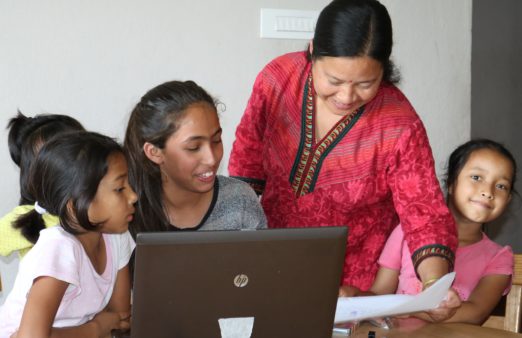 Most of the junior girls are attending online classes over Zoom from 10 to 3 every weekday, with multiple schools, grade levels, and subjects being taught at once—an enormous strain on the slow network. Bishnu and Pushpa spend those hours encouraging the smallest students to pay attention, managing technical problems, and ensuring the available computers, printers, and other equipment are being used fairly. Scheduling has been an absolute necessity, and a few senior house girls have volunteered as mentors.
Some of the girls attend schools that haven't launched online classes, and Bishnu-Uncle and Pushpa-Aunty help them study at home. When class time is through, the house parents make sure each child has the help needed to complete her homework.
As in any family, every child at Olgapuri has unique academic strengths and struggles. Some find schoolwork easy and rewarding, while others struggle to grasp and apply new principles and material. Some of the children are coping with learning disabilities like ADHD, while other have experienced early traumas that impact their focus in the classroom, their confidence with new subjects, or their tolerance for frustration.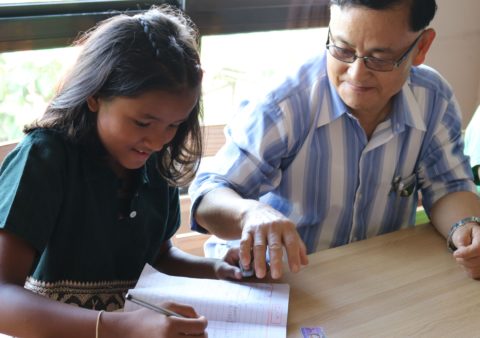 Bishnu-Uncle and Pushpa-Aunty make a point of knowing each child's academic aptitudes, interests, and stumbling blocks, working with each individual and her teachers to ensure each girl is personally and lovingly supported in achieving her best possible outcomes. This incredible investment of time and effort is well-worth the rewards. Seeing a discouraged child begin to grasp new mathematical principles or successfully complete a handwriting assignment fills our house parents with satisfaction and joy. Each triumph is celebrated.
There are creative projects as well. Pushpa-Aunty has been teaching interested girls how to knit, and some of them have gotten quite good! Other girls love painting, and others enjoy paper crafting and jewelry-making. Some of the girls' work is pictured below. Artistic projects are an excellent stress-reliever in times like these and working together to develop these skills is a lot of fun. The older girls are planning to sell their creations when they're able to have carnivals with other children's homes again—a hands-on learning experience that helps kids explore marketing, finances, and business.

Like Bhim and Shreemaya, Bishnu and Pushpa prepare meals and snacks with the girls, using the time to teach age-appropriate cooking and safety skills. The girls are also learning to care for themselves—making their beds, cleaning their rooms, and other chores appropriate for their ages. The littlest among them are beginning by washing their own socks, which helps them feel very grown-up and accomplished, like their older sisters.
Caring for 20 girls under age 13 is an enormous responsibility. That's why NYF is so grateful for the hard work of loving and dedicated staff members like Bishnu and Pushpa. Being house parents at Olgapuri is more than just a job—it's love in action. Bishnu-Uncle and Pushpa-Aunty enjoy providing guardianship and care to these children.
Their commitment to the junior girls' happiness, unity, and success is why #LoveWorks.
All over the world, parents and guardians are working hard to help kids learn, and every story is different! If you believe in the work Bishnu and Pushpa are doing at Olgapuri, please help them by sharing their story on social media with the hashtag #LoveWorks!