June 17, 2021
Founder's Day 2021 – Thank You for Sharing the Joy!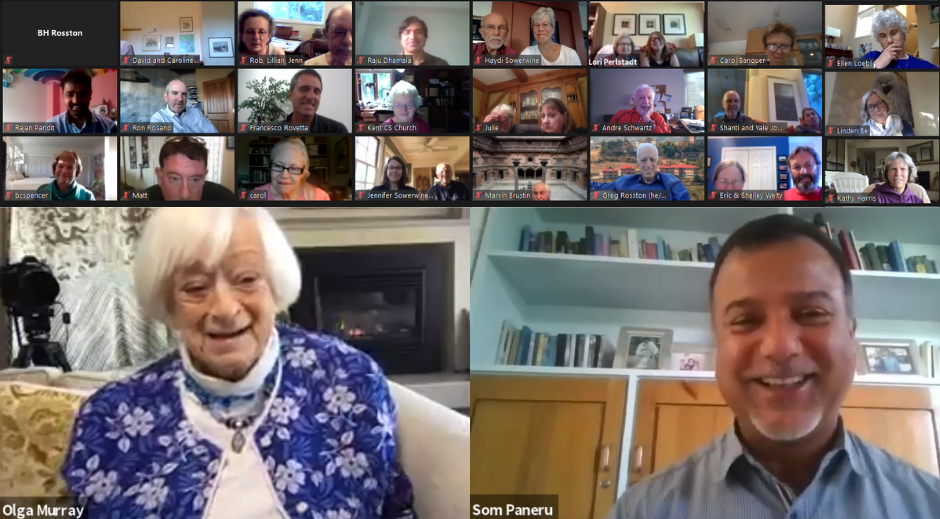 Founder's Day 2021 – held over Zoom on Thursday, June 3rd, 2021 – was a resounding success!
Thank you to everyone who attended! This heartfelt, joyful reunion of old and new friends, supporters, alumni, and team members was an inspiration and a delight to so many. Our team deeply appreciates the many messages of congratulations and support we have received; Olga is touched by the outpouring of well-wishes in honor of her 96th birthday; and Som is so encouraged by the many words of support and love in honor of his 25th anniversary of serving the children of Nepal at NYF.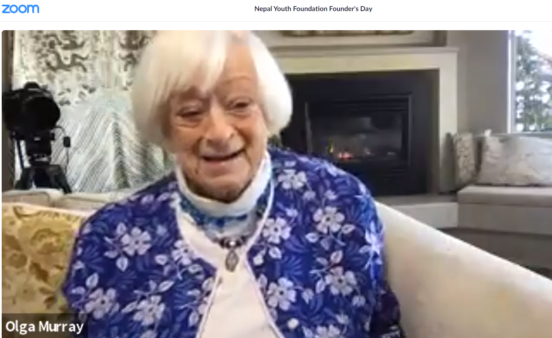 Links to the beautiful videos provided by filmmakers Roy Cox and Robin Mortarotti are available on our YouTube channel. Click here to enjoy and share Som's incredible story. Click here for the video on our efforts to reduce the rate of child marriage in Nepal.
If you missed the event or would like to enjoy it again, a full recording is available here.
Special thanks go to co-hosts Dr. Jagadamba Pandit and Angela Pal, PhD; videographers Roy Cox and Robin Mortarotti; and guest speakers Dr. Kamal Lamichhane and Ajeeta Rana for helping shape the inspiring presentations; author and philanthropist Isabel Allende for her beautiful message; to our host committee: Tanya Bodde, Chris Heffelfinger, Andrea McTamaney, Ron Rosano, and Greg & Barbara Rosston; to the volunteers, board members, advisory board members, and staff working behind the scenes; and of course, to Olga Murray and Som Paneru for giving us so much to celebrate!
Olga's Founder's Day 2021 Birthday Wish
Thank you to each of our wonderful supporters who donated in honor of Founder's Day 2021. Our goal this year was $96,000 in honor of Olga's 96th birthday. Ahead of the event, thoughtful early donations had brought us approximately halfway to meeting our goal.
By the time pledging (public and private) had ended during the event, we were only $1,150 short. And before the end of the evening, a few additional pledges had tipped us over our goal amount, with auction bids pushing us over $100,000!
Our global team is overwhelmed by the generosity of the NYF Community. Thoughtful Founder's Day gifts are still arriving – including some increased pledges. At this time, our incredible, thoughtful supporters have contributed over $105,000 in support of our NYF's mission.
Your love is providing Health, Freedom, Shelter, and Education to Nepal's newest generation – and graduates from our programs are proving that your #LoveWorks. Dhanyabad!
If you have not yet fulfilled your Founder's Day pledge, or if you would like to make another thoughtful gift, please do so here.
Lucky Winners
Our U.S. team is contacting auction winners, pledge raffle winners, and Olga's Promise recipients. If you have any questions about this process, please reach out to us by emailing info@nepalyouthfoundation.org.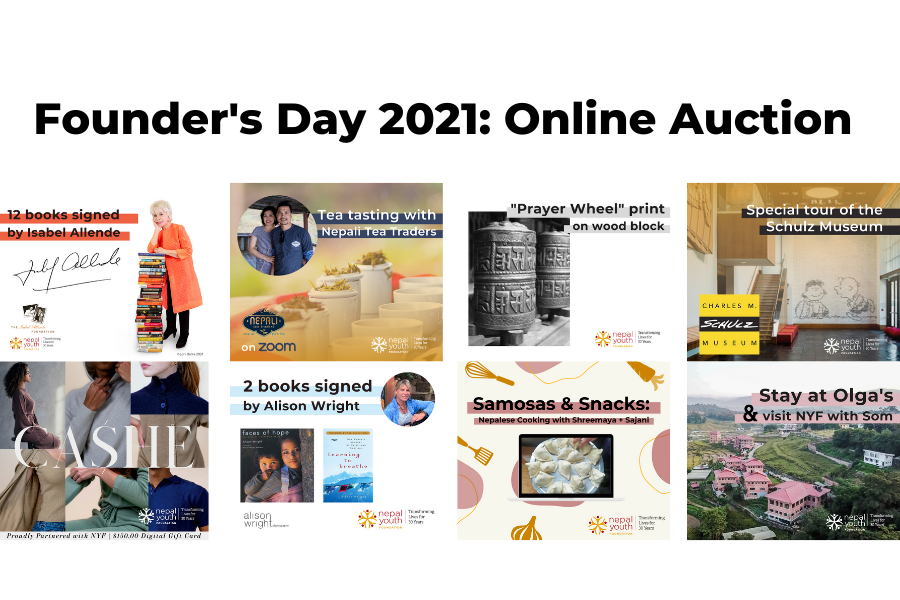 More to Come in 2021
As we step into the coming months, our global team is braced for more pandemic uncertainty – but the NYF Community's encouraging love and enthusiasm inspires us with confidence. Thank you from the bottom of our hearts for your trust and dedication to making sure your #LoveWorks!
We look forward to sharing updates with you right here on our blog as the year continues.

Dhanyabad!