May 1, 2021
You're invited: Founder's Day 2021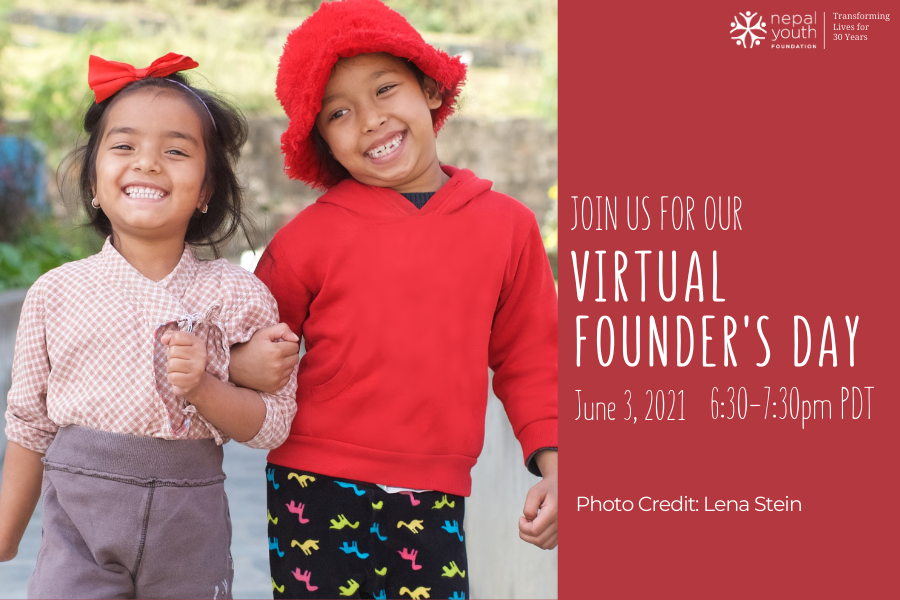 On June 3rd, Nepal Youth Foundation (NYF) will be hosting another "Virtual Founder's Day" – a free event open to old and new friends alike.
Day: June 3, 2021
Time: 6:30-7:30 p.m. PDT
Location: Zoom!
At this event, we will be honoring Founder Olga Murray's 96th birthday and President Som Paneru's 25th year of service and leadership.
We'll kick off the event by discussing recent COVID-19 developments in Nepal and talk about how NYF has responded to, and is continuing to respond to, the ongoing global pandemic. We'll celebrate how we created educational opportunities for hundreds of village children whose schooling would have otherwise come to a halt. We'll also learn, for the first time, more about NYF's role combating and protecting young girls from child marriage.
Since our successful virtual Founder's Day last year, we have learned a thing or two about helping to make online events more enjoyable for more members of our community. For example, we will be working with a live captioner during this year's event! If you or one of your guests would benefit from an accommodation during our virtual Founder's Day, please let us know right away by emailing info@nepalyouthfoundation.org or by calling 415-331-8585. We are eager to do what we can to present an accessible, joyous event to as many guests as possible!
Guest Speakers
NYF scholarship alumni Ajeeta Rana and Dr. Kamal Lamicchane will be this year's guest speakers at Founder's Day. We are so grateful to have them join us, and hope you'll tune in too!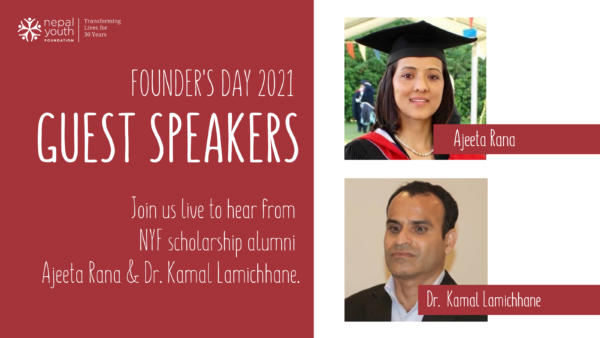 Ajeeta Rana is an NYF Scholarship alumna who received a nursing degree from one of the most renowned universities in Nepal. Since then, she has moved to London and has earned three more degrees (B.Sc in health and social care, M.Sc in healthcare leadership, and an MBA in hospital management). She currently lives in London with her husband as she pursues her fourth degree (MSc in Nursing) while she works as a nurse.
Dr. Kamal Lamichhane is currently an associate professor at Tsukuba University in Japan, and he is a NYF Scholarship alumnus and the first person with a visual impairment from Nepal to receive a doctorate degree. His fields of research include disability studies, economics of education, inclusive education, and education policy.
Hosts
We are so honored to have Dr. Jagadamba Pandit and Angela Pal be our hosts at this year's event! Join us live on June 3rd at 6:30 p.m. PDT to hear Dr. Pandit and Angela speak to Olga, Som, and our guest speakers.

Angela Pal Angela has been in healthcare for over 23 years as a registered nurse and nurse practitioner. She is an assistant professor at the University of Colorado Anschutz Medical Campus and director of the Adult Gerontology Acute Care Nurse Practitioner program.
Angela was introduced to Nepal Youth Foundation, Olgapuri and the Nutritional Rehabilitation Hospital on her first trip to Nepal in 2018 for a medical mission. Her immediate thoughts were about how happy the children were, and how it seemed like a large family. She was immediately drawn to the openness and empathy of the Nepali children with each other and visitors. She observed firsthand the impact of the foundation on the children of Nepal, and the power of OlgaDidi's vision and perseverance.
Dr. Jagadamba Pandit currently works at a community mental health center in the United States. After graduating from medical school in Nepal and finishing her residency in psychiatry at Virginia Commonwealth University, she completed a fellowship in addiction psychiatry. She has spent lots of time raising awareness about mental health issues both in the U.S. and in Nepal through radio programs and videos. She enjoys mentoring medical students and telling stories to children at Olgapuri.
Dr. Pandit came to know of NYF in 2004 through her husband, who was an NYF scholarship recipient in medical school. She then met Olga for the first time on Olga's 80th birthday, and was extremely impressed with NYF's mission and work. Since then, Dr. Pandit has been a devoted donor and supporter of NYF!
2021 Host Committee
Special thanks to our 2021 Host Committee members: Tanya Bodde, Chris Heffelfinger, Andrea McTamaney, Ron Rosano, and Greg and Barbara Rosston.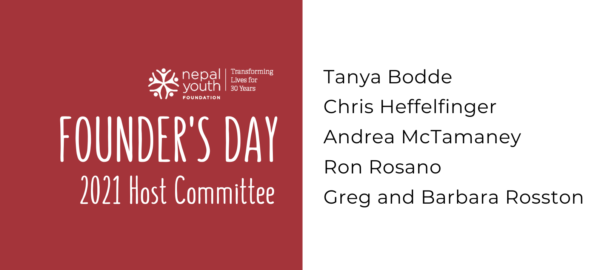 If you'd like to be on the Founder's Day 2021 Host Committee, please contact Eric@NepalYouthFoundation.org for more information.