The Olgapuri Farm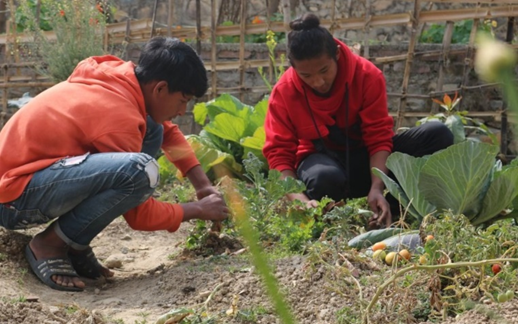 NYF President Som Paneru grew up on a family farm in Nepal's Gorkha District. Every member of the family had to work very hard ensuring the crops grew well and the livestock were cared for. Hard work was a matter of survival. When his schooling began at age seven, Som would wake early enough to do farm chores, then hurry for an hour on foot to attend classes. At the end of the school day, he would hurry home, eat a quick snack, and return to the fields until dusk.
When he talks about his upbringing, Som does not shy away from discussing the hardships. But farm life taught him valuable life lessons, too. Lessons about personal responsibility, teamwork, motor skills, decision-making, risk-taking, and resourcefulness.
Olgapuri Children's Village was designed with these lessons in mind. After all, for most of Nepal's population, agriculture is still an integral part of family life. Som wanted our family-style oasis to share these opportunities with the children in our care.
The Olgapuri farm is home to 19 cows, 129 chickens, and ten dogs, so the milk and eggs consumed on the enclosed campus are all produced on-site. Nutritious vegetables are grown here, too, using organic farming methods, and a brand-new row of greenhouses are helping to significantly expand growing options. Food not used by the children and staff can be sold at local markets.
Olgapuri children are not required to work on the farm, but they are certainly encouraged to connect with nature by doing so. Some children prefer not to participate, but others really enjoy working with growing things! A small group of them have even created a child-led gardening club. The remaining work is done by staff members.
Som hopes that one day Olgapuri Children's Village will be entirely self-sufficient, and the farm is part of that dream.