December 9, 2022
World Cup Qatar 2022: The Need for Vocational Training in Nepal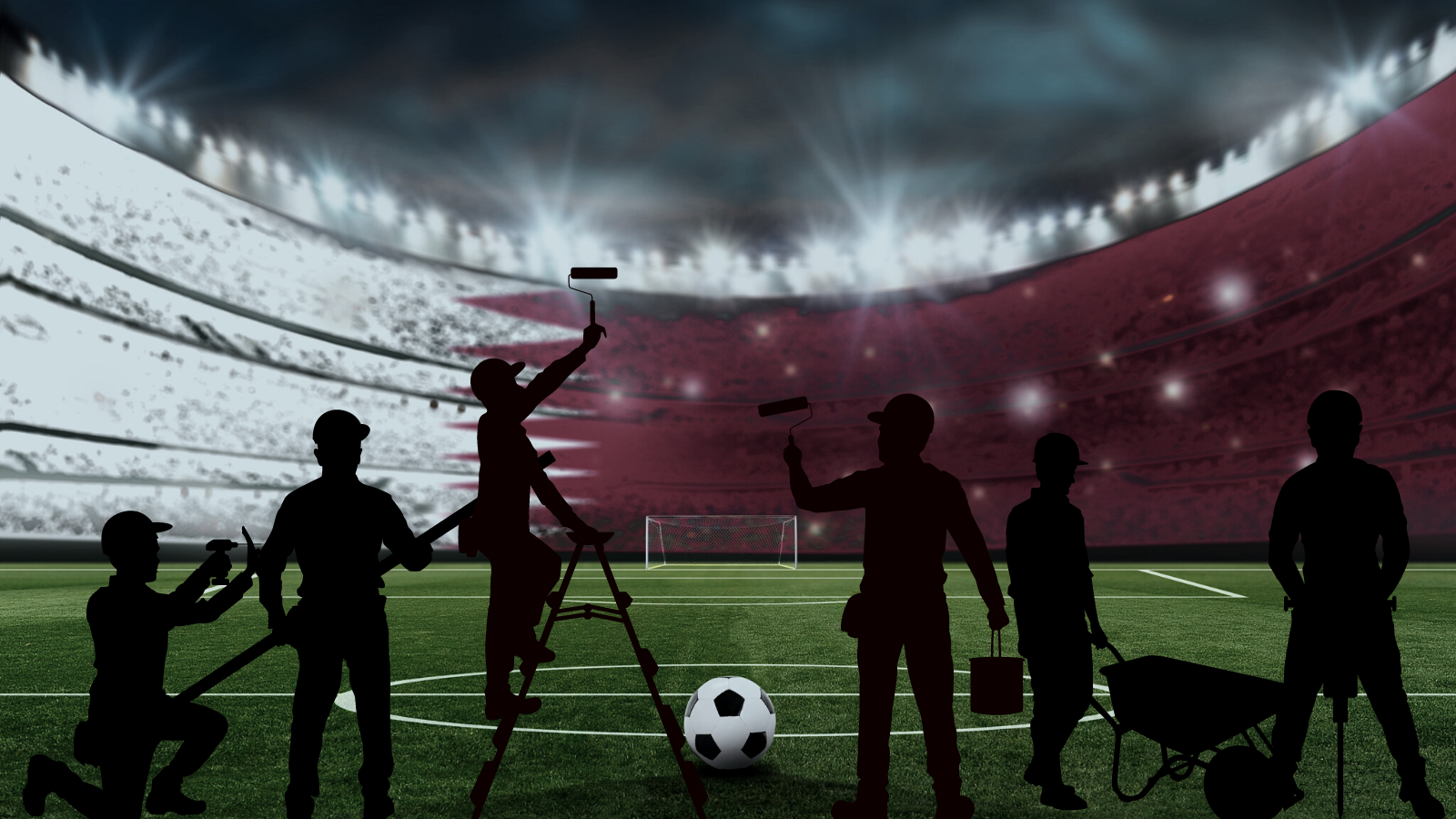 World Cup Qatar 2022 is the first World Cup to be held in the Middle East—and only the second to be held entirely in Asia. This global sports tournament should be a time of great celebration and unity.
Unfortunately, as fans across the world tune in to cheer for their favorite teams, a much less joyful story has come to light. That story is about the thousands of migrant workers from places like India, Pakistan, Bangladesh, and Nepal who built the World Cup 2022 stadiums and other infrastructure necessary for Qatar to host this massive event.
These migrant workers have recounted stories of horrific working and living conditions—and many have died. (We have compiled a list of news stories below.)
Most of the stories we're seeing published in the west place the blame on Qatar—as though without the World Cup, these migrant workers would never have been in such a situation.
Unfortunately, the truth is that the World Cup has only shined a light on a long-term, widespread problem impacting these communities.
Youth underemployment in Nepal hovers around 35%, with many young people unable to access the skills training or other resources necessary to make a living in their own communities. Many of these young people have no choice but to take migrant labor jobs abroad, sending money home to their families as often as they can.
Conditions for these workers are brutal: long hours performing dangerous, back-breaking work for low wages. Many report that their passports are kept by their employers, preventing them from returning home on their own if they wish. Health care options are effectively non-existent. Unfortunately, many Nepalis in this situation pass away or become seriously injured—and their selfless efforts to create a better life for their children leave them worse-off than when they began. The death toll among migrant workers from Nepal has been steadily increasing for years—and the majority of these deaths are not happening in Qatar.
This has been the reality for millions of Nepali young people long before Qatar began designing their World Cup stadiums. And it will continue after the World Cup has ended.
At NYF, we believe that the best way to end this cycle isn't by focusing on conditions in Qatar and other countries that rely on migrant labor. Rather, it's by creating better working opportunities at home in Nepal (and other home countries!).
This approach allows individual young people to access lucrative careers close to home, creating opportunities for economic and infrastructure growth in their own communities. NYF's Vocational Education & Career Counseling programs and Olgapuri Vocational School were designed to provide exactly this kind of alternative for young Nepalis.
Here are just a few stories that illustrate the impact of these programs!
Sustainable Agricultural and Entrepreneurship Training
Kalpana got married soon after she was freed from kamlari bondage. She settled with her husband's family on their small plot of rented land. They have five children, and were eager to give them the best opportunities possible.
Her husband considered taking a job overseas to make extra money, but he and Kalpana were both anxious about this option. When Kalpana heard about NYF's one-month SAAET Project, she signed up right away, participating in the November 2021 course.
Immediately after the training, in December, she enlisted her husband to help her construct their first greenhouse. They started planting off-season vegetables on their land, and success was immediate.
Kalpana is now growing highly marketable tomatoes, bitter gourd, cucumbers, pumpkins, and cauliflower. She is currently making a profit of 20,000 Nepali rupees per month (minimum wage in Nepal is 13,450 rupees per month, or $115).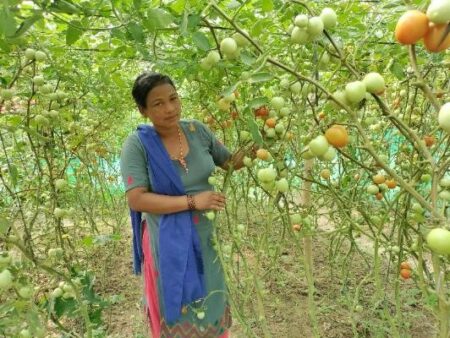 This school year, Kalpana used some of her profits to register her two school-aged children in a private school. "The economic independence I'm gaining from greenhouse farming has made me confident in every aspect," she says proudly.
Though some programs are designed especially for women, we've found that our entrepreneurial graduates often enlist the help of their husbands when launching their new businesses. Not only does this maximize their effectiveness and profits—it creates jobs in the home community, allowing families to build financial success as a team!
OVS Construction: Carpentry
Ashok, 20, grew up in Dolakha District with his family of five. They depend on subsistence farming for their livelihood—an extremely tough lifestyle in mountainous regions.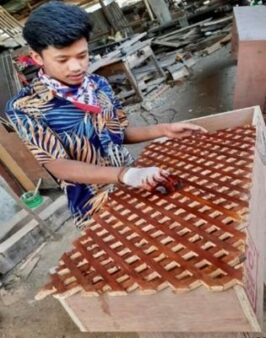 Ashok is a smart, fastidious young man with strong attention to detail. He knew he was capable of providing much more for his family than farming allowed, and he dreamed of living somewhere outside of his village. But without access to training or apprenticeship opportunities, and no money for traveling to a vocational school, he wasn't sure how to kickstart a new career.
In early 2022, Ashok heard about a career orientation presentation being offered by NYF in a nearby village. Curious, he attended. He was shocked to hear that the program was free for eligible young adults—including travel and room and board during the three-month course!
Ashok submitted an application for the Carpentry Training course and was placed in the March 2022 session on Olgapuri Campus.
After receiving his certification three months later, Ashok worked as a paid apprentice at a large furniture house in Kathmandu. His performance there was so impressive that the employer offered him a full-time job in June. Ashok is making around $225 per month—nearly twice Nepal's minimum wage. He's sending much of it home to support his family.
With his highly-valued skills, Ashok has the ability to shift jobs at will without ever leaving Nepal. He considers this NYF training to be the most important milestone of his career to date!
OVS Construction: Plumbing
Reeta*, 25, lives in a hilly region in western Nepal with her husband. One day, while the COVID pandemic was ongoing, Reeta learned that an Olgapuri Vocational School "satellite" plumbing training program was coming to their area. She signed up for the program right away, but her husband wasn't so sure. He, like many others, considered plumbing to be a man's job.
When Reeta mentioned this domestic push-back in class, NYF plumbing trainer Sailesh Khatri offered to meet with Reeta's husband to talk about his concerns. Though Reeta's husband was uncomfortable at first, he was willing to listen as Sailesh explained the special value of a skilled trade for a woman. Besides, Sailesh added, Reeta was showing a real knack for the work!
Eventually, Reeta's husband decided to wait and see what happened once Reeta was certified. He didn't need to wait long before realizing that Reeta and Sailesh were right.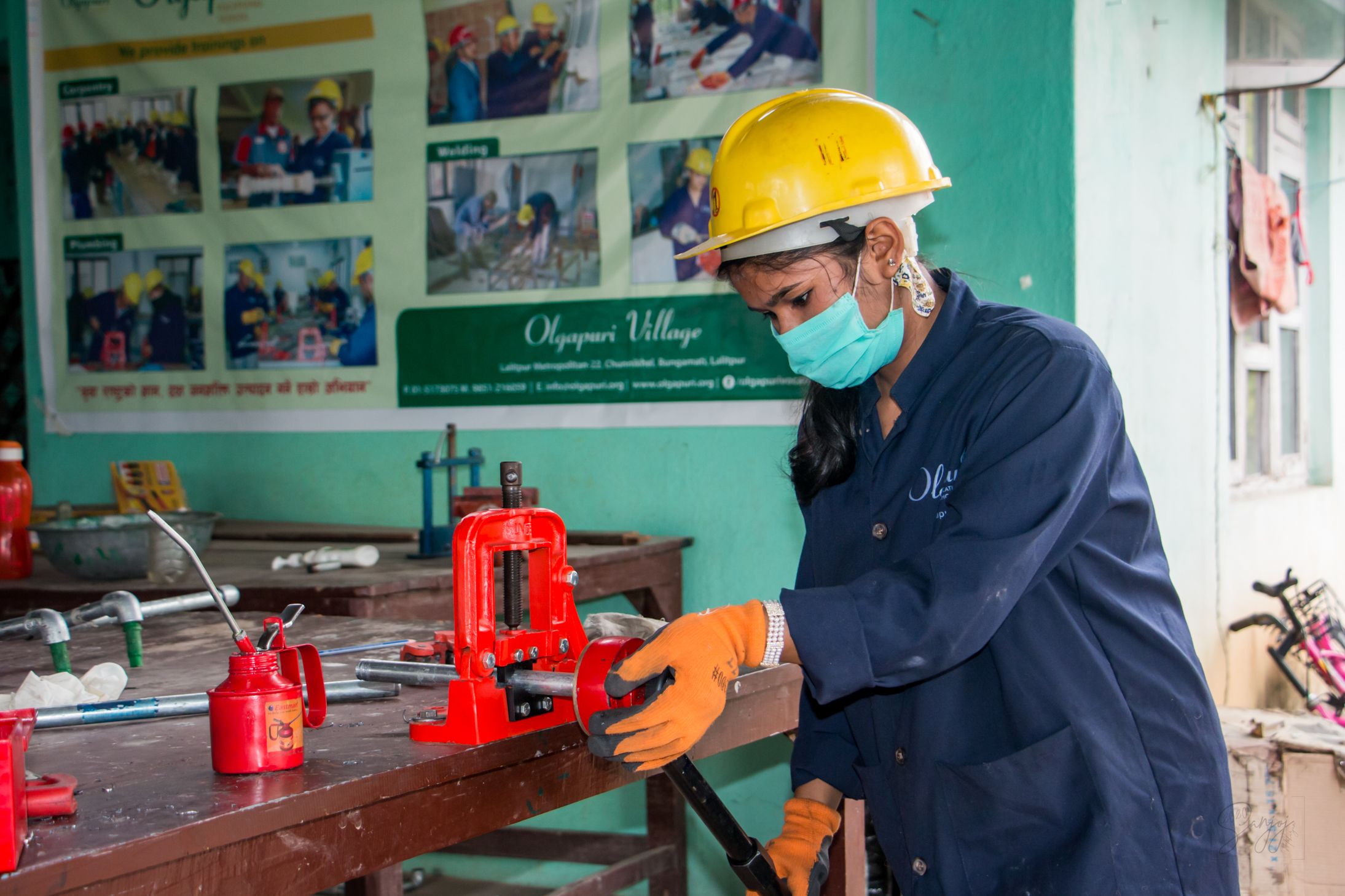 After completing the program in February 2021, Reeta was hired as an on-call technician for a major government project. She is responsible for all the plumbing repair in her village and is paid accordingly!
We're especially proud of the community-wide impact our plumbing program is having in rural communities. For more on this, check out a story we shared in April 2022.
World Cup Qatar 2022 Highlights Opportunities for Growth
Working grueling overseas migrant jobs isn't just physically demanding. It's incredibly lonely. It's discouraging to build marvelous infrastructure for strangers when family members back home don't have access to such luxuries. Because of the ways they are treated, migrant workers also often feel isolated, unknown, and even disposable.
When following up with NYF's young vocational training graduates, many of them report great pride and satisfaction about working within their own communities. Vocational training programs like ours are transforming individual lives. They are also improving entire villages in the process—not only in a physical sense, but in an emotional and psychological sense as well.
Let's make sure the lessons learned during World Cup Qatar 2022 lead into more empowering opportunities for young adults in Nepal. Your donation today will help us continue offering these incredible courses to young people throughout Nepal.
---
Learn more about the workers behind World Cup Qatar 2022
Empowering Transformations, One Gift at a Time
Here are just a few ways your gift powers transformations for children & families in Nepal.
$25
provides 1 one-hour therapy session to a child learning vital emotional skills
$50
provides 20kg of Lito, a life-saving and highly nutritious super flour distributed to families
$300
covers the greenhouse build for a SAAET trainee in NYF's vocational training program
$850
keeps a child safe in a loving family member's home & in school for a year
$1,100
covers one year of living expenses, school supplies, and testing fees for a motivated college student