March 19, 2020
COVID-19 Affects Nepal, A Message to the NYF Community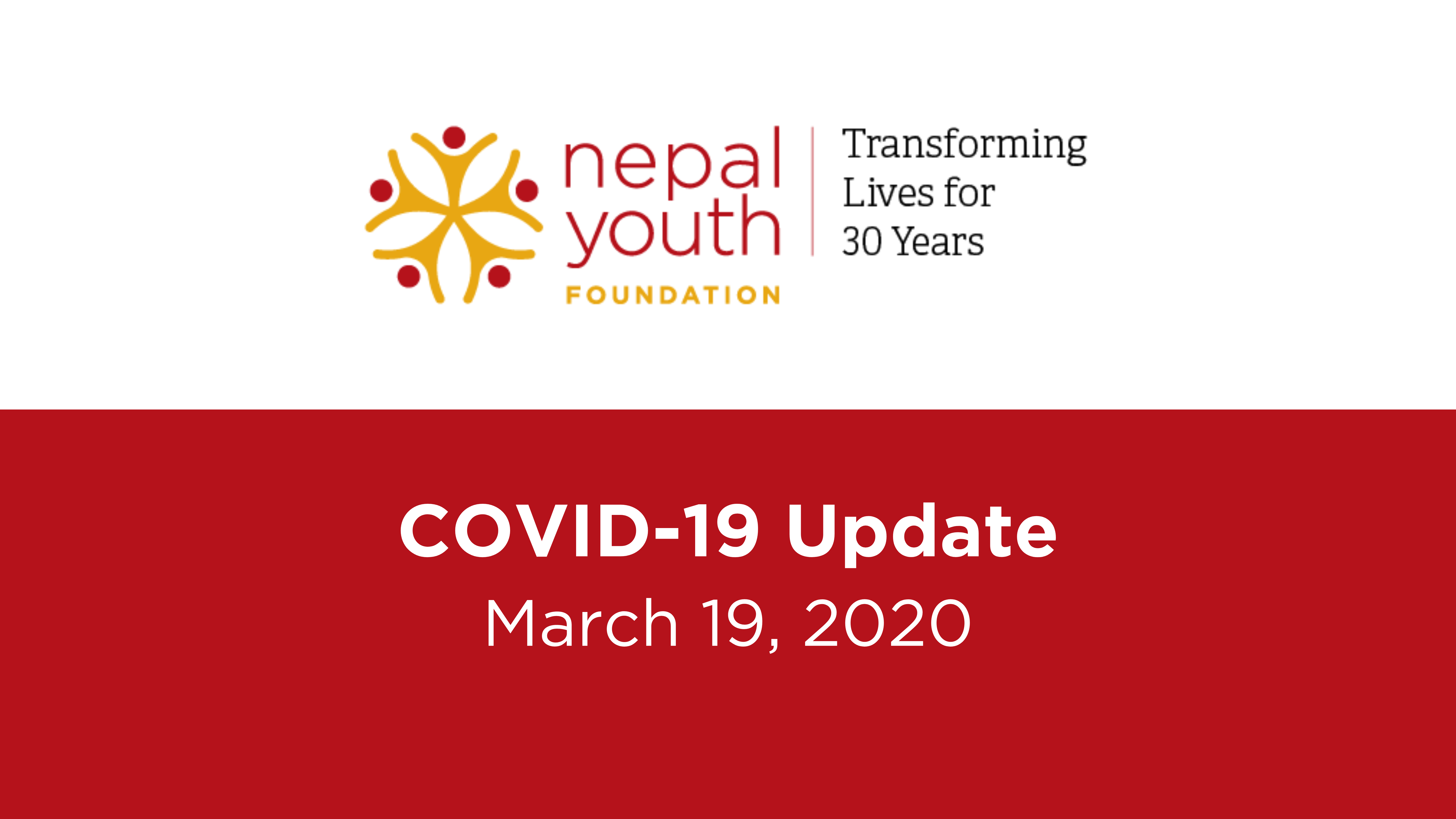 During this time of uncertainty, we want to thank you all for your continuing concern for the NYF family and share this update.
Nepal Programs
As of March 17, our programs in Nepal have been restricted to protect the vulnerable young people in our care, and ensure the health and safety of the NYF staff.
Our staff is working remotely where possible, and practicing social distancing, scrupulous hygiene, and other best practices in all interactions.
The children at Olgapuri will remain safe at home, and the Vocational School training has been suspended. This allows the facility to be used for emergency shelter or an isolation ward, if that becomes necessary.
The main Nutritional Rehabilitation Home (NRH) in Kathmandu is closing temporarily, and the New Life Center is not accepting new patients – although the five children without a safe place to go will remain there with caregivers.
Scholarship students will still receive their living expense stipends for the current period, although K-12 schools have closed, with colleges and universities to follow later in the week. Students who live in college dormitories or hostels and can't return to their village or home will be accommodated at the NRH facility in Kathmandu.
US Operations
Our US headquarters in Sausalito is located in one of the six San Francisco Bay counties under first-in-the-country "shelter in place" restrictions. As of Tuesday, March 17, all non-essential businesses are closed and travel is limited through at least April 7. Our small staff is working from home to ensure that our crucial funding for life-changing work in Nepal can continue.
Credit card donations via our website are still being processed without delay, as are direct bank transfers (EFTs). If you mail a check to our office (3030 Bridgeway, #325, Sausalito, CA 94965), please know that we plan to check the mail once or twice per week, so there will be a delay in our thank you letter being mailed to you.
If you need to reach us, staff are monitoring individual emails and Info@NepalYouthFoundation.org daily. You can also call us at 415-331-8585 and leave a message, as staff will be periodically be calling in to check voicemail.
As challenging as this situation is, across the world our community of supporters are responding with compassion for some of the most impoverished people in the world.
We are so grateful for your continued concern for the vulnerable children and families who depend on NYF. We are committed to being there for those who need us, and your support remains crucial to making that possible.
Thank you all for being part of the NYF Family. We appreciate your patience, understanding, and generosity of spirit as we navigate this extraordinary crisis together.
Som Paneru, President
Kelly Anderson, CEO
NYF Board of Directors