April 23, 2020
COVID-19 Update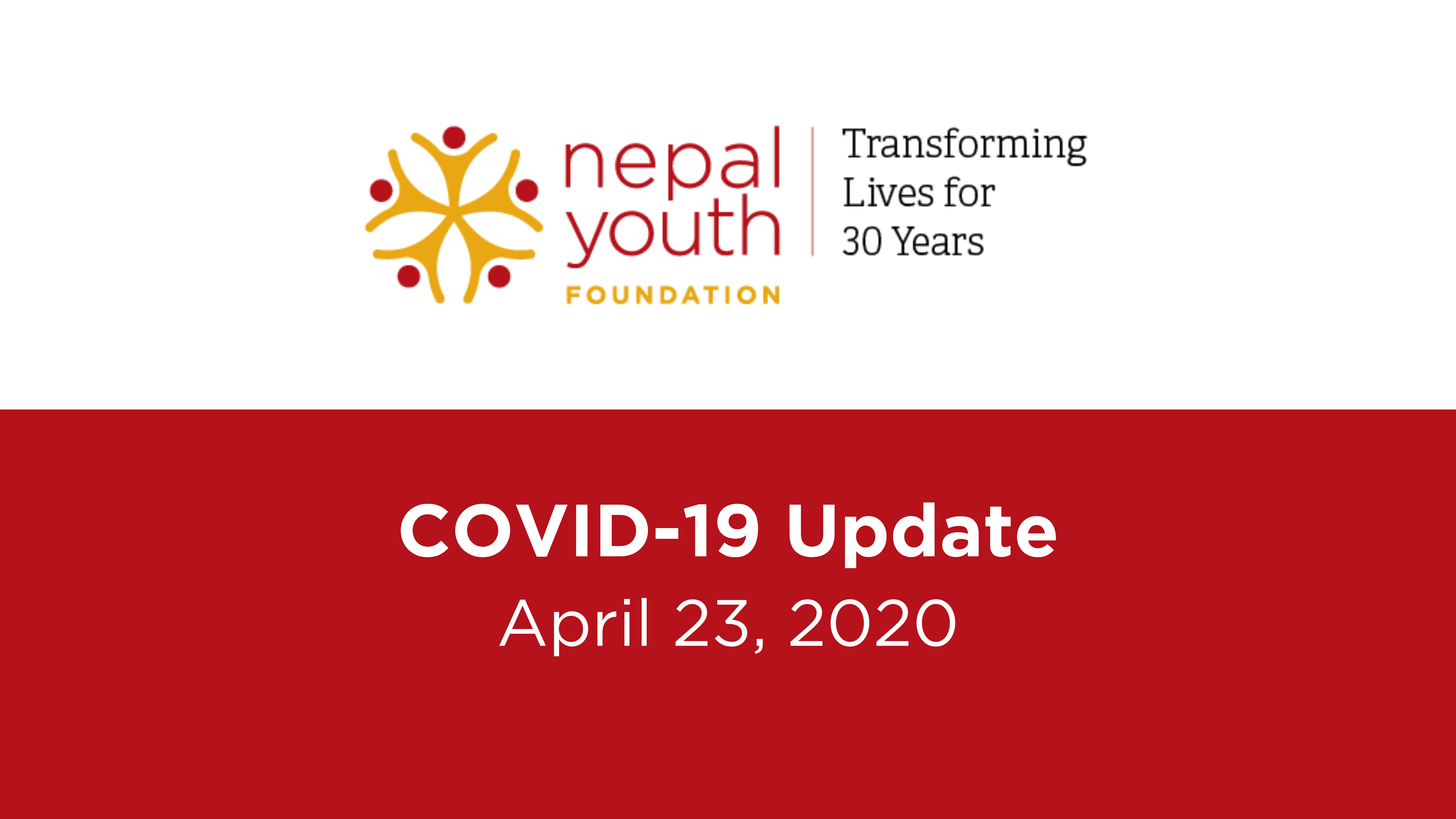 As this pandemic continues to develop, NYF is committed to keeping the vulnerable communities in our care safe and healthy. We are so deeply touched by the ongoing concern and support from the NYF Family — thank you.
Nepal Programs
The situation in Nepal is quickly evolving as positive cases, though still relatively low, are increasing — and the strict, country-wide lockdown that has been in effect for a month is anticipated to last another month.
Both China and India have closed their borders to Nepal, leaving the small land-locked country with skyrocketing prices for food, medicine, and other essentials. As of this writing, there are 42 confirmed cases of COVID-19 in Nepal. The government has also confirmed that the virus has started to spread at a community level. This is alarming, seeing that up until a few days ago, cases were only limited to those who had returned from foreign countries. Tension is very high as there are serious doubts the healthcare system could withstand an outbreak.
NYF staff members are working from home under strict lockdown conditions — only able to communicate with one another over the telephone and the internet.
Olgapuri Children's Village is closed to outsiders to ensure that all 77 of the children who live there are safe. As schools are closed, the children are finding creative ways to learn and stay active with help from their live-in house parents. They attend regular classes so as to not fall behind academically, and play basketball, soccer, and table tennis on the grounds. They have art and craft activities, and are learning skills in the kitchen as well as in the gardens.
Children at Olgapuri Children's Village learning new skills, staying active, and creating art during the country-wide lockdown in Nepal.
On April 21, we safely brought 11 more college students receiving NYF scholarships to stay at our NRH emergency shelter. These students had been staying in different hostels, dormitories, and small apartments since the beginning of the lockdown — but had started to get nervous about their unsafe living conditions. Hearing these concerns, NYF coordinated with local police and the chief administrator of local authority for vehicle movement permission, and collected them from different locations in the valley. This means we now have a total of 21 kids staying in our facilities in Kathmandu — 16 college students at the NRH facility, and five children at the New Life Center.
Though Ankur Counseling Center can no longer provide in-person sessions, our four trained counselors are working tirelessly to continue providing essential services over the internet and the telephone. Their workloads have increased during the lockdown, as they try to reach families suffering from increased domestic violence (a side-effect of lockdown conditions). NYF is working with the government for longer-term solutions for these families, but in the meantime, Ankur counselors are providing what therapeutic support they can.
US Operations
Due to California's state-wide "shelter in place" restrictions, our US headquarters in Sausalito will remain closed for the foreseeable future. Our small staff is working from home to ensure that our crucial funding for life-changing work in Nepal can continue.
Credit card donations via our website are still being processed without delay, as are direct bank transfers (EFTs). If you mail a check to our office, please know that we plan to check the mail twice per week, so there will be a delay in our thank you letter being mailed to you.
If you need to reach us, staff are monitoring individual emails and Info@NepalYouthFoundation.org daily. You can also call us at 415-331-8585 and leave a message, as staff will be periodically be calling in to check voicemail.
In these challenging times, we are most grateful to the loyal and generous members of the NYF community. We thank you for your care, concern, and understanding as we navigate this extraordinary crisis together.
Som Paneru, President
Eric Talbert, U.S. Executive Director
NYF Board of Directors