June 22, 2020
Community Nutrition Kitchen in Lalitpur, An NYF Covid Response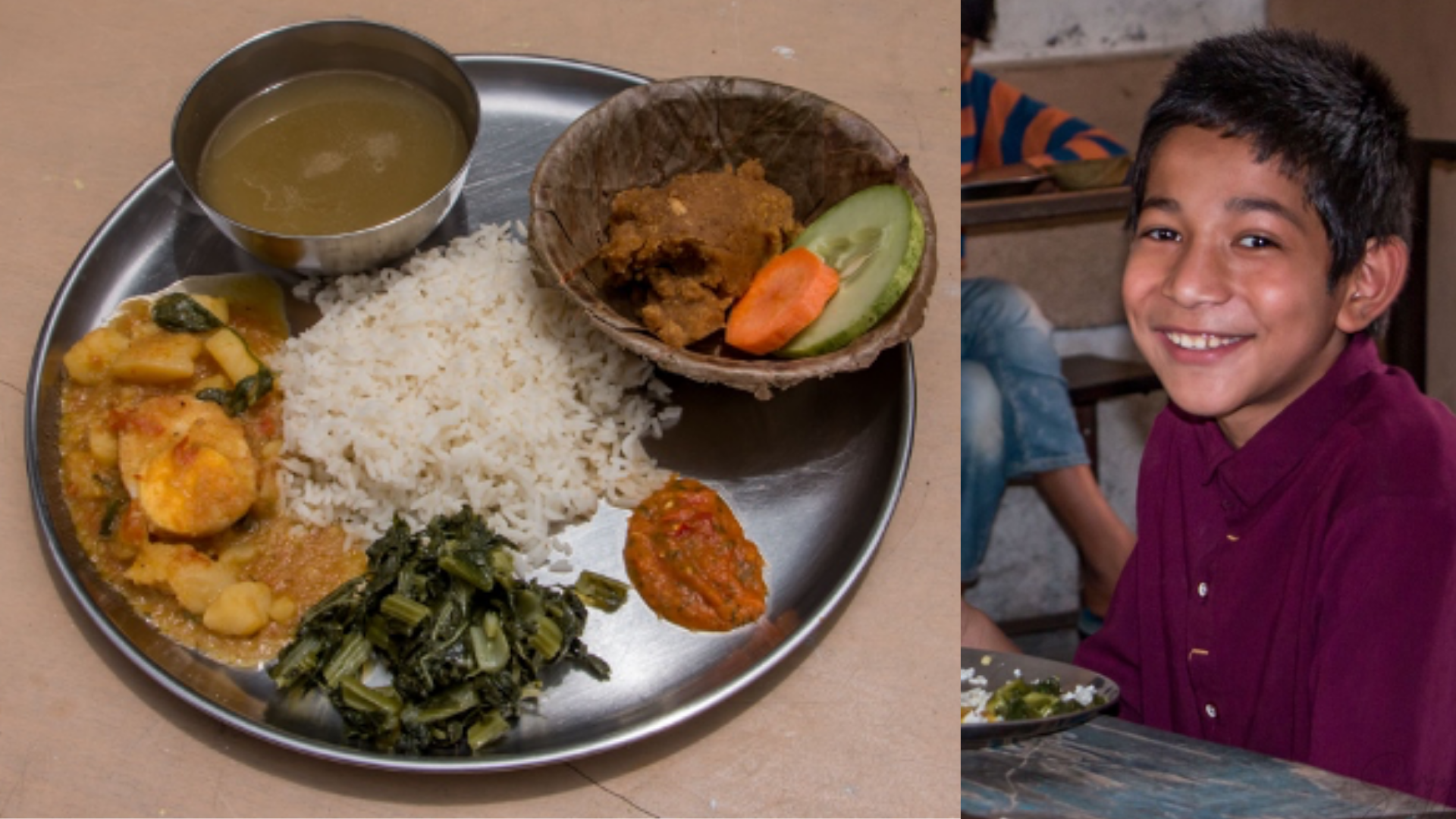 Community Nutrition Kitchens in Lalitpur are providing hot, nutritious lunches free-of-charge to children in locked down communities. This effort has been a successful launch of one of our new COVID interventions for people in Nepal. For each dollar donated, one child can enjoy a complete, delicious, nutrient-rich lunch. With food costs rising as Nepal's lockdown continues, these lovingly prepared meals provide kids with the most vitamins they'll eat in a week.
At NYF, our 30th anniversary year is developing much differently than we'd planned. COVID-19 continues to disrupt regular life across the world. But our dynamic family of supporters and our dedicated staff are determined to do all we can for the children of Nepal, especially during this time of international crisis.
Sejun (name has been changed), age 11, lives in Lalitpur, on the south side of Kathmandu Valley. He was one of 50 children who arrived at the NYF Community Nutrition Kitchen this week. As a growing boy, his appetite won't slow down just because there's a lockdown – and making food stretch from week to week is exhausting and nerve-wracking for his mother. When they heard that NYF would be providing free hot lunches for children like Sejun, there was no question about it. The day of our Community Nutrition Kitchen in Lalitpur, they put on their masks and walked down to the public school, where NYF staff members were waiting with steaming pots full of rice, daal (lentil soup), curry, sautéed spinach, tomato achar, lito (super flour), carrots and cucumbers. This provides a complete nutritional meal.
NYF is developing our Community Nutrition Kitchens in Lalitpur program based on similar successful programming that followed the devastating earthquakes Nepal experienced in 2015, as well as knowledge gained from holding our Nutrition Outreach Camps before the pandemic. We're fortunate to have a nutritionist on our team in Nepal, and devoted staff members who know how to create delicious, kid-friendly, nutrient-rich meals for large groups.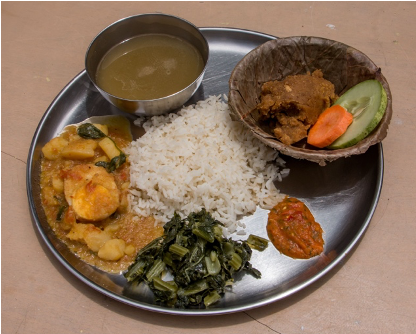 As this program moves forward, NYF expects much larger groups than were served at this school in Lalitpur. Communities in Nepal are full of hardworking, devoted families whose livelihoods have been impacted by the pandemic. They're wondering how they'll manage to feed their growing children due to the lockdown. NYF is determined to help – but we'll need a lot of teamwork to succeed!
The Community Nutrition Kitchen in Lalitpur this week was sponsored by my 11-year-old daughter, Karuna. In 2017, when she was 8, Karuna wrote and illustrated her first book, The Animal Adventure, to sell in support of children impacted by deadly monsoon floods. Now she's been selling her book again, and for 5,000 of her hard-earned rupees (about $50), Karuna provided lunch to 50 kids like Sejun. Karuna's generous heart is just one of the many reasons NYF knows that #LoveWorks.
Maybe you would like join Karuna to help us continue developing Community Nutrition Kitchens to provide healthy meals to more children like Sejun? Every thoughtful dollar donated provides a growing child with a hot, nutritious midday meal full of the vitamins he or she needs to stay healthy, strong, and happy. To make an online donation to NYF's ongoing COVID Response, please click here.
Thank you,
Som Paneru, President
---
Credit card donations via our website are still being processed without delay, as are direct bank transfers (EFTs). If you mail a check to our office (3030 Bridgeway, #325, Sausalito, CA 94965), please know that we continue to check the mail twice per week, so there will be a delay in our thank you letter being mailed to you.
If you need to reach us, please email NYF. You can also call NYF and leave a message, as staff will be periodically be calling in to check voicemail.