June 11, 2020
Staff Spotlight, Olgapuri House Parents Bhim & Shreemaya Shrestha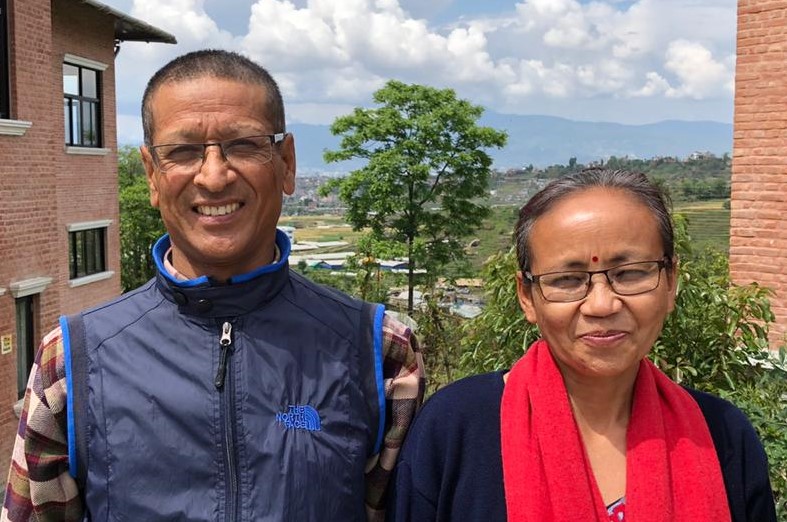 This is a staff spotlight on Bhim & Shreemaya Shrestha, house parents of the senior girls at Olgapuri Children's Village. If you enjoyed reading this, please check out:
Staff Spotlight: Junior girls' house parents Bishnu Rana & Pushpa Thapa at Olgapuri
Staff Spotlight: Junior boys' house parents Dipak Raj Onta & Samana Amatya Onta at Olgapuri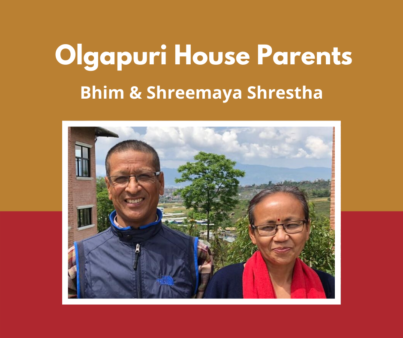 Two months into Nepal's COVID-19 lockdown, the streets of Kathmandu are empty.
But at Olgapuri, the senior girls' kitchen is bustling. Shreemaya-Aunty is demonstrating the proper way to make a beloved snack: samosas. With peas frying alongside fragrant ajwain seeds, onion, ginger, hing, hot peppers, cumin, and other rich spices, the entire room smells absolutely tantalizing. Twenty girls watch eagerly as crumbled potato is added to Shreemaya's large pot.
Shreemaya Shrestha and her husband, Bhim Shrestha, are the house parents in Olgapuri's senior girls' house. For the twenty girls living here, all between the ages of 14 and 19, Bhim and Shreemaya are the primary adult influences, in charge of providing the parental care that all teenagers need—reminders about homework, parent-teacher conferences, life advice, support in social interactions, role modeling, balanced discipline, and, of course, love.
Bhim and Shreemaya came to Olgapuri with a long history of childcare experience. They've worked together in childcare homes for a long time, and have raised many children with their natural warmth, personal care, and love.
The two befriended the Olgapuri children through their work in other childcare homes, and their creative approach to helping children work through problems matched NYF's goals beautifully. Bhim-Uncle and Shreemaya-Aunty formally joined Olgapuri as house parents in 2016.
Back in the kitchen, Shreemaya-Aunty is showing twenty girls how to roll samosa dough to the proper thickness to achieve a crisp, deliciously fried shell. The aromatic potato-peas-and-spices mixture is cooling on the counter, and several girls are tempted to sneak a taste—but they know it'll taste so much better once wrapped into neat packets, deep-fried, and dipped in chutney.
This is just one activity the house parents have devised to make the most of the lockdown. Nobody can leave the Olgapuri campus, and the central dining hall for the four houses has been closed, so age-appropriate cooking lessons have been occurring in the four house-kitchens each day as family meals are prepared. By the end of the pandemic, Olgapuri may have budding chefs testing new dishes on their siblings!
While Shreemaya is teaching the art of the samosa (as well as other day-to-day tasks the girls will value once they've left Olgapuri), Bhim-Uncle is hard at work as well, reaching out to the girls' schools, ensuring homework is complete, and troubleshooting online classes. He's also paying close attention to the ways each girl is coping with the current crisis. Bhim is a counselor with a Master's in Psychology and a Bachelor's in Management. His skills are crucial to ensure that each girl receives the individual care she needs.
Bhim and Shreemaya also work together to help organize outdoor activities on the beautiful Olgapuri campus, find creative ways to hold club activities, and coordinate with NYF staff members to keep programs as active as possible through the crisis.
Normally, house parents take occasional weekends off to visit their loved ones outside of Olgapuri, but during the lockdown, they've all been socially isolated on the campus grounds, just like the children. It's been a "different" experience—an extra-demanding chapter in a demanding career. Bhim and Shreemaya are busy and tired. But their love for the children translates into determined satisfaction. Through it all, they know the most important lesson they are teaching the senior girls is one that will serve them long into the future: how to survive and thrive in difficulties.
Standing in the warm, fragrant kitchen, Shreemaya-Aunty isn't just teaching twenty girls to make a delicious snack. As she offers advice on dough-folding and the proper amount of filling, she is also listening to the girls discussing their worries, their hopes, and their daily troubles. She's listening to the jokes they tell and the ease of their laughter, and she's watching uncertain fingers grow in confidence as the samosas come together, lined up together on a platter, ready for the deep-fryer bubbling nearby.
As the first samosas are lifted carefully from the simmering oil, the scent of deep-fried dough tempting girls to burn their fingers and their tongues on the golden-brown delicacies, Shreemaya-Aunty knows the girls' success is what matters most. And she and Bhim-Uncle are committed to the success of each and every one of them.
It's because of them that #LoveWorks.
All across the world, families are gathering together to cope with the pandemic. If you believe in the work Bhim and Shreemaya are doing at Olgapuri, please help them by sharing their story on social media with the hashtag #LoveWorks!
And if you'd like to try Shreemaya's samosas in your own kitchen, you can! Click here for Shreemaya's very own recipe—a special gift for the NYF Family!