May 15, 2020
Center for Mental Health Counseling Nepal, Covid Heroes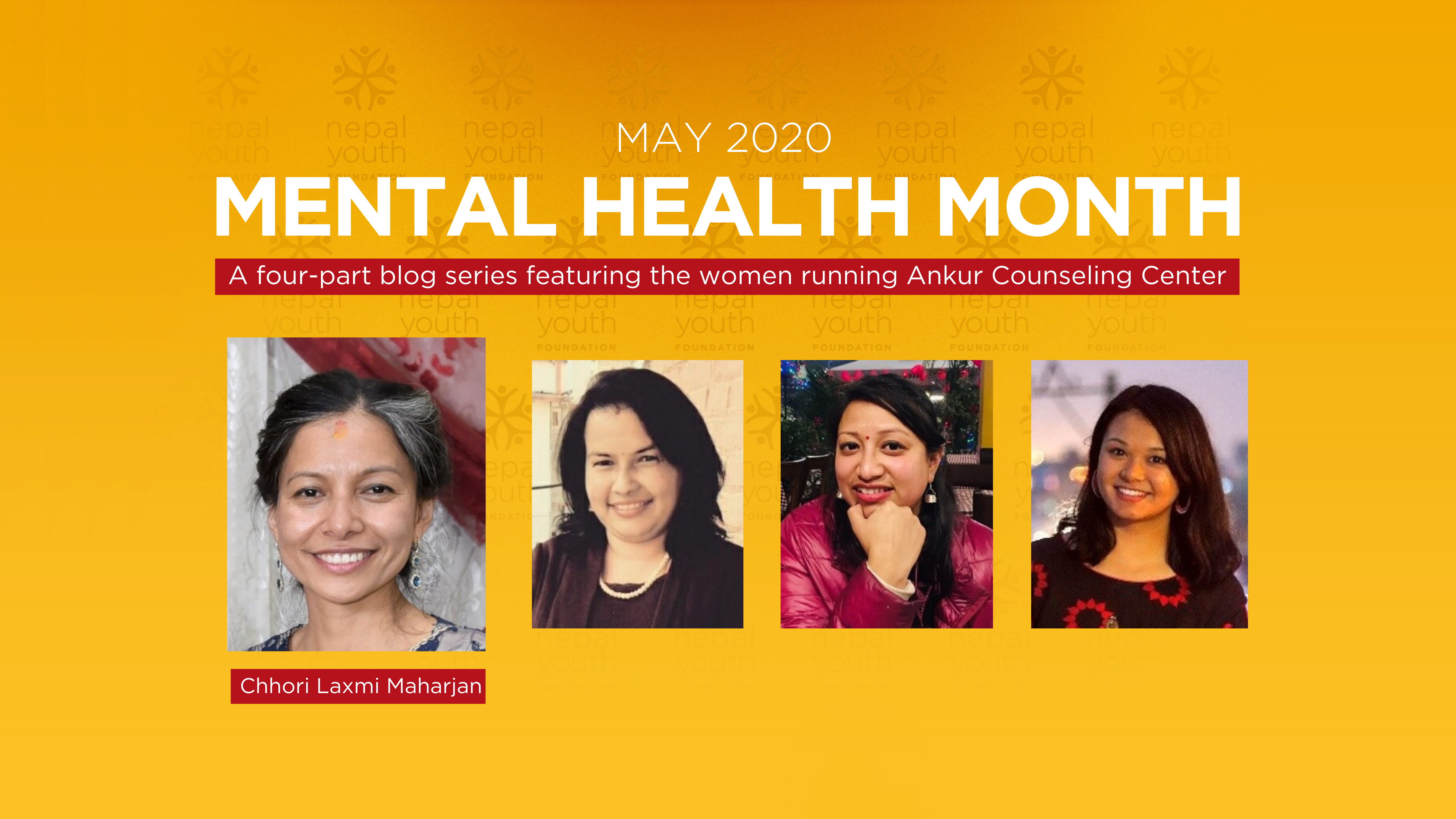 NYF's COVID-19 Heroes, Ankur Counselors
Part 1 of a four-part blog post series in honor of Mental Health Month
Center for Mental Health Counseling Nepal – NYF is Proud of our Covid Heroes
In the United States, Mental Health Month has been observed in May since 1949. Each year, Mental Health America launches a new campaign aimed at spreading awareness, breaking stigmas, and encouraging screenings and other practical ways to improve lives across the country – and beyond.
Now, with the COVID-19 pandemic disrupting lives across the globe, many of us need more mental health help than usual! Anxiety, depression, isolation, and trauma are only some of the very real mental and emotional effects of this ongoing international disaster. Here at Nepal Youth Foundation, we're so grateful for the hard work of the mental health professionals serving communities all over the world during this incredibly tough time.
If you've been following our updates, you know that Nepal has been under a strict lockdown since mid-March. The offices at our Ankur Counseling Center, a Center for Mental Health Counseling Nepal are closed. But NYF's counseling team is working harder than ever!
We've prepared a four-part blog series in honor of Mental Health Month. Let us introduce you the amazing women running Ankur Counseling Center from lockdown. Please join us in celebrating the spectacular work they do every day in Nepal!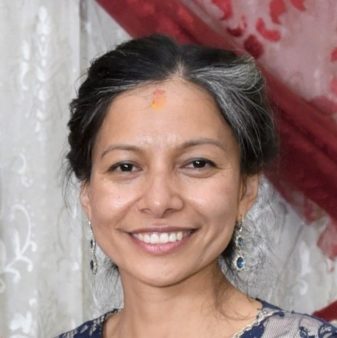 Meet Chhori Laxmi Maharjan, the head of Ankur Counseling Center. She began her counseling career serving adults and children living with HIV/AIDS, but she felt a special connection with the children most of all. "I believe all children deserve to get education, basic needs, love and respect," she says.
When an opportunity arose in 2006 for Chhori to join NYF, she felt she'd found the perfect match for her own life goals and personal values. She's been a valuable member of the team ever since.
She's also among the first Doctors of Psychology in Nepal, having only recently returned home from her PhD program here in the United States (she specialized in sand play therapy for children with trauma). "Lockdown brought me an opportunity to spend quality time with my family," she says, optimistically focusing on the bright side. "It's a wonderful opportunity to be home and reunite with my parents and extended family. I had missed so much of our everyday lifestyle. … I had been away from them for five years for my doctorate degree."
Chhori is putting her years of hard work, education, and practical experience to good use during the pandemic. Working from home in lockdown conditions much stricter than those in the States, Chhori says, "I've been providing tele-counseling services for children and families to minimize distress amid COVID-19. In addition, I have been providing training and supervision for peer counselors and mental health professionals working for violence against children and women. These peer counselors and mental health professionals are actively providing counseling services in the community." She's also offering counseling services over the telephone to front line health care workers, the children in NYF's care, and NYF staff members.
"The negative impact [of lockdown] is not seeing my clients and colleagues face-to-face," Chhori admits, "although tele-counseling is somewhat helpful."
The best part of working at Ankur? For Chhori, it's always the children. "I see them grow and thrive into the persons they were meant to be. This is the best part of my job and it always brings me joy and inspires me to work harder, stay connected and strengthens my intentions to serve Nepalese children."
To help Chhori and her team keep this important work going through the COVID-19 crisis, NYF needs your help! If you'd like to support the work of Ankur Counseling Center. Please click here to donate.
Read Part 2 of our Mental Health Month series
Read Part 3 of our Mental Health Month series