July 8, 2020
Lito for Life: NYF's 3rd COVID Response Program for Nepal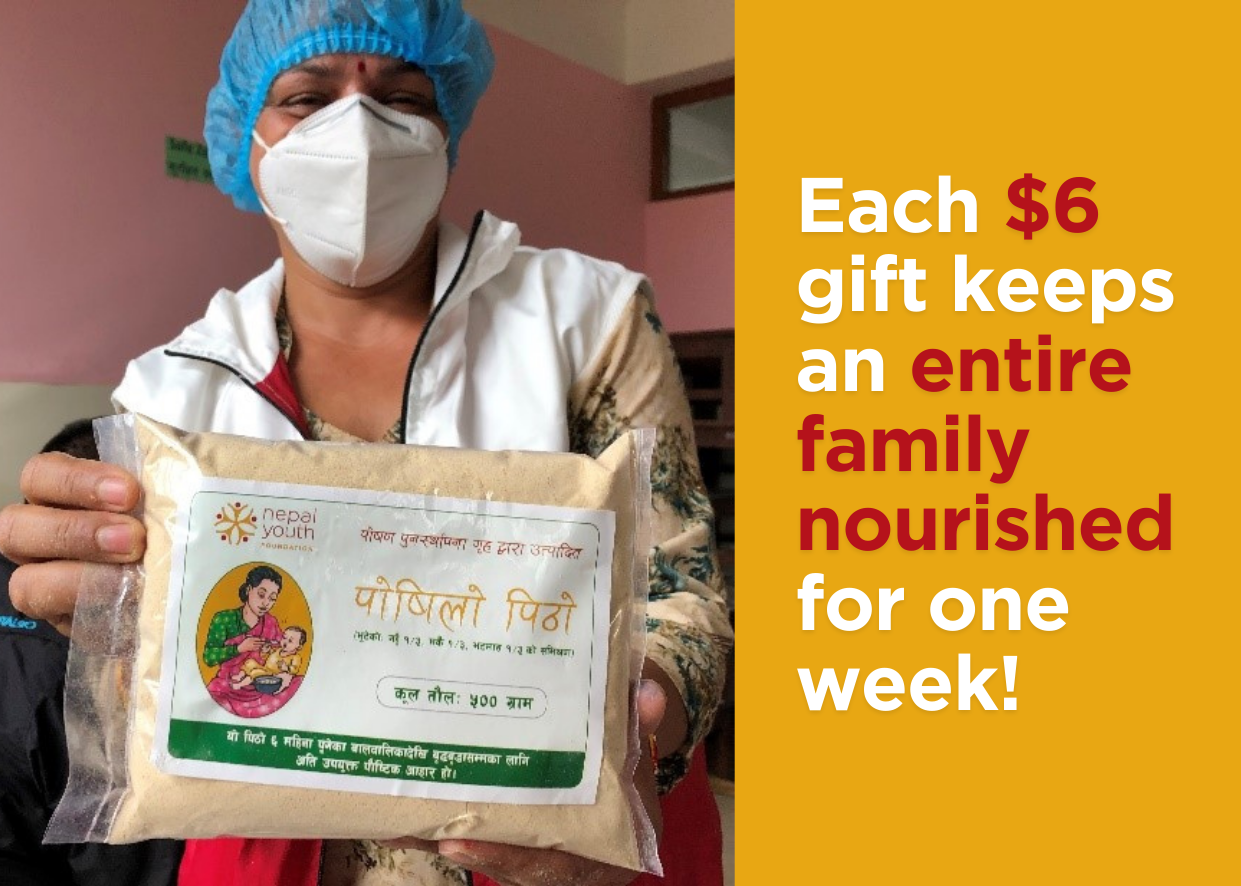 Lito for Life is the the third Covid response program recently launched by Nepal Youth Foundation. Lito is a nutritious 'super flour'.
As the COVID-19 crisis progresses in Nepal, the economic impacts on individual families are intensifying. Over half of Nepal's population relies on wages earned day-to-day or week-to-week for labor done outside of social distanced environments, either in Nepal or abroad. The countrywide lockdown, border closures, global recession, and uncertainty about the future are hitting these workers and their families especially hard.
For the months since the lockdown began, these individuals have not been able to work. Forced into tough decisions between rent and food, many parents are going hungry to feed their children. Applications at local municipal offices for food relief are coming from construction and industry workers, daily laborers, employees and owners of small private businesses, and many more, all of whom have been unable to earn wages since March—and the lists are growing by the week. The longer these families are forced to tighten their belts, the higher their risk of malnutrition.
NYF is proud to be part of the Lito for Life response to this crisis. In addition to our new Community Nutrition Kitchens and Emergency Halfway Home for Women, we have now launched a third COVID Response program: Lito for Life.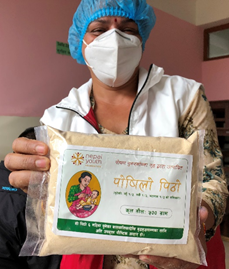 Meet Radhika, an NYF staff member who is accustomed to manufacturing Lito (or "super flour") for our regular nutrition programming. The nutrient-rich staple is a critical menu item at our Nutrition Rehabilitation Homes and is distributed to families with children under age 5 at our remote Nutrition Outreach Camps.
Now, Radhika and her teammates are preparing and packaging Lito for a broader use: keeping urban families nourished through the pandemic's hunger crisis.
Lito is made of roasted and ground corn, wheat, and soybeans, and contains all the nutrients necessary to sustain good health in adults and children alike. Simple to prepare with hot water (or milk, if available) and tasty enough to be accepted and enjoyed by very young children, each 1-kg packet (2.2 lbs) can provide two days of nutrition to a family of four or five. And, if desired, Lito is easily supplemented with other sparing ingredients a family might have on-hand: oil, onions, or spices.
Each packet costs approximately $2 to prepare, including materials, prep, packaging, staff time, and distribution. That means that a gift of $6 can keep an entire family safe from malnutrition for over one week!
Radhika and her teammates have already prepared over 2,000 kilos (4,409 lbs.) of Lito! NYF is working directly with local municipal offices to identify Kathmandu Valley families reaching out for assistance. Each week, we will provide these families with three packets of Lito, ensuring they can maintain basic levels of nutrition at home throughout the crisis.
I wish I knew when Nepal will be able to reopen safely—but I do know that this intervention will keep families strong and healthy, so when the pandemic is over, they can reenter the recovering economy from a place of strength and resilience. That knowledge is comforting in this time of so much turmoil.
In the meantime, Radhika's #LoveWorks, one packet of Lito at a time. She and I have seen the incredible difference this mindfully produced "super flour" makes in the lives of parents working towards better health for their children, and we know what each packet can accomplish in each household. Radhika and her team are doing important work with each batch of Lito produced.
But she needs your help to keep the work going. Each thoughtful gift of $6 protects an entire family's nutritional health for one week; $24 accomplishes the same thing for a month. Imagine how much a healthy community of one hundred families can accomplish together. Please help us put the NYF Family's tradition of love to work today by making your thoughtful online donation here.
Dhanyabad,
Som Paneru, President
---
Credit card donations via our website are still being processed without delay, as are direct bank transfers (EFTs). If you mail a check to our office (3030 Bridgeway, #325, Sausalito, CA 94965), please know that we continue to check the mail twice per week, so there will be a delay in our thank you letter being mailed to you.
If you need to reach us, please email NYF. Please feel free to give us a call and leave a message, as staff will be periodically be calling in to check voicemail.
Learn more about how Nepal Youth Foundation makes real change possible in Nepal on our Programs page. Read our latest newsletters or be the change and donate to NYF today.