May 17, 2021
Purposeful Living & Olga Murray: A Celebration and an Invitation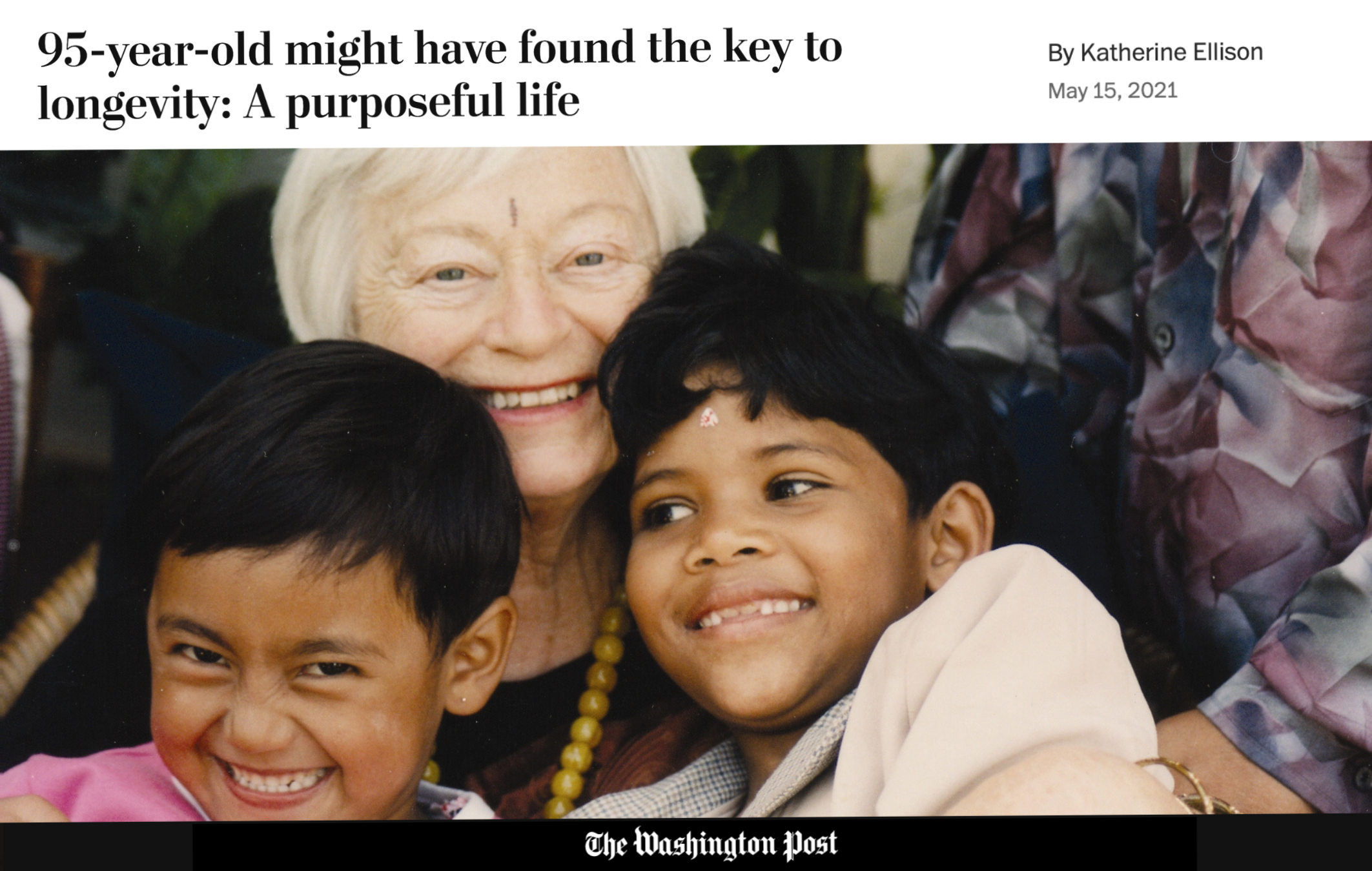 Purposeful living is the focus of a new Washington Post article about our very own founder, Olga Murray (click the link to open the article in a new tab – it is a beautiful tribute by Pulitzer-Prize winner Katherine Ellison!). Our beloved Olga, on the cusp of her 96th birthday, has been an inspiration during the past year of lockdowns and uncertainty.
' "I'm not a doctor," ' the article quotes Olga during a recent interview, ' "but I do know that when I get out of bed every morning and think that I might help a little kid in Nepal, I'm not focused on my body… My main focus is on the kids."
In her interview, Olga is characteristically modest. So much of Olga's work is driven by her belief in others. She believes in those she partners with at NYF, like President Som Paneru. She believes in her friends, her connections – all those generous donors who make her work possible. Most of all, she believes in the children of Nepal, and in the incredible things they can accomplish if given the proper opportunities. (Bishnu Chaudhary, the young woman freed from domestic slavery who recently passed the Nepalese bar exam, is just one example!)
Even with purposeful living fueling her longevity, "I'm not going to be around forever," Olga says pragmatically. "And the thing I want most in the world is for this program to go on."
The NYF community is determined to make that wish come true.
If you'd like to learn more (and to see Olga Murray live over Zoom!), click here to register for our upcoming virtual Founder's Day celebration! Join NYF's email list here.
To support NYF's mission during this challenging time – bringing Education, Health, Shelter, and Freedom to Nepali children – please donate here. For more powerful impact, consider making yours a monthly donation!