June 11, 2020
Vegetable Samosa Recipe, Shreemaya Shares her Recipe from Nepal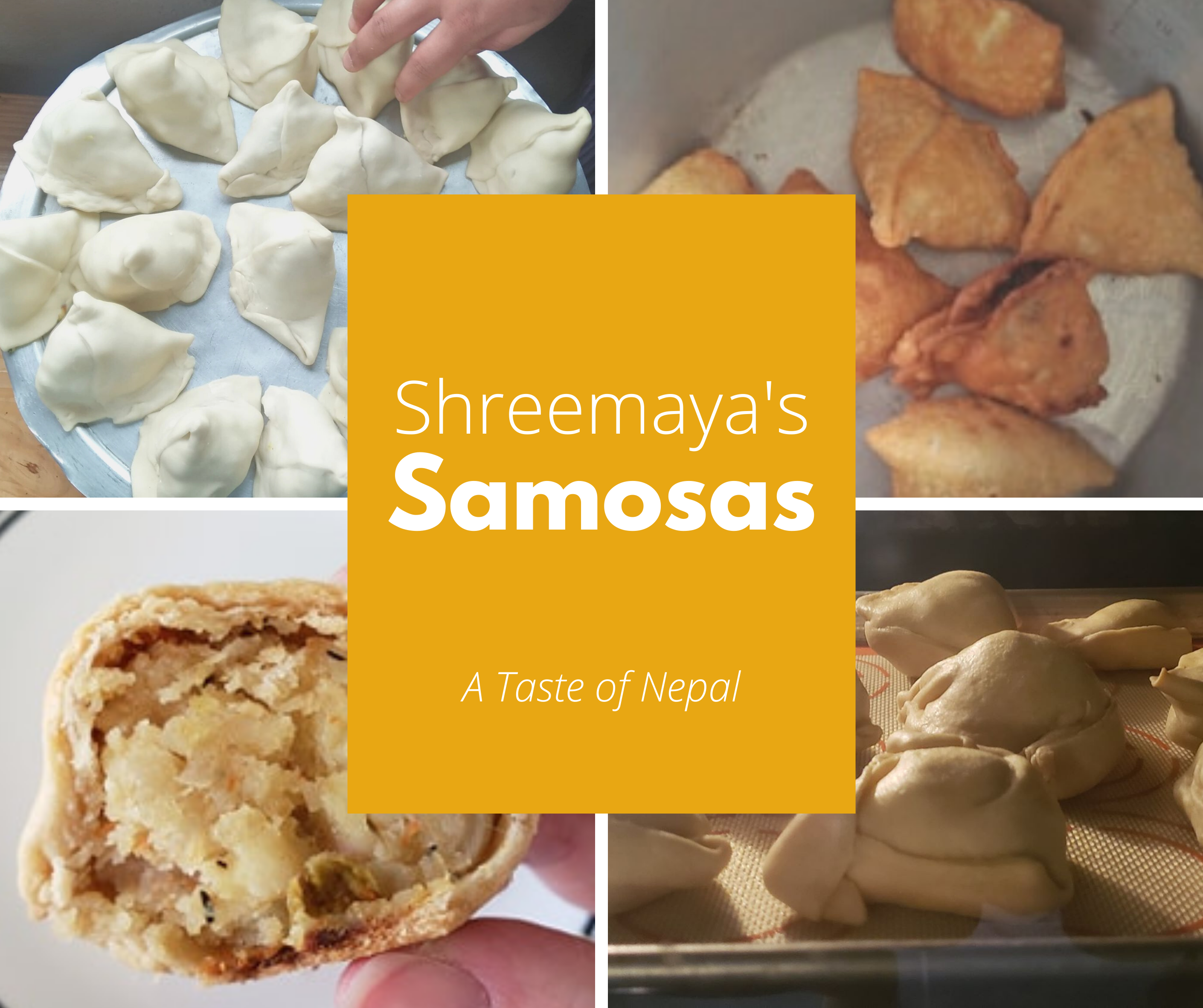 This vegetable samosa recipe is a special gift from Shreemaya-Aunty. She wanted to share this recipe with her NYF english-speaking supporters. Yum, thank you! These deep-fried (or baked) morsels will transport you to Nepal with none of the risks of pandemic travel.
Shreemaya and her husband, Bhim, are the senior's girls house parents at Olgapuri Children's Village, a holistic home for Nepalese children just outside of Kathmandu. To read about their work during Nepal's COVID-19 lockdown, click here.
In our recipe, we've offered substitution suggestions for some specialized ingredients, though you may find both ajwain and hing online. We've also reduced Shreemaya's original recipe (when cooking for twenty hungry teenagers, her recipe calls for 24 cups of flour!). To watch a Nepali YouTuber demonstrate the proper techniques, click here.
The "NYF American Test Kitchen" (NYF staff members and their families!) tried out the recipe below with rave reviews. A few tips: a tester who tried gluten-free flour was unsuccessful, but the filling was still delicious! Another who used puff pastry sheets reported a delicious, buttery result, if a much less "traditional" samosa flavor. And everyone was missing something different in their lockdown spice cabinet—but even without a few key flavors, each of us achieved samosas we'd be happy to eat again!
If you make samosas with your family, please share your photos with NYF on social media, with the hashtag #LoveWorks and a link to Shreemaya's recipe!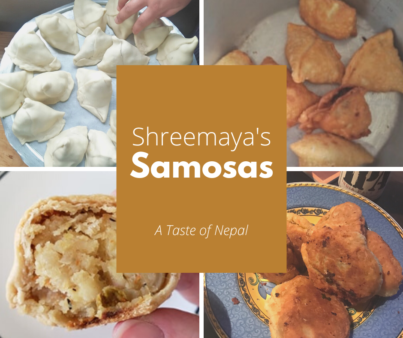 Shreemaya's Samosas
yield: 14 samosas
Dough (or substitute store-bought puff pastry sheets):
2 cups white flour
4 Tbsp. sunflower oil (or olive oil)
¼ tsp. salt
approx. 6 Tbsp. water
Filling:
3-4 medium potatoes
2 Tbsp. sunflower oil or ghee (or olive oil)
½ cup + 2 Tbsp green peas
¼ cup onion, finely chopped
1 tsp. fresh ginger, finely chopped
3 Tbsp. cilantro, finely chopped
Serrano pepper or jalapeno, finely chopped, to taste
1 tsp. ajwain or dried thyme
¼ tsp. hing (asafoetida powder) or garlic powder
½ tsp. turmeric
1 tsp. ground coriander
1 tsp. cumin
Himalayan rock salt (or sea salt) & black pepper to taste

Oil for deep frying, approx. 2 cups
Vegetable Samosa Recipe Instructions:
To make the dough, combine the flour and salt in a bowl. Add the oil, and with clean fingers, begin rubbing the oil into the flour, working the ingredients together for several minutes until the mixture resembles coarse crumbs. You should be able to take a handful of these crumbs and press them together into a mass that holds its shape. Gradually add the water by tablespoonfuls, combining with your hands until the mixture forms a stiff dough. Do not overwork the dough or knead it, as this will create a tough exterior for your samosas. When a stiff dough has been achieved, cover it with a moist cloth or a thin layer of oil and allow it to rest for 40 minutes. Alternatively, you may use store-bought puff pastry sheets or similar to wrap your samosas.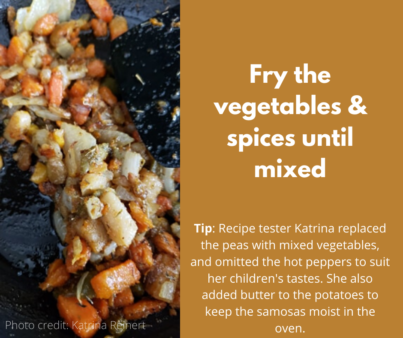 To prepare the filling, peel and boil the potatoes until they are cooked through. Drain and lightly smash them (do not mash them – simply crumble them into small chunks), then set aside. Heat the 2 Tbsp. oil on medium heat and, if you are using ajwain, add it to the oil to begin releasing the flavors (if you are substituting dried thyme, add it later, with the rest of the spices). Add the peas and onions and cook, stirring constantly, until the onions are soft and beginning to turn golden-brown. Add the fresh ginger, then the potatoes and the remaining ingredients, stirring until well-incorporated and cooked through. Remove from heat and allow to cool somewhat.
Break your samosa dough into about seven equal-sized balls, then roll them, one at a time, into elongated ovals around 6-7 inches in diameter. Cut these ovals in half, forming semi-circles, and use a bit of water to create a cone by pinching the straight edge in half (see video for demonstration). Add about 1-2 Tbsp. of the filling to this cone, careful not to overfill, then pinch the opening closed with a bit of water. Set aside for frying and continue until all samosas are filled, keeping the completed samosas covered with a moist cloth to prevent them from drying out.
Using a wok or other deep pan, heat 2 cups of deep-frying oil (good options include sunflower oil, peanut oil, and canola oil). Heat the oil on relatively low heat – when you drop a small piece of dough into the oil, it should take a few seconds to come to the surface. Carefully drop the samosas into the oil by sliding them down the sides of the wok. Fry only 4-5 samosas at a time, slowly, turning them with tongs as they brown. Watch them carefully until you have a feel for how long they take to cook. They may take 15 minutes or so to cook. When the samosas are firm and nicely browned, remove them to a plate lined with paper towels and begin frying the next batch.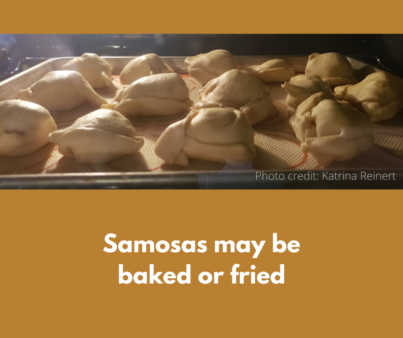 Baked Samosa Recipe Version:
With this Vegetable Samosa Recipe, you may also bake the samosas – once the samosas are shaped, lightly brush them with oil and bake on a cookie sheet at 350 degrees F. for 45 minutes or until golden brown.
Enjoy your vegetable samosas hot, ideally with your favorite chutney!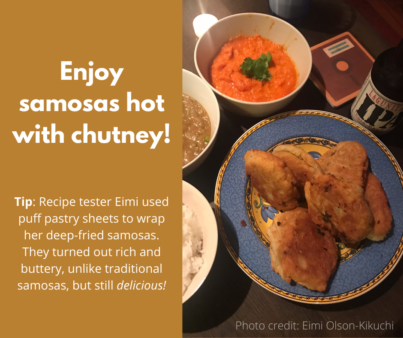 **Photo credits: Photos for this piece were provided by Shreemaya Shrestha, Eimi Olson-Kikuchi, and Katrina Reinert.**