June 24, 2021
Frontline Warrior: NYF's Lila Tharu Celebrates Freedom Day by Saving Lives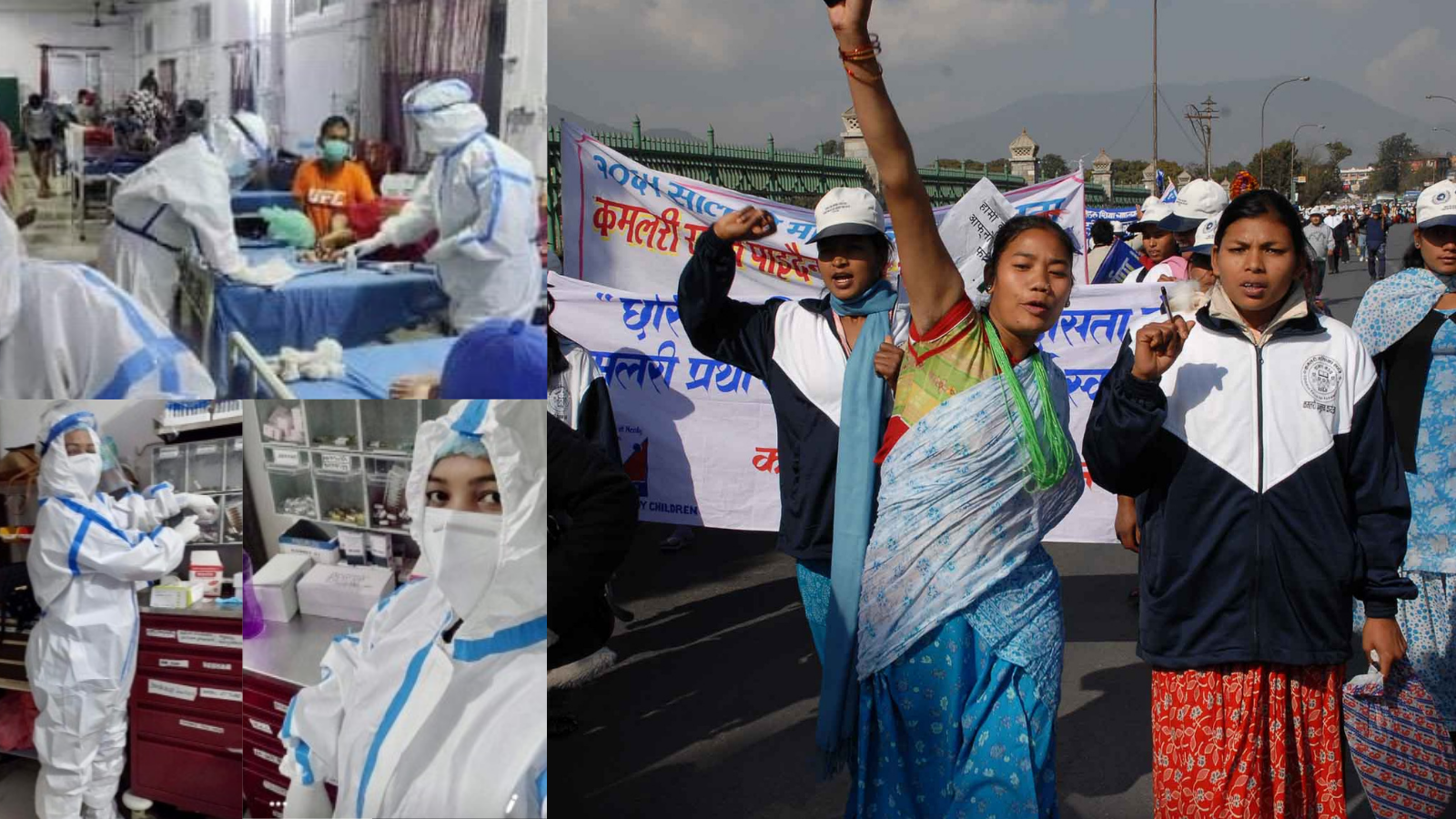 Frontline warrior healthcare workers across the world have spent nearly 18 months battling COVID-19 to defend their communities. These heroes have saved countless lives during the pandemic.
For one of these warriors, Lila Tharu, age 26 (below), her status as a nurse and midwife is a source of particular satisfaction. NYF is proud to count Lila among our many accomplished alumni now to heal their communities during this crisis.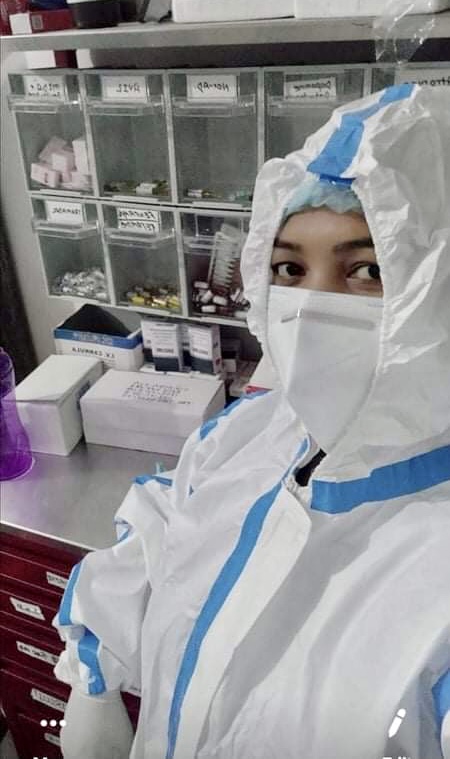 Kamlari Freedom Day
June 27th, 2021 marks the 8th anniversary of the legal abolition of the kamlari practice in Nepal—otherwise known as Kamlari Freedom Day.
Kamlari was a form of indentured servitude which exploited the daughters of the Tharu ethnic minority group in Western Nepal's Terai region. After generations of predatory lending by more powerful "land-owning" groups, the practice emerged as the only way for families to pay back exorbitant generational debts.
At every Tharu New Year, parents sold their daughters—some as young as six years old—to work long hours in the homes of strangers. In return, families would receive an average of only $30 for an entire year of their child's labor. Thousands of Tharu girls spent their entire childhoods in kitchen slavery. Some never returned home.
To people in the Western Terai, the kamlari practice had come to seem inevitable. It was a baked-in cultural truth that very few people dared to question.
Lila Tharu – Kamlari Life, Rescue & Education
Lila was born in Thakurbaba Municipality in Bardiya District. When she was 12, Lila was sent away to work as a kamlari in 2005. Her two older sisters had also worked as kamlaris.
After two years working in her master's house and being denied an education, Lila was identified and rescued by Nepal Youth Foundation in 2007. Through the Indentured Daughters program, her family was provided with economic support to offset Lila's lost "wage." It also included the materials needed to allow Lila to return to school: a kerosene lamp to study by, a school uniform, notebooks, and more.
Lila was a determined student who dreamed of becoming a midwife. Soon after her rescue, she enrolled in grade 7 at a local school. She completed high school (10th grade at the time in Nepal) in 2012, passing her country's notorious SLC "Iron Gate" exam. Lila earned a place in the Auxiliary Nurse Midwife program at Sushma Koirala Memorial Institute in Nepalgunj. NYF provided her with a college scholarship throughout her studies.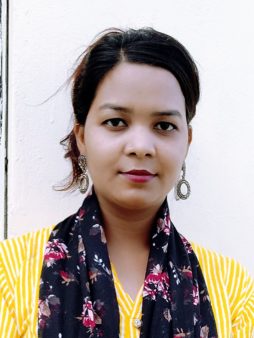 NYF continued to provide career support as Lila began her nursing career in a private hospital in Banke District. And in November 2016, she finally landed her dream job as an Auxiliary Nurse Midwife at Bheri Hospital in Nepalgunj, the largest government hospital in the region. She has remained there ever since, continuing her education by taking Nursing Care and Skilled Birth Attendant trainings to further enhance her skills.
The salary she brings home each month is far beyond what members of the Tharu community thought possible for one of their daughters only 10 to 20 years ago. Not only is Lila serving a critical role in her community's health system—she is proving the incredible potential within a Tharu girl.
Lila Tharu – Frontline Warrior
At the beginning of 2020, Lila was living at home with her mother while continuing her career. Lila's father had passed away years before, and her two sisters were now married.
Things changed in Lila's work life when the pandemic hit. She was added to a special COVID treatment team early on and assigned temporarily to nearby Sushil Koirala Cancer Hospital in Khajura. This hospital had been set aside especially for COVID patients. Lila worked there for several weeks during the pandemic's first wave. She also served COVID patients in mandated isolation in a Kalpatri hotel during this time.
Now, during Nepal's intense second COVID wave, Lila's hospital in Nepalgunj is at the epicenter of the crisis. Many young people from Western Nepal cross the border into India to find work. When the virus surged in India earlier this year, they fled back north to escape the pandemic—not realizing they were bringing the virus home with them.
Bheri Hospital now has four dedicated COVID wards. Lila (below, in white at far right), who has valuable COVID Care experience from 2020, is a frontline warrior in one of them.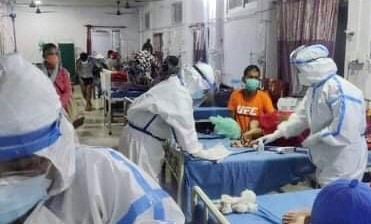 She is hard at work monitoring her patients' vital signs, measuring oxygen levels, and providing intravenous therapy and medicine, as well as other critical care. COVID death rates for hospitalized patients are frighteningly high everywhere, and Lila's ward is no different. During this second surge, they have lost an average of 3-4 patients per day. But Lila tries to remember the lives she has helped to save as well. Many of her surviving patients would not be able to return home if not for her.
In spite of rigorous safety protocols, Lila herself caught COVID in the spring, like many other frontline warriors across the world. Fortunately, her symptoms were mild. After a short isolation, she returned courageously to the COVID ward to continue her lifesaving work.
She will continue this work until her expertise is no longer required in the COVID ward. She (below, preparing medicines for a patient) is proud to be doing this important work in her community—and grateful to the NYF Community for making her journey possible.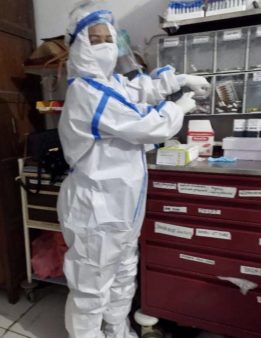 Just One Story of Thousands
Lila says she was afraid when the virus first arrived in Nepal. But now, she is extremely dedicated to the community she serves. Her courage is nothing new to NYF.
Like the other Freed Kamlari women, Lila had already experienced intense hardship and taken many daring steps before COVID arrived. Together, while most of them were still children, these girls dared to challenge their communities, abandon their masters, question their culture, and declare their own worth. Many of them returned home to families who resented them for taking such bold steps. Others were injured while marching for kamlari freedom, as police objected to the girls' protests against the government.
Lila is one of thousands of Freed Kamlari who refused to stop simply at being rescued from an exploitative practice.
She and so many others have claimed their personal power by seizing educational opportunities and chasing their dreams – and working to lift their sisters and daughters in the process. Some are becoming lawyers, determined to defend human rights. Others have become small business owners or specialized farmers, gradually building personal and generational wealth in ways their parents could not.
And some, like Lila Tharu, dreamed of helping others in the healthcare field. They've grown up to be frontline warriors in a global crisis they never imagined.
Happy Kamlari Freedom Day, Lila!

Happy Freedom Day to ALL of the Freed Kamlaris
and to the young girls and women who will never be bonded away!

And Happy Freedom Day to the NYF Community—to everyone who helped support this incredible program. Lila's story, and so many others like it, are proof of the amazing way your #LoveWorks.
Celebrate with NYF today.
To help celebrate this joyous occasion and support the education of brave young women like Lila, please make a thoughtful gift for NYF Scholarships or our Vocational Education program on our donation page. Additionally, join the NYF Community by signing up to receive emails here.
Empowering Transformations, One Gift at a Time
Here are just a few ways your gift powers transformations for children & families in Nepal.
$25
provides 1 one-hour therapy session to a child learning vital emotional skills
$50
helps a student with a disability focus on their studies while a social worker arranges accommodations
$150
covers labs & related medical costs for a child receiving treatment for HIV
$750
keeps a child safe in a loving family member's home & in school for a year
$850
covers one year of living expenses, school supplies, and testing fees for a motivated college student