September 11, 2020
Tharu Leaders Transforming their Communities in Nepal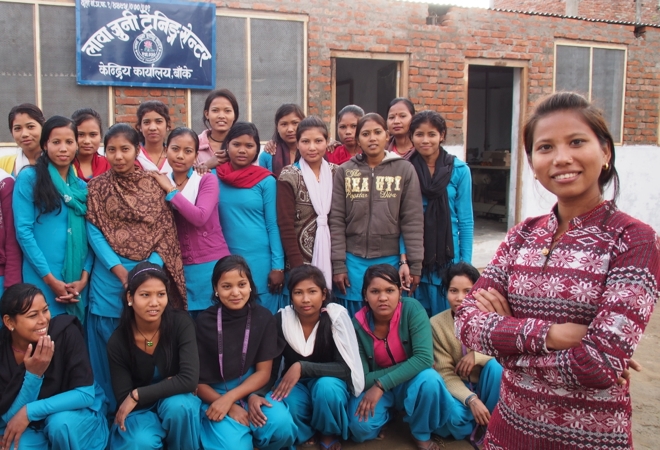 Tharu Leaders are led by incredible women who have experienced the kamlari practice first-hand. They are freed girls and women who are now now fully independent from NYF's Freed Kamlari Development Forum (FKDF). These leaders know the talents, struggles, and cultures of their communities better than anyone, and they are each determined to use their freedom, their passion, and their education to build a stronger, more equitable future for their daughters, neighbors, villages, and country.
We are pleased to introduce you to just a few of the amazing leaders from the Freed Kamlari community.
Urmila Chaudhary
Law student Urmila Chaudhary has won multiple international human rights awards for the work she has done on behalf of women. Her personal story has been featured in a documentary and in books, including Olga's Promise, and in June 2020, she spoke at NYF's virtual Founder's Day celebration. She makes a point of investing prize money and royalties back into the FKDF community.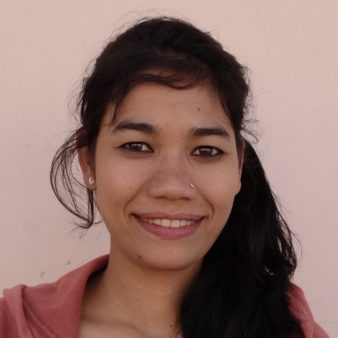 Urmila spent 12 years—age 6 to age 18—in indentured servitude. When she finally gained her freedom, she set to work right away working to free other girls, speaking against unjust landlords, advocating with parents, and defending children from community members who believed kamlari was the duty of all Tharu girls. Urmila has withstood challenges and threats. She has been injured during protests on behalf of young girls. These obstacles have helped her grow into a forceful, confident leader who is unafraid to confront injustices.
Urmila has dedicated her life to expanding women's and children's access to the legal resources that will help them fight oppression.
Dilkumari Chaudhary
Dilkumari Chaudhary is passionate about educational access, skills development, and entrepreneurial potential. She's earning her degree in Management, but she's already won a Young Entrepreneurs Award in Nepal. The development of capital, she says, is the key to employment opportunities for youth in Nepal. She encourages everyone she meets to build a business, and she's determined to provide the resources to make these dreams a reality. She served in FKDF leadership roles for 6 years—the same length of time she was forced to work as a kamlari.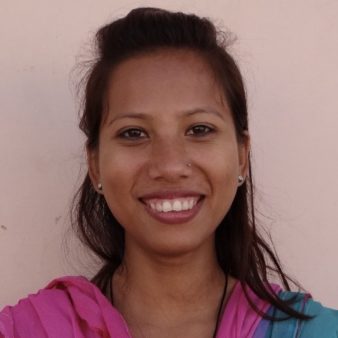 When Dilkumari speaks of potential and freedom, she backs up her ideals with practical tools to help individuals live their dreams
Besides putting pressure on the Nepalese government for change, Dilkumari has served her community by providing practical skills training to young women. She established a training center just for freed kamlaris in Nepalgunj and has trained over 250 young women there to date. She's helped move her family away from dependence on cruel landlords by starting a small pig farm and a grocery shop. She's used her earnings to educate her younger siblings and to purchase farmland outright, showing her community by example that women are more than capable of building generational wealth.
Manjita Chaudhary
Finally, Manjita Chaudhary is using her extensive experience to work as the chief advisor to the FKDF and its many local lending co-operatives. She was the founding president of the FKDF when she was only 24 years old, participating in policymaking, project design, budget planning, and program implementation.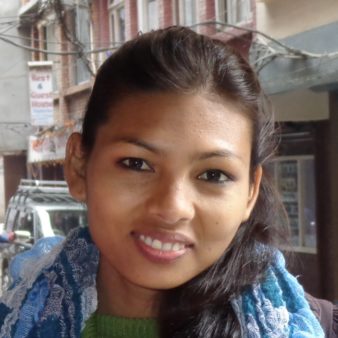 Manjita dreams of communities in which each household has at least one business owner, one co-op member, and one job in the community—a model she believes will maximize the income of Tharu families. According to Manjita, economic empowerment is crucial to break the cycles of poverty that led to the kamlari practice in the first place. She is one year away from completing her degree in Management, and she's hoping to establish a bank in the very near future.
Banking is personal to Manjita, since her kamlari experience began with a loan from a bank that her father had no way to repay. Financial freedom and ethical, responsible lending practices will prevent the same horrors from befalling others in the future.
---
Each leader within the Freed Kamlari Development Forum has a unique story, special passions, and distinctive talents. Since NYF's work with the Tharu community and their enslaved daughters began in 2000, these women have accomplished what many in Nepal thought to be impossible.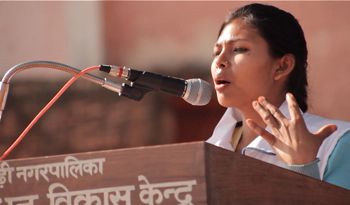 NYF is so grateful to each and every supporter who has participated in this program over the years. Your thoughtful gifts have allowed these young girls to blossom into powerful advocates for change. Each gift in support of freedom for Tharu girls has rippled forward to empower a generation. We are confident that they will continue along their path of empowerment for generations to come!
Dhanyabad! Thank you for your belief in the worth of these girls. These success stories – and many more! – are proof that #LoveWorks.
For a brief look at the FKDF's COVID response, click here.
---
To continue supporting girls freed from kamlari bondage as they establish their own small businesses, please contribute towards our Vocational Education and Career Counseling program. If you'd like to help prevent early marriage during the COVID crisis, please consider a gift towards Access to Education. Donate here!