New Life Center - HIV/AIDS
Success!
The New Life Center was created in 2006 and focused on pediatric HIV/AIDS until 2023. Mother-to-child HIV transmission rates have plummeted in Nepal, meaning the number of children requiring specialized care has also declined. This has enabled NYF to open this beautiful facility to a wider population of children, expanding the NLC's mission effective in 2023 (read more on our New Life Center – Medical Recovery Home page!).
The services described below are still available for families in need of them. Medical support is offered at the New Life Center. HIV/AIDS Awareness & Advocacy programming has now been absorbed into the work done through the Nutritional Rehabilitation Home.
The New Life Center (NLC) is a residential health center which between 2006 and 2023 provided specialized, supportive care to Nepali children (age 0 to 14) living with HIV/AIDS.
These young patients and their caregivers stay here for months at a time, free of charge, receiving specialized medical and nutritional support, psychological counseling, tutoring services, cultural celebrations, and more – until they are healthy enough to return home. Caregivers of these children receive vital information on hygienic practices, nutrition, and the effective management of HIV/AIDS, plus counseling services in partnership with Ankur Counseling Center.
After discharge, families unable to access the free antiretroviral medicine provided by the Nepali government benefit from delivery services by NLC staff.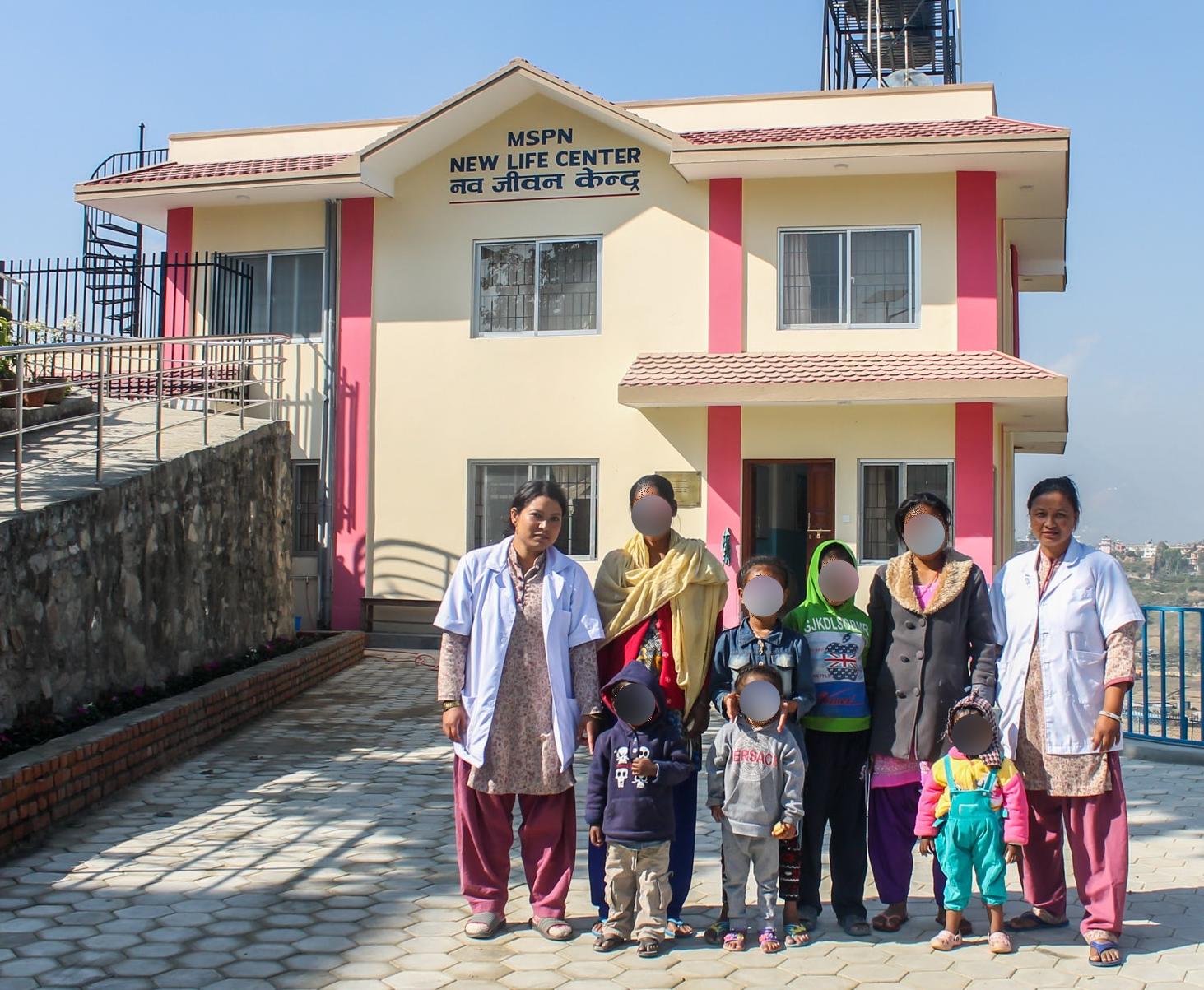 New Life Center nurses (in white) and two patient families pose in front of our beautiful facility at discharge. The New Life Center is located in Lalitpur, just outside of Kathmandu. Stigma against HIV is so great in Nepal that we can't show our patients' faces - but these moms are tremendously relieved to know the New Life Center is here to support them in managing their children's HIV.
How We Work
Because children's immune systems are not fully developed, children living with HIV get much sicker than adults–and they do so more often as well. These children are exposed to all the same illnesses as other children, but even when their HIV is well-managed, their weakened immune systems struggle to fight effectively against common ailments like the flu, the common cold, urinary tract infections, and more. Tuberculosis and pneumonia are special dangers for Nepali children living with HIV.
The New Life Center provides these children with the support they need to survive and thrive with HIV.
Capable of treating up to 18 child-mother pairs on-site at a time, the NLC was built to provide holistic residential care to between 50 and 60 children living with HIV each year (often alongside their mothers, who are often also living with HIV).
Our NLC team helps children recover from illnesses, keep current on their medication, and perfect their HIV management practices at home. When an NLC child turns 15 (old enough for adult services), NYF matches them with their local HIV resources for adults, ensuring a smooth transition with no gaps in care.
Staff members include cooks, nurses, a nutritionist, a driver, and more, with hospital-based pediatricians visiting at least once a month.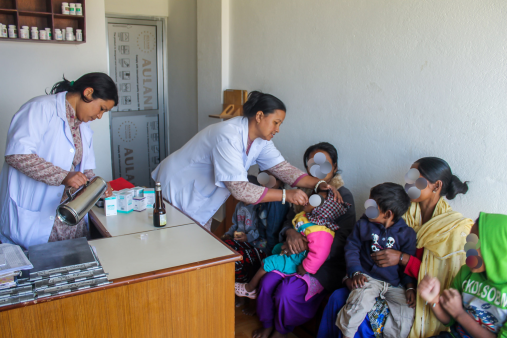 New Life Center nurses (in white coats) administer medicine to several children receiving care for HIV - as well as their mothers, also living with HIV. Stigma around HIV is so strong in Nepal that NYF must obscure the faces of these individuals, but here at the New Life Center, everyone is treated like family.
Beginning in 2022, in response to lessons learned during the COVID-19 pandemic, we expanded our outreach capabilities to provide home-based care options for rural families who are unable to spend months out of the year in Kathmandu Valley. Mothers in need of income generation help became eligible for some of our programs aimed at small business start-ups. (See Vocational Education & Career Counseling.)
HIV/AIDS Awareness & Advocacy
In coordination with our hospital friends and grassroots partners, NYF expanded our HIV/AIDS Awareness efforts in 2022 and 2023. This included a telephone helpline for those hoping to keep their status private, as well as the production and distribution of Nepali-language educational resources for caregivers. Our hope is that by expanding our reach in this way, we can save and enrich many more lives – and help Nepal continue its progress in addressing this global challenge.
We're proud to have a developed a clear, illustrated Nepali-language HIV/AIDS information and home health guide to help families understand and manage this challenging diagnosis. Copies of this booklet have been distributed to individual families and to local health posts and the offices of other Nepali NGOs working to address HIV in their communities. (You can download the booklet below or view it as Flipbook on our website).
Our team released two radio public service announcements, each recorded in Nepali and the Bhojpuri language. For one year, these brief clips played several times a day (including prime time) through the Ujjyalo Network—a nationwide network of FM radio stations throughout Nepal, with millions of listeners a day. FM radio is the most popular information source in Nepal, reaching rural and urban listeners alike.
The sound files below include translations into English of the important information shared over Nepal's radio waves to challenge social stigmas, prevent further spread, and empower individuals living with HIV to access important health resources.
Pediatric HIV in Nepal
People living with HIV/AIDS in Nepal face social isolation, medical neglect, and physical and emotional abandonment. Though the Nepali government offers HIV medication and other treatment programs free of charge, these services are difficult to access for patients in remote villages. Some hospitals still refuse care to affected people.
Many children are only diagnosed after their fathers, and sometimes both parents, have died of the disease. Tragically, low diagnosis rates have resulted in some mothers unknowingly passing the virus to multiple children. These children are at extremely high risk. HIV/AIDS is one of the most stigmatized illnesses in Nepal. Schools shut their doors. Non-infected children won't play with them, and they're banned from village activities. As kids living with HIV/AIDS become desperately sick with opportunistic diseases and feel brutally ostracized, their quality of life plummets.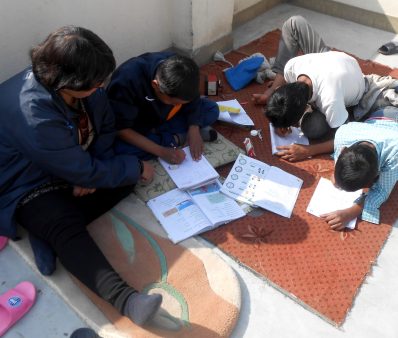 A group of children enjoy a sunny afternoon on a balcony area at the New Life Center. Times like this - coloring and enjoying the simple medicine of sunshine and good company - help these kids feel less alone, and more like children.
Problems related specifically to HIV/AIDS in Nepal – in particular where children are concerned – include:
Scarce specialized programs for people living with HIV/AIDS
Limited access to available programs and resources, particularly for families in geographically remote villages
Cultural stigma and superstition around HIV/AIDS status
Low and late diagnosis rates, especially for rural communities
Parental death leaving behind orphan children unable to access care
Large families prioritizing uninfected children
Necessarily-long hospital stays for children receiving care
Endemic malnutrition throughout the country
NYF works closely with many other local organizations serving communities living with HIV to respond to these problems as effectively as possible.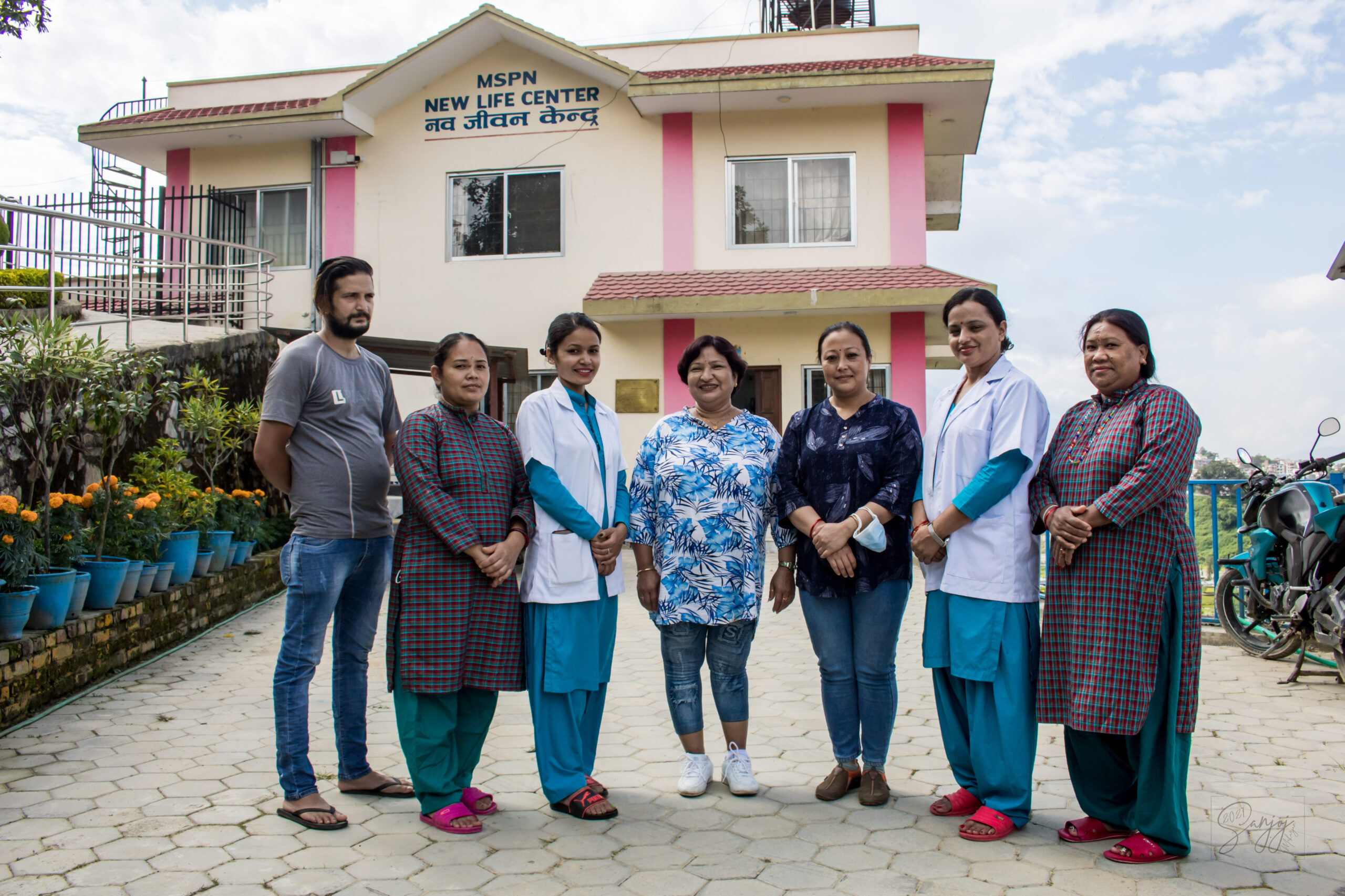 The New Life Center is located in Kathmandu Valley, next to NYF's flagship Nutritional Rehabilitation Home. Here, our incredible team (pictured above) ensures families living with HIV are safe, nurtured, and supported in their journeys of becoming.
Fortunately, facilities and programs like those offered through the New Life Center and our community partners empower children and families to harness their potential and live full, rich, joyful lives. Building on a strong foundation of nutritional care, attention to a medical routine, and psychological counseling, the New Life Center helps children and families regain control of their health and chase their dreams.