New Life Center - Medical Recovery Home
The New Life Center (NLC) is a safe, nurturing temporary recovery space for rural families visiting Nepal's capital city of Kathmandu for critical medical treatment and surgery, especially for children and expectant mothers.
This resource allows children from some of Nepal's most remote regions to access their right to healthcare—improving health and wellbeing for life.
Most of Nepal's hospitals—especially those offering specialized treatments—are centralized in Kathmandu. A recent study showed that 57% of Kathmandu patients have traveled for treatment from more rural areas. This is a devastating expense for many families.
Children and their caregivers stay at the New Life Center for an average of 15 days—the typical duration required for follow-up and recovery from the acute medical conditions and procedures we typically see. During their stay, they receive individualized, supportive care free of charge, including monitoring from nurses, nutritious meals created under the recommendation of our dieticians, emergency support and ambulance service where needed, psychological counseling as-needed, and practical, supportive advice from our staff on how to understand and implement their doctors' discharge instructions at home.
Priya* (30 months old) & her mother, Rani* (24) were the first medical recovery patients to visit the New Life Center in summer 2023. Priya was born with cleft palate, a condition that impacts a child's eating, drinking, and speaking. Cleft palate requires surgery to correct, but Rani was dismayed to learn that her daughter was not eligible for this surgery due to her low weight. Part of the reason Priya's weight was low was due to difficulties with eating—caused by cleft palate! Rani had already spent her savings on the trip to Kathmandu, and she could not afford to travel home, bring her daughter's weight up, and then return again. That's when she was referred to NYF, where they not only received personalized nutritional care, but encouragement and nursing support as well. Priya and Rani belong to the Dalit community (traditionally seen as "untouchable" under Nepal's caste system). Due to their caste identity, Rani expected extra challenges accessing healthcare for her daughter. This loving young mother was thrilled to receive the support of NYF through a program designed especially for families like hers.
*Names throughout this article have been changed to protect patient privacy.
How We Work
Although public hospitals in Nepal offer relatively subsidized health services, healthcare expenses in Nepal are fully out-of-pocket. This means that a surgeon will perform an operation at low cost, but tangible items like surgical supplies, food, medicine, IV fluids, casts, and medical implants like stents, pins, plates, and mesh must be purchased outright by the patient.
Many Nepali families sell property or take out loans—often with predatory interest rates—to manage these expenses. Over 11% of Nepali households can name catastrophic health expenditures as an obstacle in their journey out of poverty. Many of the students in our scholarship programs and in Kinship Care, and many of the kids at Olgapuri Children's Village, have witnessed this cycle first-hand in their own families.
In many cases, the medical expenses themselves would be manageable—but travel expenses like transportation, food and drink, and temporary accommodations while waiting for test results or during recovery are not.
As a result, many families either forego treatment altogether, spend post-operation time sleeping out-of-doors with limited food, or return to their villages without completing their treatment and important follow-ups. This results in increased risk of complications, re-injury, infection, preventable disability, and even death. At the least destructive, it results in an excruciating journey home and a slower recovery rate for patients who were not able to focus on healing sufficiently before traveling.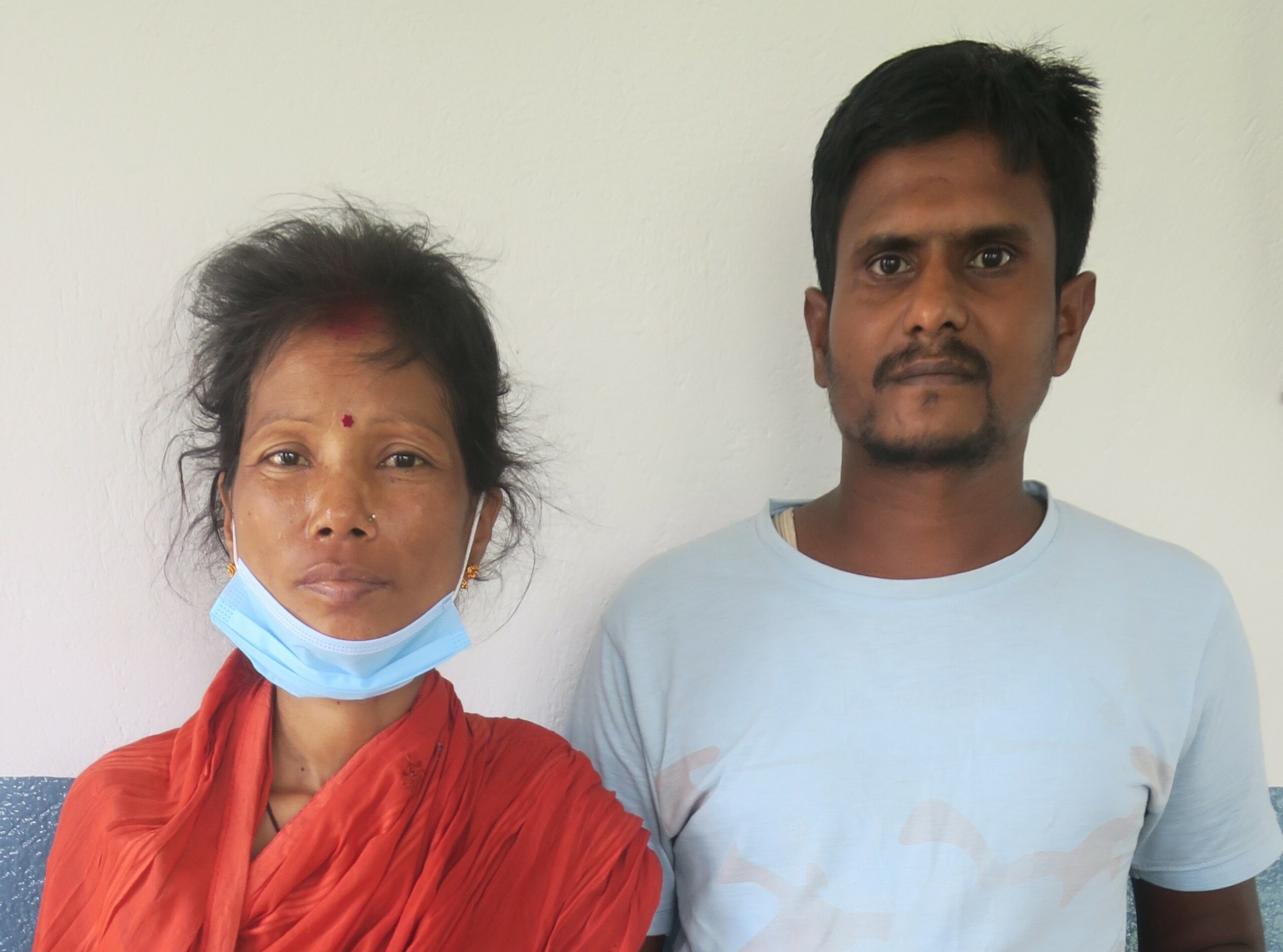 Uma* (35) was diagnosed with diabetes three years ago, and though she lives in a rural area, she has done her best to keep up with her medications while raising her two pre-teen children. Her family does not have much income, so they usually only visit the doctor in emergencies. Unfortunately, in July 2023, Uma's symptoms suddenly began to spiral, and her husband, Bikram*, realized she would need urgent hospital care. By the time they reached Kathmandu, Uma could not walk on her own and her kidneys were in severe distress. After her emergency treatment, the hospital discharged Uma with instructions to return in one week for follow-up tests that would allow them to develop a new management plan for her case. Bikram was anxious about finding a place to stay in Kathmandu—and he was relieved when the hospital referred them to NYF. Uma still could not walk on her own, and Bikram was desperate to ensure she received the best possible care. The nurses at the NLC provided Uma with a nutritious, diabetes-conscious diet during her stay, advising the couple on types of foods to avoid moving forward. By the time Uma returned to the hospital, she was on her feet again and feeling much more fresh—though still understandably exhausted from her ordeal. She and Bikram thanked the NLC staff warmly, saying that they were both more likely to seek medical treatment earlier now that this resource was a possibility for families like theirs.
The New Life Center offers a solution for about 50 patients and their caretakers per year, based on their financial need, by providing them a safe place to stay during their medical visit to Kathmandu. Our patients are provided with transportation to and from the hospital, nutritious food, a safe and clean place to sleep, hygiene kits, and personalized nursing support to ensure the best possible outcomes for their children. They also receive information on topics like nutritional care, home health and hygiene, breastfeeding, HIV/AIDS awareness and prevention, women's health, and family planning.
In extreme cases, NYF even covers the transportation costs for the journey home.
Who We Serve
New Life Center patients are:
Children who have been discharged from the hospital but must return for follow-up treatment within a couple of weeks.
Patients waiting for test results which may result in further treatment.
Kids experiencing malnutrition who must attain a safe weight before a crucial surgery.
Children with health conditions requiring specialized recovery support, including individualized training for caregivers.
Pregnant women who are waiting to go into labor so they can give birth in a hospital.
Postpartum women (especially post C-section women) who are waiting for follow-up appointments and healing for travel.
Patients may stay at the center as they prepare for forthcoming treatment and surgeries; they may also remain here while healing and waiting for follow-up treatments. They are referred by hospitals and clinics, other nonprofit organizations, and through word-of-mouth.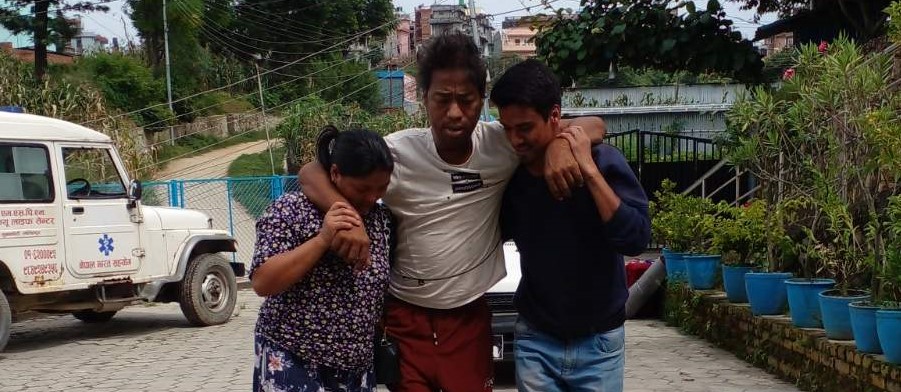 The NLC prioritizes children and mothers when providing services, but when beds are available, we are able to accommodate men on a case-by-case basis. Indra*, at center, a 40-year-old father from a remote village in eastern Nepal, visited Kathmandu for thyroid surgery to correct a rare disorder. The doctor informed him that he'd need to conduct follow-up checks after a week of recovery. Indra had spent all of the money he'd brought on the surgery and the hospital stay, and he had no idea where he could go to recover. Fortunately, the hospital connected him with the NLC. When he arrived at the NLC (pictured above), he had to be supported by his wife on one side and an NLC staff member on the other. Indra could hardly express his overwhelming relief for the care he received, saying that the NLC was like an "imaginary place". After so much turmoil and stress, the warm nutritious meals and attentive care offered here allowed him some much-needed peace. "I will never forget these six days of help in my life," Indra told our staff earnestly at the end of his stay. "Thank you so much for all you have done for me." He assured us that everyone in his village would soon know that this resource was available—especially for women and children who were going without medical care due to financial hardship.
History
The New Life Center was originally created in 2006 as a specialized care home for children (aged 0-14) living with HIV/AIDS. Over the next 17 years, the NLC became a premier resource in Nepal for families impacted by pediatric HIV, saving hundreds of lives, empowering families, and contributing significantly to Nepal's work to combat both the transmission of the virus and the stigma against those already living with this challenging diagnosis.
Nepal has made tremendous progress in slowing the rate of mother-to-child transmission of HIV, which has resulted in a reduced need for a specialized facility exclusively for children living with the virus. Awareness of ways HIV does (and does not) spread has also improved in Nepal, lowering the anxiety individuals feel about sharing space with those living with HIV.
Beginning in March 2020, during the COVID-19 pandemic, the NLC facility was emptied as patients returned to their home villages to avoid exposure to the coronavirus. Instead, the NLC was used as a supportive environment for mild-to-moderate COVID patients who were unable to isolate at home, with care for our HIV patients offered remotely. We began offering more of our HIV services in a remote capacity, and in 2022, the NLC received the smallest number of in-person HIV/AIDS patients we have seen since beginning our work in 2006, with most beds vacant.
This tremendous success for the HIV community meant that we could open this beautiful, nurturing space to a wider population of children in need of medical support. In 2023, the New Life Center's mission expanded to include children and families traveling to Kathmandu for all kinds of life-changing medical care, including HIV, but no longer limited to it.
We are so grateful to the supporters who have made this resource possible to Nepali families. The New Life Center empowers children and families to access life-transforming medical care, to heal thoroughly without dangerous complications, and to live full, rich, joyful lives free of the long-lasting burden of crushing medical debt.
Your Donations
The New Life Center offers services free of charge to the families in our care. This incredible program is funded by loving donations from organizations focused on equitable healthcare for women and children and by individuals passionate about helping children and families thrive. Thank you for your support!