2015 Gorkha Earthquake Response
This Program Concluded in 2018
Just before noon on April 25th, 2015, Nepal was rocked by a 7.8 magnitude earthquake centered in Gorkha District. It was the worst natural disaster to hit Nepal since 1934, killing 8,964 people and injuring a further 21,952. Twenty-two people died in an avalanche on Mount Everest, making this the deadliest day in the mountain's history.
Much of the country's rich architectural heritage—ancient temples and revered monasteries—were reduced to rubble. Whole villages close to the epicenter of the quake, in the Gorkha and Sindhupalchok Districts, west of Kathmandu, were completely destroyed, with not a single home left standing. Nearly 3.5 million people were left homeless in a matter of moments.
Aftershocks continued to rock the country for days and weeks after the initial quake, with nearly 40 over a magnitude of 4.5, and with some reaching magnitudes of 6.7 and 7.3 and causing further damage.
By the third day following the disaster, NYF was responding quickly and decisively, first with emergency shelters and medical supplies, then with longer-term protective housing for children displaced by the earthquake, and finally, by providing construction training and financial backing to rebuild schools and homes in impacted regions.
Relief programming ran from 2015 through 2017. Support reached the 9 districts closest to the epicenter: Gorkha, Dhading, Kathmandu, Lalitpur, Baktapur, Sindhupalchowk, Kavre, Dolakha, and Nuwakot. Much of what we learned during this time later inspired our massively successful COVID-19 Response.
Phase 1: Emergency Relief
Recovery Shelter: NYF converted its Nutritional Rehabilitation Homes in Kathmandu and Pokhara into temporary recovery centers to serve patients discharged from area hospitals but too injured to return home. (Lessons learned during this time inspired our COVID-19 Response.) 
Hospital Support: NYF provided $80,000 worth of medical and surgical supplies to the four largest government hospitals in Kathmandu, including beds, blankets, food, clothing, and medical equipment. NYF also used school buses to transport more that 100 injured people home from area hospitals.
Emergency Supplies to Families & Communities: NYF distributed 10,000 kgs (11 US tons) of food; 1,000 items of clothing; hygiene supplies; 1,600 tarpaulins; 470 mega-size water filters for schools & community groups; and 10,000 mosquito nets in the worst affected districts.
Day Care & Learning Centers: Following the quakes, NYF opened 17 Day Care & Learning Centers in Kathmandu Valley and Dolakha, serving more than 1,200 children. At the centers, children received nourishing food, education, psychological counseling, and recreation. The centers provide a respite for parents to recover from the earthquake.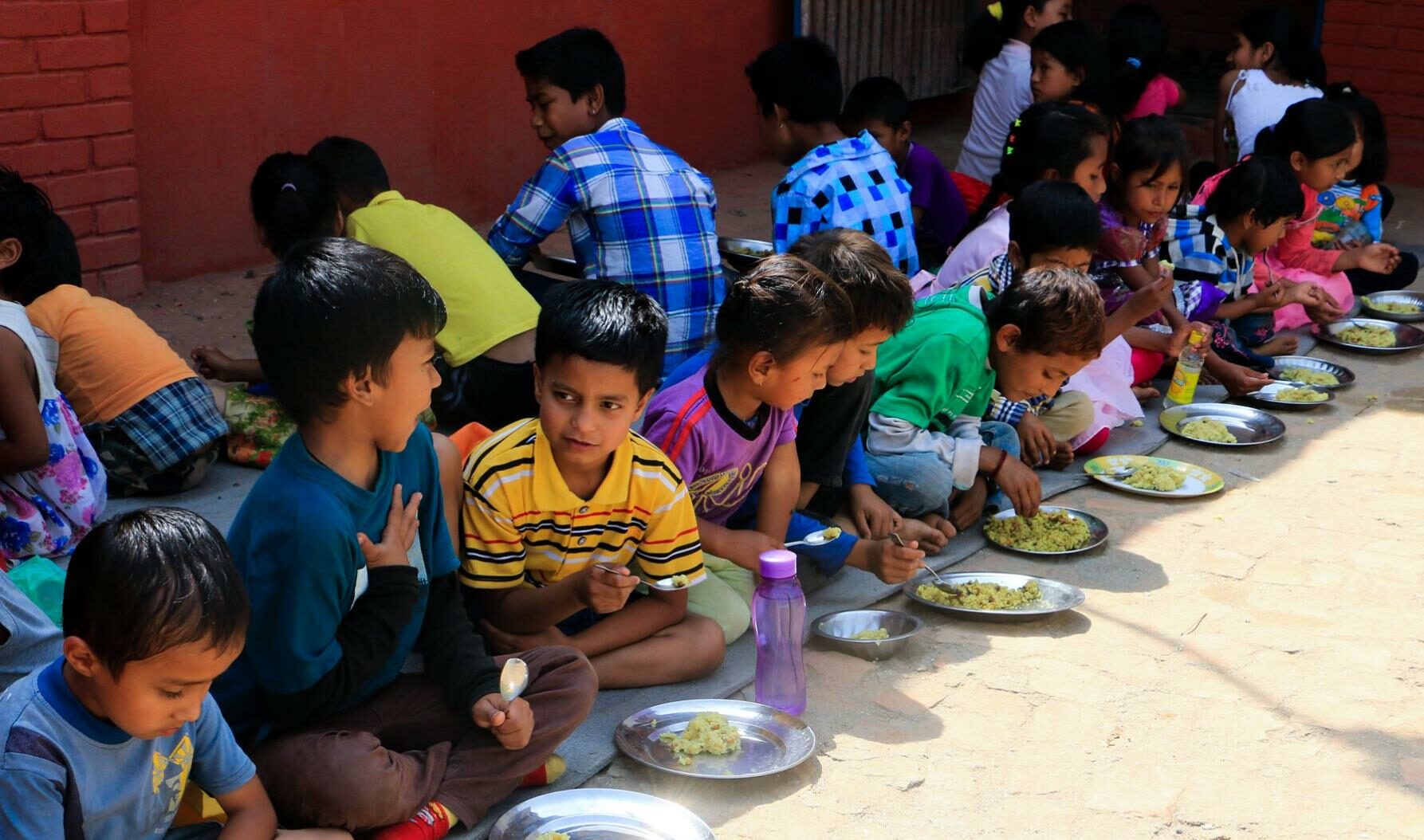 Children at an NYF Day Care & Learning Center enjoying a nutritious lunch while chatting with each other. While NYF watched over these kids, parents were hard at work rebuilding, identifying work opportunities, assisting neighbors, and more - all while knowing their children were enjoying healthy learning and social activities in the company of friends.
Psychological Support for Earthquake Survivors: NYF developed a psychological support program focusing on children, parents, and teachers. Ankur Counseling Center staff trained 300 teachers and volunteers on psychological support & psychological first aid and provided counseling for 800 children and 150 adults.
Temporary Tent Shelters: NYF distributed temporary shelters to 1,263 families in the districts of Gorkha, Kavre, Sindhupalchok and Kathmandu Valley. NYF also distributed 590 community tents large enough to accommodate 20 people each.
Transit Homes for Children: At the request of Nepal's Central Child Welfare Board, NYF opened two transit homes for children who lost their parents and guardians, or who were unaccompanied. This intervention was especially critical to protect children from human traffickers, who unfortunately flock to areas experiencing disasters. NYF cared for these children until extended family members could be identified, with many entering our Kinship Care program. Relatives were overjoyed to discover these children alive and well, as in many cases, they had feared the entire family had been killed in the quake.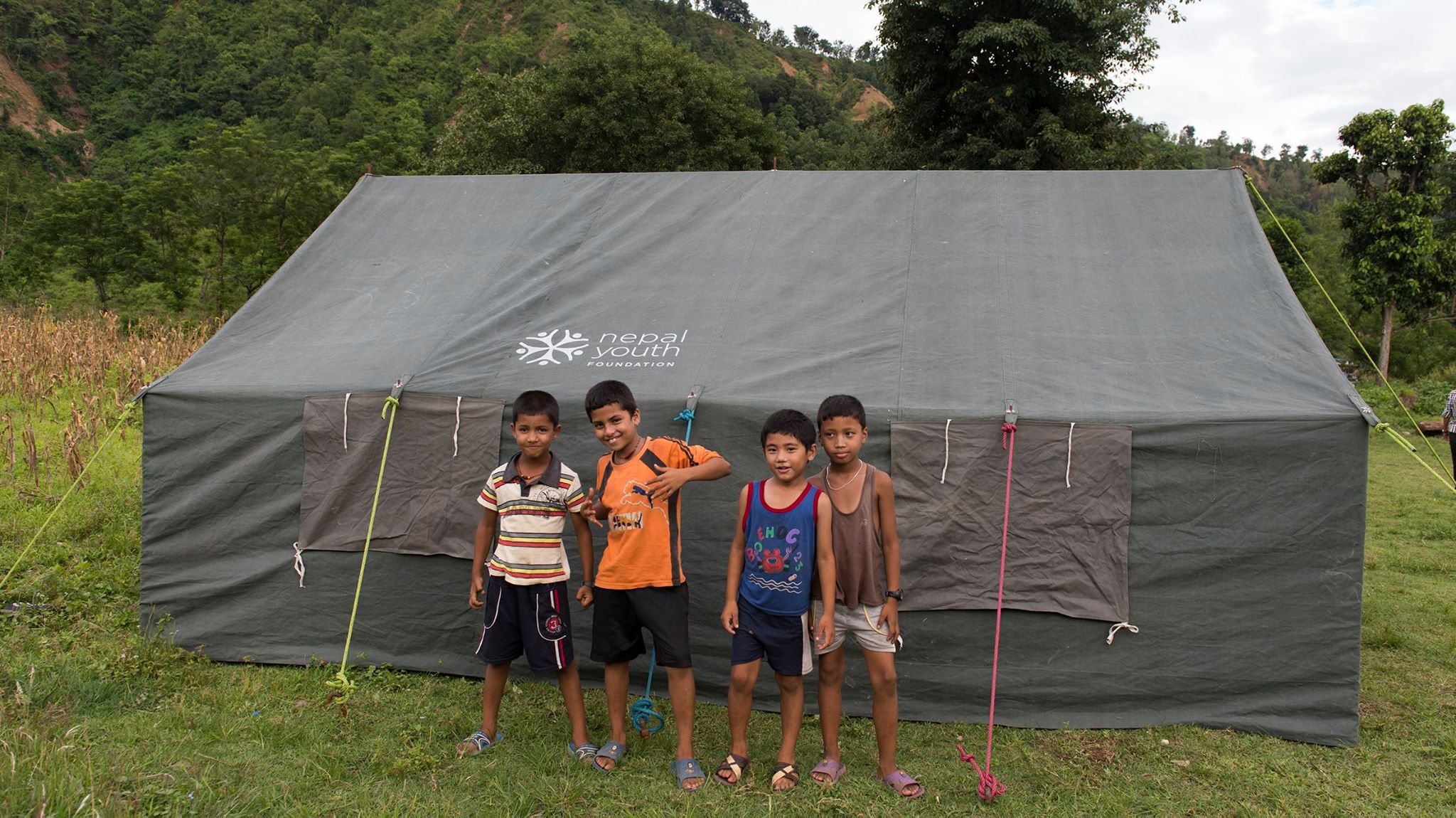 In hard-hit Gorkha District in summer 2015, a group of boys showed off the community tent they'd been living in since May. Their village was completely destroyed by the earthquake, and now that monsoon season had begun, this simple shelter made a tremendous difference in their community's recovery. Photo by Alison Wright.
Phase 2: Rebuilding & Rehabilitation
Community Nutrition Kitchens: NYF opened 10 kitchens in local primary schools to provide nutritious midday meals. At the same time, mothers received education on nutrition and health & hygiene. A total of 1,000 children and 1,500 mothers benefited from the program. (Lessons learned during this time inspired our COVID-19 Response.)
Classrooms: More than 52,000 classrooms were rendered uninhabitable by the earthquakes. NYF, with advice from engineers and architects, designed an affordable, seismically safe structure and built 229 classrooms in 45 community schools.
Reconstruction Skills Training: In order to give local recovering young adults training and paid work in the aftermath of the disaster, our Vocational Education & Career Counseling program trained 692 men and women in masonry and 44 in electrical & plumbing, allowing them to participate in rebuilding efforts and enter the construction trades. (The success of this program led us to design the certification courses now offered at Olgapuri Vocational School.)
Kinship Care: NYF's Kinship Care program expanded, placing 800 children whose parents were killed or incapacitated with loving extended family members and ensuring they could attend school.
Scholarships: An additional 300 young adults impacted by the earthquake received college scholarships through NYF's Scholarship program.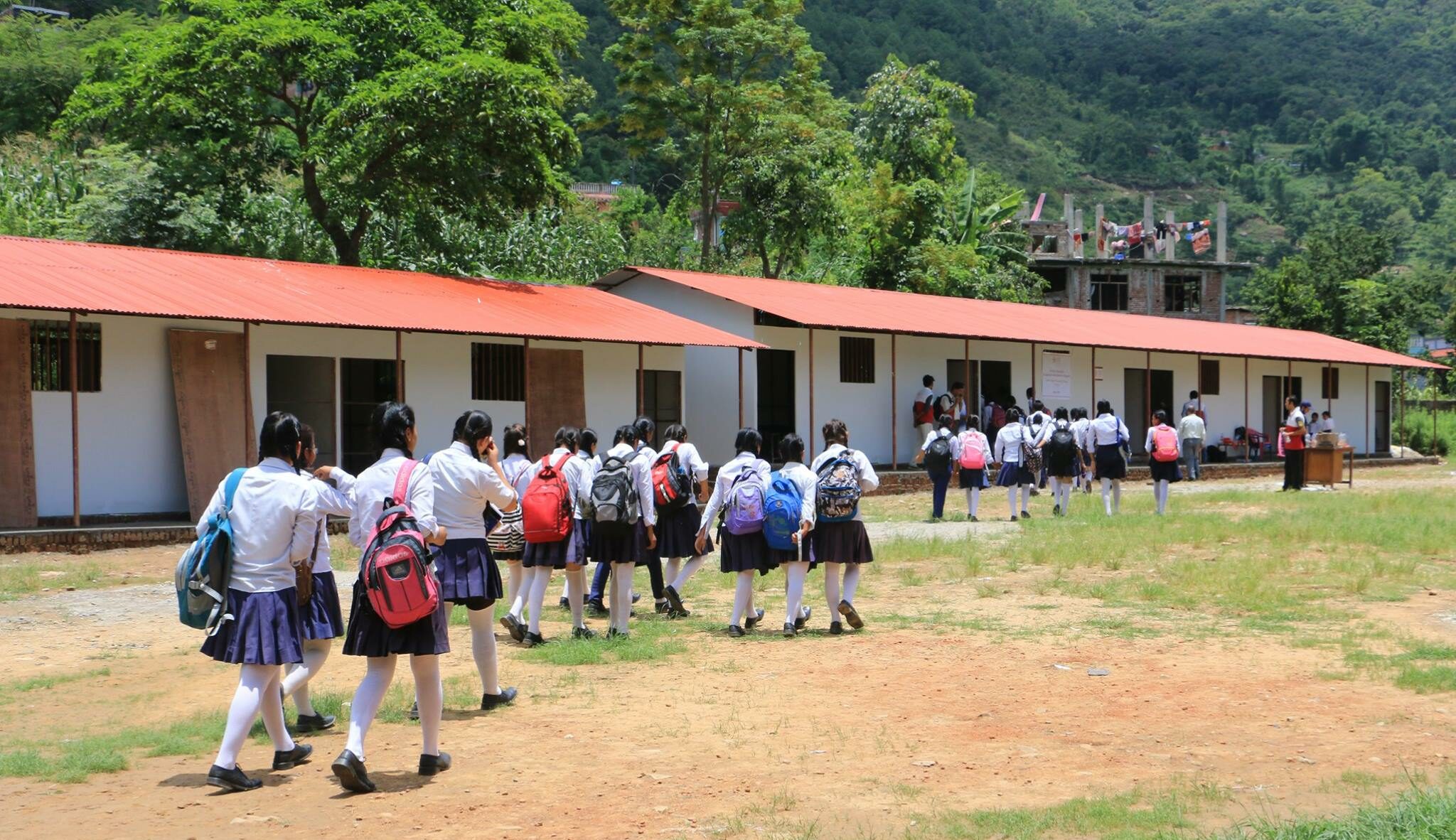 Students in Gorkha District were happy to return to school in the months following the disaster. This return to normalcy - in bright, new, seismically safe classrooms - supported thousands of educational journeys and also allowed for psychological healing.
Thank You
In the hours, days, and weeks following news of the Gorkha Earthquake, NYF's US office was overwhelmed by a tremendous outpouring of loving donations from all over the world. This speedy response from existing supporters and new donors allowed NYF's on-the-ground team to respond quickly and decisively to this crisis, alleviating the suffering of thousands of children and families in Nepal. The outpouring of earthquake relief support continued for over a year.
We are so grateful for this support.
Nepal's economy is still recovering from the Gorkha earthquake, but communities across the nation have used the opportunity to advance construction safety standards and share infrastructural advances.
Even one life lost in such a tragedy is too many, but the death toll from this disaster was strikingly low, considering the widespread devastation caused. This was due to the earthquake's timing, at noon on a beautiful, clear Saturday – a time when businesses and school buildings sat empty, and the majority of people living in the rural areas impacted were outdoors working in fields, with children playing or completing outdoor chores.
NYF is honored to have been able to respond to this crisis in support of children and communities whose lives were uprooted by this disaster. We are honored to have been entrusted with our donor's support in making these interventions possible.