April 3, 2013
Welcome to our New Website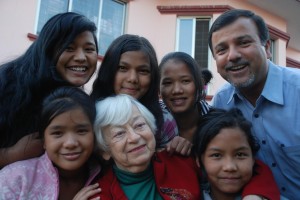 Dear Friends,
Welcome to our new website!
Just like the old site, it is full of information about NYF and the children we serve. We think you'll find the new site easier to navigate while being chock-full of compelling information, photos, and videos about the many ways we serve Nepali children. We've also added opportunities to make comments and engage with us.
Some additional features include a new blog that will be updated on a regular basis and will feature posts from Som and I, as well as our children, staff, and supporters. Some of the best photographs we have were taken by visitors to our programs in Nepal.
Over the years, many of you have requested help with fundraising for NYF so we've added a new feature called "Friends asking Friends". It is an easy to use tool to start your own fundraiser and keep track of how much your friends are donating.
On top of this, you can share topics of special interest with your friends on Facebook and Twitter, send a personalized e-card, become a monthly donor, and stay in touch with NYF.
So, please check it out and let us know what you think about the new site and features. We'll be refining the site over the next couple of months and your feedback will be essential.
Warmest regards,
Olga & Som