October 30, 2020
NYF's Ongoing COVID Response: We've Launched 50 Access to Education Centers!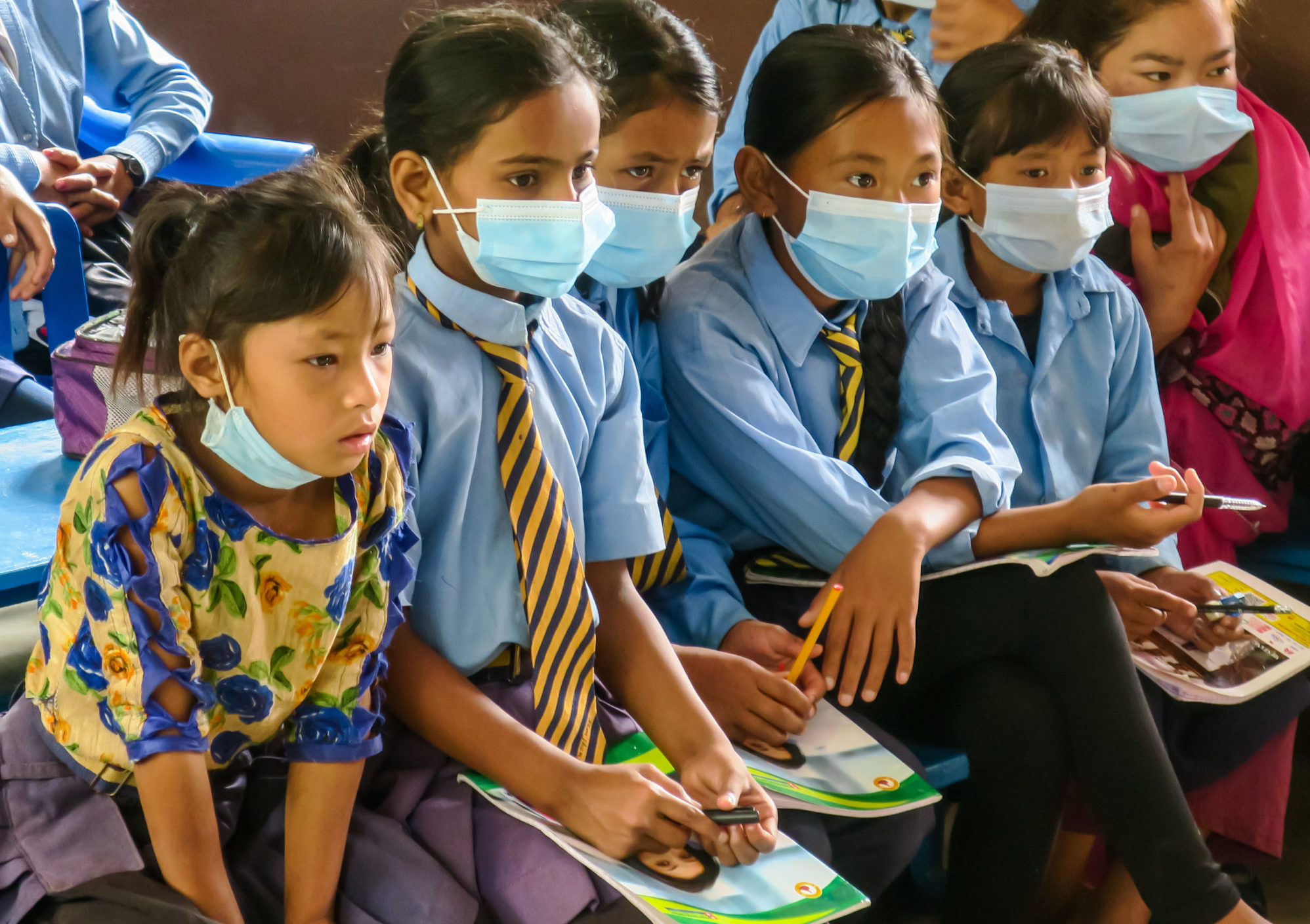 Access to Education is officially NYF's largest COVID response program yet!
An Update from NYF President Som Paneru
---
Dear Friends,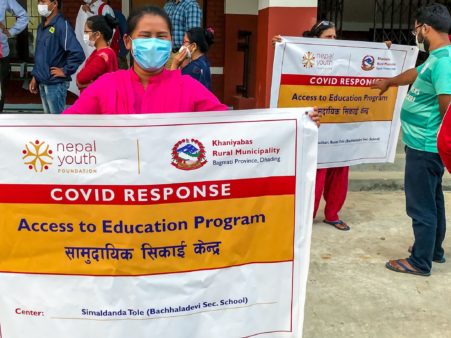 When we piloted the Access to Education program in August, with only four satellite learning centers, we knew we would need to move quickly to keep students in rural Nepal from falling too far behind their peers in digitally-connected regions.
I am proud to announce that as of early October 2020, an additional 46 Access to Education Centers have been established in two rural municipalities in Dhading District: Netrawati Dabjong and Khaniyabas!
With an average of 100 students per satellite center, we're currently providing 5,000 K-10 students with educational opportunities they haven't had in six months! Partnering with public schools, this program is also mobilizing 354 teachers who are already on the Nepalese government's payroll.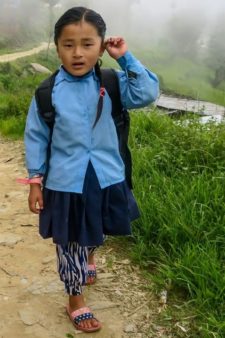 Materials provided for each satellite center include a laptop preloaded with teaching materials linked to Nepal's country-wide curriculum for each grade, a widescreen television, teacher training sessions, a white board, and reference books.
Classes are held in a building large enough for the village's children: a women's group meeting hall, a local health post, even an empty cow shed, if necessary.
And the Access to Education Centers with satellite are quick to establish. The materials provided to the teachers match their regular curriculum. Technical training is provided by NYF when materials are distributed. Once a teacher has returned to their village, they can begin teaching right away.
We hope to continue scaling Access to Education throughout the pandemic. We're already working on expanding into Gorkha District's Gandaki Rural Municipality.
Shankar Gurung, a teacher, tells us, "The students are excited to come. The resources provided by NYF have been so helpful and the students are enjoying learning from this new technique."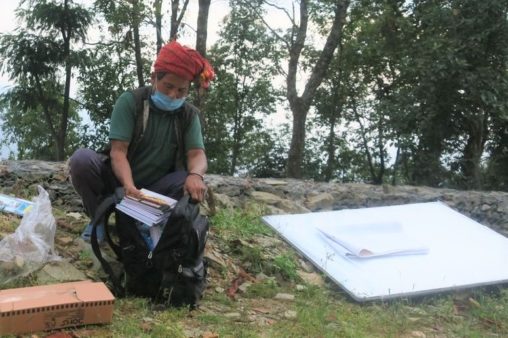 The teachers are excited, too. Nepal's rural schools haven't yet gained access to digital technology—until now. As we trained the latest batch of teachers, we met many, like Ram*, right, who had never worked with a computer before. He was delighted to see the familiar curriculum appear on the screen during his training and was relieved to learn how user-friendly the device was. NYF has assured him that we're only a phone call away if he needs any troubleshooting support.
Packing his new materials up, porter-style, Ram told us he'd traveled two hours on foot from his village to meet us at the school building—the same walk his students used to take every day.
He is thrilled to have a way to get back into the classroom, bringing critical opportunities back into the lives of students he has dedicated his career to educating.
As a former teacher myself, I understand his excitement. Having the resources to bring good-quality education to your community is a precious thing. Knowing the children in your care can keep learning, even during a pandemic, is an incredible relief. It's something none of these teachers take for granted.
Many of the villages we are serving are very remote—days away from the nearest towns on foot. Even in the best of times, children experiencing poverty drop out of school to contribute to their family expenses through cheap labor, and instances of early marriage are very common for young girls especially.
These learning centers have been critical in helping keep these children in school and minimizing dropouts.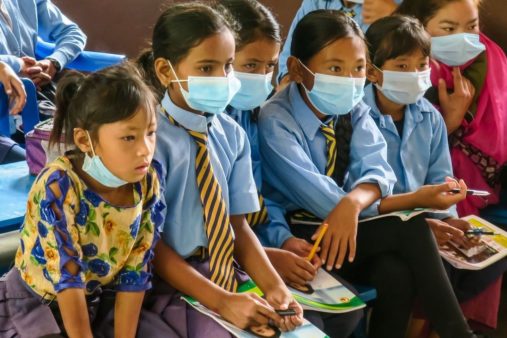 Thank you to each member of the NYF Family who has lovingly supported Access to Education so far!
As COVID-19 continues to surge in Kathmandu Valley, we are uncertain how long school closures will last.
Fortunately, the travel restrictions have protected many of these more rural communities. Children from within a single village must still wear masks, just in case, but among members of their own remote community, they have very limited opportunities for exposure to COVID-19.
We've built momentum with this incredible program, and we're hoping to grow as much as we can in the coming months.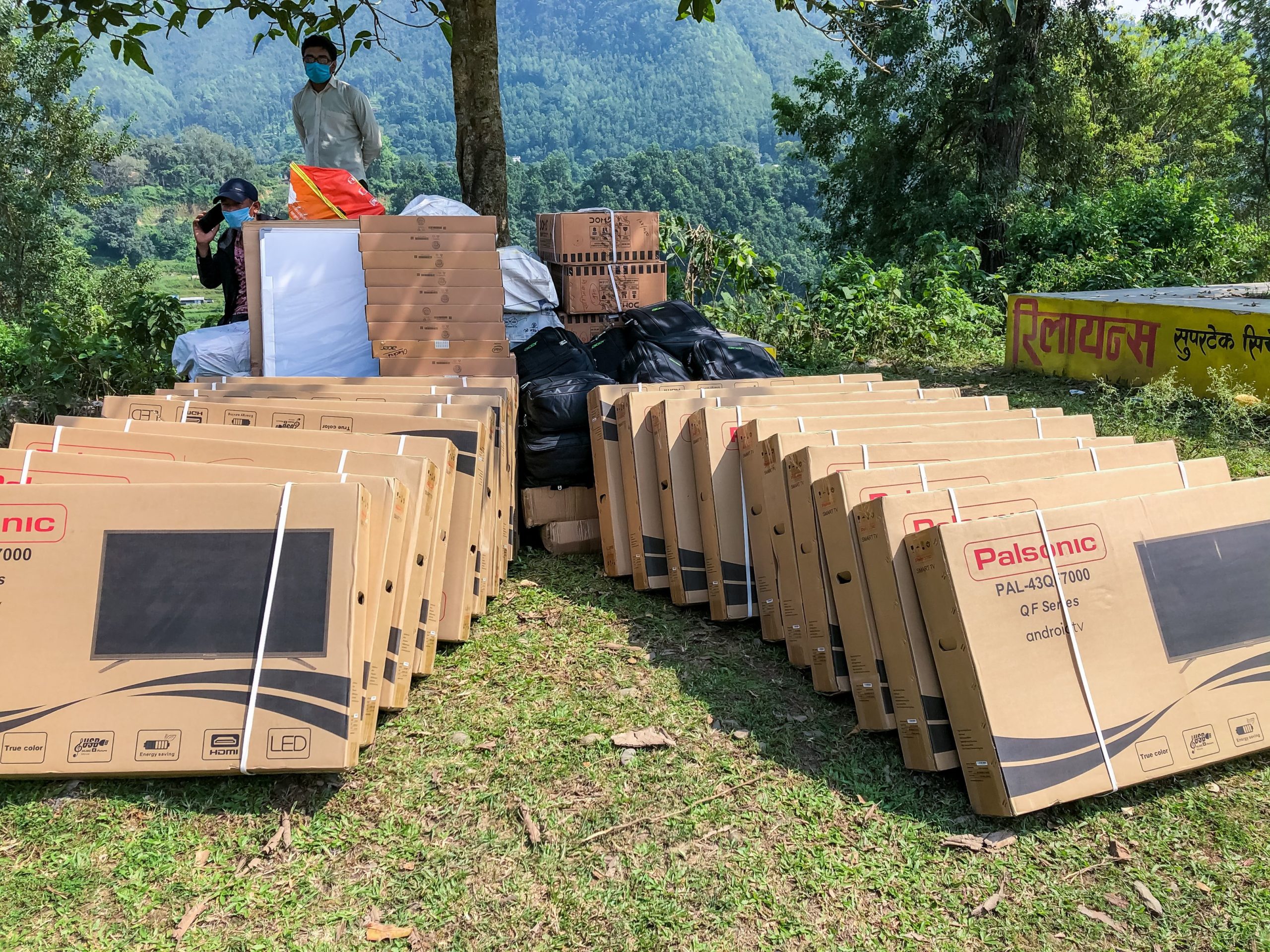 Each learning center in our Access to Education program costs $1,000 to establish and can serve 100 students or more. Please help us provide these vital opportunities to children in rural Nepal by making your loving donation here.
Dhanyabad,
Som Paneru, President
*Names have been changed to protect privacy
---
Credit card donations via our website are still being processed without delay, as are direct bank transfers (EFTs). If you mail a check to our office (1016 Lincoln Blvd #222, San Francisco, CA 94129) please know that we continue to check the mail twice per week, so there will be a delay in our thank you letter being mailed to you.
If you need to reach us, staff are monitoring individual emails and the email address Info@NepalYouthFoundation.org daily. You can also call us at 415-331-8585 and leave a message, as staff will be periodically be calling in to check voicemail.
October 27, 2020
Dashain 2020 in Nepal – Preparations for Celebration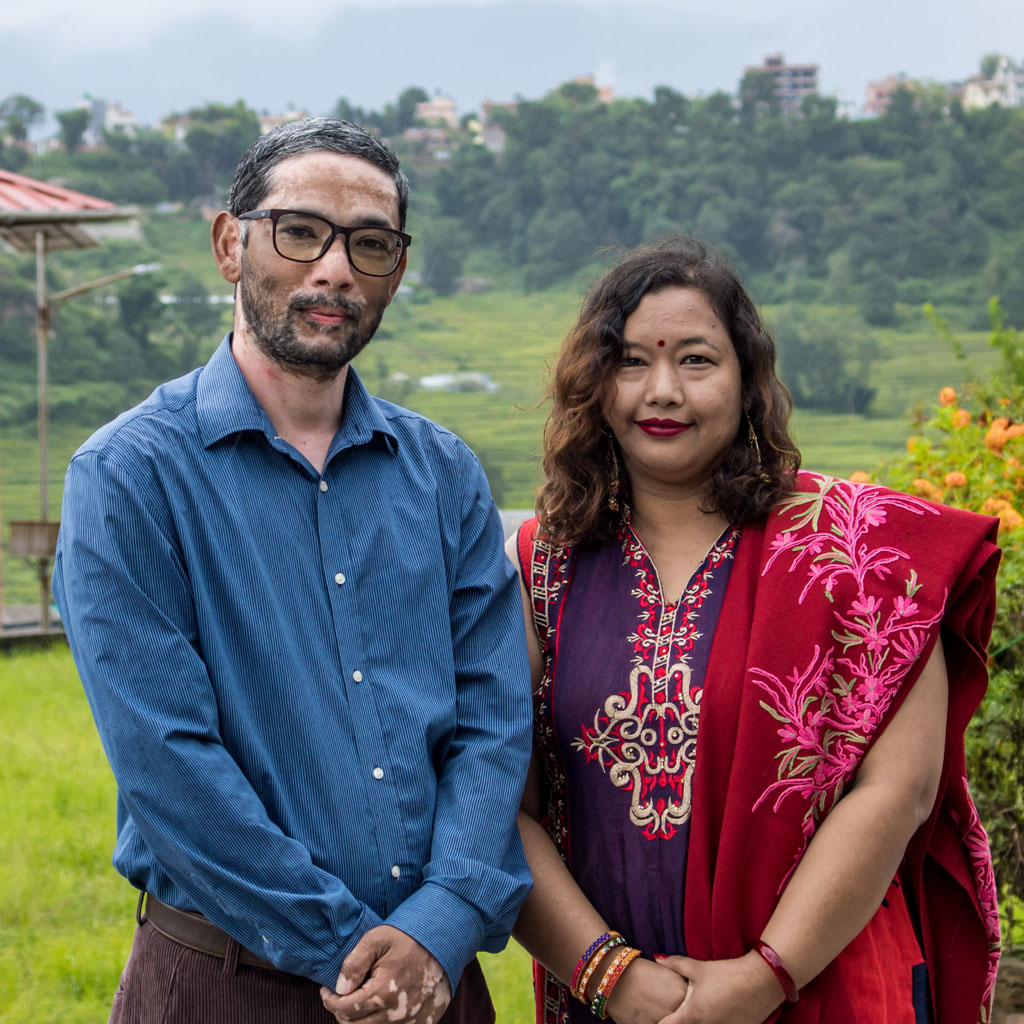 Dashain in Nepal is the longest and most beloved festival. First comes monsoon season—heat, high humidity, heavy dark afternoon clouds, torrential rain, lush green landscapes, deep puddles, long thick grass, and the ever-present scent of soaked soil. All this rain between June and September floods the country's prepared fields, ensuring a rich harvest later in the year.
Nepali celebrate Dashain in the fall. This is the longest Hindu festival in Nepal, traditionally celebrated for two weeks with prayers and offerings to Durga, the Universal Mother Goddess. The great harvest festival of Nepal, Dashain is a time for family reunions, exchange of gifts and blessings, and elaborate pujas.
On the Olgapuri campus, high-energy husband-and-wife duo Dipak Raj Onta and Samana Amatya Onta knew when the monsoon rains started that they'd need to get extra creative to keep their 20 boys entertained this summer.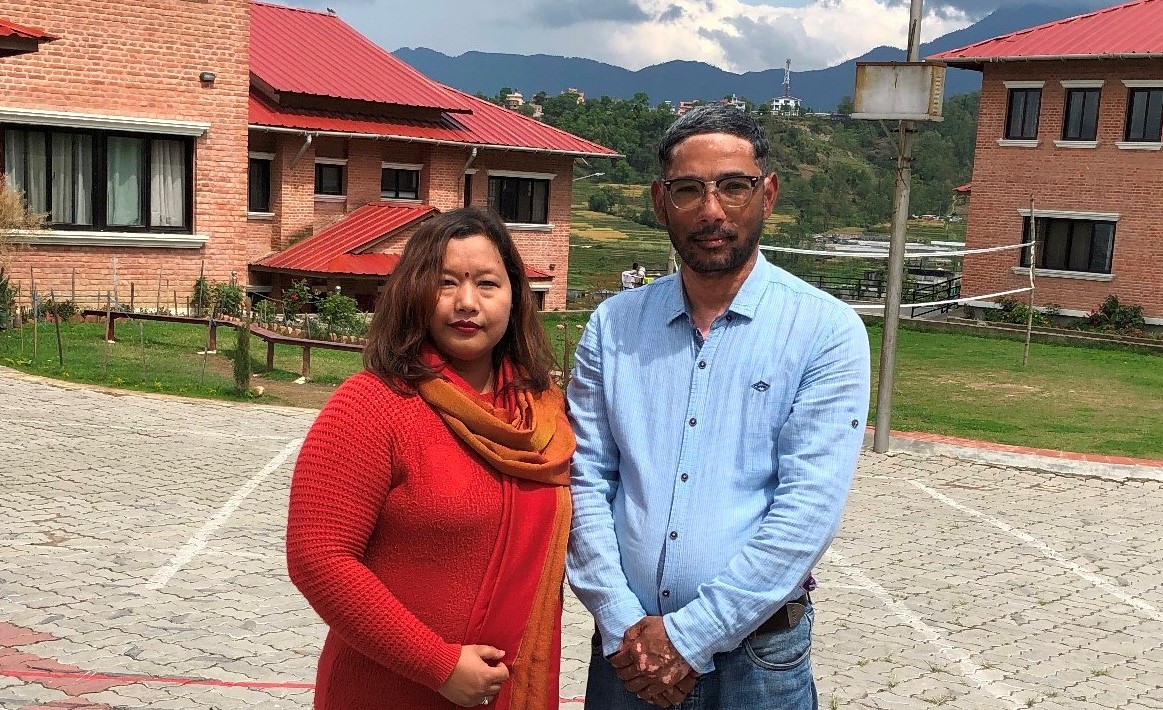 All summer long they've helped organize outdoor activities—the kind of rowdy "big body play" that is so critical to children's brain development, physical health, self-confidence, social growth, and academic success. Whenever they can, the two make sure to join in the fun themselves. They're enjoying the extra togetherness with the kids this year.
The 20 kids in the junior boys' house range in age from 4 to 13, and so, like Bishnu and Pushpa in the junior girls' house, Dipak and Samana are managing online classes and helping with homework for multiple grades at once. They're also teaching the boys age-appropriate cooking and basic life skills, like Bhim and Shreemaya in the senior girls' house.
And this month, all four sets of house parents joined forces to help the kids celebrate a very strange Dashain 2020.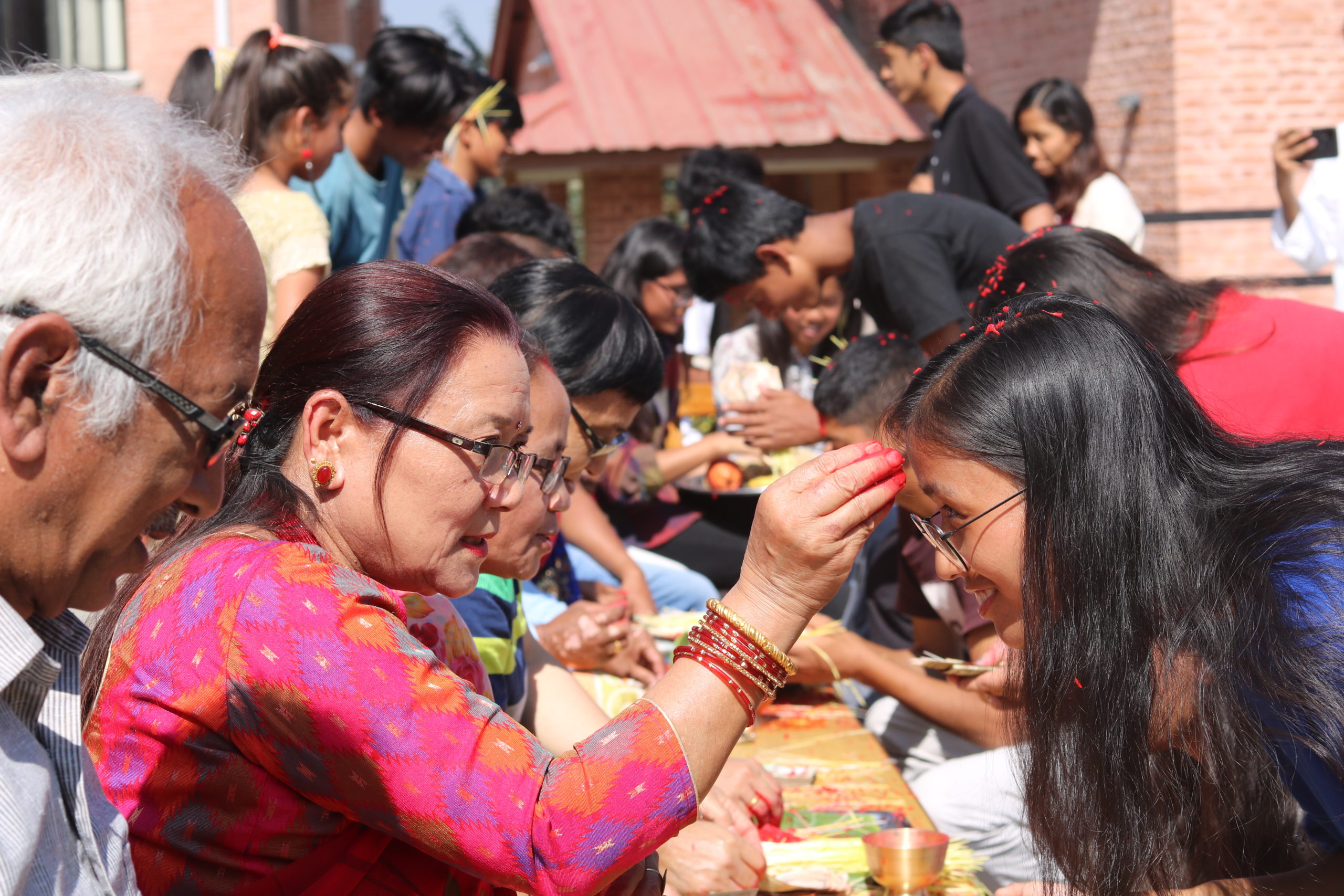 Dashain (pronounced de-SAI) is a 15-day-long lunar festival that usually occurs in September or October. It's one of the most emotional, colorful, and enjoyable times in Nepal. The holiday blends harvest-time and fertility with the triumph of good over evil, and family members travel from far and wide to celebrate together.
The festival's Hindu roots don't keep members of other religions from participating. Everyone enjoys the opportunity to feast with family, exchange gifts (especially new clothes), and trade memories. Elders bless the children. Children play together. Warm feelings fill everyone with joy.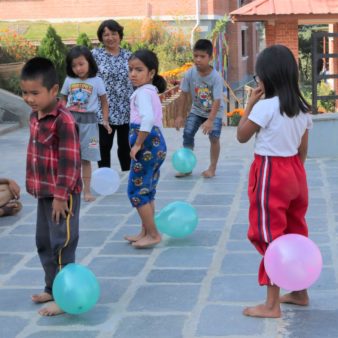 Throughout the world this year, families are working to think of creative ways to celebrate each culture's special moments without risking illness. Nepal is no different. With most travel out of the question, many Nepalese families will be spending a very lonely Dashain—or at least a strangely quiet one.
Many of the children at Olgapuri return to their home villages for Dashain, where they can connect with their region's unique culture. Some still have extended family members who love maintaining a relationship with them, even though they're unable to provide a stable home. NYF encourages these healthy relationships, allowing each child to bond with their world beyond Olgapuri's walls.
But this year, none of the children can travel anywhere. Luckily, Olgapuri is a loving family all its own. Our four sets of house parents, including Dipak and Samana, were determined to give the children the best pandemic-era Dashain they could!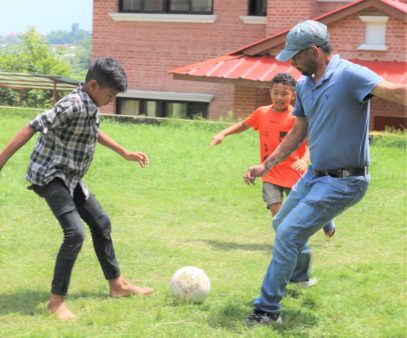 Dipak joined the NYF team in 2015, managing a transit home NYF established in Gorkha District for children displaced by earthquakes. Soon, he was also managing NYF's earthquake scholarship program in the district as well. Managing the transit home was a great fit for Dipak—he loved caring for the children and using the power of play to make their lives feel a little more normal and safe after so much trauma.
In January 2018, Dipak and Samana became the junior boys' house parents, where they've been able to continue this work long-term. Samana was thrilled to join her husband here. She's always loved working with children and didn't have much opportunity to do so in her work as a fashion designer. They are each inspired by Olga's life story and by her commitment to Nepalese children, and they are proud to be part of the work being done by NYF.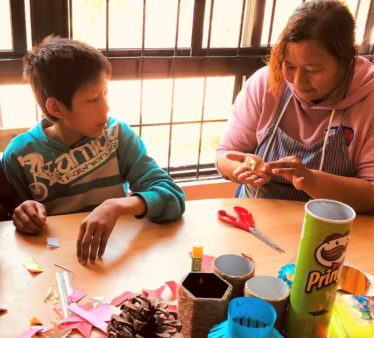 Dipak-Uncle and Samana-Aunty are social and optimistic people, and they love the Olgapuri community—visiting with the other house parents, interacting with the 80 children, chatting with the wide array of staff members. Olgapuri feels like being home with a large family.
Though the element of work is always there, Dipak and Samana feel less like they're doing a job, and more like they're simply raising their own children in a warm, supportive environment.
That's never been truer than right now, during Nepal's most family-centric festival. The house parents managed quite a schedule this year, including an ongoing carnival on the grounds (including sports competitions and more), traditional Dashain card games, feasting, and a special Dashain swing called the linge ping!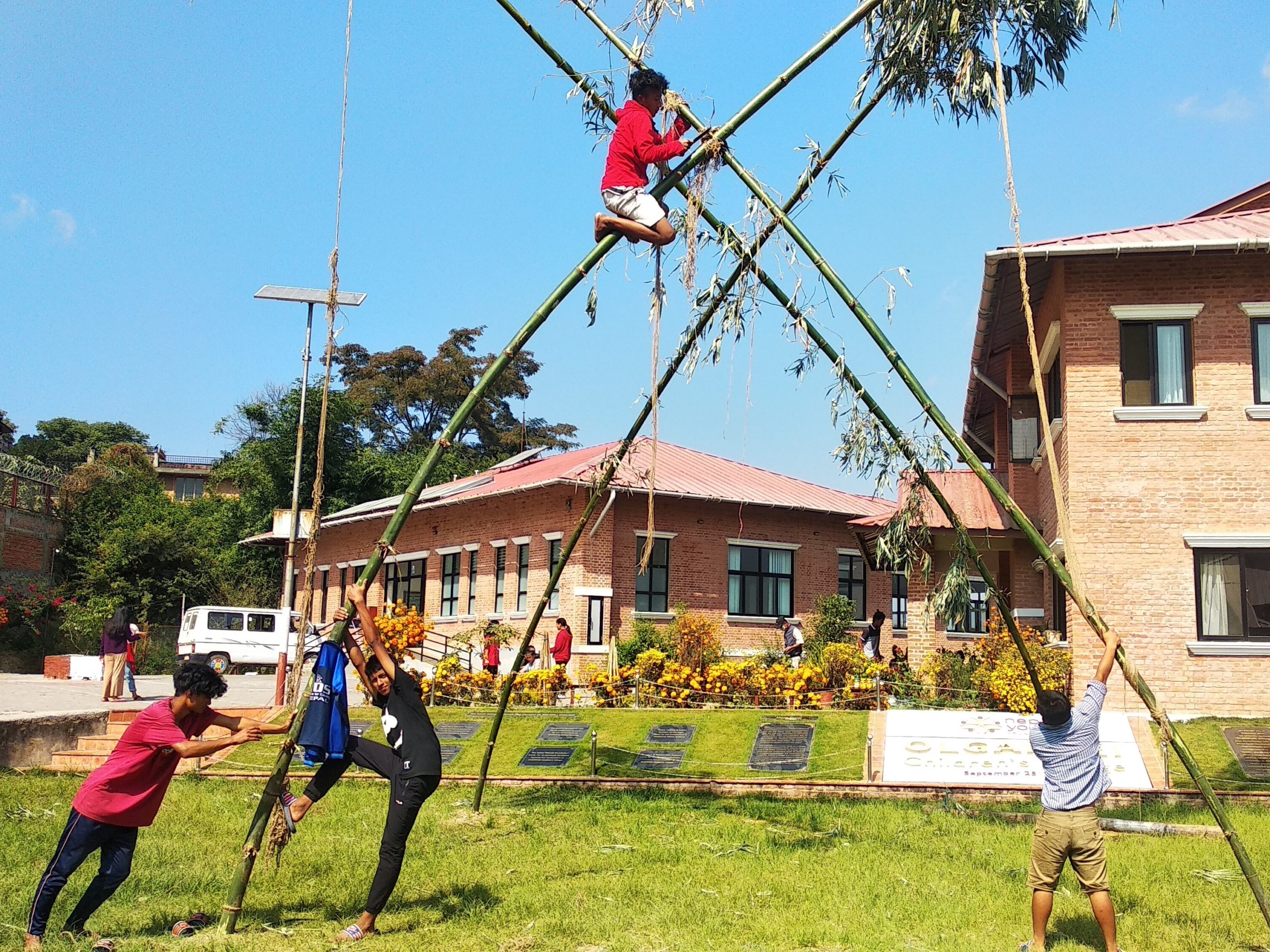 Dipak and Samana's 20 junior boys were most excited about the food, the games, the swing, and the presents—just like kids everywhere! They especially love the tika ceremony, in which the elders bless the children by placing a bright red paste on each of their foreheads. It's a ritual of love and belonging—one our house parents was honored to participate in this practice in celebration of Dashain 2020.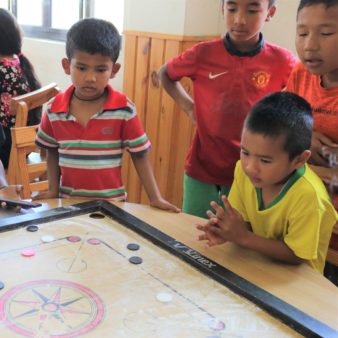 Though many of the children missed traveling, they enjoyed Dashain 2020 with their Olgapuri family. Dipak and Samana feel the same way. As they celebrate with the 20 boys in their care, they're happy to be part of this important work. They cherish the ways each child shows their kindness, helpfulness, creativity, and athleticism.
They love cycling with the children, and playing basketball, soccer, tag, hide-and-seek, and more. On rainy days, Samana enjoys opportunities to show the boys arts and craft techniques while others play board games nearby.
NYF is lucky to have them on our team! Running around with 20 young boys, Dipak and Samana are glad to be part of the reason #LoveWorks.
---
Throughout the world, families are preparing to celebrate major holidays a little differently this year—and Olgapuri is no different! If you believe in the work Dipak and Samana are doing, please help them by donating here or by sharing their story on social media with the hashtag #LoveWorks!