September 25, 2022
Happy 6th Anniversary, Olgapuri Children's Village!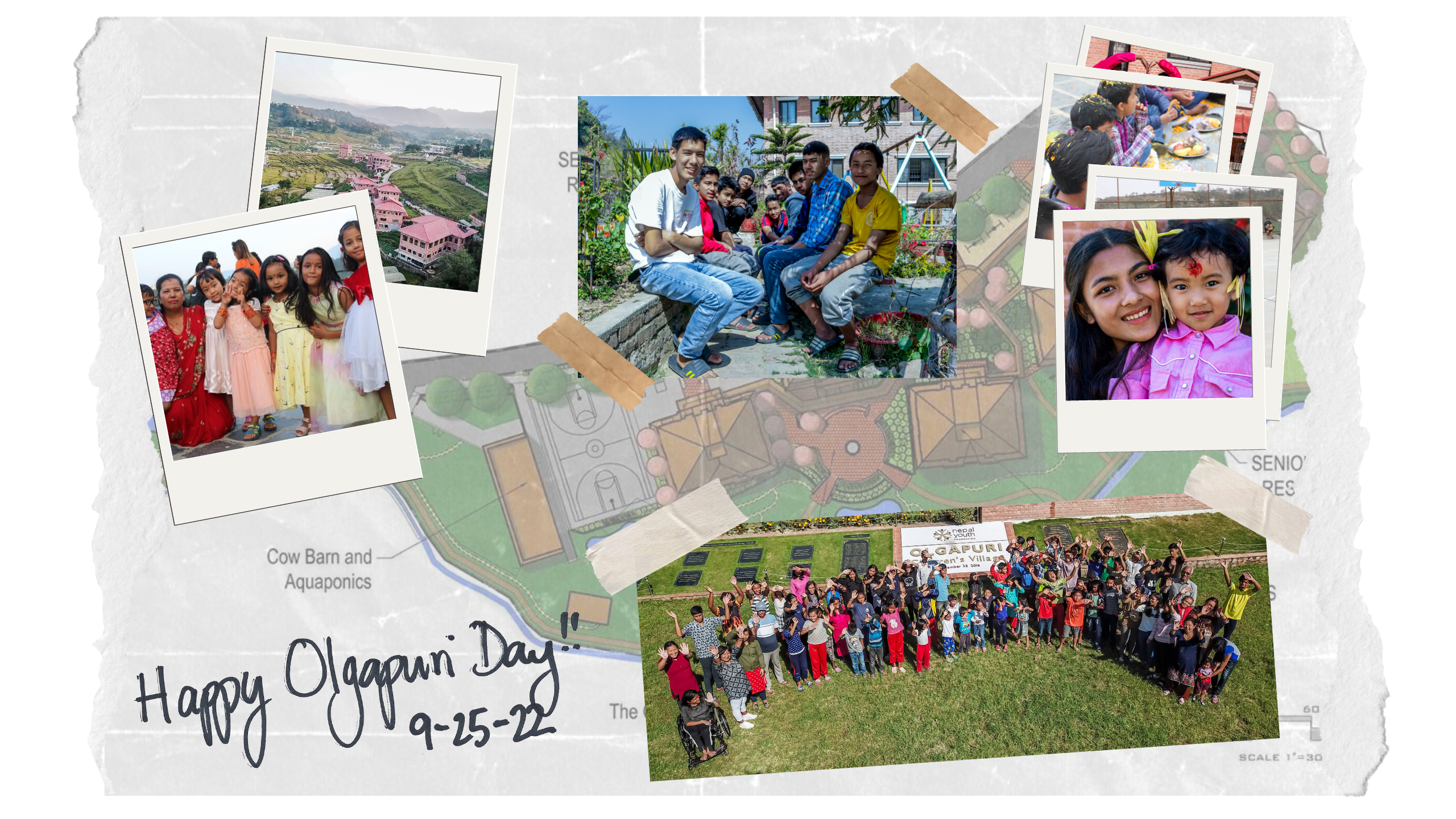 On September 25, 2016, NYF formally inaugurated Olgapuri Children's Village—a beautiful, permanent home for children in Nepal whose family members are unable to care for them. When it opened, we were hopeful that it would be everything we dreamed of: a remarkable place full of love, empowerment, and growth.
Here we are in 2022, celebrating the start of Olgapuri's sixth year of operation. With each year, we've made the village even better than it was before. It has truly become everything that we had hoped it would be. And it's all thanks to the NYF Community. Dhanyabad!
"We have designed these facilities thoughtfully and generously to provide them [the children] with ample comfort so that they can live their lives with dignity, self-esteem, and joy."

Som Paneru, NYF President. 2016, Inauguration Ceremony at Olgapuri Children's Village
Happy Olgapuri Day!
September 25 is known as "Olgapuri Day." Every year, children, staff, and community members celebrate the anniversary of the opening of Olgapuri Children's Village with delicious food, fun games, lots of dancing, and more. It's one of the many events that the children enjoy throughout the year.
It also happens to be a great time for us to reflect on all that's happened that year at Olgapuri. And in 2022, there's so much to celebrate!
Special Highlights at Olgapuri in 2022*
Ninety-two children lived at Olgapuri (but no more than 80 at a time). Among them, 14 were new children who were warmly welcomed by the Olgapuri family. Meanwhile, fourteen young adults graduated the 12th grade and moved out of Olgapuri (into dormitories or hostels for college or vocational training). Three kids were able to return to their families due to improved circumstances at home.
Every student successfully moved forward into the next grade! Due to COVID-19, children at Olgapuri attended online classes until December 2021. They returned to in-person classes in January, and their academic calendar is now back to normal.
Two young graduates secured the highest scores in their respective schools, ending high school as valedictorians and moving directly into their bachelor's degree programs. One is pursuing a degree in business at the Ace Institute of Management in Kathmandu, and the other is enrolled in a five-year undergraduate program in law at Kathmandu School of Law.
New activities were introduced to interested kids, including yoga, meditation, and self-defense classes. Many students report that these extracurriculars are not only fun but are also helping them to focus on their studies!
Counselors and house parents worked closely with the children to ensure that their anxiety, curiosity, and other challenges (especially related to the pandemic) were addressed appropriately.
The 'Olgapuri Children's Club', run by the kids themselves, organized fun events like art exhibitions, carnivals, and music shows. At Tihar in early November 2021, they organized an incredibly successful virtual Deusi-Bhailo** event to broadcast through Facebook Live. The Children's Club used their Deusi-Bhailo to raise money for club activities. They raised the equivalent of $600!
The children celebrated many special days together—including Dashain, Tihar, the winter holidays, Holi, and their annual communal birthday party—with cake, presents, Tika blessings, campfires, and more.
Looking ahead…
As we move through the end of 2022, the children at Olgapuri are looking forward to celebrating Dashain and Tihar. These two Nepali holidays are full of gift-giving, loving moments of laughter, and joyful memories. They signify a time of warmth and close connection between communities and families.
Thank you so much for your support!
Generosity from friends like you are allowing the Olgapuri kids to grow up safe, nurtured, loved, and supported—part of a unique family system that will always be there when they need it. Thank you.
*Between July 2021 and June 2022.
**Deusi-Bhailo is a beloved Tihar activity practiced in Nepal and some parts of India. Groups of children travel from house to house, singing two special songs: Bhailo sung by girls, and Deusi sung by boys. The singing is accompanied by dancing. After the performance, those in each house give snacks, sweets, and money to the children, and the children give blessings for prosperity in the coming year.