February 25, 2014
New NYF program gives kids good start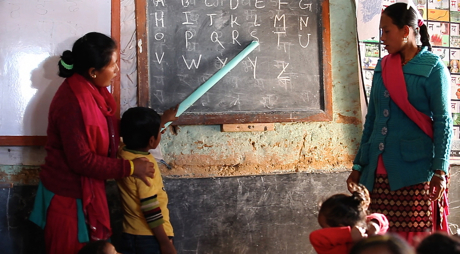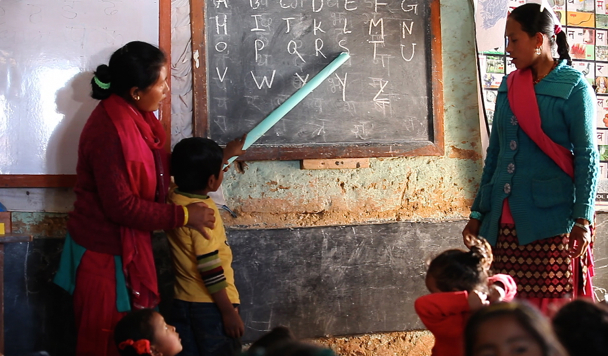 Young, impoverished Nepali children are getting a head start on their schooling through a new Early Childhood Development (ECD) program started by Nepal Youth Foundation.
This year, we are developing eight ECD centers: three in Kathmandu, and five scattered throughout rural villages outside Kathmandu. Each class has about 20 students.
In a corner classroom in a village school in the eastern district of Kavre, 20 children squirm and giggle as a teacher reads them a story in their native Tamang. A low murmur of conversation among the mothers sitting outside the open door drifts into the classroom. Puzzles, blocks, clocks and books are stacked in a corner of the brick-floored classroom.
"This is a first for all of these children," said Binu Thapa, manager of NYF's new program for children ages 3-5 from poor families. "It will make a big difference later in their lives."
While public primary school is now widely available to all children in Nepal, preschool is a rarity, especially among the country's impoverished children. Yet preschool is an essential step in making sure children are ready to learn in primary school.
Building a national model
"We started the ECD centers to give children a solid foundation to succeed, and we also want the government to succeed in maintaining the program" said Som Paneru, president of NYF. "While the government understands the need for early childhood education and has opened a lot of centers across the country, the programs are not fully developed. They are understaffed and underfunded with poorly trained teachers. The centers do not have enough books or supplies and the facilities are inadequate."
NYF's goal is to help Nepal's Department of Education to improve the quality of preschool programs by training teachers, providing teaching materials and improving facilities to develop a model that will be replicable across the country.
Nutrition and learning go hand-in-hand
Many children and their mothers travel long distances up steep, narrow paths to attend the class held at the local village school. The nutritious meal served daily is a big draw.
"It's hard for families to feed their children," Binu explained. "Children need a balanced diet, exercise, and educational stimulation to enjoy their childhoods properly."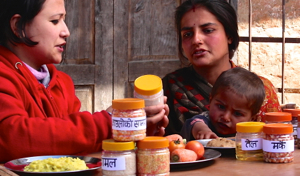 Nearly half of all Nepali children are malnourished. That's why the ECD staff work with NYF's Nutrition Program staff to weigh all the ECD students and assess their health. ECD and Nutrition Program staff then conduct follow up visits with families of children at risk of malnutrition. If children are found to be severely malnourished, they are sent to one of NYF's Nutritional Rehabilitation Homes for treatment. All ECD children receive healthy meals at the centers, while their mothers are taught nutrition basics and meal planning using locally sourced foods.
"Our goal is to prepare these children for a successful entry to first grade," Som said. "And getting children the nutrition they need is absolutely essential to make it work."
February 20, 2014
Lesson and fundraiser, all in one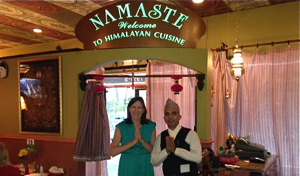 A nutrition educator in San Diego is raising awareness and funds by teaching her students about the devastating effects of malnutrition. As part of her "Introduction to Nutrition," class, Katie Ferraro hosted her fourth fundraiser at a local Nepalese restaurant. All proceeds — nearly $3,000 so far — support our Nutritional Rehabilitation Homes.
Katie first visited Nepal as a Peace Corp volunteer in 2001 and fell in love with both the country and the people. She returned to the University of California, Berkeley as a graduate student and became involved with the local Nepalese community. That's how she learned about NYF's Nutritional Rehabilitation Homes, where severely malnourished children are nursed back to health while their caregivers learn to prepare nutritious meals using locally available food.
She teaches a class in "cultural foods" at three San Diego-area colleges: San Diego State University; University of California, San Diego; and San Diego Miramar College. Her course examines the problem of malnutrition and how to solve it.
For extra credit, students attend a fundraising dinner at Himalayan Cuisine restaurant in La Mesa where the owner, Khem Kharel, talks about Nepali culture and diet. Then they eat dinner of rice, lentils (dal bhat), curried vegetables, yogurt sauce and chicken.
"I have always been so impressed with the work NYF is doing in the area of malnutrition," Katie said. "So this is a way I can give back."
Thank you, Katie, for caring about the children of Nepal!
Learn more about our Nutritional Rehabilitation Homes.