November 24, 2020
Happy Thanksgiving from Olga!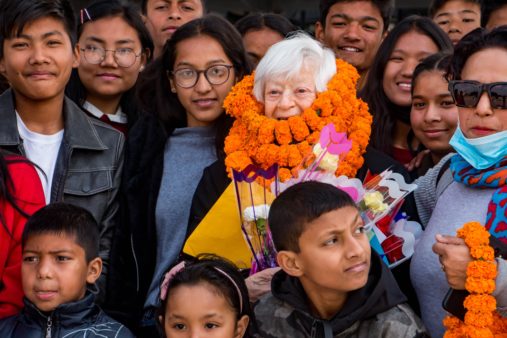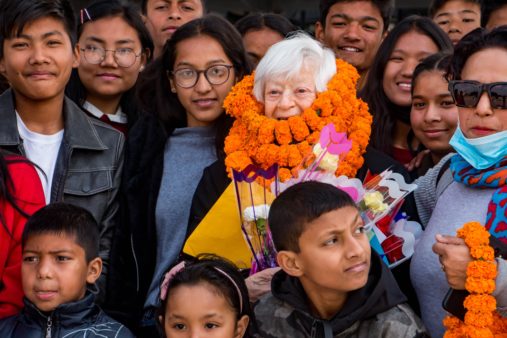 Above in early 2020, before COVID-19, Olga arrives in Kathmandu and is greeted at the airport by the kids living at Olgapuri Children's Village.
My dear friends,
Thanksgiving has always been my favorite holiday. I loved our family get-togethers and the prodigious feasts. But as the years have passed, it has taken on a whole new meaning. When you are in your 90s, every day is Thanksgiving. I am more conscious of all I have to be grateful for than ever in my life – my wonderful family, my good health, and the more than 35 years of joy and fulfillment I have enjoyed as a result of our work with the children of Nepal.
And, it's a two-way street – if there was a Nobel Prize for expressions of gratitude, the children NYF has nurtured over the years would win, hands down.
Many of our children at Olgapuri come to us when they are very young, and it is not until they reach high school or college that they fully realize what a difference NYF has made in their lives. They often express their thanks with messages that are almost embarrassingly effusive. But whether they voice their thanks or not, our real satisfaction comes from knowing that these kids, who started life at the bottom of the barrel, are now well adjusted, solid citizens who will contribute to the progress of their country.
Until this pandemic year, I have spent the past decades in Nepal during Thanksgiving.
In Nepal, the Nepalis do not celebrate the holiday, but the American community tries. In years past, the only way I could get my hands on a turkey was to ask someone coming from the US around Thanksgiving to bring a frozen bird on dry ice. This would result in hilarious exchanges at Nepalese customs, whose employees kept asking why the traveler was bringing a big, dead bird to Nepal. Over the years, the task has become easier. These days, you can get not only the turkey, but cranberry sauce locally.
This year, a socially-distanced Thanksgiving will once again make the holiday a new experience.
I certainly do miss celebrating Thanksgiving with my Nepalese friends. But, the spirit of gratitude always remains.
Friends, I am so grateful for you, and for the generosity and love you have shared with the children in NYF's care. Dhanyabad! Thank you for your time, your talents, your treasure, your notes of encouragement and support, and your confidence in recommending us to your friends. Thank you for your attention to Nepal's children during this extremely tumultuous year. Thank you for your grace with our team during these months of tremendous change.
Your remarkable love is the reason we call our supporters "The NYF Family." This year, more than ever, you have lived up to the moniker.
You are the reason #LoveWorks.
Thank you, thank you, thank you all! With love and wishes for a happy and a safe Thanksgiving,
Olga Murray
Founder & Honorary President
Help rekindle hope in the human condition this Thanksgiving