September 27, 2023
An Expanded Mission for the New Life Center
An expanded mission for the New Life Center (NLC) began effective July 2023, thanks to tremendous progress made in Nepal's fight against pediatric HIV/AIDS!
The New Life Center has become a medical recovery home, not only for children living with HIV, but for kids and expectant mothers visiting Kathmandu for any critical medical treatment or surgery.
---
---
We are so grateful that a loving & enthusiastic NYF supporter has fully funded the New Life Center through June 2024! To support health and wellness for Nepali children this year, please consider supporting our Nutritional Rehabilitation Home. This facility, right next door to the New Life Center, serves hundreds of children per year.
Before: Empowering Kids Living with Pediatric HIV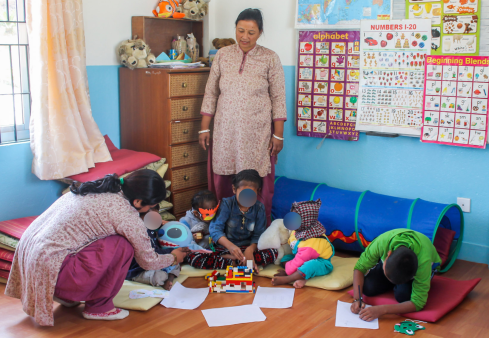 NYF established the New Life Center in 2006 as a specialized care home for children (aged 0-14) living with HIV/AIDS. Our young patients, whose fragile immune systems were already under attack from this aggressive virus, spent time in our care frequently as they grew, receiving special, loving, personalized care from our nursing staff.
Once a child's immune system finished developing at age 15, our team connected them with their local HIV/AIDS organization for adults. This ensured strong continuity of care. Meanwhile, these local organizations referred families to the NLC whenever they learned of a child living with the virus.
Many of these children have also received NYF scholarship support in grade school and beyond!
Between 2006 and 2023, the NLC became a premier resource in Nepal for families impacted by pediatric HIV. Our team has saved hundreds of lives and empowered their families. Their work has also helped lower both virus transmission and the stigma faced by Nepalis living with this challenging diagnosis.
Nepal has made tremendous progress in slowing the rate of mother-to-child transmission of HIV. This has resulted in a reduced need for a specialized facility exclusively for children living with the virus.
Changing Health Needs
In March 2020, NLC patients returned to their home villages to avoid exposure to COVID-19, leaving the NLC almost empty. During the worst of the pandemic, the NLC cared for mild-to-moderate COVID patients who were unable to isolate at home. We offered remote care for our HIV patients, with great success. Thanks to these innovations, in 2022, the NLC received the smallest number of in-person HIV/AIDS patients since opening in 2006. Most beds remained vacant.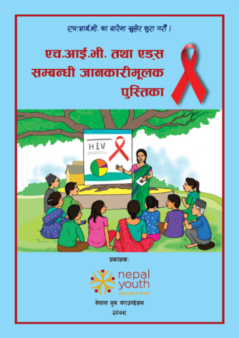 NYF spent 2022 and the first half of 2023 engaged in an ambitious HIV/AIDS Awareness & Advocacy Campaign. We proudly partnered with several grassroots organizations in districts with high rates of HIV. These organizations—Makwanpur Women's Group (Makwanpur District), Bara Plus (Bara and Parsa Districts), and Lumbini Plus (Nawalpur and Parasi Districts)—allowed us to make quick, strong connections with local changemakers and beneficiaries, which maximized our impact. Creating a unified action plan, without interrupting the existing services each organization offered, allowed us all to serve these communities with efficiency and strength. It also created a cohesive, powerful message about HIV/AIDS Awareness & Advocacy.
You can learn more about the original mission of the New Life Center, as well as the HIV/AIDS Awareness & Advocacy Campaign, on our historical New Life Center – HIV/AIDS program page.
Between 2022 and 2023, we printed 14,000 copies of our HIV/AIDS guidebook (view the flipbook here). We originally only planned to print 500, not expecting demand to be so high! Our team distributed copies to families living with HIV, students and their teachers, women's groups, hospitals, doctors and nurses, organizations intersecting with issues related to HIV, government offices, and community representatives. Access to this information is making tremendous headway in educating the public. NYF will continue distributing this resource as long as demand continues.
NYF has a particularly strong reputation in Nepal, for integrity, longevity, and effectiveness. Partnering NGOs reported that our project led to greater trust from the local governments, schools, and even community members living with HIV. Many of the individuals living with HIV in these areas had already intersected with the NLC, either through their own children or from having been a young NLC patient themselves. NYF's public trust in smaller local organizations strengthened the impact of these grassroots resources.
Raising the profile of these locally-led organizations has already made their services more effective. We also trained these passionate local teams with learnings from our 17 years of experience.
Now: An Expanded Mission for the NLC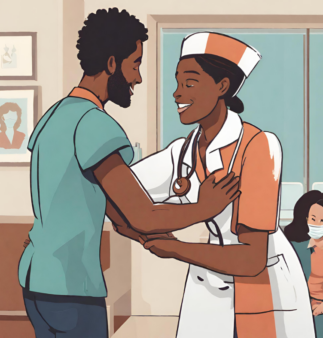 With the need for a specialized pediatric HIV/AIDS facility on the decline and the strengthening of local HIV/AIDS organizations, NYF realized that our beautiful New Life Center could now offer an broader service to the children and families of Nepal.
In 2023, the New Life Center's mission expanded to include children and families traveling to Kathmandu for all kinds of life-changing medical care, including HIV, but no longer limited to it.
This resource allows children from some of Nepal's most remote regions to access their right to healthcare.
Most of Nepal's hospitals—especially those offering specialized treatments—are centralized in Kathmandu. A recent study showed that 57% of Kathmandu patients have traveled for treatment from more rural areas. This is a devastating expense for many families.
The New Life Center empowers children and families to access life-transforming medical care, to heal thoroughly without dangerous complications, and to live full, rich, joyful lives free of the long-lasting burden of crushing medical debt.
Children and their caregivers stay at the New Life Center for an average of 15 days. This is the typical duration required for follow-up and recovery from the acute medical conditions and procedures we typically see. They receive individualized, supportive care free of charge, including monitoring from nurses, nutritious meals created under the recommendation of our dieticians, emergency support and ambulance service where needed, psychological counseling as-needed, and practical, supportive advice from our staff on how to understand and implement their doctors' discharge instructions at home.
Dhanyabad!
Thank you for the loving support that has made the New Life Center's expanded mission possible!
NYF has been an important part of Nepal's remarkable progress in the fight to end pediatric HIV/AIDS. We're continuing to put our knowledge and resources to use in supporting individuals and families who are living with this challenging diagnosis. All of this is possible thanks to loving supporters like you.
Now that the New Life Center is serving a wider audience, our impact is expanding more than ever. Thank you for sharing our mission, bringing Health access to children all over Nepal!
November 9, 2022
Festival Season 2022 at Olgapuri Children's Village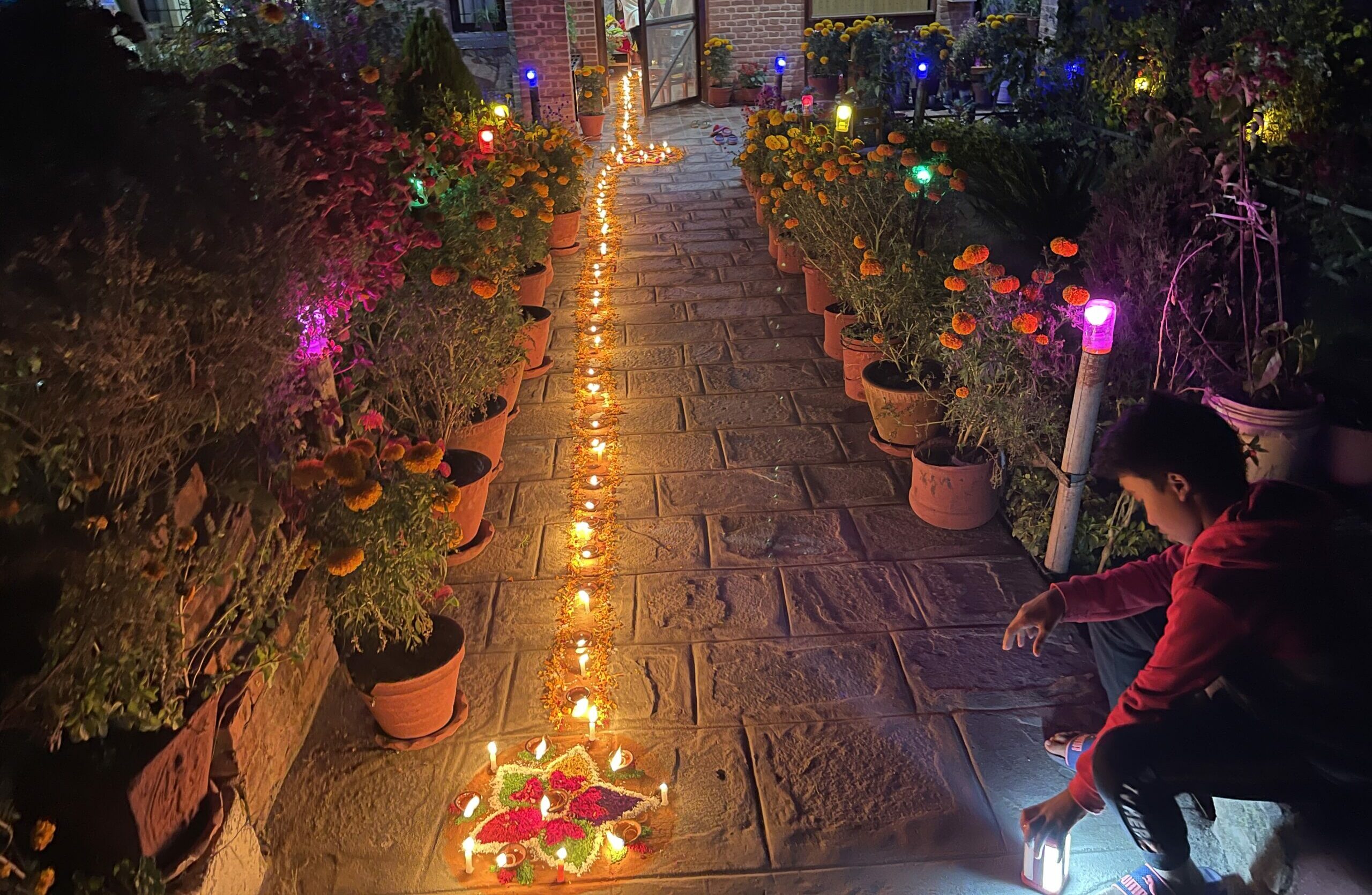 A glimpse into this year's festival season at Olgapuri
This fall, NYF celebrated Dashain (September 26th through October 5th) and Tihar (October 22nd through October 27th).
Dashain (pronounced de-SAI) is a 15-day-long lunar festival that usually occurs in September or October. It's one of the most emotional, colorful, and enjoyable times in Nepal. The auspicious holiday blends harvest-time and fertility with the triumph of good over evil, and family members travel from far and wide to celebrate together.
Quickly following Dashain is Tihar, a five-day festival of lights. Each day is devoted to honoring different religious figures, animals, or sacred bonds. Popular activities include decorating floors or courtyards with colored rice, sand, or flower petals, playing games with each other, and participating in Deusi-Bhailo, which involves children singing songs or performing dances from house to house in exchange for small gifts.
This year, we're excited to share a short video (in addition to the below photos!) that show what our Tihar celebration looked like. Click here to jump to the video.
Dashain – September 26 through October 5
For the first time in two years, many of the children at Olgapuri Children's Village were able to return to their home villages to spend the festival season with their relatives. Those who stayed behind still enjoyed a beautiful celebration, which included wonderful traditions like tika blessings, seasonal games, bamboo swings, and delicious feasts.
A favorite tradition among the Olgapuri kids during the Dashain festival is the tika ceremony. At this ceremony, elders bless the younger members of a Nepali family with a tika, which is made out of red powder and rice. At the village, house parents and other staff members bless each child with a tika on their foreheads. This tradition is an annual ritual of love and belonging.
Tika blessings
elders bless younger members of the family with tika (red powder and rice)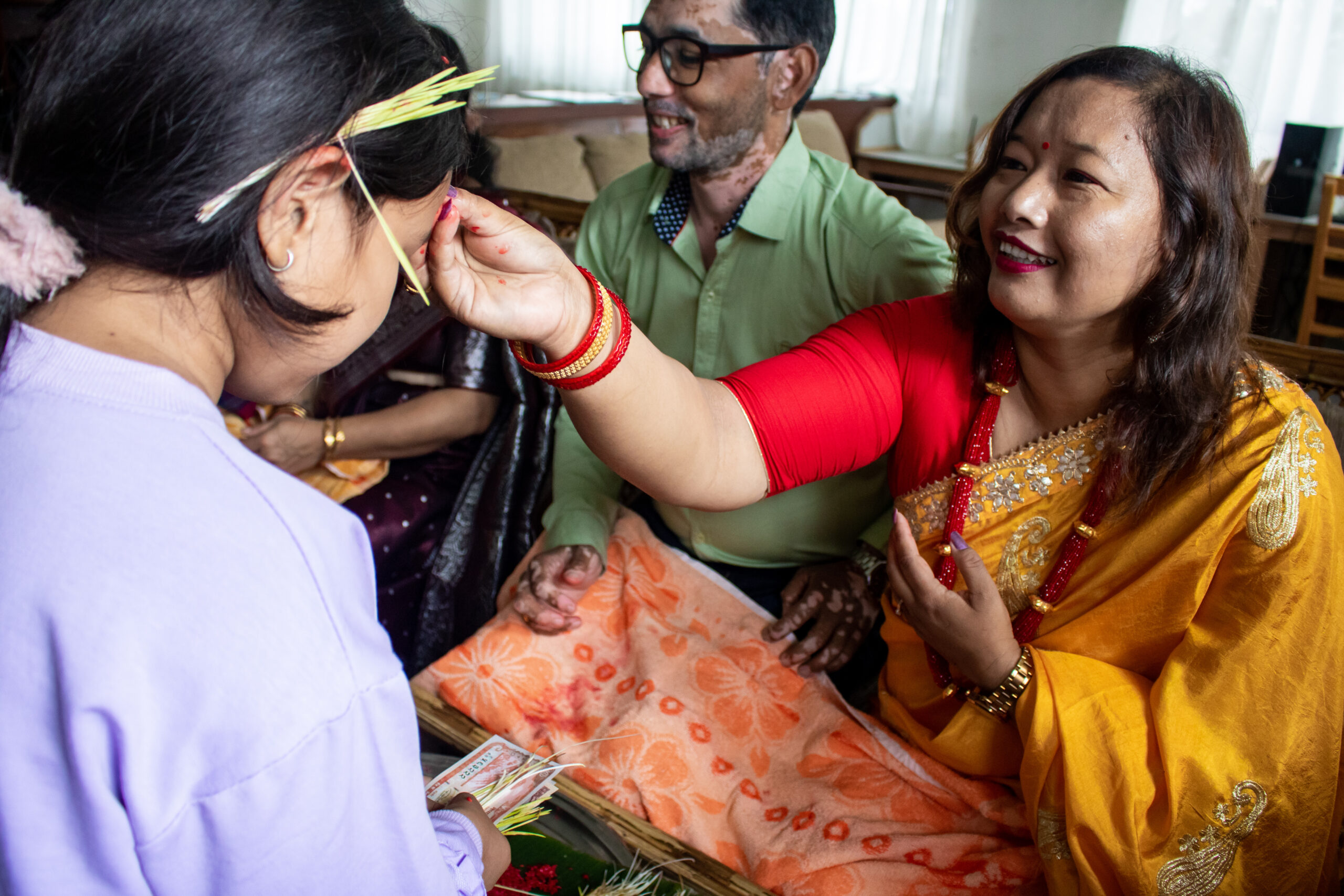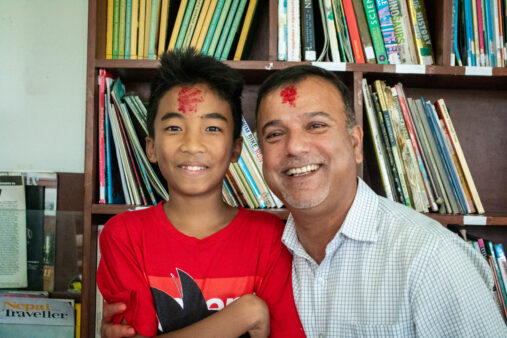 ---
Another favorite during the Dashain holidays is the linge ping—a traditional swing made out of bamboo. It is said that everyone must leave the ground once a year on this special bamboo swing. Assembling it together is half the tradition!
Linge ping
a traditional swing constructed out of bamboo during Dashain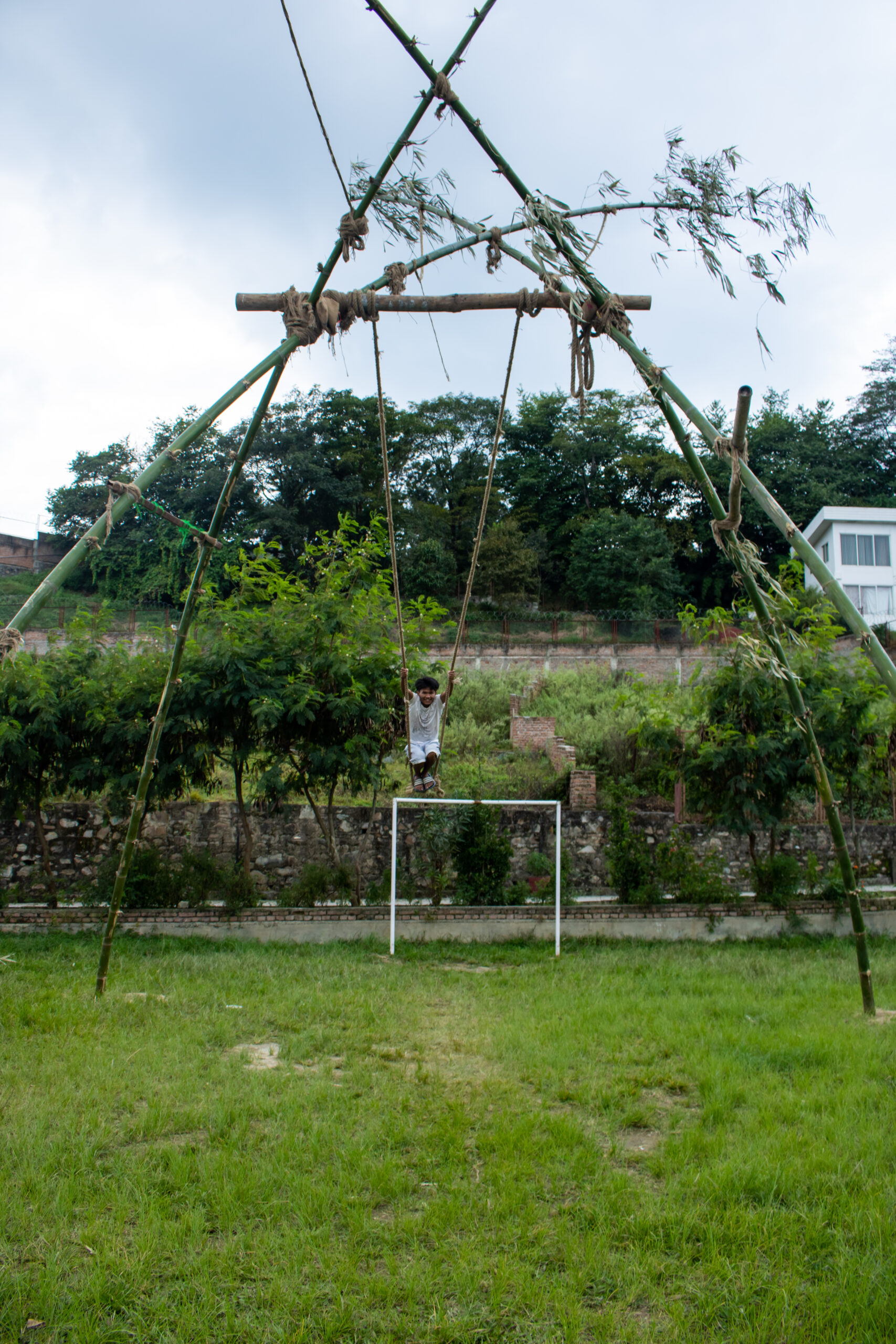 Tihar – October 22 through October 27
During the Tihar Festival this year, the children worked together with the house parents to prepare delicious Tihar treats. They also decorated each house with beautiful lights and flowers, representing wealth, happiness, and prosperity.
On the last day of Tihar, siblings honor each other with a special multicolored tika. This ritual follows a legend in which a goddess protects her brother from the god of death through an elaborate, loving ceremony. Performing this ceremony at Olgapuri has special significance in underscoring the bonds between the children.
Bhai Tika
a multicolored tika given between siblings on the last day of Tihar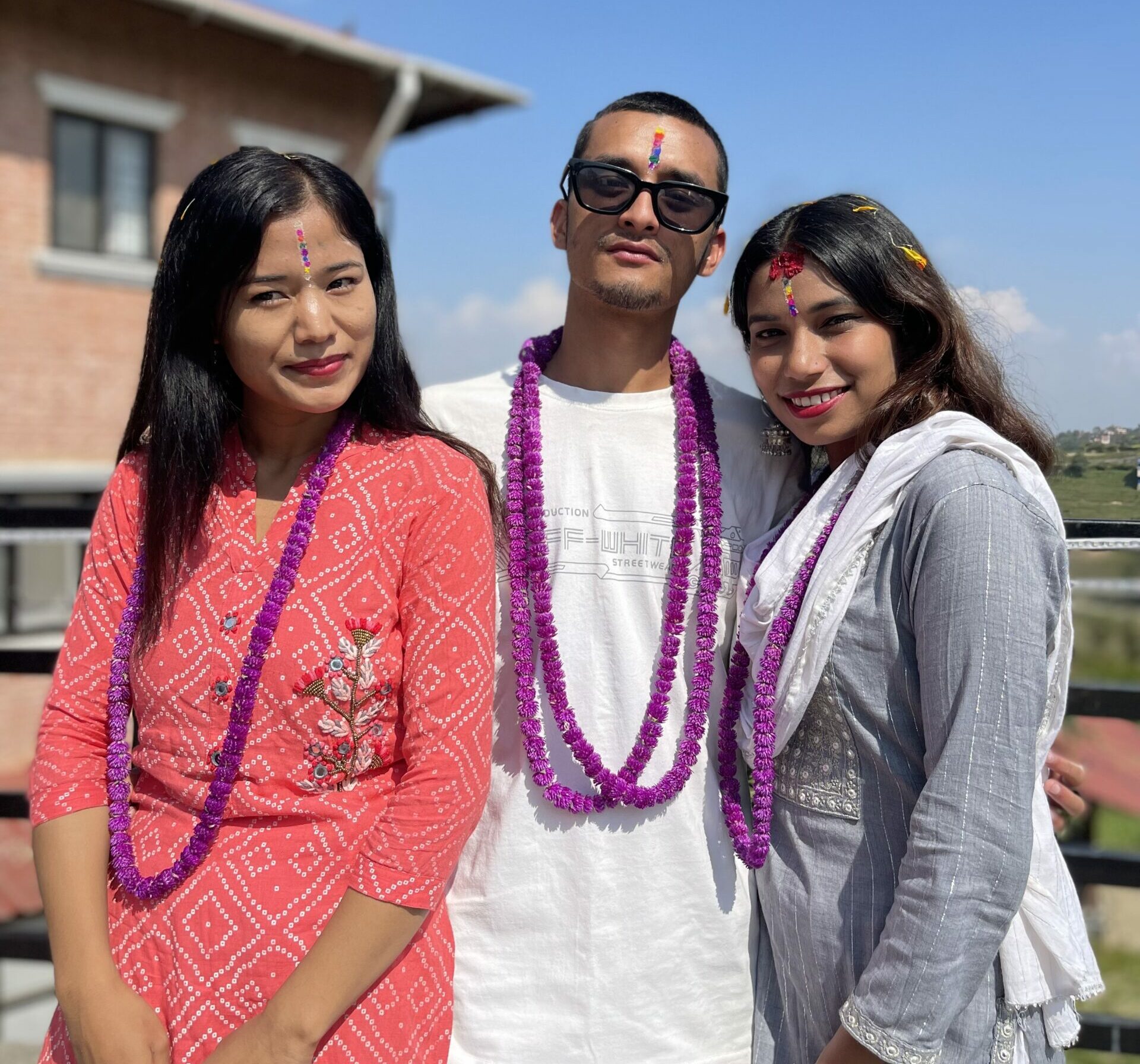 ---
Another beloved activity among the kids at Olgapuri during Tihar is is Deusi-Bhailo, an activity practiced in Nepal and some parts of India. Groups of children travel from house to house, singing two special songs: Bhailo sung by girls, and Deusi sung by boys. The singing is accompanied by dancing. After the performance, those in each house give snacks, sweets, and money to the children, and the children give blessings for prosperity in the coming year.
This year, the children frequented the nearby homes of NYF staff members, who were absolutely delighted (and prepared!) to open their doors to the singing children.
Deusi-Bhailo
a beloved Tihar activity where children sing songs in exchange for small gifts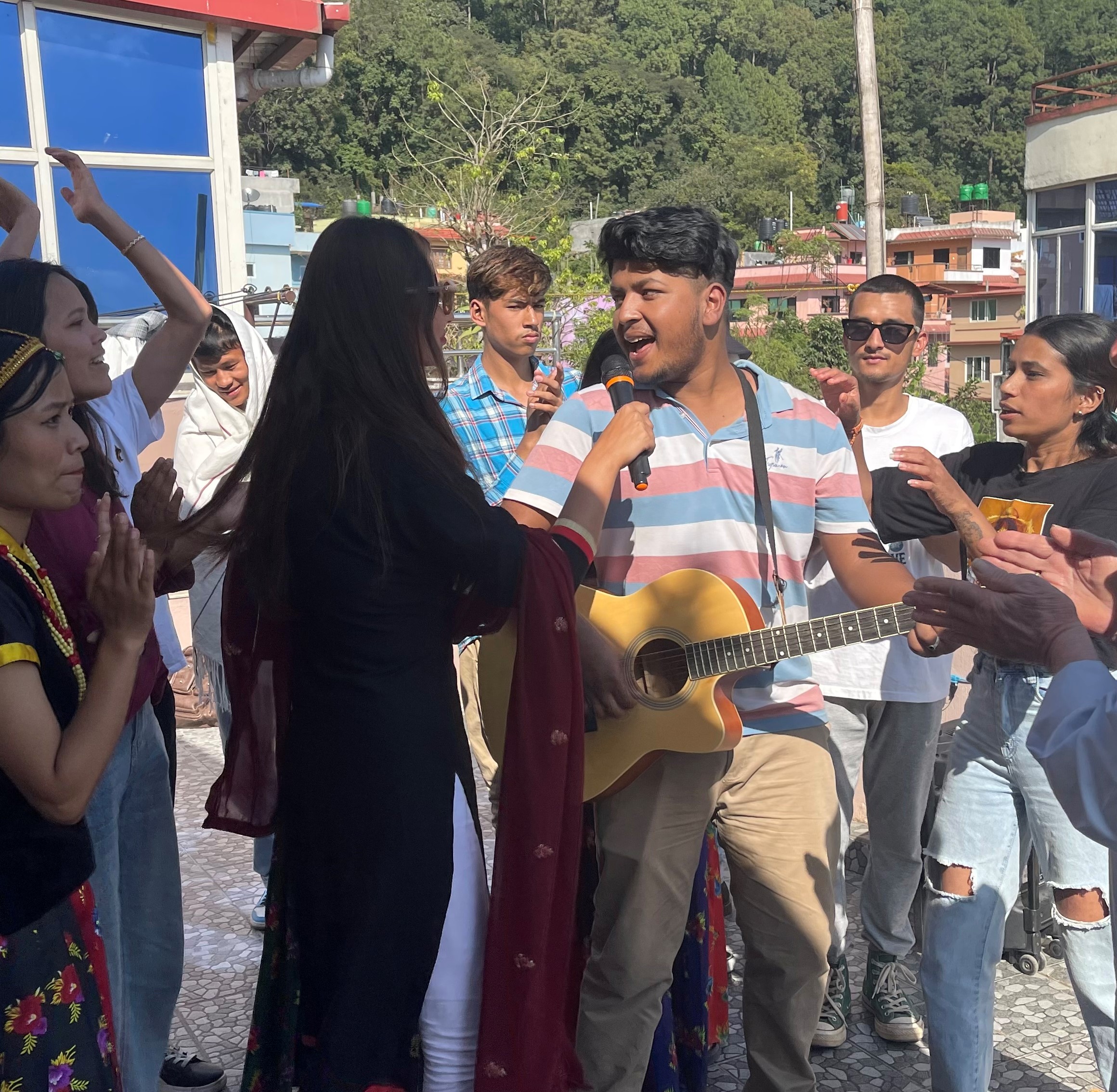 ---
Tihar at Olgapuri – Video
Thank you so much to our staff in Nepal for not only helping to organize the celebrations during this year's festival season, but also for capturing all of these amazing moments to share with our larger NYF Community!
We are so grateful for the global NYF Community. Your generosity ensures that the children at Olgapuri Children's Village can celebrate Dashain and Tihar every year with lots of warmth, laughter, and love.
September 25, 2022
Happy 6th Anniversary, Olgapuri Children's Village!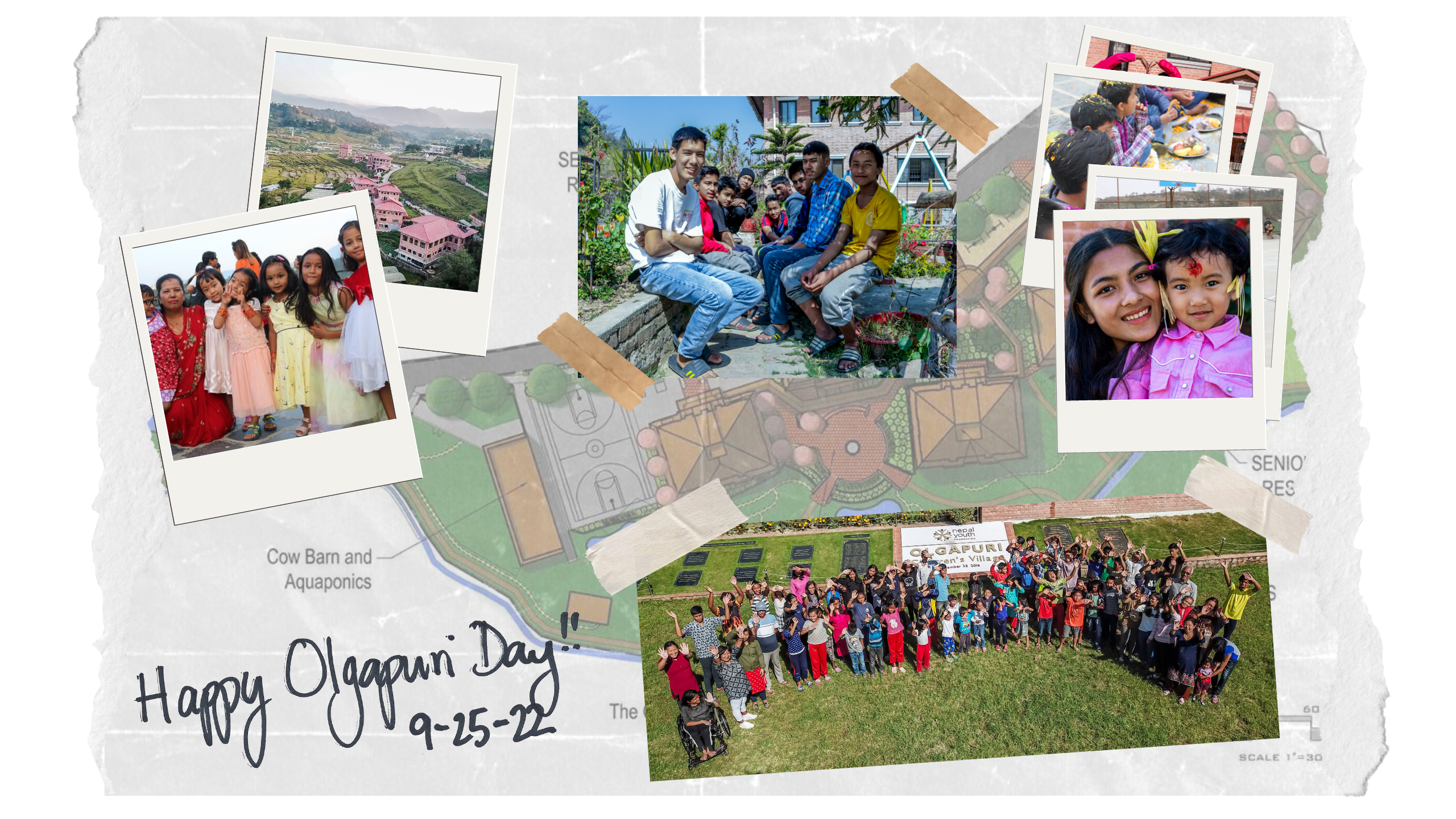 On September 25, 2016, NYF formally inaugurated Olgapuri Children's Village—a beautiful, permanent home for children in Nepal whose family members are unable to care for them. When it opened, we were hopeful that it would be everything we dreamed of: a remarkable place full of love, empowerment, and growth.
Here we are in 2022, celebrating the start of Olgapuri's sixth year of operation. With each year, we've made the village even better than it was before. It has truly become everything that we had hoped it would be. And it's all thanks to the NYF Community. Dhanyabad!
"We have designed these facilities thoughtfully and generously to provide them [the children] with ample comfort so that they can live their lives with dignity, self-esteem, and joy."

Som Paneru, NYF President. 2016, Inauguration Ceremony at Olgapuri Children's Village
Happy Olgapuri Day!
September 25 is known as "Olgapuri Day." Every year, children, staff, and community members celebrate the anniversary of the opening of Olgapuri Children's Village with delicious food, fun games, lots of dancing, and more. It's one of the many events that the children enjoy throughout the year.
It also happens to be a great time for us to reflect on all that's happened that year at Olgapuri. And in 2022, there's so much to celebrate!
Special Highlights at Olgapuri in 2022*
Ninety-two children lived at Olgapuri (but no more than 80 at a time). Among them, 14 were new children who were warmly welcomed by the Olgapuri family. Meanwhile, fourteen young adults graduated the 12th grade and moved out of Olgapuri (into dormitories or hostels for college or vocational training). Three kids were able to return to their families due to improved circumstances at home.
Every student successfully moved forward into the next grade! Due to COVID-19, children at Olgapuri attended online classes until December 2021. They returned to in-person classes in January, and their academic calendar is now back to normal.
Two young graduates secured the highest scores in their respective schools, ending high school as valedictorians and moving directly into their bachelor's degree programs. One is pursuing a degree in business at the Ace Institute of Management in Kathmandu, and the other is enrolled in a five-year undergraduate program in law at Kathmandu School of Law.
New activities were introduced to interested kids, including yoga, meditation, and self-defense classes. Many students report that these extracurriculars are not only fun but are also helping them to focus on their studies!
Counselors and house parents worked closely with the children to ensure that their anxiety, curiosity, and other challenges (especially related to the pandemic) were addressed appropriately.
The 'Olgapuri Children's Club', run by the kids themselves, organized fun events like art exhibitions, carnivals, and music shows. At Tihar in early November 2021, they organized an incredibly successful virtual Deusi-Bhailo** event to broadcast through Facebook Live. The Children's Club used their Deusi-Bhailo to raise money for club activities. They raised the equivalent of $600!
The children celebrated many special days together—including Dashain, Tihar, the winter holidays, Holi, and their annual communal birthday party—with cake, presents, Tika blessings, campfires, and more.
Looking ahead…
As we move through the end of 2022, the children at Olgapuri are looking forward to celebrating Dashain and Tihar. These two Nepali holidays are full of gift-giving, loving moments of laughter, and joyful memories. They signify a time of warmth and close connection between communities and families.
Thank you so much for your support!
Generosity from friends like you are allowing the Olgapuri kids to grow up safe, nurtured, loved, and supported—part of a unique family system that will always be there when they need it. Thank you.
*Between July 2021 and June 2022.
**Deusi-Bhailo is a beloved Tihar activity practiced in Nepal and some parts of India. Groups of children travel from house to house, singing two special songs: Bhailo sung by girls, and Deusi sung by boys. The singing is accompanied by dancing. After the performance, those in each house give snacks, sweets, and money to the children, and the children give blessings for prosperity in the coming year.
December 3, 2020
Tihar Celebration with Olgapuri, A Children's Shelter in Nepal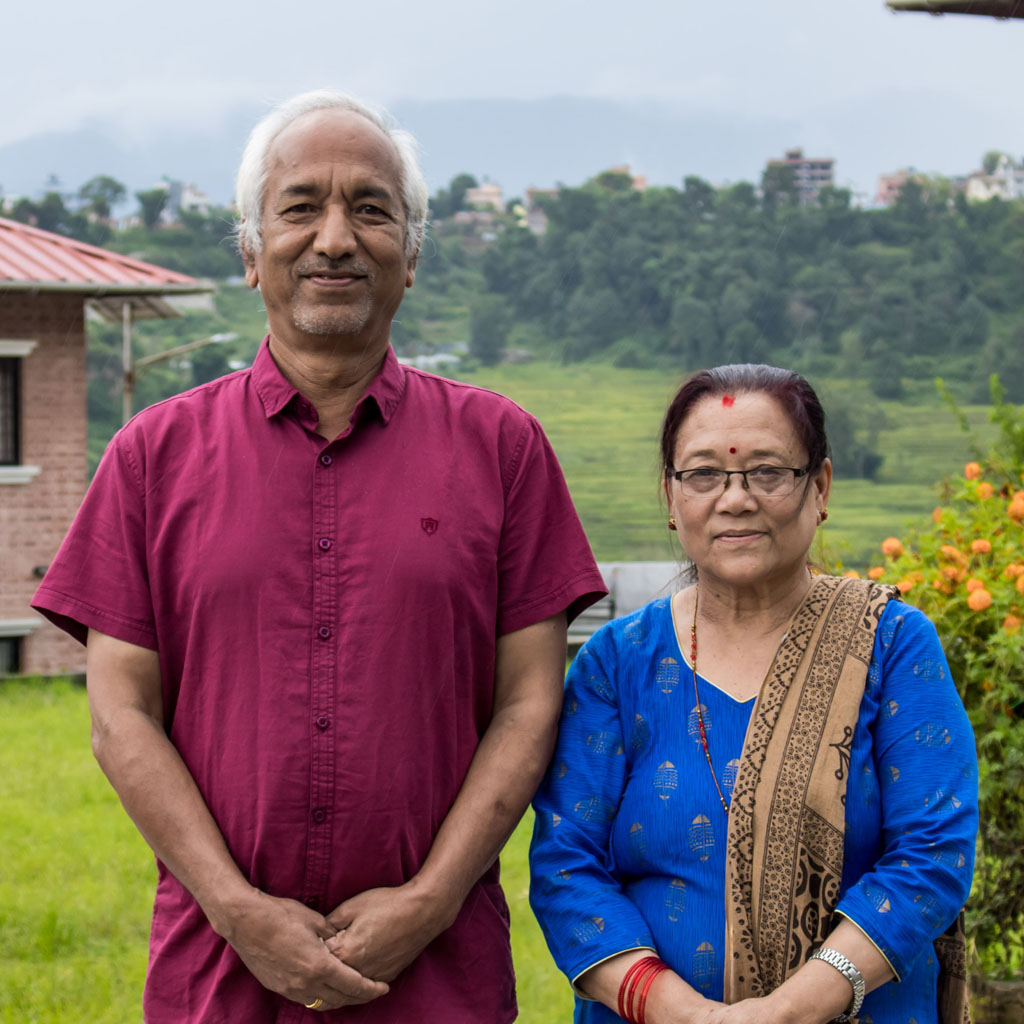 Tihar with Olgapuri House Parents Hem Prasad Shrestha & Binu Shrestha
Tihar, a Nepal celebration comes just one month after the festival of Dashain. Nepalese children love Tihar, especially because it offers special opportunities for siblings to honor one another!
Almost as soon as Olgapuri's Dashain feasting ended, our four sets of loving house parents set to work planning a beautiful Tihar for the 80 children currently living on the locked-down campus. Tihar festivities began on November 13th and concluded on the 16th—to the enjoyment of all.
So far this year, we've spotlighted Dipak & Samana in the junior boys' house, Bhim & Shreemaya in the senior girls' house, and Bishnu & Pushpa in the junior girls' house. As we share Olgapuri's special Tihar celebration with you, we're so pleased to introduce you to the fourth set of house parents: Hem & Binu Shrestha!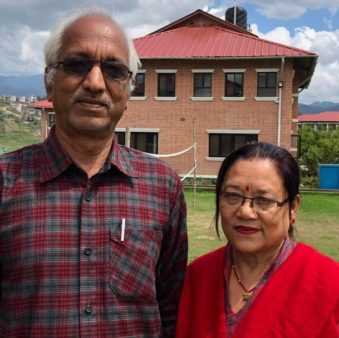 Hem and Binu are parenting the 20 senior boys living at Olgapuri Children's Village. These boys range in age from about 13 to 18—a time of incredible growth, both physical and emotional, when long-term patterns are developed and critical lessons are learned in preparation for adulthood.

The married couple joined the Olgapuri Children's Village team in March 2020, just as the campus was entering lockdown in response to the COVID-19 pandemic. Here, they are the newest team members, but they bring many years of valuable experience to the work they're doing.
Hem-Uncle and Binu-Aunty have experienced incredible changes in Nepal during their lifetimes, including multiple dramatic shifts in government, the long Nepali Civil War, cultural shifts regarding caste and other minority rights, economic changes, and growth in areas like healthcare, education, and technology. Through it all, they have always prioritized the children around them. New generations will continue building their country towards the future. Love and opportunity ripple outward as children become adults.
They've already seen it happen. Hem has worked with NYF since 1996, both directly and indirectly. He even spent many years in leadership positions overseeing NYF's growth on the ground. The two have worked in several children's homes over the course of their careers, but they have always especially admired NYF's loving, long-term, family-style approach.
Even as a very young man, Hem observed practices that made him wary of the way power can feed into corruption. Time and time again, he returned to NYF, because he knew that the resources went directly to the children being served. He recognized NYF's deep, sincere commitment to each individual child's wellbeing and long-term success. NYF staff members are truly focused on the children first, and it makes all the difference.
Hem and Binu are thrilled to bring their history in children's homes to Olgapuri Children's Village, where staff and children alike live together and cooperate like a large family. They have already earned the trust of the children in the senior boys' house. Like the other house parents, Hem-Uncle and Binu-Aunty have spent the lockdown managing online classes for 20 students, organizing outdoor activities, and leading meal preparations. They also value the quieter moments, when the children come to them with concerns, troubles—and happiness as well.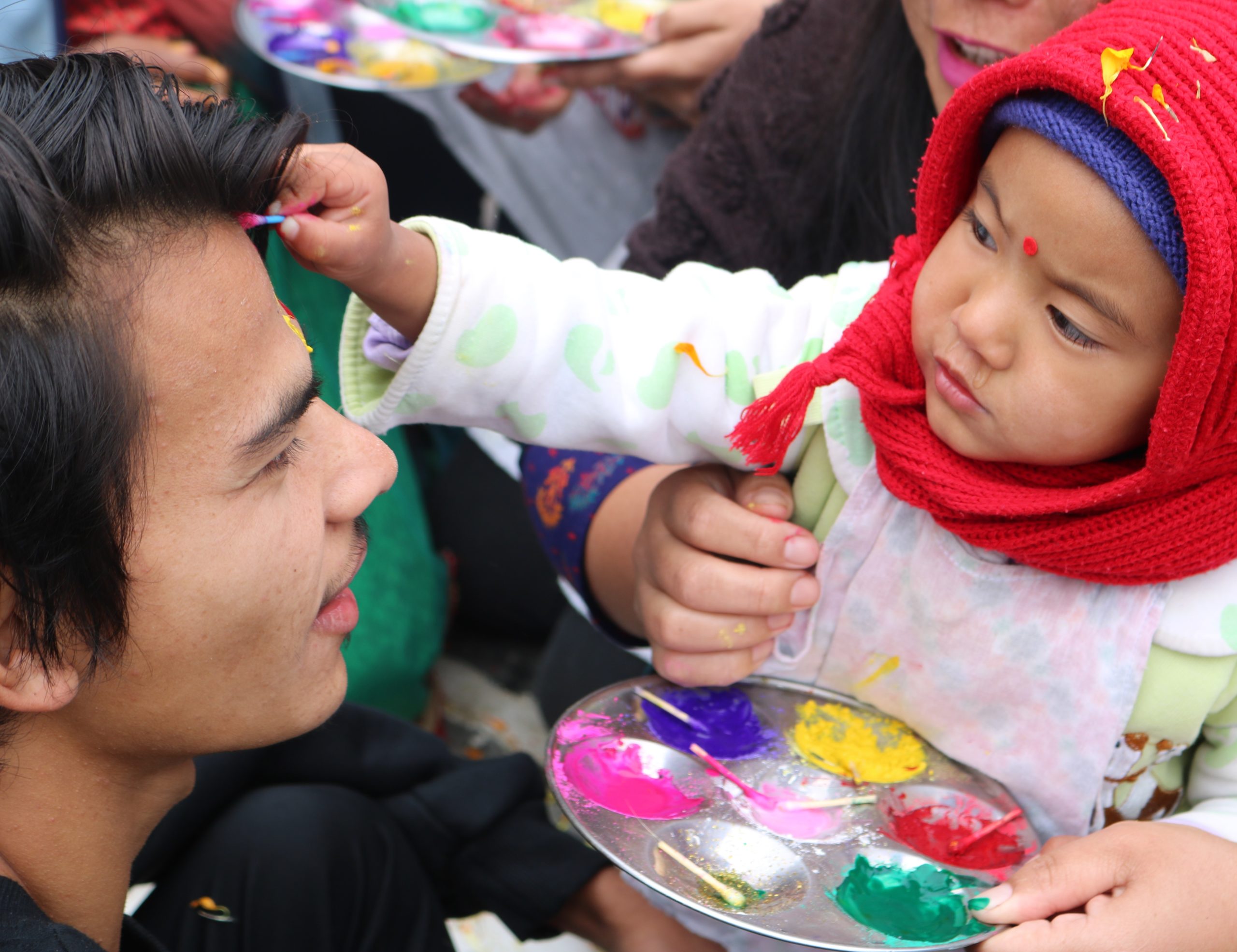 As these 20 boys quickly approach the beginning of adulthood, Hem and Binu are happy to share wisdom and guidance from their own lives. Each child at Olgapuri has a unique story, personality, and set of skills and struggles—like children everywhere. At NYF, we are so grateful to have wise and loving house parents like Hem and Binu to help each of these boys along their journeys of becoming.
And we are grateful for the ways all four sets of house parents ensure moments of celebration, even during lockdown conditions!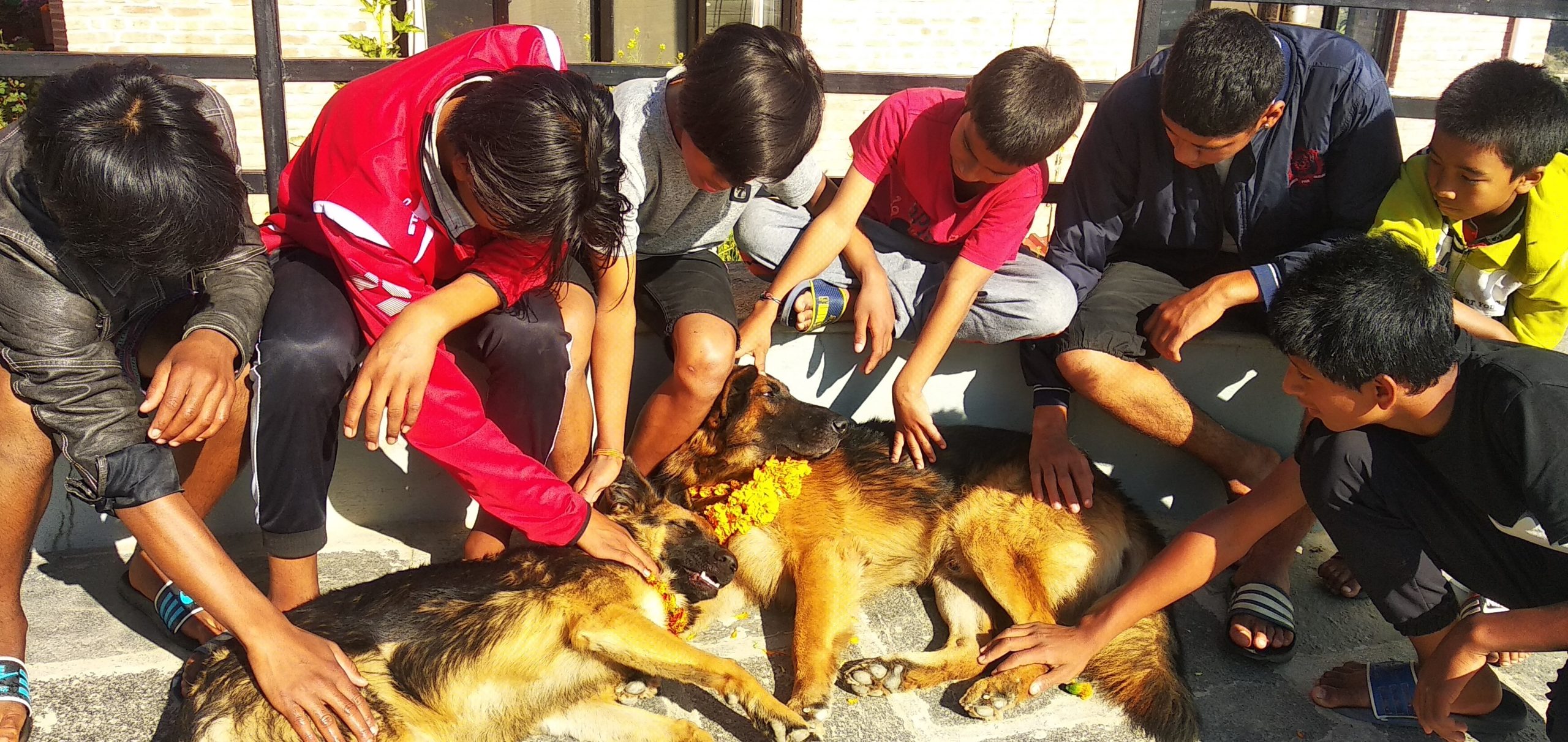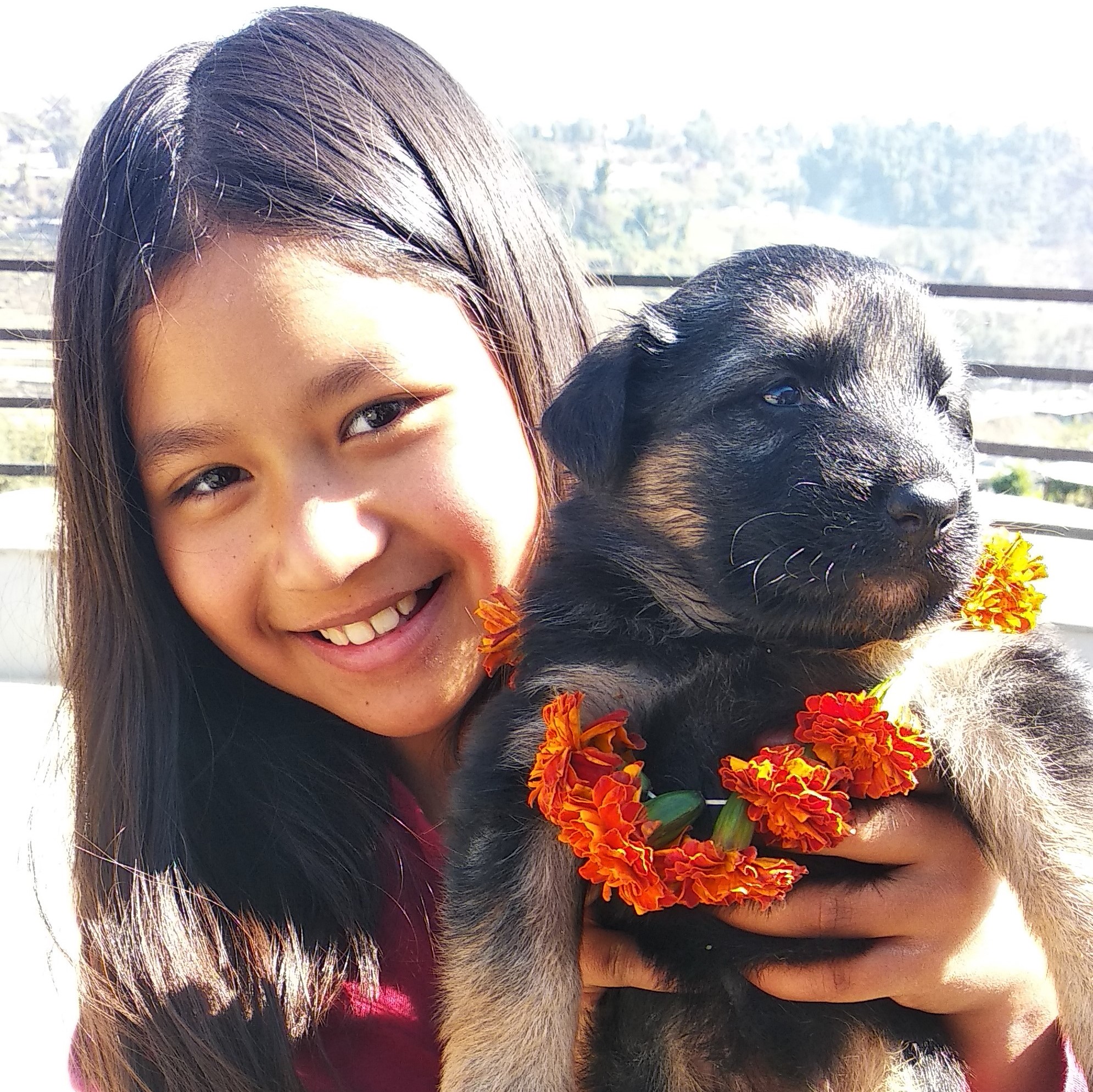 During the Tihar Festival, the children worked together with the house parents to prepare delicious Tihar treats, like selroti (a rice flour-based deep-fried sweet bread), anarasa (a deep-fried sweet pastry puff), arsa (a simple syrupy donut-like treat), and fini roti (a colorful, buttery, flaky sweet pastry).
They decorated each house with beautiful lights and flowers, representing wealth, happiness, and prosperity.
And throughout the holiday, the children played special Tihar games like tass (a card game) and langurburja (a dice game).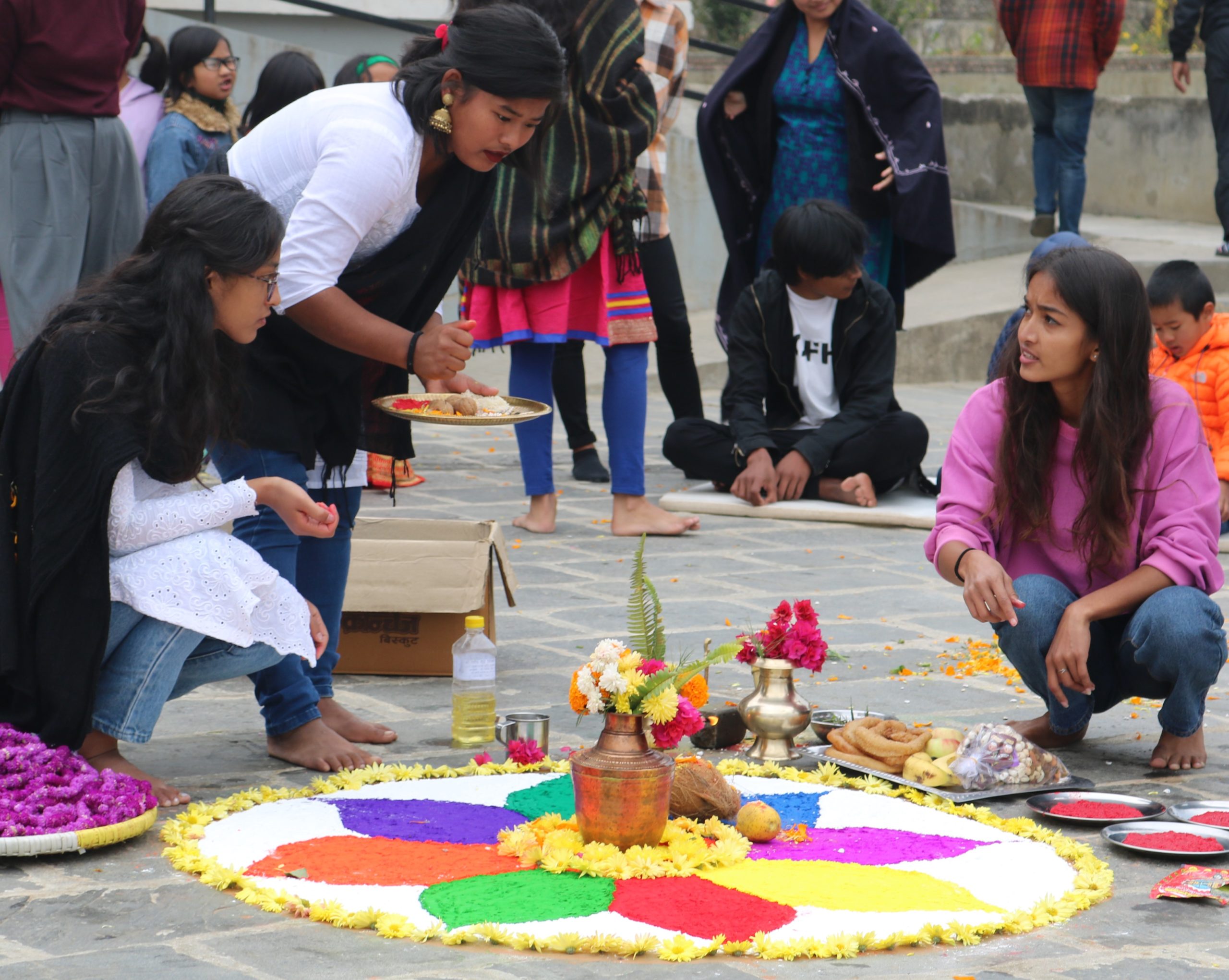 The fourth day of Tihar usually includes a celebration called Deusi-Bhailo, after traditional songs children and teenagers perform in their communities on this day. Similar to the trick-or-treating and caroling familiar to Americans, Deusi-Bhailo performers go door-to-door to people's homes, singing and dancing and giving blessings for prosperity. In return, they collect money, sweets, and snacks.
To everyone's disappointment, this tradition is not pandemic-proof. But at Olgapuri, the children and house parents created a virtual version of the event, streaming their performances to neighbors and friends in the Kathmandu Valley!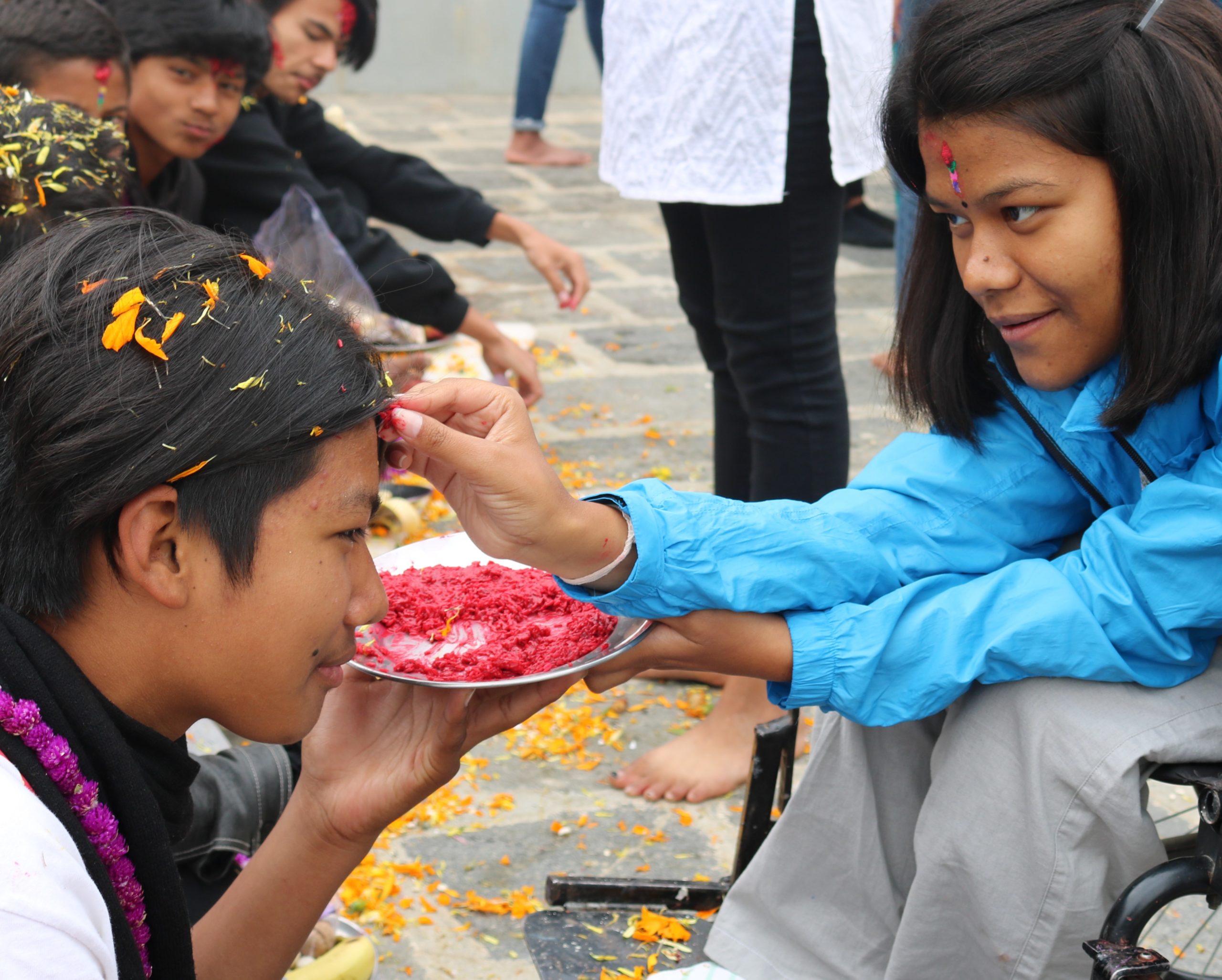 On the final day of Tihar, brothers and sisters show their appreciation for one another, placing special colorful tika on each other's foreheads and exchanging small gifts and blessings.
Love and devotion between siblings is an important part of life at Olgapuri, where the family-style approach has always been the foundation of the work. In the 1990s, when Olga first started her work sheltering children at J House and K House, she recognized that the children she was serving needed stable family relationships as much as they needed housing security, healthcare, and educational opportunities.
All children need a sense of belonging. All children need to know that they are loved.
Hem-Uncle and Binu-Aunty believe in Olga's vision of a children's home that meets the emotional and cultural needs of its residents. So do the rest of the house parents at Olgapuri Children's Village. Our house parents' devotion to the children in NYF's care is an incredible gift. Their loving attention—especially during the lockdown conditions they've been living under for the past nine months!—ensures that each child receives the healthiest, most nurturing personalized care NYF can offer.
Hem and Binu know that their #LoveWorks—and so does yours.
As households throughout the world prepare for a nontraditional, socially distanced holiday season in 2020, we're all working hard to find ways to make meaning and build connection from the safety of home. If you believe in the work Hem and Binu are doing at Olgapuri, please help them by sharing their story on social media with the hashtag #LoveWorks!
March 27, 2017
Birthdays at Olgapuri Villiage, Celebrating 75 Children with Homes in Nepal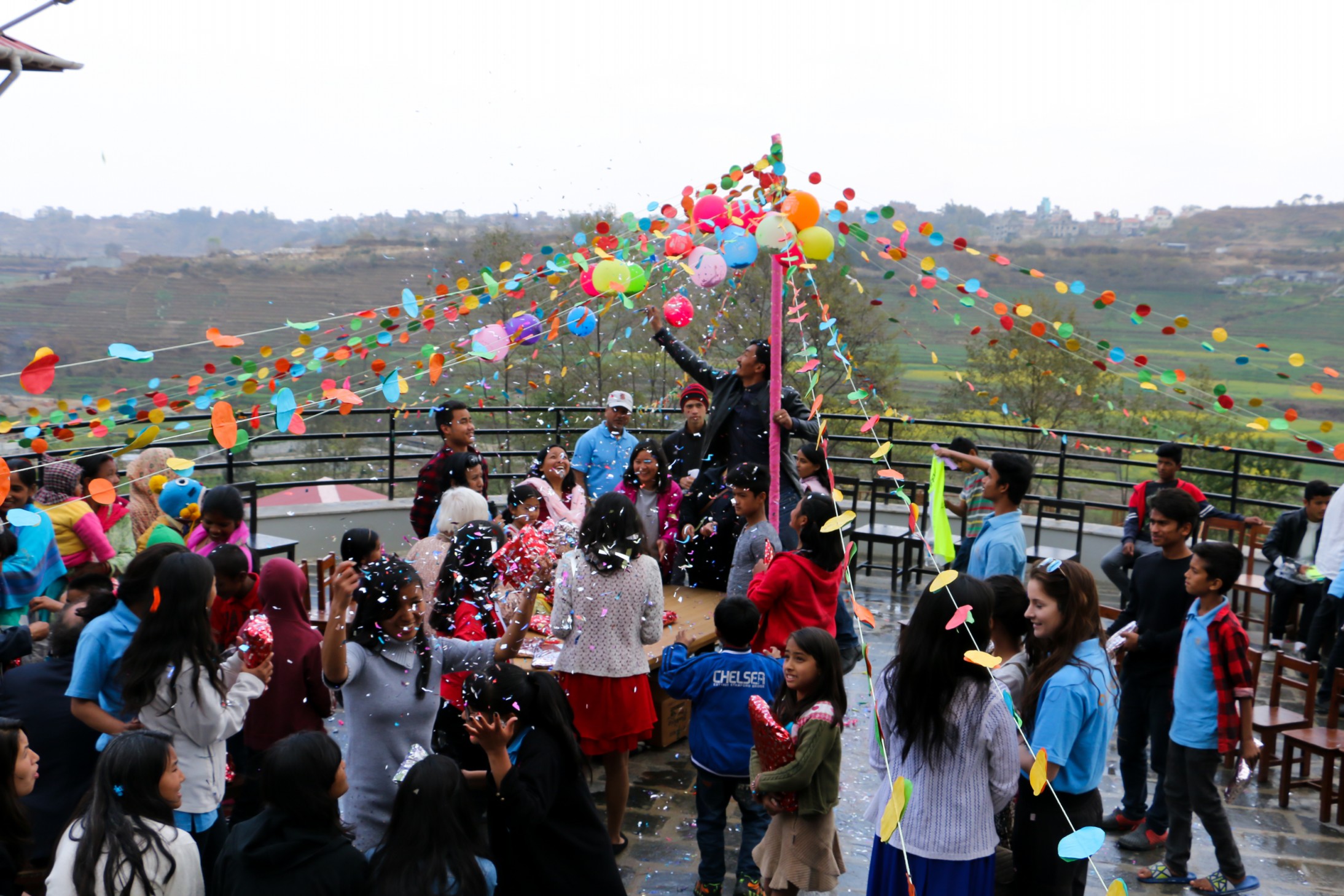 OLGAPURI Village is home to 75 children with 75 different birthdays to recognize. That's a lot of cake!
The solution? The NYF family in Kathmandu threw one BIG party and celebrated with acrobats and dancers from Circus Kathmandu, balloons, party favors, gifts, and of course – cake.
Join us in wishing a very Happy Birthday to all of our wonderful children at OLGAPURI. They make us proud.