May 27, 2021
Keeping our Promises – An Overview of NYF Programming During a COVID Surge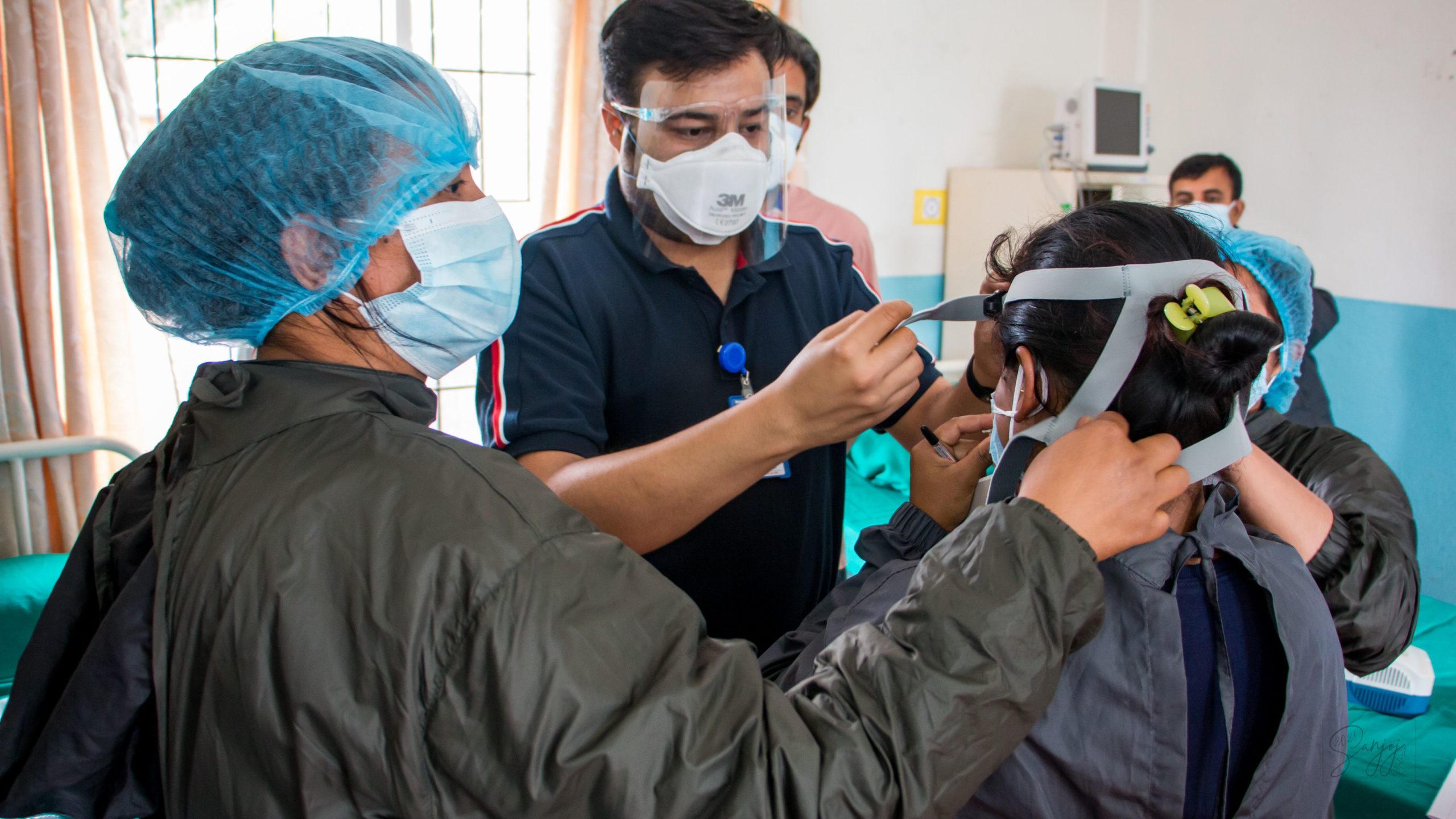 Keeping our promises to the children already in our care is of the utmost importance to NYF in ordinary times. But in these extraordinary times, we're proving our commitment in ways that build trust, enhance lives, and ensure that the NYF community's #LoveWorks.
As a follow up to Som's interviews with the BBC on May 6th and May 24th, our US Team spoke to Som, NYF's president, on Monday evening (May 24th, 2021), to get a broad update on our programs during Nepal's unprecedented second COVID wave.
Here's what we learned:
Regular Programs
When the pandemic first hit in March 2020, NYF pivoted quickly – but those first few months in lockdown weren't easy! (Click here for our COVID timeline.) Like people throughout the world, our staff members and the children we serve had to think creatively to find necessary equipment, develop safety systems, and share information.
Fortunately, after a year of COVID safety measures, this new lockdown in Nepal is easier for our regular programs to navigate. Som says it was very simple for staff members to "switch gears" back into lockdown-mode.
Olgapuri Children's Village – After a brief safe window of returning to school outside of Olgapuri campus, the village is now in strict lockdown again. Olgapuri (below) continues to be one of the safest places in Nepal during the pandemic. You may read more about Olgapuri in lockdown by clicking here.

Ankur Counseling Center – Our counselors at Ankur are continuing to work hard from their home offices, providing regular mental health care to the children in our care, staff members, and others within the community. They have been providing extra support during the second wave to individuals in our COVID Isolation Center as well. (Click here for more Ankur stories!)
Olgapuri Vocational School – Most of the courses planned for this time period have had to be postponed for the safety of staff and students, but one vocational course is actually ongoing!
This group of 20 Freed Kamlaris at Olgapuri Vocational School was nearly through their mandatory quarantine period when the government shutdown began. Since Olgapuri is a completely locked down campus, the young women and NYF staff all agreed that they were safer here than they would be if they travelled home to the Western Terai. Their vocational training program is proceeding almost as normal.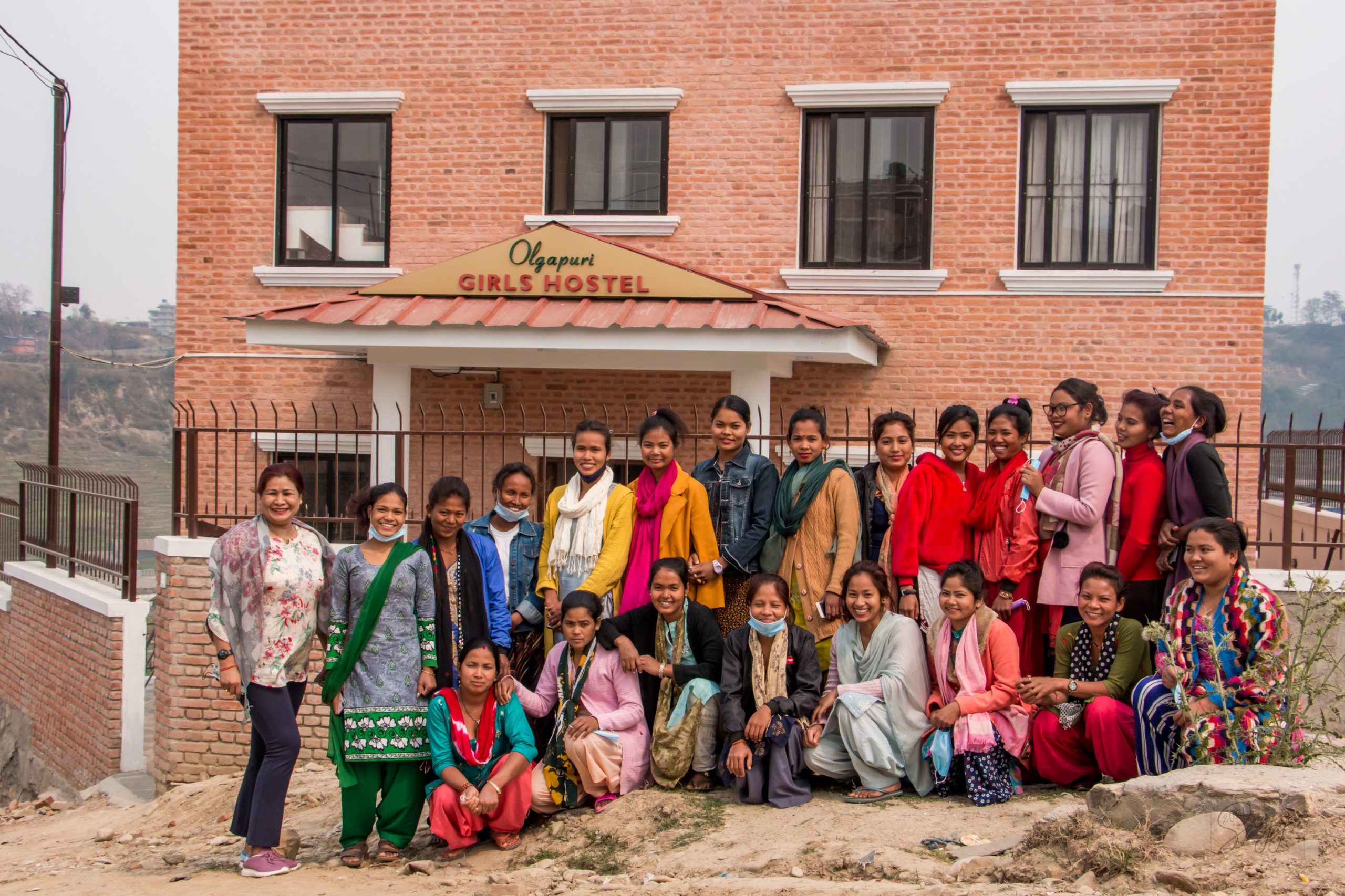 A second program was recently completed in a very remote, isolated village in northwest Kathmandu Valley. The program was well underway when this second surge began, and because the trainer was already in the village with all of the necessary equipment, and because the village is so remote that locking it down was simple, students and NYF staff agreed that this, too, was a safe option for continuing as usual. The new program graduates will be able to put their vocational skills to work once the economy reopens.
As the situation evolves in Nepal, programs like these will be decided on a case-by-case basis, with special care taken to protect staff members and students alike.
Scholarships & Kinship Care – NYF's team has stayed in regular touch with scholarship recipients and families receiving Kinship Care stipends to ensure they are safe, well-fed, and continuing their education as best they can.
Schools around Kathmandu Valley are now able to provide online learning. The main disruption being experienced by our students is exam scheduling, which has been out of sync for over a year. Final exams across the country will be postponed until it is safe for groups to gather again. This may extend the length of some students' studies.
Nutrition – NYF's regular Nutrition staff – those who run the Nutritional Rehabilitation Home in Kathmandu – are currently working completely on COVID response, including Lito for Life and the COVID Isolation Center.
At NYF, we are so grateful for the hard work and dedication that allows these critical programs to continue. Thank you for helping us keep our promises to the children already in our care!
Emergency Programs
Lito for Life – Lito for Life is ongoing. (Click here to learn about this program.) Due to the current surge, no "super flour" is currently being produced, but our stock of already-prepared and packaged Lito is still being distributed, along with other staples like rice and potatoes. To ensure safety, our team members are not making deliveries door-to-door, but we are providing packages to orphanages, children's hospitals, long-term care facilities, food banks, and other locations where individuals can access this critical resource.
COVID Isolation Center – Our Kathmandu Valley Nutritional Rehabilitation Home and the adjacent New Life Center are being used as a COVID Isolation Center for individuals who have tested positive for the virus and are asymptomatic or experiencing mild to moderate symptoms. The resource is designed to allow individuals to isolate away from their families, to slow the spread. Our patients are coming mainly from orphanages, college dormitories and hostels, boarding schools, and housing shared by multiple generations and families within a tight space.
Most of our patients are children and youth, but we serve adults as well. Our youngest patient so far was an 8-year-old girl from a local orphanage, who was isolating with us to protect her 50 friends at home. Our oldest patient so far was a 73-year-old man. He has recovered and returned home to his family.
Many individuals who are isolating at home do not recognize when their symptoms have become too dangerous – and by the time they reach the hospital, it is too late to save them. At our COVID Isolation Center, patients are under the observation of trained medical professionals who know when an individual needs care in a hospital setting. The ambulance ride to the hospital is provided free of charge.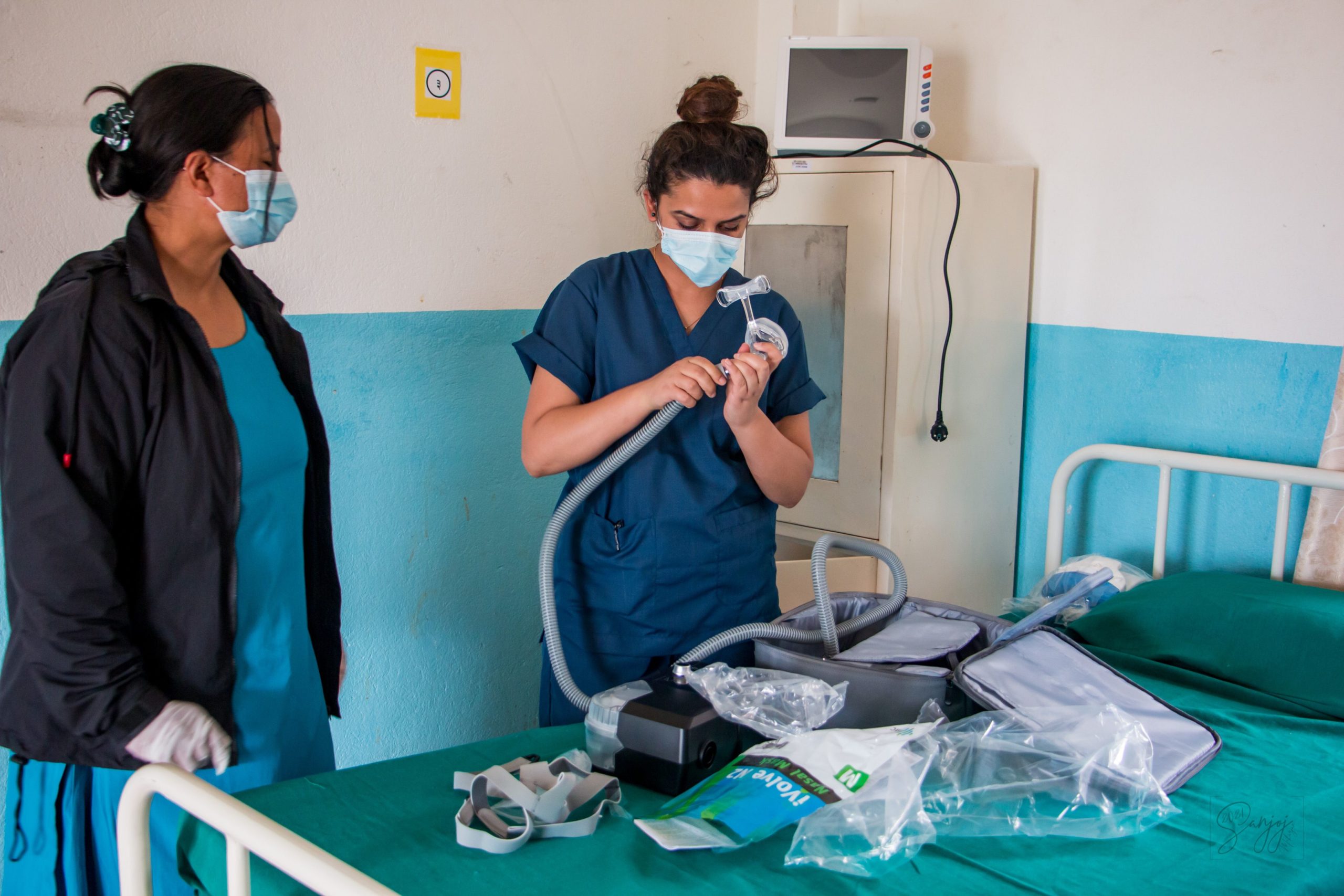 This week, our staff members received special training from a local doctor and his team to ensure that these patients stand the best chance possible as they wait for an available hospital bed to be located. Four beds at the COVID Isolation Center are being set aside for a "High-Dependency Unit" or HDU (above). Patients in need of hospital intervention will be moved to this area and held here, under stabilizing, high-level care and using special equipment, until NYF is certain a hospital ICU bed has been found for them.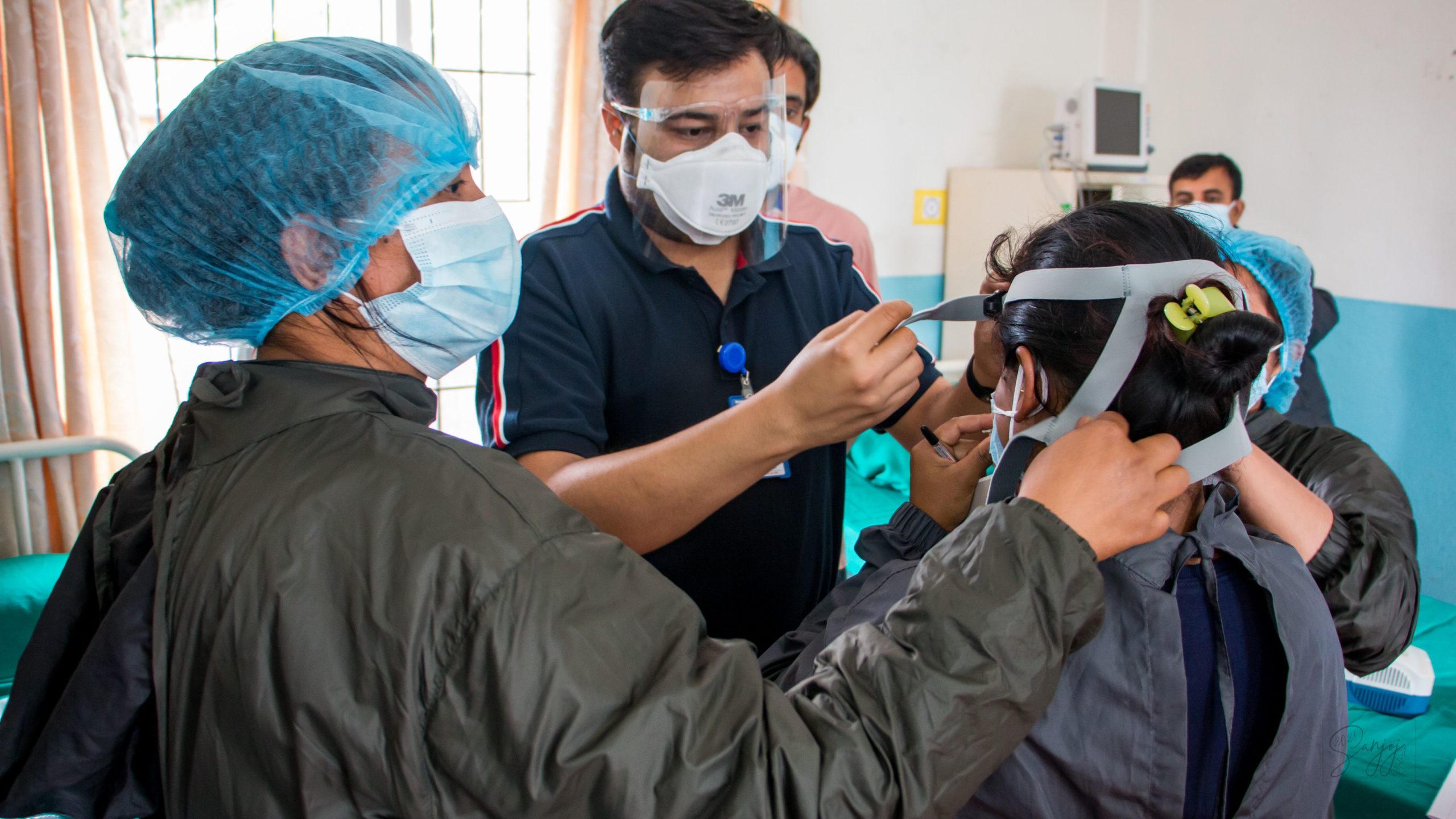 We are looking forward to sharing more about this work soon!
What Comes Next?
The situation in Nepal is evolving quickly, and NYF is working to develop solutions as part of the broader Nepalese community. Som is working with government health officials in Kathmandu Valley on ways to support families who are isolating at home. We hope to share more about this soon!
Here is some good news: Som tells us that, thanks to awareness of the oxygen shortage in India, hospitals in Nepal have received a generous outpouring of oxygen resources from around the world. More vaccines are on the way. And aid is arriving from multiple governments, as well as from the UN.
Experts are warning that a third COVID wave may be coming for Nepal in October and November – just in time for the beloved family-centered festivals of Dashain and Tihar. With younger people being impacted by this second wave (most COVID deaths in Nepal are between ages 20 and 50), the concern is that children may be next. NYF's global team is preparing for this, continuing to develop plans and expertise to meet this moment (and the next) with strength and agility. We are so proud of our team members who are continuing to learn new skills as this crisis continues to unfold.
And we are also proud of our team members in Nepal – house parents, nurses, tutors, instructors, cooks, drivers, counselors, administrators, and more – who are working so hard to continue keeping our promises to the children in our care.
Donations
We at NYF are so grateful for every single thoughtful gift we receive, whether for a specific program, a sponsored student, a piece of equipment, or "our greatest need." Dhanyabad to everyone who has given! Your generosity is a true inspiration.
In times like these, even if COVID has provided the inspiration for your gift, the most effective way to give is to provide unrestricted funding. Unrestricted funding allows us to aim each dollar with the maximum flexibility, allowing the needs on the ground to drive our responses as the situation evolves. Unrestricted funding also allows us to continue keeping our promises to the children in our care by ensuring that each of our programs is fully funded and can continue as best as possible throughout the pandemic – and beyond.
To make your generous gift, please click here. Thank you so much for ensuring your #LoveWorks for the children of Nepal!
May 24, 2021
Nepal's COVID "Humanitarian Crisis is Rising Very Fast" – Som Speaks to the BBC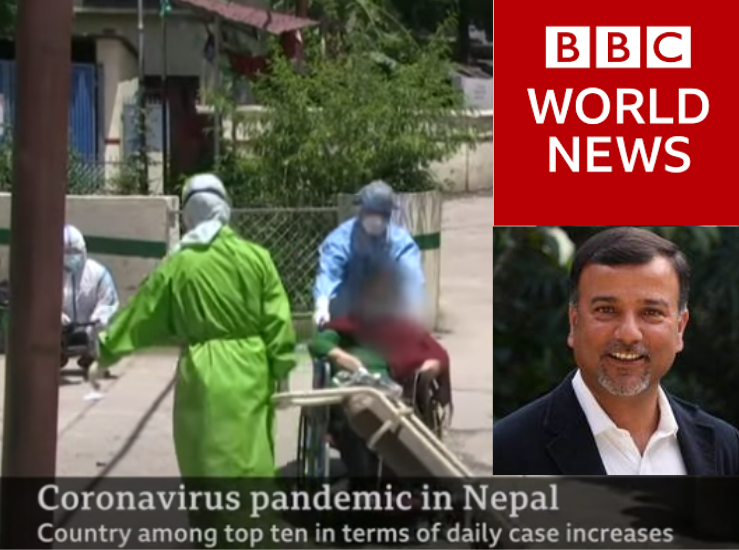 Nepal's COVID humanitarian crisis is accelerating, with cases surging faster than anywhere in the world. The country has been in lockdown for a month now, and with many individuals passing away at home, the true death toll is difficult to confirm. Comparing the number of confirmed COVID deaths to the number of funeral services highlights this grim disparity.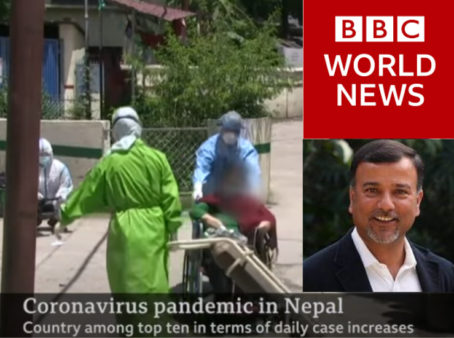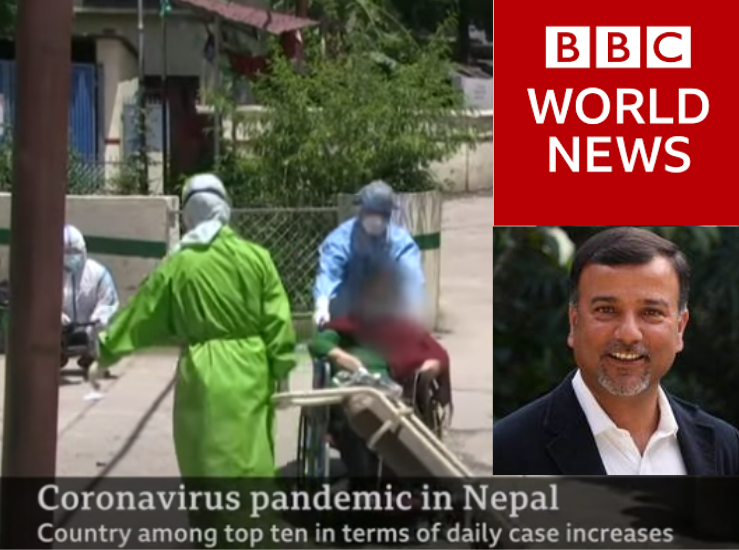 Today, on May 24th, 2021, NYF's President Som Paneru appeared on BBC World News (link below) to describe the situation – and the urgent needs in his country.
Many thanks to BBC World News for helping to share this message. Other news sources, like The Global Herald, are already sharing the story.
NYF is currently using our Kathmandu Nutritional Rehabilitation Home as a COVID Isolation Center for children and adults with COVID-19 who are not sick enough for the hospital. This resource (pictured below), which includes mental health care and dietician-designed meals, allows them to isolate away from their families, helping to protect their loved ones from the virus.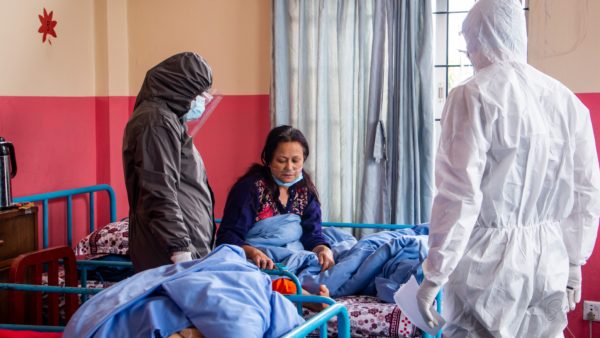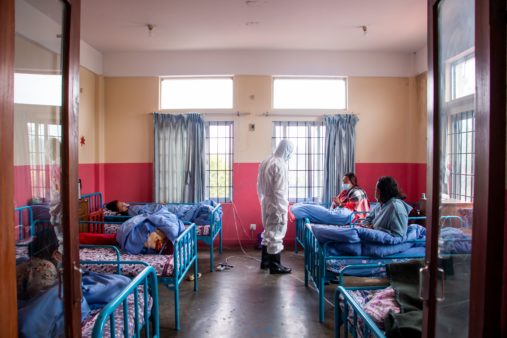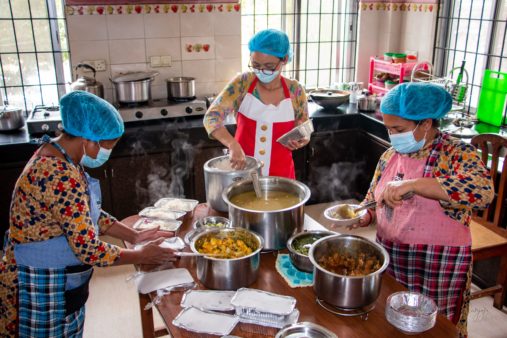 To see what else NYF has been doing in response to Nepal's COVID humanitarian crisis, click here to view our ongoing timeline.
Please donate now to support our efforts to continue providing Health, Freedom, Shelter, and Education to Nepal's children during this unprecedented crisis.
You may watch Som's full interview with BBC World News on the BBC YouTube Channel:
May 17, 2021
Purposeful Living & Olga Murray: A Celebration and an Invitation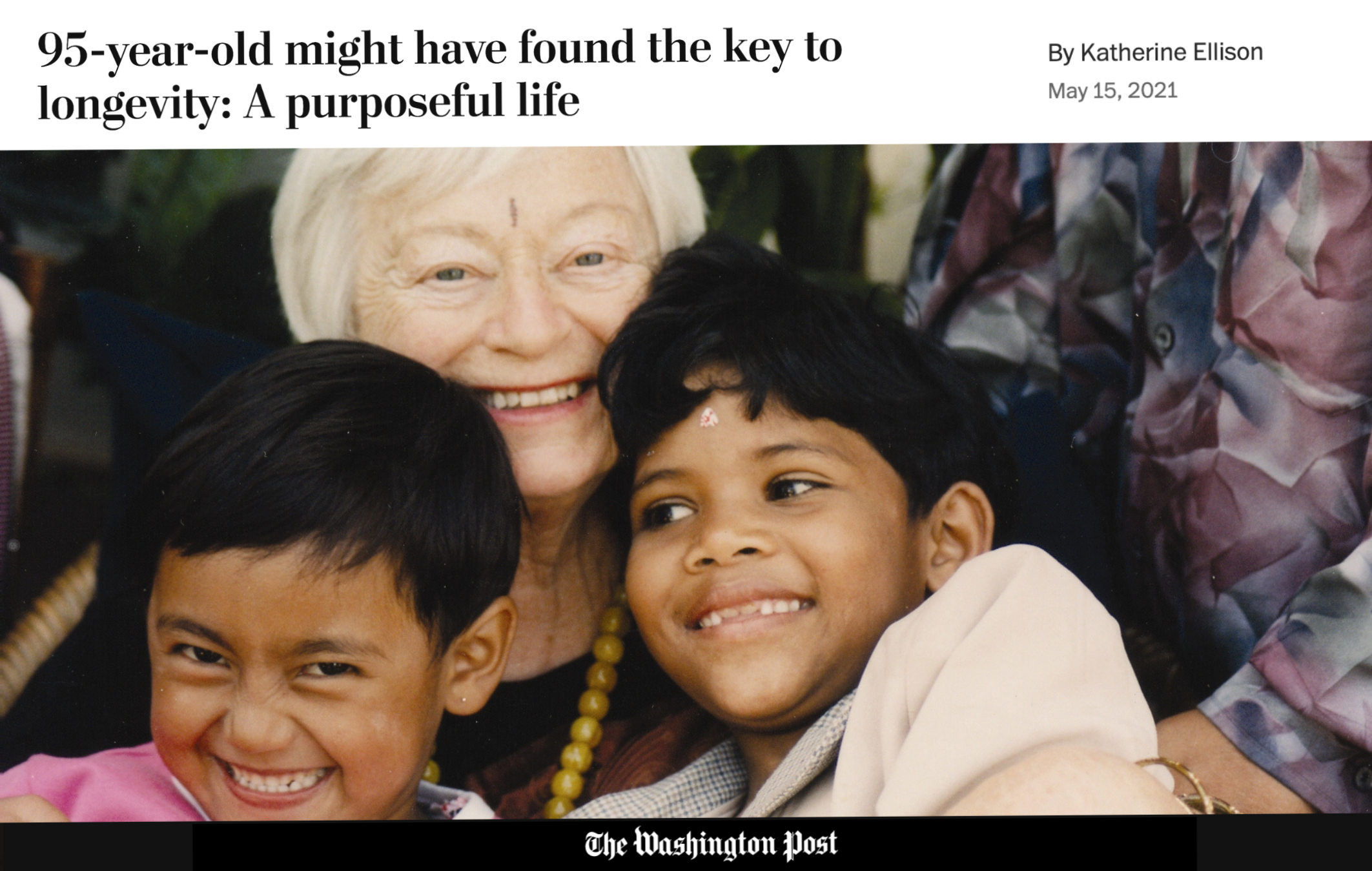 Purposeful living is the focus of a new Washington Post article about our very own founder, Olga Murray (click the link to open the article in a new tab – it is a beautiful tribute by Pulitzer-Prize winner Katherine Ellison!). Our beloved Olga, on the cusp of her 96th birthday, has been an inspiration during the past year of lockdowns and uncertainty.
' "I'm not a doctor," ' the article quotes Olga during a recent interview, ' "but I do know that when I get out of bed every morning and think that I might help a little kid in Nepal, I'm not focused on my body… My main focus is on the kids."
In her interview, Olga is characteristically modest. So much of Olga's work is driven by her belief in others. She believes in those she partners with at NYF, like President Som Paneru. She believes in her friends, her connections – all those generous donors who make her work possible. Most of all, she believes in the children of Nepal, and in the incredible things they can accomplish if given the proper opportunities. (Bishnu Chaudhary, the young woman freed from domestic slavery who recently passed the Nepalese bar exam, is just one example!)
Even with purposeful living fueling her longevity, "I'm not going to be around forever," Olga says pragmatically. "And the thing I want most in the world is for this program to go on."
The NYF community is determined to make that wish come true.
If you'd like to learn more (and to see Olga Murray live over Zoom!), click here to register for our upcoming virtual Founder's Day celebration! Join NYF's email list here.
To support NYF's mission during this challenging time – bringing Education, Health, Shelter, and Freedom to Nepali children – please donate here. For more powerful impact, consider making yours a monthly donation!
May 6, 2021
COVID Isolation Centers Provide a Lifeline as Nepal Battles a Surge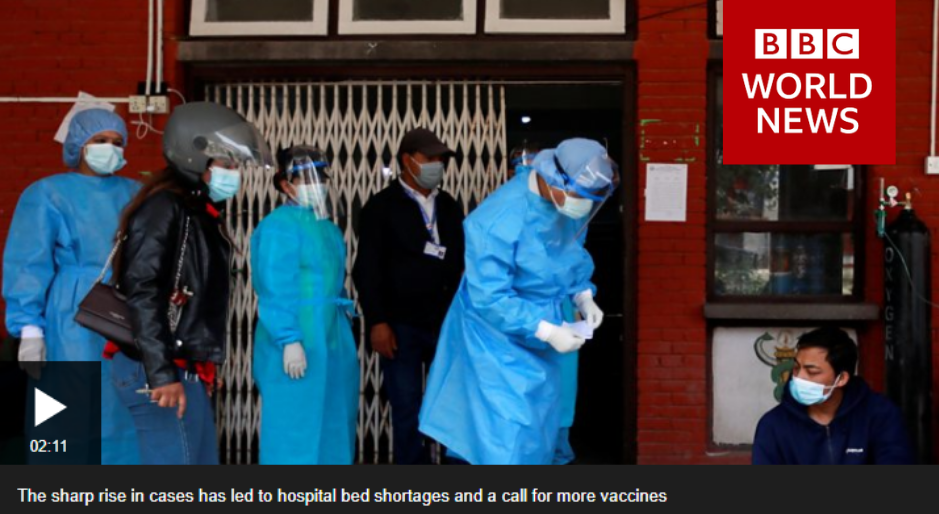 COVID isolation centers are becoming a life-saving necessity for families in Nepal as the pandemic surges through South Asia. Kathmandu is in lockdown once again, with schools closed and hospitals filled beyond capacity.
Nepal Youth Foundation opened our first COVID Isolation Center in our Kathmandu Nutritional Rehabilitation Home on Tuesday, May 4th, and it is already full, mostly with people under the age of 18. Isolation centers provide safe care for individuals who have been infected with COVID-19 and must be isolated from their families, but who are not sick enough to be hospitalized. Our vaccinated staff members are doing all they can to provide high-quality care to these children, working to ensure their safe recovery.
To help us respond to this growing crisis, please make a donation now.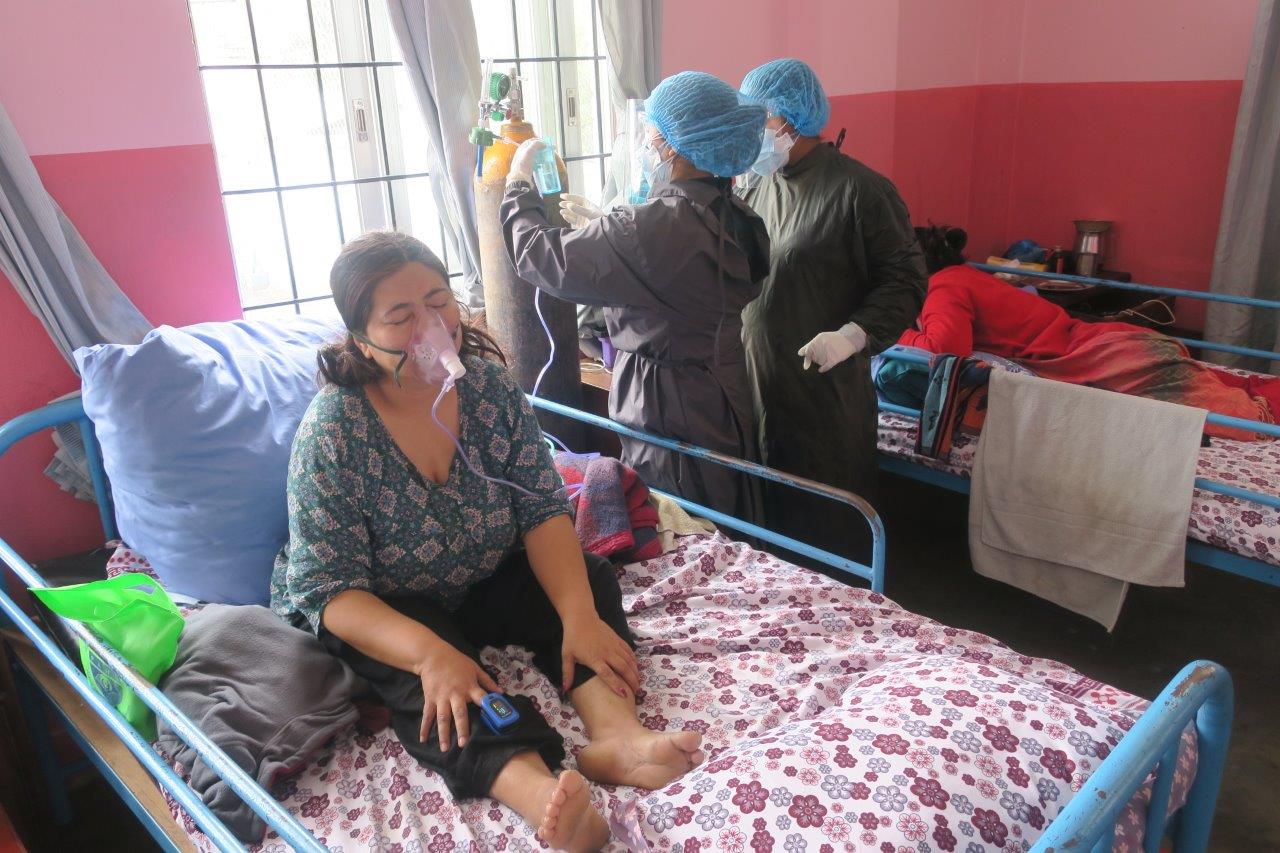 Som Speaks to BBC News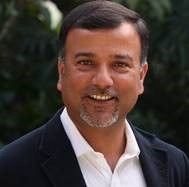 NYF President Som Paneru recently spoke with BBC News about the situation in Nepal. You may listen to the 2-minute interview here, or read the transcription below.
Som: The second wave is causing a great level of distress among the population here. The cases are rising at an alarming rate since the last couple of weeks. People are desperate to find life-saving services like oxygen, hospital beds, ICU, ventilators, etc. So a severe lack of safe isolation places is one of the root causes right now for spreading the virus. Families are living in very congested living conditions, and one family member gets infected and infects the rest. So that's how it has reached every family and eventually the community. So the situation is very desperate, getting very desperate right now.
BBC News: And what are the hospitals saying in terms of, as you say, the beds. How have they been? Because we've been hearing what's happening in neighboring India. How have people been managing if they haven't had the oxygen supplies? Has it been the same where they've been buying their own cylinders, looking for them to be filled, or has it not yet got to that stage?
Som: We are pretty much going towards the same trail like in India. The families are desperate to secure a cylinder to keep at home. Because there are no places to go in hospitals. Hospitals are turning down new admissions in most of the places. Unless it is a really critical situation. So people are losing lives in the ambulance, traveling from one hospital to another.
BBC News: Can you tell us, please, Som, what your organization has been doing to try and help? What have you been seeing?
Som: Nepal Youth Foundation has recently started an isolation center. A safe isolation place for those people who are infected but are not able to go to hospital, and they cannot stay in the family either. So the isolation center is the first step towards breaking this chain of spreading the virus. So we've started one center in Kathmandu, and now there's a huge demand for opening more centers like this across the country.
Slowing the spread of this virus is critical, and safe isolation centers are an important part of this process in crowded cities like Kathmandu. To learn about NYF's other COVID responses, please visit our timeline here. And if you are able to donate, please do so by clicking the button below.
May 1, 2021
You're invited: Founder's Day 2021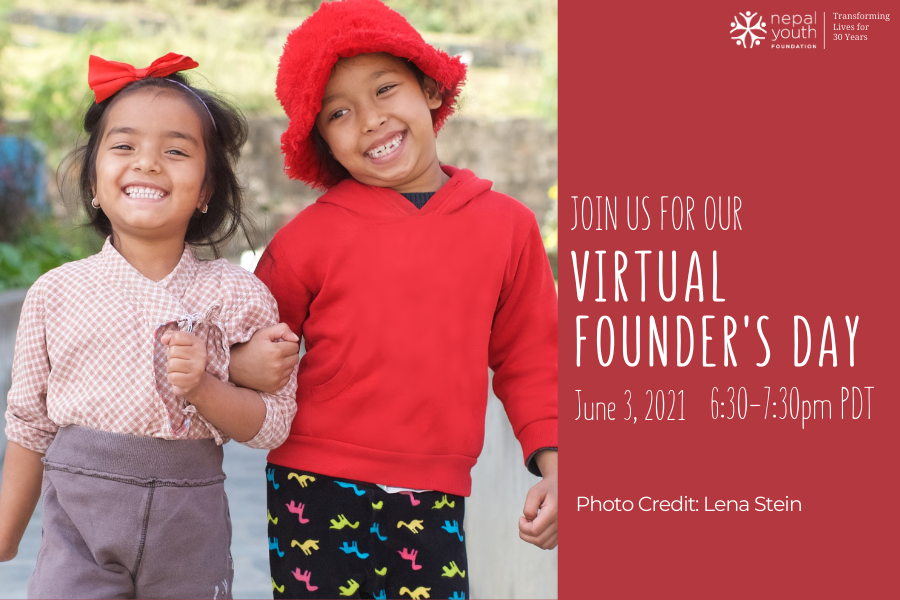 On June 3rd, Nepal Youth Foundation (NYF) will be hosting another "Virtual Founder's Day" – a free event open to old and new friends alike.
Day: June 3, 2021
Time: 6:30-7:30 p.m. PDT
Location: Zoom!
At this event, we will be honoring Founder Olga Murray's 96th birthday and President Som Paneru's 25th year of service and leadership.
We'll kick off the event by discussing recent COVID-19 developments in Nepal and talk about how NYF has responded to, and is continuing to respond to, the ongoing global pandemic. We'll celebrate how we created educational opportunities for hundreds of village children whose schooling would have otherwise come to a halt. We'll also learn, for the first time, more about NYF's role combating and protecting young girls from child marriage.
Since our successful virtual Founder's Day last year, we have learned a thing or two about helping to make online events more enjoyable for more members of our community. For example, we will be working with a live captioner during this year's event! If you or one of your guests would benefit from an accommodation during our virtual Founder's Day, please let us know right away by emailing info@nepalyouthfoundation.org or by calling 415-331-8585. We are eager to do what we can to present an accessible, joyous event to as many guests as possible!
Guest Speakers
NYF scholarship alumni Ajeeta Rana and Dr. Kamal Lamicchane will be this year's guest speakers at Founder's Day. We are so grateful to have them join us, and hope you'll tune in too!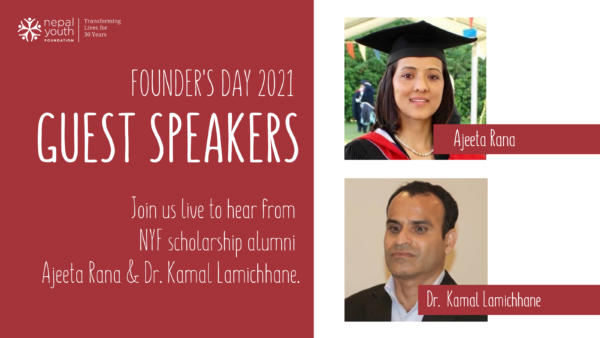 Ajeeta Rana is an NYF Scholarship alumna who received a nursing degree from one of the most renowned universities in Nepal. Since then, she has moved to London and has earned three more degrees (B.Sc in health and social care, M.Sc in healthcare leadership, and an MBA in hospital management). She currently lives in London with her husband as she pursues her fourth degree (MSc in Nursing) while she works as a nurse.
Dr. Kamal Lamichhane is currently an associate professor at Tsukuba University in Japan, and he is a NYF Scholarship alumnus and the first person with a visual impairment from Nepal to receive a doctorate degree. His fields of research include disability studies, economics of education, inclusive education, and education policy.
Hosts
We are so honored to have Dr. Jagadamba Pandit and Angela Pal be our hosts at this year's event! Join us live on June 3rd at 6:30 p.m. PDT to hear Dr. Pandit and Angela speak to Olga, Som, and our guest speakers.

Angela Pal Angela has been in healthcare for over 23 years as a registered nurse and nurse practitioner. She is an assistant professor at the University of Colorado Anschutz Medical Campus and director of the Adult Gerontology Acute Care Nurse Practitioner program.
Angela was introduced to Nepal Youth Foundation, Olgapuri and the Nutritional Rehabilitation Hospital on her first trip to Nepal in 2018 for a medical mission. Her immediate thoughts were about how happy the children were, and how it seemed like a large family. She was immediately drawn to the openness and empathy of the Nepali children with each other and visitors. She observed firsthand the impact of the foundation on the children of Nepal, and the power of OlgaDidi's vision and perseverance.
Dr. Jagadamba Pandit currently works at a community mental health center in the United States. After graduating from medical school in Nepal and finishing her residency in psychiatry at Virginia Commonwealth University, she completed a fellowship in addiction psychiatry. She has spent lots of time raising awareness about mental health issues both in the U.S. and in Nepal through radio programs and videos. She enjoys mentoring medical students and telling stories to children at Olgapuri.
Dr. Pandit came to know of NYF in 2004 through her husband, who was an NYF scholarship recipient in medical school. She then met Olga for the first time on Olga's 80th birthday, and was extremely impressed with NYF's mission and work. Since then, Dr. Pandit has been a devoted donor and supporter of NYF!
2021 Host Committee
Special thanks to our 2021 Host Committee members: Tanya Bodde, Chris Heffelfinger, Andrea McTamaney, Ron Rosano, and Greg and Barbara Rosston.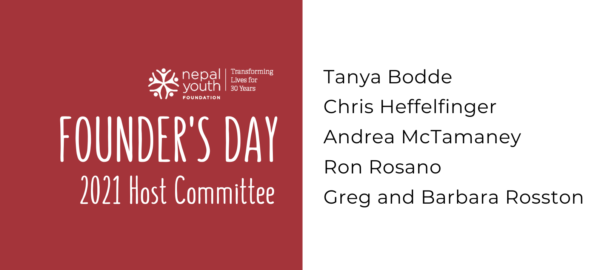 If you'd like to be on the Founder's Day 2021 Host Committee, please contact Eric@NepalYouthFoundation.org for more information.