May 18, 2023
Celebrating International Tea Day with Nepali Tea Traders!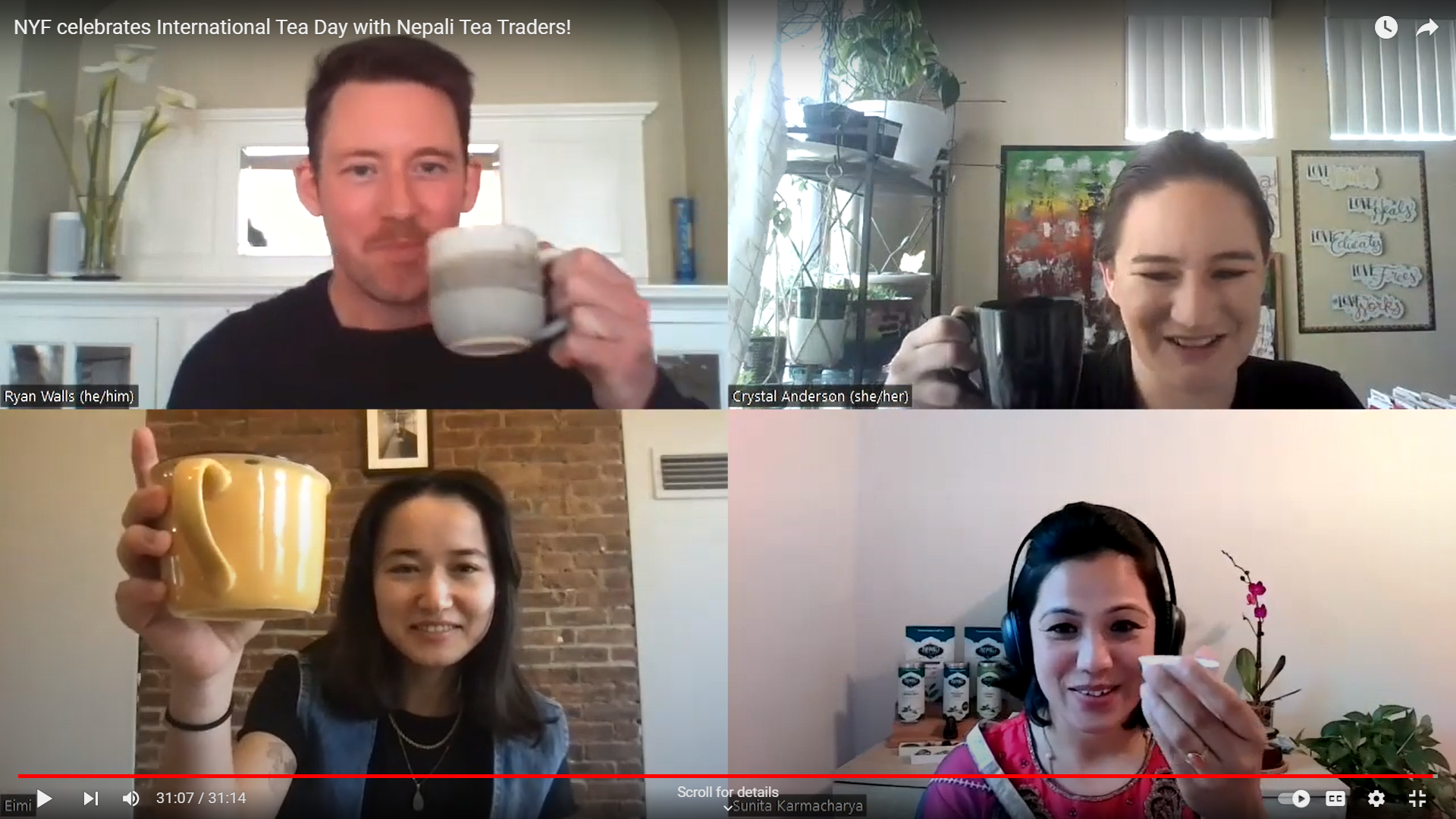 International Tea Day, from https://www.un.org/en/observances/tea-day

"The day will promote and foster collective actions to implement activities in favour of the sustainable production and consumption of tea and raise awareness of its importance in fighting hunger and poverty."

May 21st is recognized by the United Nations as International Tea Day. To celebrate, the Nepal Youth Foundation's U.S. Team sat down with Sunita from the Nepali Tea Traders to chat (over a cup of tea!) about tea culture, our partnership, and our shared values.
We hope you enjoy the below video of our warm discussion, where we get into stories about Sunita's childhood, Ryan's recent trip to Nepal, and NYF's vocational training programs.
Happy International Tea Day to our entire NYF Community!
Partnership with Nepali Tea Traders
NYF's partnership with the Nepali Tea Traders (NTT) began over a discussion of shared values. Sustainability. Connection. Community power. Empowerment of women and families in Nepal. NTT's focus on "trade, not aid" and the associated benefits complements NYF's mission of providing healthcare, education, and shelter to the country's youth.
We both believe in the power of economic empowerment for families and communities. And that the best solutions are those that allow individuals to build their own futures and chase their own dreams!
Learn more about our Sustainable Agriculture and Entrepreneurship Training (SAAET) program here.
May 2, 2023
Understanding Charity Navigator's New Ranking System—and What It Means for NYF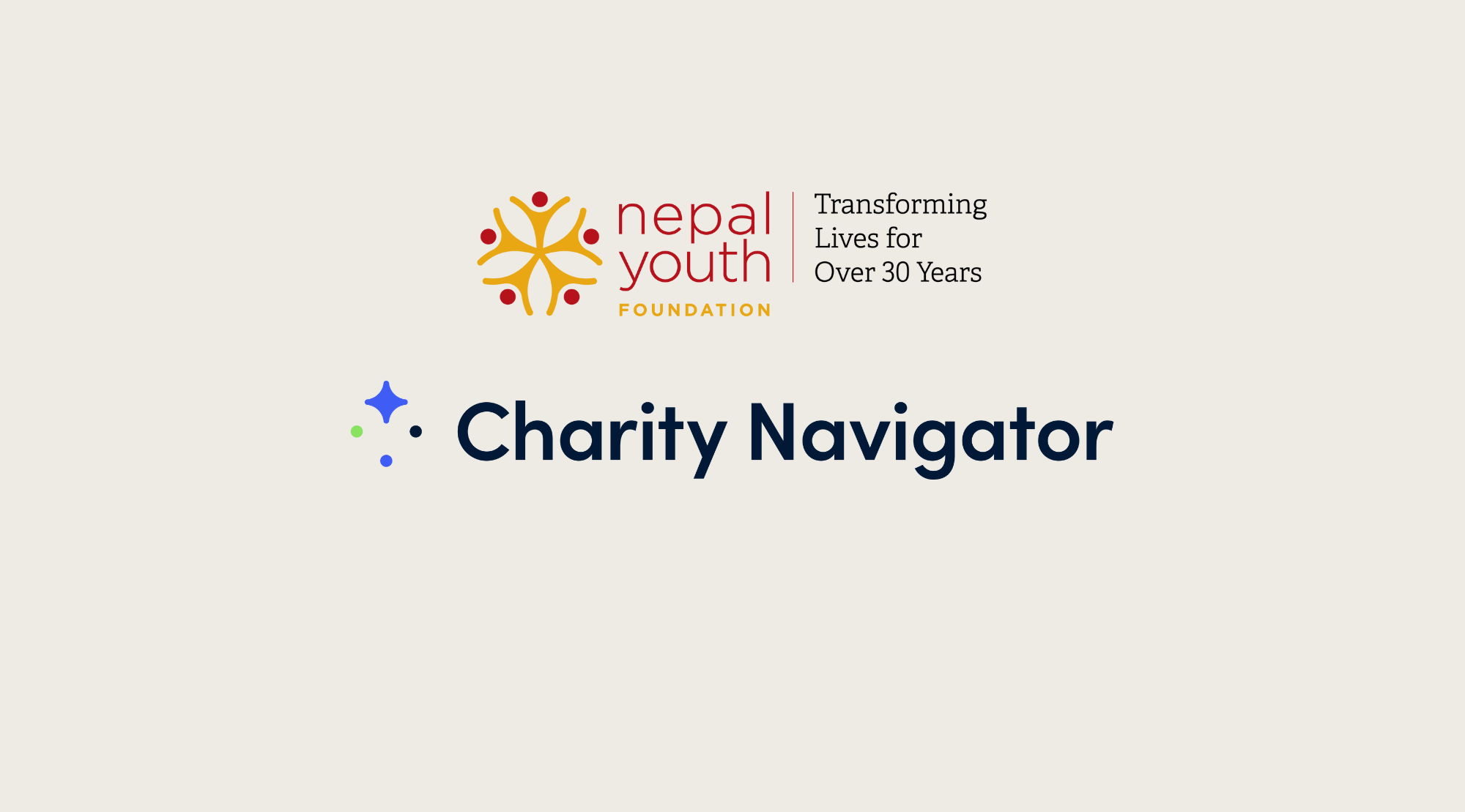 Many thoughtful NYF donors look to organizations like Charity Navigator to assess where their giving will have the strongest impact. With so many nonprofits to choose from, it's great to know resources exist to help generous people make a difference. However, outside ratings aren't perfect and can sometimes inadvertently harm highly effective organizations.
If you follow Charity Navigator, you'll notice changes to the platform this year. Some of NYF's donors are wondering what these changes mean for NYF's rating.
Charity Navigator's Recent "Rating Unification"
Charity Navigator's historical "4-Star" rating system analyzed and scored organizations based on their financial reporting alone. Some factors included comparing "program expenses" to "overhead," property owned by the nonprofit, and dollars raised each year.
However, Charity Navigator understood that scoring organizations based on finances alone was an oversimplification and may actually harm nonprofits. In fact, many organizations within the nonprofit space, including GuideStar / Candid, GlobalGiving, and the Nonprofit Leadership Alliance have been working to raise awareness of the dangers of assessing organizations through this limited framework.
In 2013, Charity Navigator, GuideStar, and the BBB Wise Giving Alliance released a letter titled "The Overhead Myth" outlining some of these harmful effects.
The letter encourages donors to "pay attention to other factors of nonprofit performance: transparency, governance, leadership, and results."
To improve, Charity Navigator developed the Encompass Rating System, which scored organizations across four key performance areas: (1) Impact & Results, (2) Accountability & Finance, (3) Leadership & Adaptability, and (4) Culture & Community. Rollouts for this new system began in 2020 and at first only applied to certain organizations (not including NYF).
In November 2022, Charity Navigator unified the Star and Encompass rating systems to create a more holistic system. You can read more about this in Charity Navigator's formal announcement here.
However, because this change is so new, the system isn't perfect. Charity Navigator has not yet developed key parts of the system for international organizations—putting NYF at a disadvantage.
Understanding the New Rating System
Charity Navigator's new Encompass Rating is based on four beacons: Impact & Results, Accountability & Finance, Leadership & Adaptability, and Culture & Community.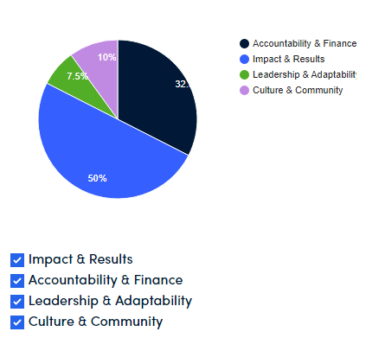 Impact & Results is the most important beacon, weighted at 50%. Half of an organization's final score depends on this beacon! Unfortunately, international organizations like NYF are not currently eligible to submit data for this beacon.
Accountability & Finance is the same assessment as the old Star system, based on an organization's tax returns. It's still important, weighted at 32.5% of the final score.
Leadership & Adaptability is weighted at 7.5% of the final score, and Culture & Community is weighted at 10%. Each of these beacons is based on reporting regarding the organization's makeup, policies, and practices.
Once each of these beacons is scored, an organization's total score is calculated. Organizations scoring at 90% or above receive a 4-Star Rating.
Organizations scoring between 75% – 89% receive a 3-Star Rating.

NYF's Encompass Rating & What It Means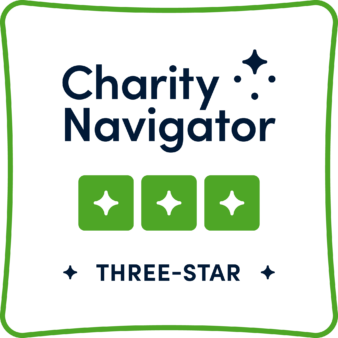 As of May 2nd, 2023, NYF's current score on Charity Navigator is 88%—a very high 3-Star Charity. This means NYF "exceeds or meets best practices and industry standards across some areas." Charity Navigator says that "if this organizations aligns with your passions and values, you can give with confidence."
Charity Navigator has not released Impact & Results scoring metrics for international organizations, so we don't have a score here. We also are not being given a zero. Instead, the weights on the other three beacons have been adjusted to reach 100%.
Without the Impact & Results beacon included, Accountability & Finance is weighted at 80%, and the remaining two beacons are each weighted at 10%.
NYF's score is still based on the old "overhead myth," while our stars are based on the new system.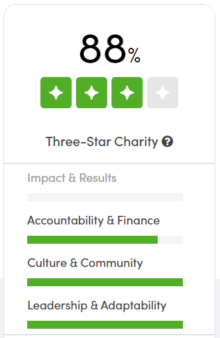 The fact that NYF is at a disadvantage, and is still so close to 90%, speaks volumes of our incredible organization.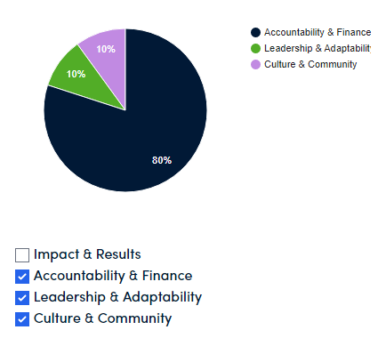 Our Accountability & Finance score is 84%. (Due to IRS delays, this score is based on outdated, less positive, finances from 2019.)
Our scores for Leadership & Adaptability and Culture & Community are each 100%.
We are incredibly proud of our scores across these beacons.
And we're confident that once we can share Impact & Results metrics with Charity Navigator, our score will increase.
Our Commitment
At NYF, we are proud of our commitment to best practices, and proud of the impactful, streamlined, efficient organization we have built over the past 30+ years.
There's a danger in focusing too much on outside standards. Every moment we spend fixated on satisfying Charity Navigator is a moment we're not spending on the children of Nepal.
NYF's global team is committed to designing and implementing the best community-led, empowerment-focused solutions to some of the biggest challenges facing Nepal's children, youth, and families.
Our team makes this commitment to you—our community of loving donors—every day. We make this commitment to one another as teammates—every day. And most importantly of all, we make this commitment to the children we serve—every day.
At the end of the day, these commitments are worth more to us than any number of stars.
April 26, 2023
Staff Spotlight: Lalit Gahatraj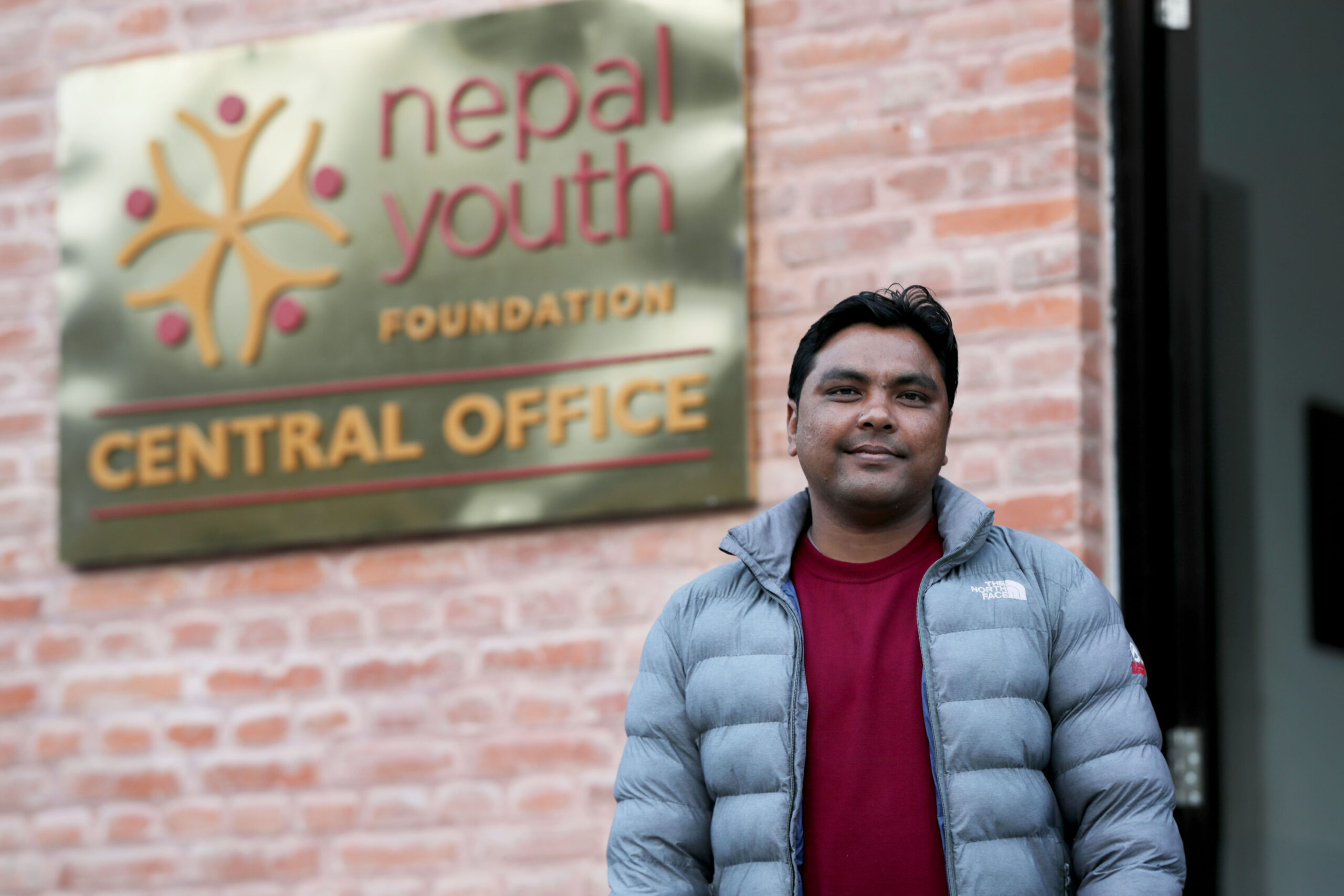 Eighteen years ago, when Lalit Gahatraj was still in school for social service, he signed up for a volunteer teaching opportunity for kids in western Nepal who had limited access to K-10 education.
When he arrived in the area he would be serving, he faced a disappointing reality. Many parents refused to send their children to Lalit's classes when they learned he was part of the Dalit community. "I went to them to help their kids," he says. "But they would not accept me as a teacher."
Soon thereafter, at age 18 and still working through school in evening classes, he joined the NYF team as a field worker for the Nutritional Rehabilitation Home. He's been with NYF ever since, developing his career through a series of positions.
Now he's about to begin the tough work of leading the Caste Equality Project: Phase II launch in Saptari District.
Lalit, now 36, grew up on a farm in Dhankuta District, a hilly region of eastern Nepal (north of Saptari). He is still one of the only people from his village's Dalit population to have completed college. He's also the only one who has earned a master's degree (he focused his studies on anthropology). Lalit is very excited to be playing a role in creating programming especially for the Dalit community.
He's bringing tremendous insight to the role, both professionally and personally. Though the practice has been formally outlawed since the 1960s, Lalit grew up experiencing "untouchability." As a child, he was part of a particularly strong soccer team that competed in a tournament away from his village. Higher-caste teammates were invited to sleep inside the homes of other competitors. "But they didn't allow me to enter their house because they knew I'm from the Dalit community," he explains. He couldn't touch water or food intended for the whole group, either. If he did, higher-caste people would refuse to eat or even touch it again.
Despite this, Lalit felt more impacted by discrimination when he arrived in Kathmandu for college. Finding a room to rent was an unexpected challenge. The first question—his full name—always announced his caste status (Nepali surnames are linked to caste). Even though he could prove he was able to afford the rent, landlords refused to rent to him once they learned his caste. "It hit me a lot," he says. "I thought that Kathmandu is a city area, with civilized, more educated people living here. But the thinking is traditional."
Lalit's time with NYF has been a much better experience.
From the beginning, NYF has worked to ensure casteism had no place in its hiring practices. Leadership had also always cultivated a culture of respect and warmth among staff members. Lalit has always felt like family on the NYF team. "When I joined NYF, I was just 18. I never thought I would work here so long, in the same organization. But the work culture prevalent in this organization and the programs run by NYF are directly connected to the core of my feelings. I've learned so many things here. Olga, she's amazing. I've been impressed by her contribution to the Nepali children for a long time. Som, Raju, our whole team is a very good team for humanitarian work in Nepal. So I'm lucky I'm here."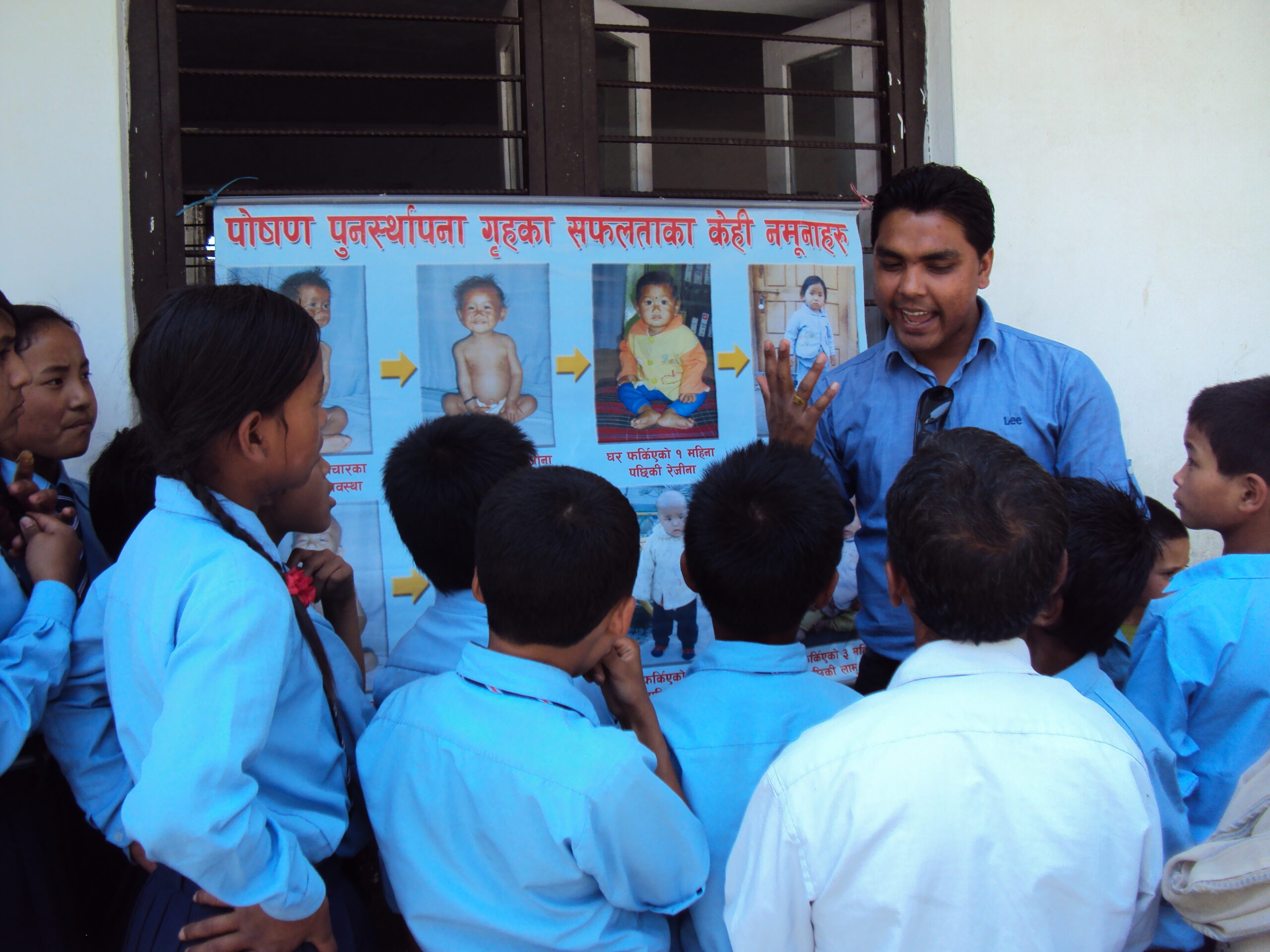 Lalit's strong role managing NYF's Earthquake Response
For Lalit's first 11 years at NYF, he stayed with the Nutrition team in various capacities. Then, in 2015, the Gorkha earthquake hit. In the immediate aftermath, Lalit became the In-Charge for the humanitarian assistance NYF offered to those injured in the disaster. Four months later, when it became clear how long earthquake recovery would last, he was placed in charge of NYF's relief work in Sindhupalchowk District. This was one of the worst affected areas, high in the treacherous Himalayas.
Here, for almost 18 months, Lalit oversaw a complex array of projects: safe housing for displaced children; the establishment of ten Community Nutrition Kitchens in community schools; a daycare-style program allowing parents of young children to focus their energy on rebuilding while their kids were under the watchful care of trustworthy, loving educators. Lalit also managed a campaign that brought running water to villages whose natural springs—their only water source—had been destroyed or shifted by the earthquake.
"Finally and most importantly," he says, "we reconstructed 51 community schools, building 225 rooms in five districts."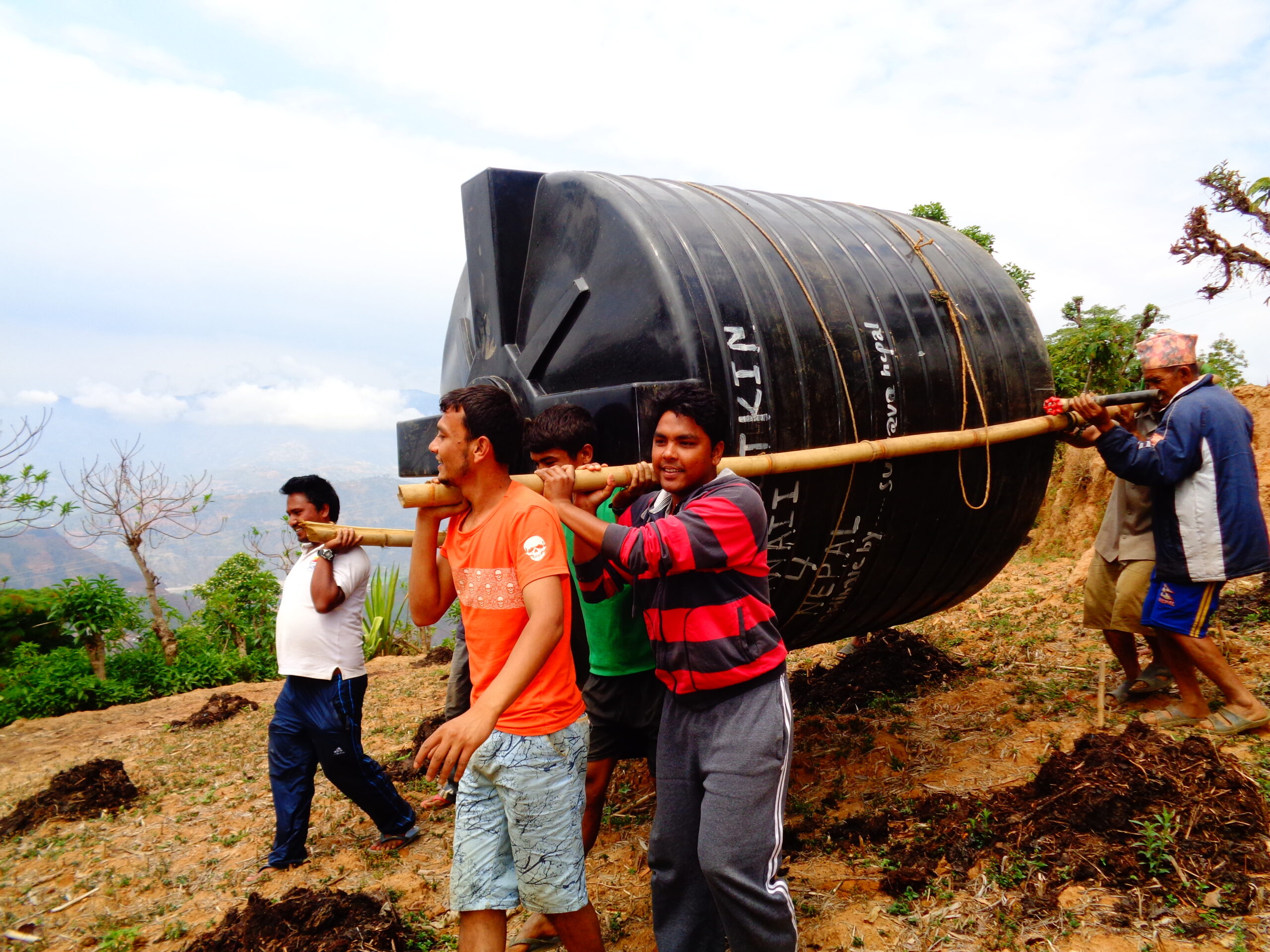 During this time, Lalit and his team lived among those they were serving, in rough conditions with very few amenities. Lalit led the project team, managed reporting and admin, navigated government red tape, handled logistics for construction projects, and coordinated community members, political leaders, local NGOs, and others to ensure each project supported the recovery of the communities as smoothly as possible. The project was very difficult at times. But Lalit is proud of the ways it allowed his leadership skills to blossom.
When he returned to Kathmandu in 2017, Lalit's success in Sindupalchowk earned him a promotion to NYF Operations Manager. He's been handling operations and logistics on a day-to-day basis since then, with his skills stretched and strengthened again during the COVID-19 pandemic.
Spearheading the Caste Equality Project
Lalit is eager for his newest challenge, and is preparing to relocate his family (himself, his wife, and their two children) to a village in Saptari District where he says the conditions are even worse than those he grew up with.
He's especially enthusiastic about the improvements planned for educational resources in the area. Many members of the Dalit community aren't even aware of the rights they are guaranteed under Nepali law. "They are deprived from the fundamental right," Lalit says, "and human rights. So the education is very powerful."
"Education is a very, very powerful thing to avoid discrimination," he explains. "If the children get a good chance for better education, and they're able to find a good job, they can earn good money. And if they have good money, they can build their nice house, they can send their children for good school, they can easily fulfill their basic needs. So education is very, very important."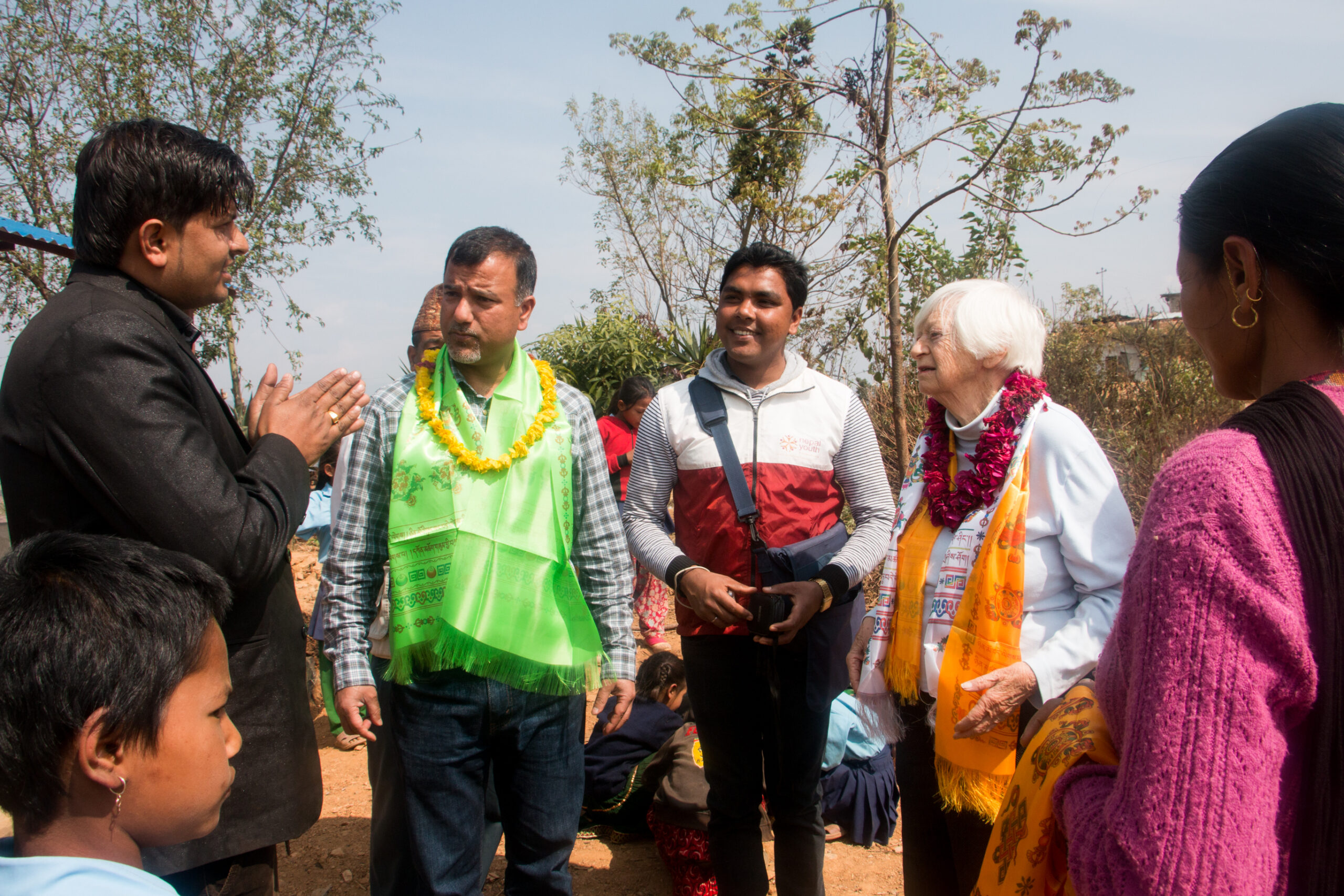 It's an ambitious vision.
Even now, Lalit is still encountering the cruelty of casteism in his own life. When he recently returned to his home village for his mother's funeral, local Brahmin priests outright refused to carry out her last rituals because of her caste, leaving the family to manage the heartrending services on their own. Denied the profoundly human comforts of shared grief and spiritual community during this difficult time, Lalit describes this indignity as one of the most painful of his life. After living so far from home for so long, he had not realized casteism was still so alive—so open and so ugly—back home.
But the experience spurs him forward in his hopes for Saptari District, where the situation is such that a family's "main focus is to work for survival rather than to send the children to school." These communities have been so neglected by the society around them, and even by other well-meaning NGOs, that they are hesitant to trust the hopeful promises of outsiders who may not understand the realities they face each day.
But Lalit, with his existence as part of the Dalit community himself, is optimistic. "Sometimes I ignore which caste I belong to," he says. "I'm a human being. I have to do some good work for society, for the people."
Higher-caste parents don't often refuse to allow Lalit to help their children these days. But some still comment on his caste when they hear his full name, generally with surprise at the level of education he's managed to attain.
In Saptari District, the tone is different, with Dalit community members reacting with admiration. There's a big difference between knowing that a Dalit child can attend college and meeting a Dalit man who has actually done it—and is now using that education to empower the community.
Lalit's first order of business in Saptari District will be to establish trusting connections within the community. "My main role is coordinating the people and the government authority, because without their help, we cannot do anything. So I'll live with the community. I'll visit the school day-to-day and monitor the school. What is the education system? Why are the children not going to school? What are the factors? I'll try to find them."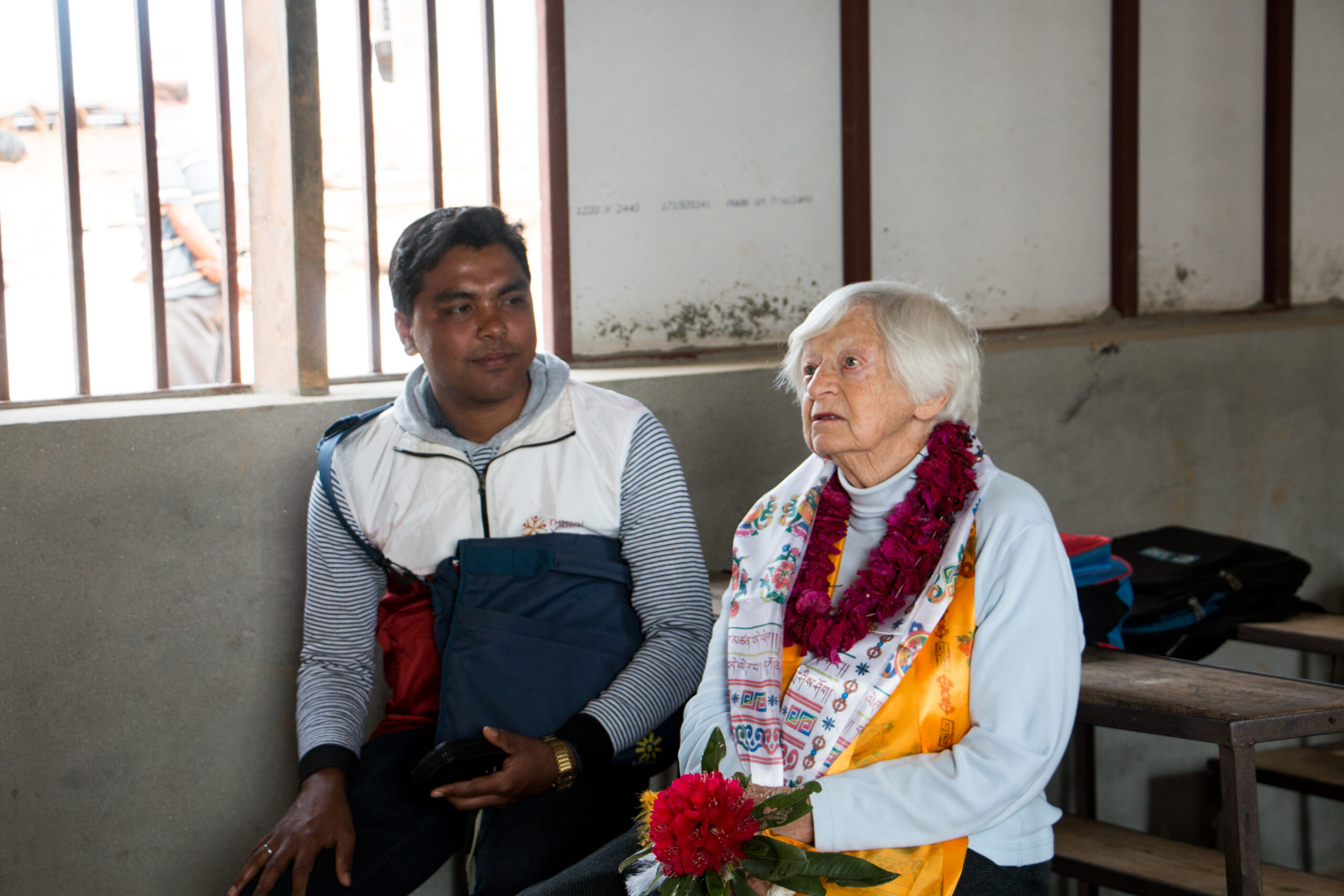 ---
We'll be sharing more about the Caste Equality Project (CEP) at this year's hybrid Founder's Day celebration on June 1st. If you haven't registered already, please click here!
March 18, 2023
Visiting Nepal as NYF's new U.S. Executive Director
Written by Ryan Walls, U.S. Executive Director, regarding his recent two-week trip to Nepal to visit our Nepal Country Office, programs, and NYF staff. Above photo by Sanjoj Maharjan.
Namasté from Nepal! Last month, I took a trip to Nepal for the first time in nearly 20 years. This time, I was there to spend time with Som, Olga, and the rest of the NYF family.
I first visited Nepal in 2001 as a wide-eyed 20-year-old student. My program was grounded in anthropology and from day one we were immersed in Nepali language and lived with local families in Kathmandu. My Newari host family lived on what was then the western edge of Kathmandu's urban sprawl beneath Buddha's benevolent eyes atop Swayambunath Stupa. We studied Nepali and engaged in discussions and lectures on Nepali history, ethnic groups, economic development, environmental issues, women's rights, and more.
Although Kathmandu has changed in many ways since my first visit, the essence of the city remains, along with the kindness and gentle curiosity of its people. The scents and smells were as I remember – a heady mix of wood smoke, incense, and car exhaust. The intricate choreography of the ceaseless street traffic is also the same.
Little shrines still pepper the city, often where you least expect them. Kathmandu is filled with homages to religious deities from grand to tiny and barely perceptible. One morning my taxi swerved around a small offering plate in the middle of a busy intersection and it reminded me of how faith pervades many parts of life there.
The most noticeable change is the sheer density of Kathmandu. I vividly recall my first entrance to the city in 2001. After landing at Tribhuvan International, we were whisked away to Pharping, a village in the hills of the southern valley rim for an orientation. Days later, we trekked into Kathmandu, traversing the edges of expansive dayglow green rice terraces. Many of these same terraced fields are now filled with housing for the capital's burgeoning population.
The auto rickshaws, a thrilling way to explore the city 20 years ago, are long gone, now replaced with more scooters and motorbikes than I remember.
Olgapuri Children's Village
I spent several days at Olgapuri Children's Village and the NYF offices during my Nepal trip, getting to witness the magic that Som and his smart, caring team create.
Olgapuri, in many ways, strikes me as a self-sustaining ecosystem. Each moving part supports the others. The staff cultivate a safe, nurturing environment where the children thrive and grow. The industrial tailoring students craft clothing for the children at Olgapuri and the Nutritional Rehabilitation Home. The vocational students make furniture for the residential homes, the community center, and the NYF offices. The gardens produce organic vegetables that nourish the children and the staff. The cows offer up their fresh milk while their manure returns to the crops as rich fertilizer. And, of course, the children infuse the community with a vibrant undercurrent of life and love. It's a perfectly balanced system.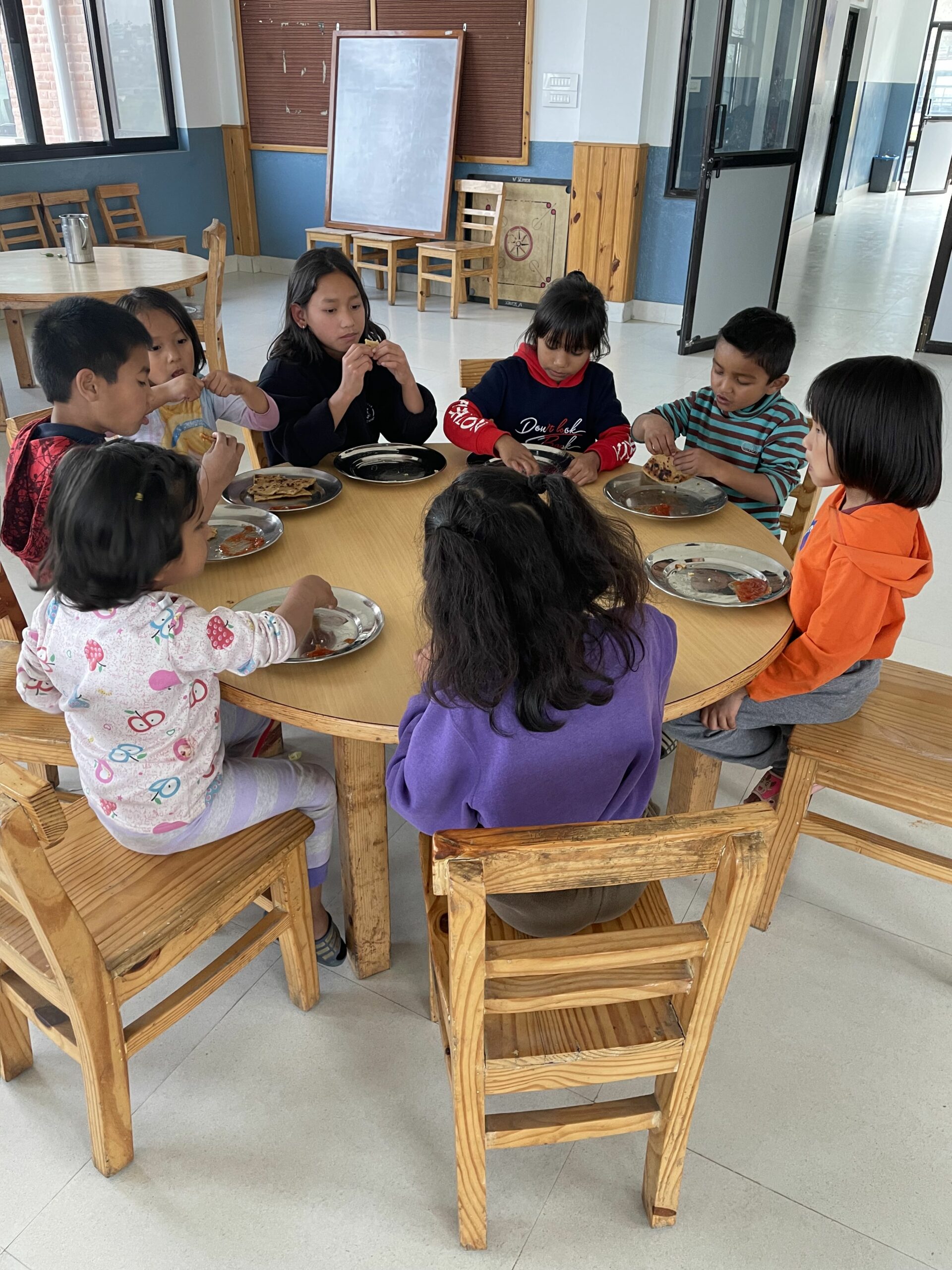 I engaged in deep conversations with the Nepal NYF staff who manage and lead the education programs, the scholarships, the vocational training programs, the counseling center, and the finance and accounting department. I now have a more nuanced understanding of how each program fits into the broader holistic NYF model. It's difficult to fully understand the sophistication of these programs without seeing them in person. The genius of NYF really is in this multi-layered, systematic approach to breaking the cycle of poverty by empowering Nepali children to fulfill their dreams.
Trip to Saptari District in Nepal
During my second week, Raju Dhamala, NYF's Nepal Executive Director, and I flew to the southeastern city of Biratnagar. We were to visit the villages where NYF will launch the Caste Equality Project, our most ambitious project to date. We met with local leaders and teachers, spoke with parents and children, and visited schools. The villagers are part of the Musahar caste, the lowest of the Dalit sub castes. They're barred from owning land and therefore cannot even grow their own food.
The schools are in poor shape with crumbling, cracked walls. They're vulnerable to heavy rain, wind, and any hot or cold weather. Snakes and other animals crawl into classrooms while school is in session. There are two or three usable classrooms in each village but they have limited student capacity. Other classrooms sit vacant, falling apart and lacking doors or sometimes even ceilings. The teachers we met often received only a three day orientation before being thrown into classrooms that combine two or three grades into one. Attendance rates are low – typically less than 15% of children in this community go to school.
Despite innumerable challenges, Som and his team have devised thoughtful objectives and strategies for addressing these inequities. This summer, NYF will launch a comprehensive program, compiling the best practices our Nepal team has developed over the years in education, nutrition, vocational training, mental health counseling, community development, and other areas, to uplift the entire socio-economic status of these communities.
We'll be sharing more about the Caste Equality Project in the coming months.
February 28, 2023
Learn about Nepali Fairy Tales!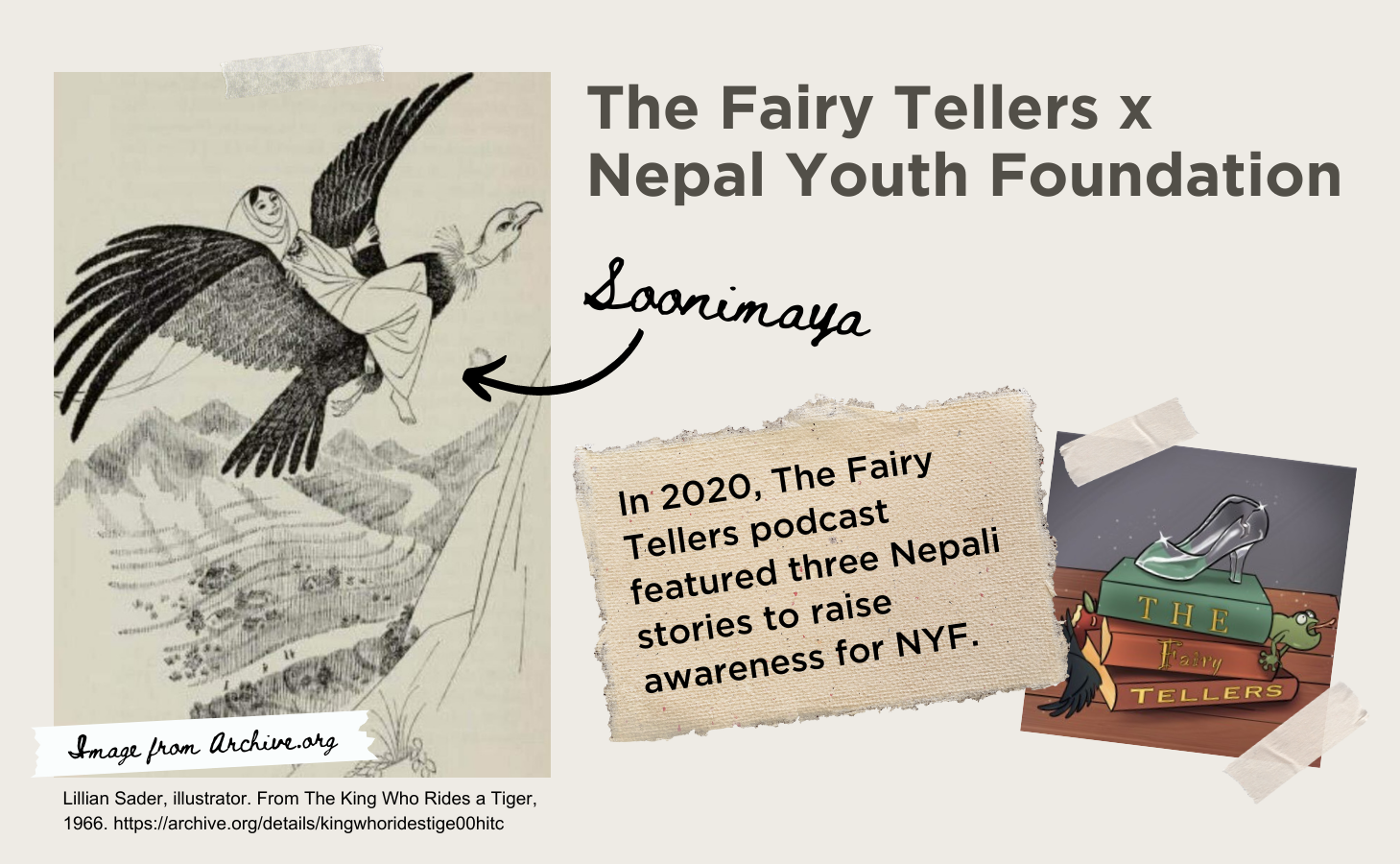 A love for storytelling unites us as a human family. All across the world, human beings have been entertaining one another with stories—comedies and romances and tragedies and more!—for thousands of years.
Folklorists know that even in very different cultures, many of the world's stories share familiar elements and themes. That's because stories travel quickly, because they weigh nothing at all and can be shared an infinite number of times.
For example, did you know that the Cinderella tale-type—"The Persecuted Heroine"—is one of the oldest and most widespread fairy tales in the world? There are thousands of versions of this story, from ancient Greece, the Tang Dynasty in China, versions in the Thousand and One Nights, the German version collected by the Brothers Grimm… And even versions unique to Nepal!
Each gives a fascinating look into the culture behind it, including ways we are all different, as well as ways we are very similar!
The Fairy Tellers
In 2020, The Fairy Tellers podcast featured three Nepali stories to raise awareness for NYF and the programs we were running in response to the COVID-19 pandemic. The stories (and fairy tales within them) are well-worth a listen!
1. Soonimaya
"Soonimaya" (Ep. 20) tells the story of a kind young girl who endures the unfair treatment of an evil stepmother. She enlists the help of talking animals and ends up marrying into the royal family. If you think that sounds familiar, you'll be shocked by what happens at the halfway point! There are so many fun twists and turns along the way. Listen to Soonimaya on Podbean here.
2. The King Who Rides a Tiger
"The King Who Rides a Tiger" (Ep. 21) is an epic tale about a humble farmer who saves a talking cobra from a mongoose, finds himself living in a golden palace, and faces a series of challenges from a king who wants to steal his wife. This story tells a lot about Nepali values when it comes to leadership and power in society. Listen to The King Who Rides a Tiger here.
3. Dhon Cholecha
"Dhon Cholecha" (Ep. 37) is as familiar to Nepali children as Cinderella is to American kids—and the two stories share some similar themes! Listen to learn about a kindly goat, a magical pastry tree, a greedy stepmother, helpful mice, and treasure stolen from demons. One of NYF's Nepali staff members suggested this tale to the podcasters!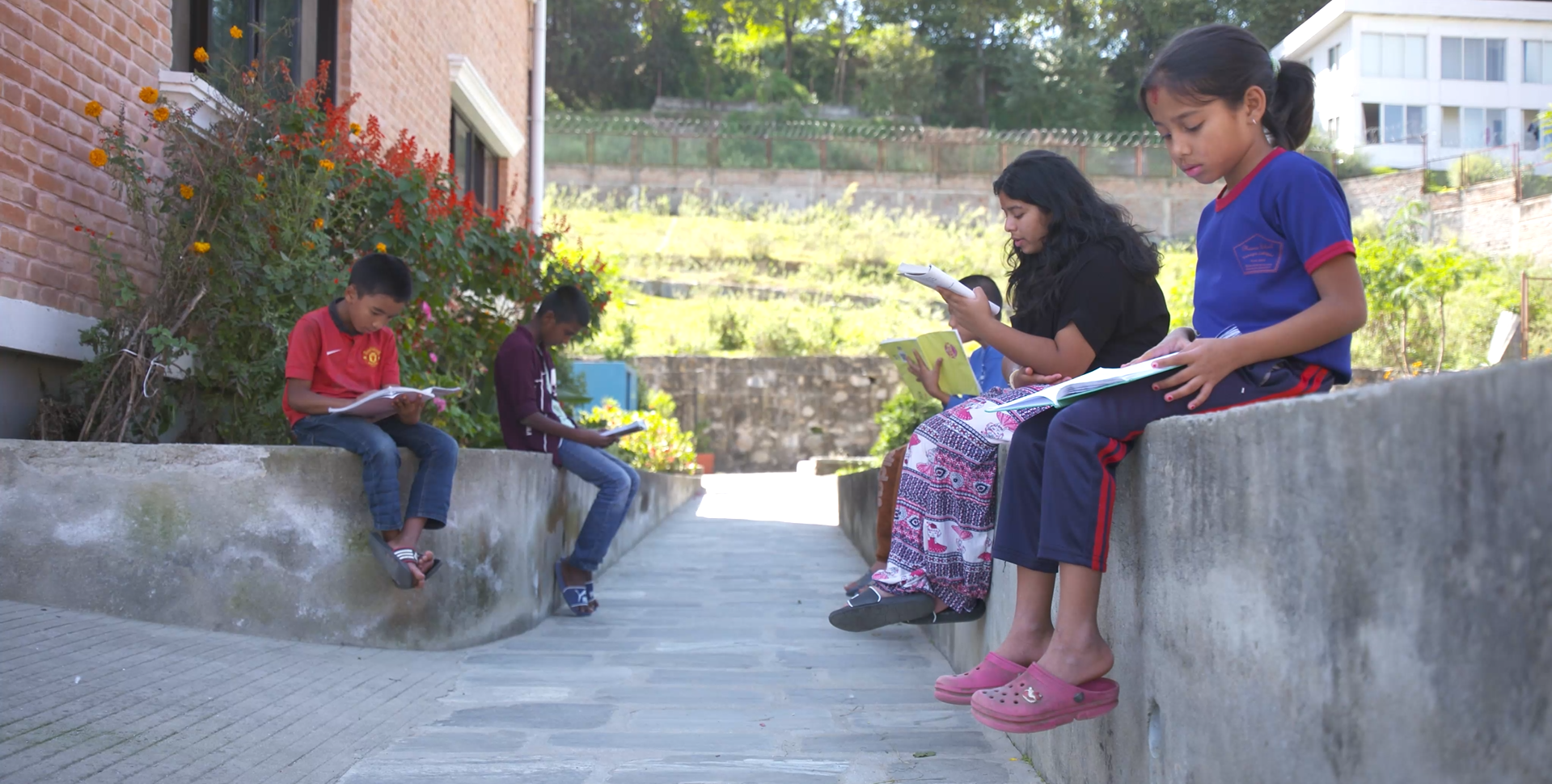 January 19, 2023
Industrial Tailoring at Olgapuri Vocational School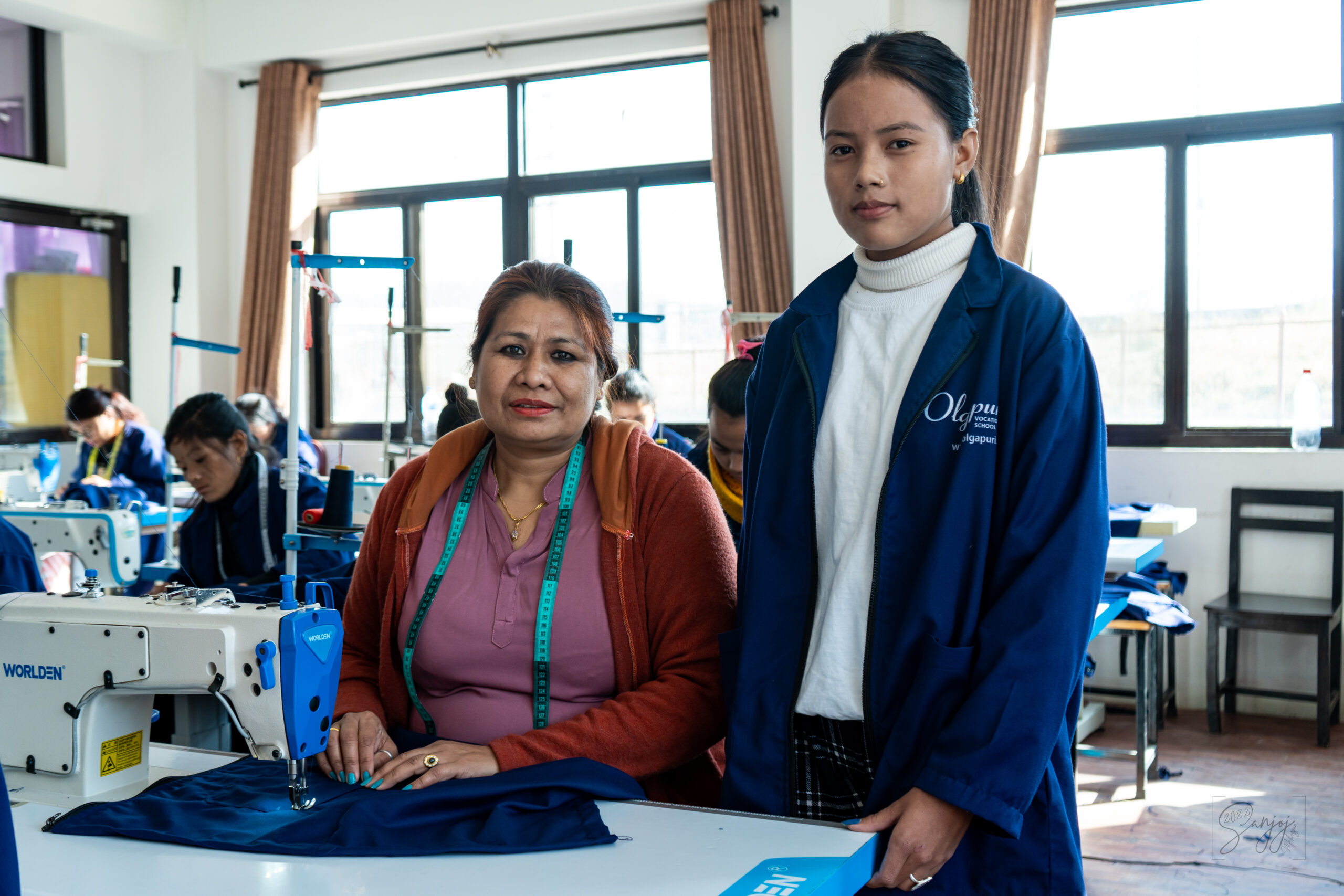 Industrial Tailoring has quickly become one of Olgapuri Vocational School's most popular courses for women. The average monthly wage for our graduates is 30,000 rupees per month ($260), with room to grow. Those with more experience are making as much as 45,000 rupees ($390)—over three times Nepal's minimum wage!
Over the past year, our team has had conversations with uneasy supporters about our new Industrial Tailoring vocational training course, which is held exclusively for women.
We're hearing two main concerns:
"Sewing is traditionally undervalued as 'women's work'. Shouldn't we be trying to encourage young women to break free of these sorts of industries, rather than continuing this pattern?"
"Isn't the garment / textile industry particularly dangerous and exploitative? I don't want my donations to go towards placing these bright young women into sweatshops!"
Maybe you've had similar concerns! In fact, people on the global team and on the board have discussed these same worries. At NYF, we deeply appreciate how thoughtful our supporters are, and how engaged you are in looking out for the children and youth we serve.
Our Commitment to Women's Empowerment
First and foremost, our global team is committed to empowering women to follow their dreams. This is especially the case when their options are limited because of entrenched gender roles and hierarchies. We believe every girl and every woman should be free and safe to choose her own destiny!
We're also appalled by the conditions within many of the world's factories—not just garment factories. No one on our team wants to see any one of our beneficiaries trapped in an oppressive, unsafe working environment.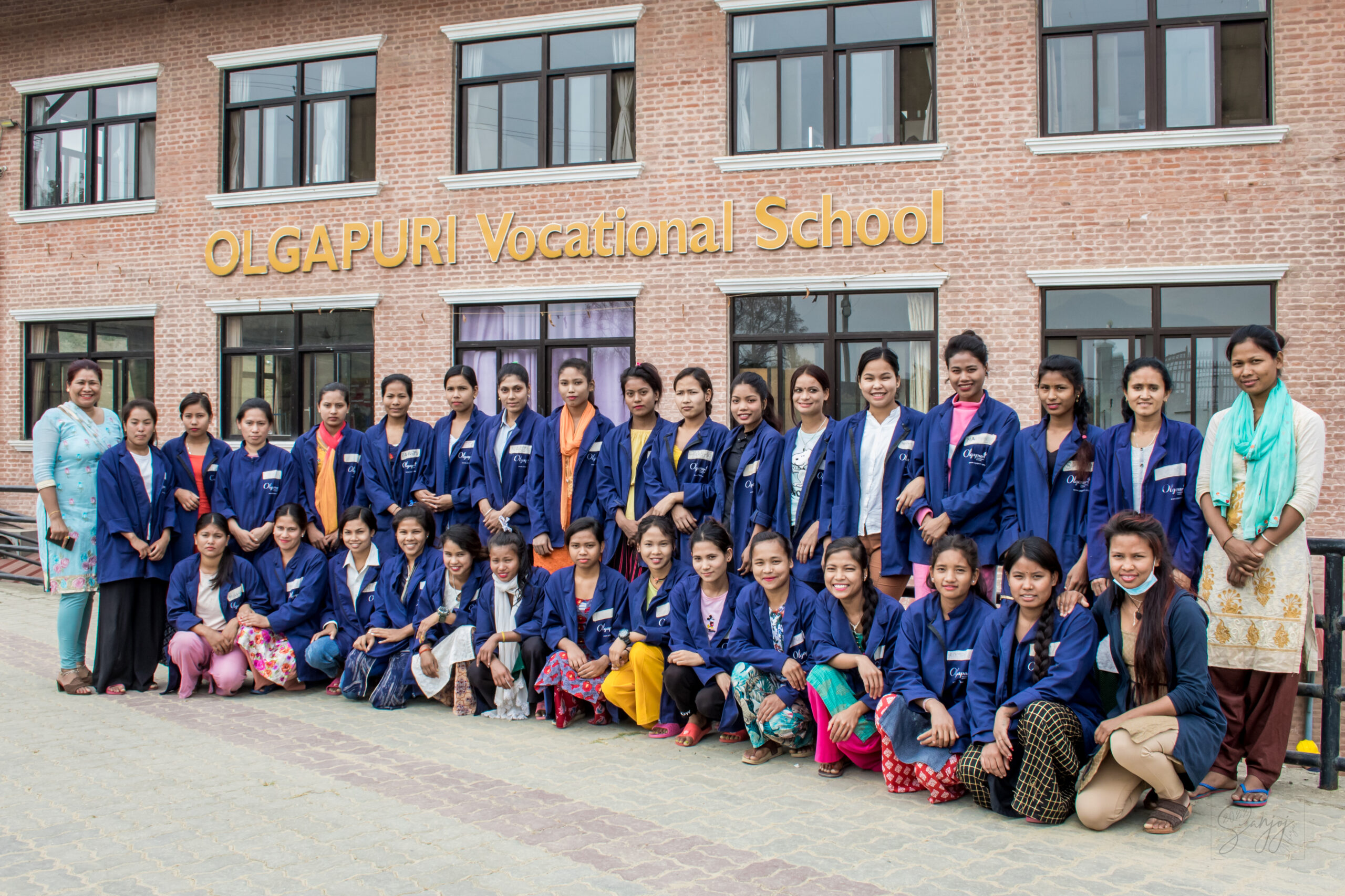 All Olgapuri Vocational School courses are openly advertised as available for all genders. At the orientation presentations where young people are given application options, women are always strongly encouraged to apply. Some of the instructors for these courses are women, giving potential students clear evidence that women are welcome.
However, despite all this, NYF has struggled to interest young women in signing up for these opportunities. As a result, enrollment in these programs is overwhelmingly male (a staggering 90%).
Our team has been working for several years to understand this phenomenon and to provide good solutions. Young women know they are welcome to apply for these courses in male-dominated career fields.
But many of these young women still don't feel safe in those industries.
NYF can place female construction graduates in positions where we know they will be hired, paid equitably, and respected by their employers. Unfortunately, we can't guarantee that they will not experience sexual harassment and other sexist aggression in the workplace.
Many young women don't want to walk that challenging path, even if it pays more. They just want to make a decent living, gaining personal economic freedom without entering a career where conditions simply won't feel safe for them as women. We can't fault them for that.
Former Kamlaris Propose Industrial Tailoring Course
Olgapuri Vocational School's Industrial Tailoring course was proposed by a group of former kamlaris. This initial group of young women met one another in a women's empowerment group run by the Former Kamlaris Development Forum (FKDF). (The FKDF is a community-based nonprofit NYF helped found in the Tharu communities impacted by the traditional kamlari practice.)
In a group discussion, several of these women shared that they wished NYF offered a course in Industrial Tailoring. It seemed strange to them that this course wasn't available. After all, they reasoned: clothing is one of Nepal's biggest exports, and the job market in this area is growing. Careers in this field are stable, well-paying, and have room for growth and flexibility.
Even knowing that women were encouraged to apply for the construction training programs, some of these women almost felt left out by OVS because we weren't offering trainings in the career fields most likely to attract female engagement.
The freedom to choose among a set of only male-dominated options just didn't feel like real freedom.
Fortunately, these empowered young women knew they could ask NYF directly about such an option. They also had a growing group of women behind them who all agreed they'd leap at the chance to earn their certifications in Industrial Tailoring.
When this group approached NYF, our team let them know the common concerns about workplace dangers in the garment industry. The young women responded that construction trades are also dangerous. They all knew someone who had experienced an electrical accident or been injured by a power tool. And as far as exploitation was concerned, these young women had already survived kamlari bondage. They know better than most that bad actors exist in all industries.
Thanks to NYF and the FKDF, though, they also possess the extraordinary inner tools that empower them to defend themselves from exploitation—and motivate them to defend their sisters as well.
Their request was so powerful and enthusiastic that our team had to find a way to provide this opportunity.
The Curriculum
NYF's team made connections with local high-quality garment factories known for their fair practices and safe working conditions. They asked for their guidance in creating an ideal classroom and for help developing a specialized curriculum. These experts shared a list of skills all their employees needed to master, as well as a list of "dream skills" that made tailors especially competitive in the workforce.
Being highly skilled in a trade is a major safeguard against exploitation in any industry. This is because it allows workers the flexibility to seek out better workplaces without risking financial ruin.
Our team designed a six-month course which would prepare trainees to create high-quality garments for local consumption as well as for international export. Importantly, the training also includes the information needed for a student to establish her own small clothing business.
The curriculum covers industrial machine operation and maintenance, different kinds of stitches and their uses, measurement skills, fabric types and their uses, clothing design principles, and how to take items from printed designs to fabric cutting to assembly and through to the finishing touches. Safety is always an important topic as well.
Trainees are given specialized life skills and group therapy sessions (and, where needed, personal therapy as well) through NYF's Ankur Counseling Center.
They also participate in motivational sessions on women's empowerment!
During the entire six-month course, trainees live in the Olgapuri Girls' Hostel. This is a space created especially for young women in vocational training courses (many of whom are not familiar with city life) so they can feel safe and secure during their training.
The first four months of the training consist of classroom instruction, followed by two months of paid On-the-Job training in one of the city's high-quality factories. This is a paid apprenticeship period, with pay being nearly double Nepal's minimum wage.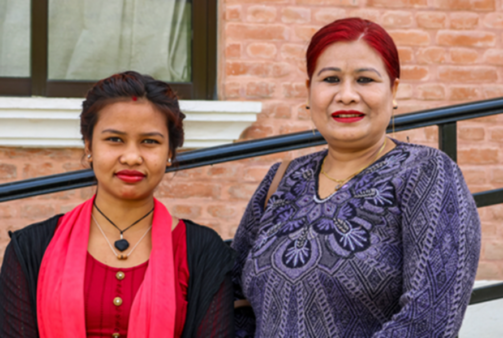 Meena Kumari Chaudhary (left, Asst. Trainer) is a former kamlari—and she was also one of the earliest graduates of our Industrial Training program! She's thrilled to be using the skills she learned here to empower more women to enter this growth industry.
Here, she is pictured with Lead Trainer Anju Thapa. Both women have become role models for the young women hoping to build a sustainable career in tailoring!
Workplace Safety
Unfortunately, sweatshops do exist in Nepal. These cramped factories regularly ignore laws and regulations, have extremely poor and unsafe working conditions, and have unscrupulous bosses who demand inhumane working hours and withhold pay. NYF would never partner with these organizations, let alone intentionally place a trainee in such a working environment.
Kathmandu is also home to factories where workers are treated fairly, paid well, and conduct their work in well-lit, airy spaces that are kept tidy, with wide paths for evacuating in an emergency, ensuring safety for everyone. These are the workplaces our graduates enter, as a group of empowered women determined to build their futures—and continue working towards a more equitable world.
Bindu's Story
Bindu* has survived horrific ordeals over the past two years. During the COVID pandemic, she started dating an older man, against her parents' wishes. Soon, this man convinced her to run away with him to start a new life in India. Dreaming of a beautiful future, Bindu followed him across the border. Bindu quickly learned that the man's intention all along had been to traffic her.
Betrayed and heartbroken, Bindu relied on her inner strength to survive her situation—and she somehow managed to escape her captor and return to Nepal.
But the nightmare wasn't over. When Bindu finally reached her home village, her parents rejected and disowned her.
Fortunately, Bindu found an organization working with women who have survived sex trafficking, and they helped her file a case against the man who trafficked her. Thanks to Bindu's courage, he's now in prison, where he can't hurt any more girls and women.
Bindu found housing in a women's shelter in Kathmandu as she prepared for her next steps. One of the staff members there heard about NYF's new Industrial Tailoring program—and immediately thought of Bindu.
Bindu has taken to the Industrial Tailoring skillset extraordinarily well. For the first time since she ran away from home with a heart full of hope, Bindu feels like her dreams are truly within reach.
"I never thought I'd be able to acquire a skill that would pay me this much," she says, adding, "Economic independence is very important to me, as I have no family to support me. The work environment is also safe and pleasant. The other girls and women that I work with have become like my family—and my greatest support system. I feel very fortunate to have had the opportunity to meet them and work with them."
A long waiting list…
In the first year of its existence, the Industrial Tailoring course quickly became one of OVS's most sought-after options. Our team has already trained 149 women—and there's a long waiting list. Most of these women are former kamlaris from western Nepal, but we've also received numerous referrals from Kathmandu women's shelters and other aid organizations. This training has already empowered single mothers, survivors of domestic violence and sexual abuse, and women who have escaped trafficking.
We are so grateful for the support that allows us to offer these women this remarkable opportunity. We hope to be able to continue offering it as long as young women are interested.
The Empowering Freed Kamlaris program is one of NYF's greatest achievements. For more information on the former kamlaris and the FKDF, please visit https://nyf.news/efk
December 20, 2022
Transformative Stories of 2022!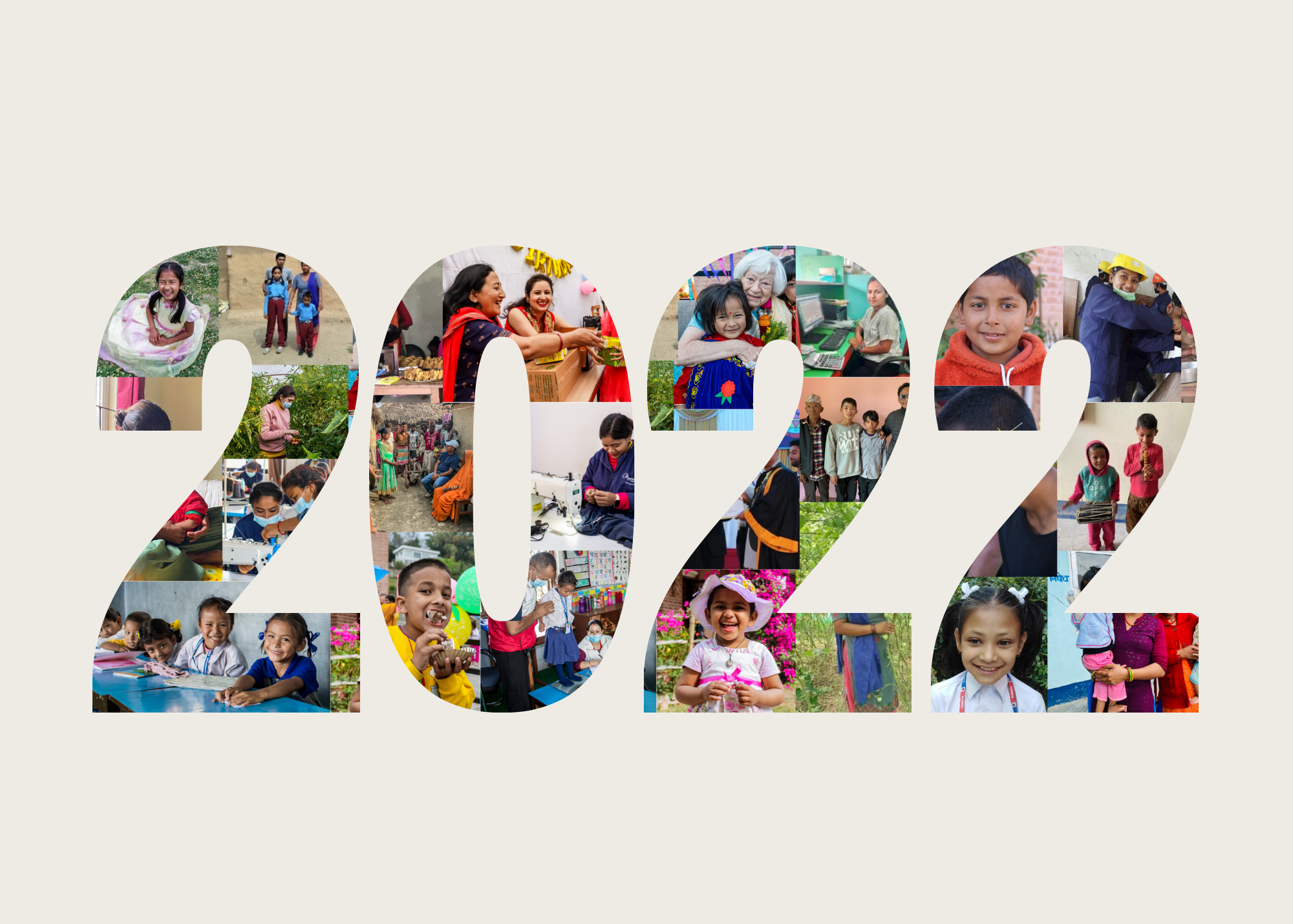 This December, we've compiled some of our favorite transformative stories of the year into this blog post. You may have already even read a couple of them in a newsletter, online, or in a special report. But we wanted to create a space to celebrate these special stories that our NYF Community made possible this year.
We hope these transformative stories showcase NYF's love, care, and commitment for the youth and families we work with. And we also hope you feel proud of all the transformations you are fueling every day with your generous support.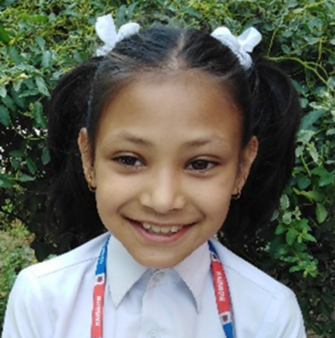 Mina
Mina*, 9, is a bubbly, joyful, creative kid—and a very gifted student. In the spring of 2022, she finished the 6th grade at her school in Bhaktapur District, way ahead of kids her own age.
When she was just a baby, Mina's father passed away. Soon, her mother found a new husband. Unfortunately, this new man wasn't interested in caring for another man's daughter.
Mina's mother left her in the care of her own father—Mina's grandfather. Mina hasn't seen much of her mother since.
Though the family didn't have much, they loved Mina deeply. She brings tremendous joy to their household. When NYF learned of Mina's case, our team realized right away that with a bit of financial support, this family was the absolute best place for little Mina to grow up.
They've been receiving a Kinship Care stipend for several years now. Every time our social workers check in, Mina's grandfather is ready with more stories of his granddaughter's love of dancing and her latest art projects!
---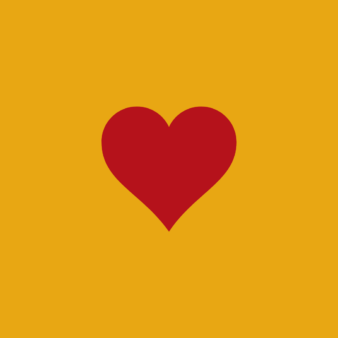 "No one does it better. NYF combines
care, compassion and enormous commitment
to raising opportunities for Nepal's youth."
— Marcus, Advisory Board Member & Supporter
---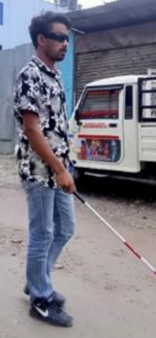 Durgesh
Scholarships for Students with Disabilities
Durgesh*, 18, comes from a very remote Himalayan village in northwestern Nepal, where the geography is quite rocky and challenging to navigate. The children in his home village walk about 45 minutes to reach their local school. The path is treacherous, with slippery sections, sharp drop-offs, and thin stretches that people have to be take single-file.
Durgesh was born with a significant visual impairment, and his parents realized early that many livelihood opportunities available in their village would not be a good match for him when he became an adult. The family was far from wealthy, but they worked hard and made personal sacrifices from the beginning to ensure he could access as many educational opportunities as possible.
When Durgesh was a small child, older village children would take turns carrying him on their backs on the way to school. This ensured that he could reach school safely, and he quickly distinguished himself as an excellent student (and a helpful friend who could provide informal tutoring to his peers when needed!).
But by the time Durgesh reached his mid-teens, he was too big to be carried along the dangerous trail by his friends. It was also too risky, and careful attempts at having him walk side-by-side with friends were too slow. That's when a family friend who was already attending college in Kathmandu made a brilliant offer: Durgesh should move to Kathmandu, where schools were easier to access (and of a better quality!). This friend would share his apartment and ensure Durgesh was doing well in the city. Durgesh's parents would send money for food, rent, and other necessities.
This plan worked—until the COVID-19 pandemic complicated matters. Durgesh's parents were unable to send as much money as needed. School fees were free for Durgesh (as a student with a disability), but he was struggling to pay his portion of the rent and for the special books and stationery he needed for school.
Fortunately, NYF had worked with Durgesh's school in the past, and the administration remembered that NYF offered special scholarships for students like Durgesh.
They referred Durgesh for our Students with Disabilities scholarship in January 2021 and has been going strong in school ever since!
Durgesh was one of the top 5 students in his grade 11 final exam a year ago, and he has recently completed his rigorous grade 12 exam. His studies during 11th and 12th grade focused on Humanities, and Durgesh is excited about the prospect of college. We're excited for him, too, and we are eager to support him in the next chapter of his academic journey!
---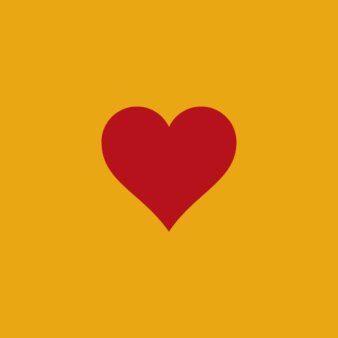 "We have donated to this foundation for well over 10 years,
and they continue to provide care and service
that no one else provides."
— Liz, Donor
---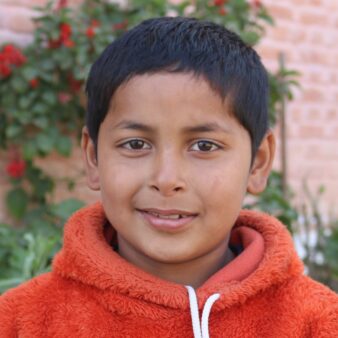 Pradeep
Pradeep*, 12, was born in Gorkha District, northwest of Kathmandu. He joined the Olgapuri family in December 2021, enrolling in the 4th grade at a local school in Lalitpur midway through the school year.
When Pradeep's grades began coming back, his house parents noticed that he seemed to be struggling a great deal with the material. Concerned, the Junior Boys' house parents met with Pradeep's teacher to discuss his progress.
It became clear to everyone that Pradeep should have been placed in the 3rd grade, not the 4th, when he first arrived.
How could such an error happen? Although he had always been enrolled in school before coming to Olgapuri, Pradeep wasn't always able to attend his classes. No wonder Pradeep was so discouraged!
They decided to hold Pradeep back to attend the 4th grade again next year. And by the end of the summer, Pradeep was ready to start the 4th grade from the beginning. He's still getting familiar to school—but his performance is improving all the time. He's also feeling much happier with school in general.
Even better: he has made wonderful new friends who are willing to help him succeed, and he knows his house parents are truly paying attention to his needs and his wellness. Here at Olgapuri, even when things are tough, Pradeep knows he is part of a loving family he can depend on.
---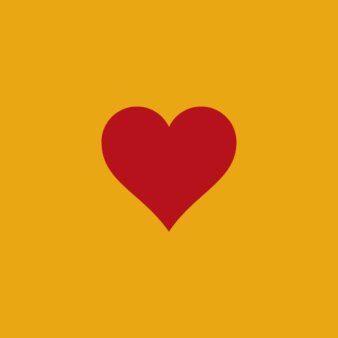 "I've been fortunate to visit the different facilities and
programs in Kathmandu, and it is eye opening
to see all the lives that are touched and the scale of the impact."
— Topraj, Advisory Board Member & Supporter
---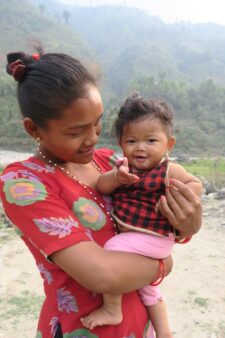 Puja and Sangita
Nutrition Outreach Camp, Nutritional Rehabilitation Home
Six-month-old Puja* is 17-year-old Sangita* and her young husband Laxman's* first child. When an anxious Laxman brought his family to an NYF Nutritional Outreach Camp in Makwanpur District four months ago, Sangita and Puja were both severely undernourished.
"Everyone thought she was going to die," Sangita says. Child marriage is very common in Sangita's community, often between boys and girls who are each quite young. Young mothers like Sangita frequently give birth prematurely, to babies with low birth weights.
If these mothers are also experiencing undernutrition, their bodies can't provide sufficient breast milk, and young parents in these remote communities often don't know alternative ways to nourish their babies.
As a result, many first-time mothers—still children themselves—face the heartbreak of a child's death.
Sangita and Puja were urgently referred to the nearest Nutritional Rehabilitation Home, where they received personalized nutritional therapy for over a month. Laxman came as well, eager to learn what he could about nutrition and health, and preparing nutritious meals for children with low-cost, locally-available ingredients.
Between lessons, the pair also received family planning advice from nurses, including information on the risks of having children too quickly. These tips will be crucial for preserving Sangita's health moving forward. The shared learning experience drew the young couple closer together—and put Puja on a path of healthy growth and development.
"Nobody recognized our daughter when we brought her home," Sangita said proudly at their three-month follow-up visit. NYF's Outreach Officer, Sajan Nagarkoti, was overjoyed to see how much Puja had continued to grow, and how much healthier both she and her mother looked.
---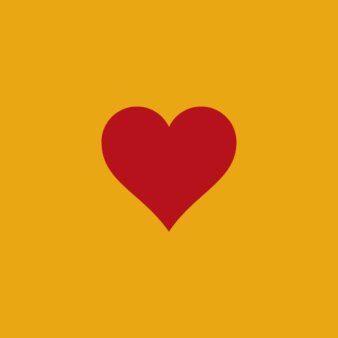 "I have been continually impressed with the
creativity, flexibility, and commitment to children
shown by this organization. I heartily support them
and urge others to consider supporting them."
— Bob, Donor & Volunteer
---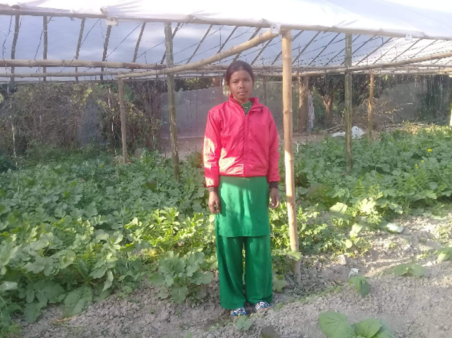 Rita
SAAET Project, Vocational Education
Rita*, 17, lives in a family of 8. They have a small farm on which they've been subsistence farming for Rita's whole childhood. Feeding such a large family is difficult, so her parents were eager to find her a husband soon. But that's not what Rita wanted.
She learned about the SAAET course from a local women's group and signed up.
After the training session ended in early October, Rita was the first student to complete her own greenhouse and get her first seeds in the ground—with the help of some of her siblings!
Rita says she's excited to start farming using modern technology. The whole family is enthusiastic about what Rita has learned. They're waiting to see how this first greenhouse does, but they're already talking about gradually shifting their entire approach to greenhouse farming, following Rita's lead.
If Rita does eventually get married, she'll be leaving her current greenhouses behind on her parents' land—but she'll carry the expertise with her. She is now in much greater control of her path in life, wherever it leads her: her parents are less likely to try forcing a marriage, and if she chooses a partner in the future, his family is less likely to object. She would enter such a union carrying valuable expertise that would give her greater security, stability, and clout in the new family system, allowing her to nourish herself and her future children with confidence—as well as the ability to invest in their future.
Support from friends like you make these transformations possible. We hope you enjoyed reading some of NYF's transformative stories from 2022.
December 9, 2022
World Cup Qatar 2022: The Need for Vocational Training in Nepal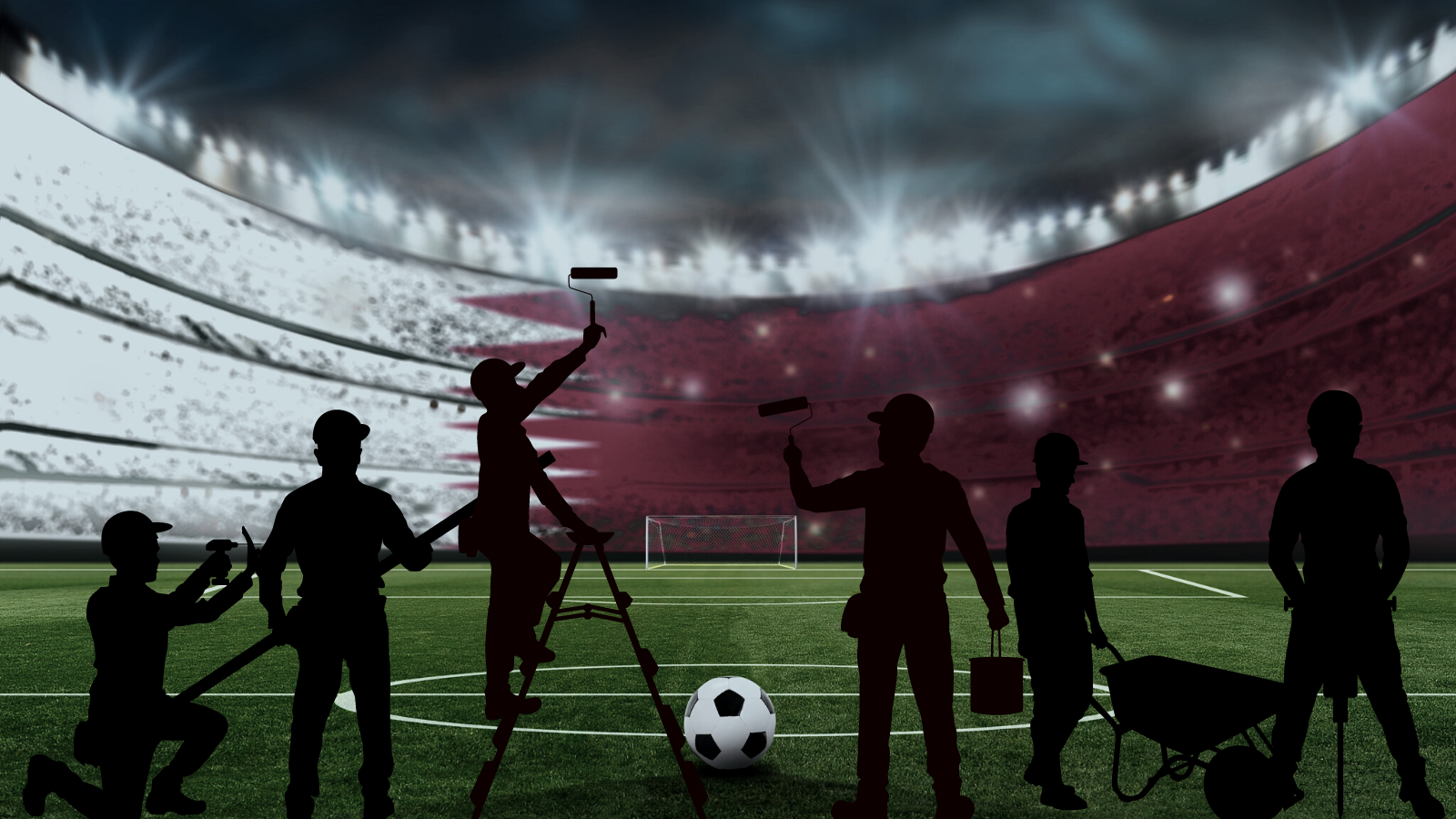 World Cup Qatar 2022 is the first World Cup to be held in the Middle East—and only the second to be held entirely in Asia. This global sports tournament should be a time of great celebration and unity.
Unfortunately, as fans across the world tune in to cheer for their favorite teams, a much less joyful story has come to light. That story is about the thousands of migrant workers from places like India, Pakistan, Bangladesh, and Nepal who built the World Cup 2022 stadiums and other infrastructure necessary for Qatar to host this massive event.
These migrant workers have recounted stories of horrific working and living conditions—and many have died. (We have compiled a list of news stories below.)
Most of the stories we're seeing published in the west place the blame on Qatar—as though without the World Cup, these migrant workers would never have been in such a situation.
Unfortunately, the truth is that the World Cup has only shined a light on a long-term, widespread problem impacting these communities.
Youth underemployment in Nepal hovers around 35%, with many young people unable to access the skills training or other resources necessary to make a living in their own communities. Many of these young people have no choice but to take migrant labor jobs abroad, sending money home to their families as often as they can.
Conditions for these workers are brutal: long hours performing dangerous, back-breaking work for low wages. Many report that their passports are kept by their employers, preventing them from returning home on their own if they wish. Health care options are effectively non-existent. Unfortunately, many Nepalis in this situation pass away or become seriously injured—and their selfless efforts to create a better life for their children leave them worse-off than when they began. The death toll among migrant workers from Nepal has been steadily increasing for years—and the majority of these deaths are not happening in Qatar.
This has been the reality for millions of Nepali young people long before Qatar began designing their World Cup stadiums. And it will continue after the World Cup has ended.
At NYF, we believe that the best way to end this cycle isn't by focusing on conditions in Qatar and other countries that rely on migrant labor. Rather, it's by creating better working opportunities at home in Nepal (and other home countries!).
This approach allows individual young people to access lucrative careers close to home, creating opportunities for economic and infrastructure growth in their own communities. NYF's Vocational Education & Career Counseling programs and Olgapuri Vocational School were designed to provide exactly this kind of alternative for young Nepalis.
Here are just a few stories that illustrate the impact of these programs!
Sustainable Agricultural and Entrepreneurship Training
Kalpana got married soon after she was freed from kamlari bondage. She settled with her husband's family on their small plot of rented land. They have five children, and were eager to give them the best opportunities possible.
Her husband considered taking a job overseas to make extra money, but he and Kalpana were both anxious about this option. When Kalpana heard about NYF's one-month SAAET Project, she signed up right away, participating in the November 2021 course.
Immediately after the training, in December, she enlisted her husband to help her construct their first greenhouse. They started planting off-season vegetables on their land, and success was immediate.
Kalpana is now growing highly marketable tomatoes, bitter gourd, cucumbers, pumpkins, and cauliflower. She is currently making a profit of 20,000 Nepali rupees per month (minimum wage in Nepal is 13,450 rupees per month, or $115).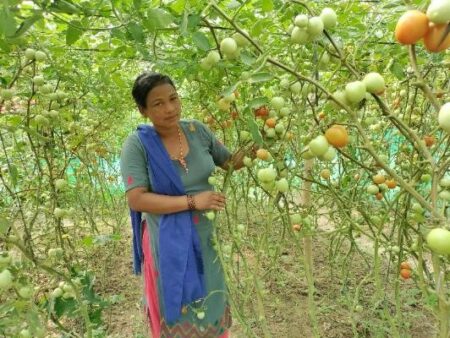 This school year, Kalpana used some of her profits to register her two school-aged children in a private school. "The economic independence I'm gaining from greenhouse farming has made me confident in every aspect," she says proudly.
Though some programs are designed especially for women, we've found that our entrepreneurial graduates often enlist the help of their husbands when launching their new businesses. Not only does this maximize their effectiveness and profits—it creates jobs in the home community, allowing families to build financial success as a team!
OVS Construction: Carpentry
Ashok, 20, grew up in Dolakha District with his family of five. They depend on subsistence farming for their livelihood—an extremely tough lifestyle in mountainous regions.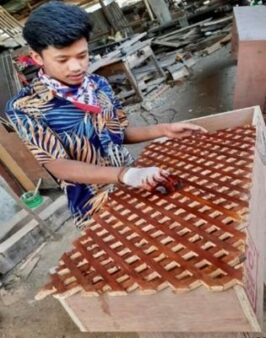 Ashok is a smart, fastidious young man with strong attention to detail. He knew he was capable of providing much more for his family than farming allowed, and he dreamed of living somewhere outside of his village. But without access to training or apprenticeship opportunities, and no money for traveling to a vocational school, he wasn't sure how to kickstart a new career.
In early 2022, Ashok heard about a career orientation presentation being offered by NYF in a nearby village. Curious, he attended. He was shocked to hear that the program was free for eligible young adults—including travel and room and board during the three-month course!
Ashok submitted an application for the Carpentry Training course and was placed in the March 2022 session on Olgapuri Campus.
After receiving his certification three months later, Ashok worked as a paid apprentice at a large furniture house in Kathmandu. His performance there was so impressive that the employer offered him a full-time job in June. Ashok is making around $225 per month—nearly twice Nepal's minimum wage. He's sending much of it home to support his family.
With his highly-valued skills, Ashok has the ability to shift jobs at will without ever leaving Nepal. He considers this NYF training to be the most important milestone of his career to date!
OVS Construction: Plumbing
Reeta*, 25, lives in a hilly region in western Nepal with her husband. One day, while the COVID pandemic was ongoing, Reeta learned that an Olgapuri Vocational School "satellite" plumbing training program was coming to their area. She signed up for the program right away, but her husband wasn't so sure. He, like many others, considered plumbing to be a man's job.
When Reeta mentioned this domestic push-back in class, NYF plumbing trainer Sailesh Khatri offered to meet with Reeta's husband to talk about his concerns. Though Reeta's husband was uncomfortable at first, he was willing to listen as Sailesh explained the special value of a skilled trade for a woman. Besides, Sailesh added, Reeta was showing a real knack for the work!
Eventually, Reeta's husband decided to wait and see what happened once Reeta was certified. He didn't need to wait long before realizing that Reeta and Sailesh were right.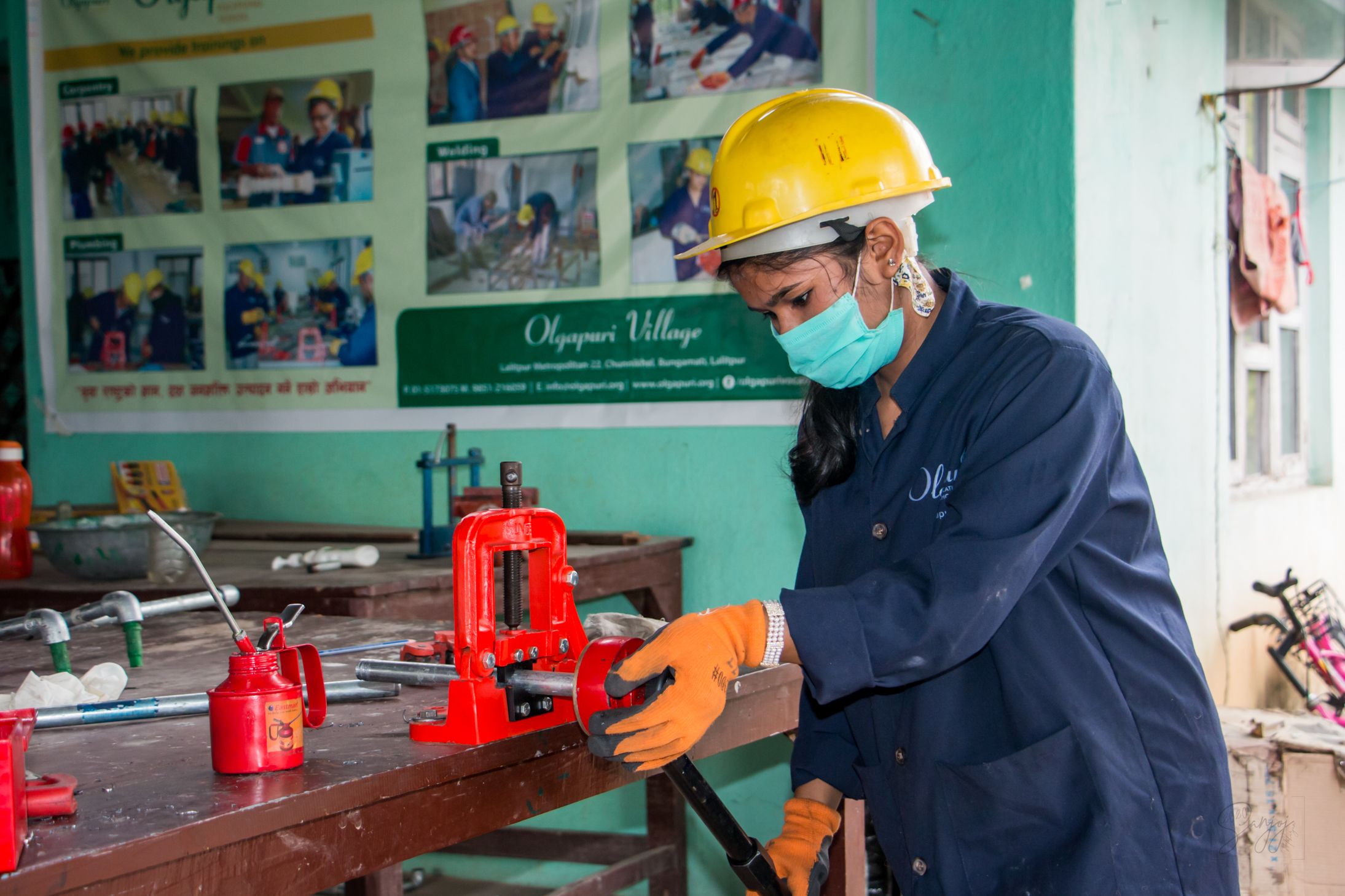 After completing the program in February 2021, Reeta was hired as an on-call technician for a major government project. She is responsible for all the plumbing repair in her village and is paid accordingly!
We're especially proud of the community-wide impact our plumbing program is having in rural communities. For more on this, check out a story we shared in April 2022.
World Cup Qatar 2022 Highlights Opportunities for Growth
Working grueling overseas migrant jobs isn't just physically demanding. It's incredibly lonely. It's discouraging to build marvelous infrastructure for strangers when family members back home don't have access to such luxuries. Because of the ways they are treated, migrant workers also often feel isolated, unknown, and even disposable.
When following up with NYF's young vocational training graduates, many of them report great pride and satisfaction about working within their own communities. Vocational training programs like ours are transforming individual lives. They are also improving entire villages in the process—not only in a physical sense, but in an emotional and psychological sense as well.
Let's make sure the lessons learned during World Cup Qatar 2022 lead into more empowering opportunities for young adults in Nepal. Your donation today will help us continue offering these incredible courses to young people throughout Nepal.
---
Learn more about the workers behind World Cup Qatar 2022
November 22, 2022
Happy Holidays from Olga Murray!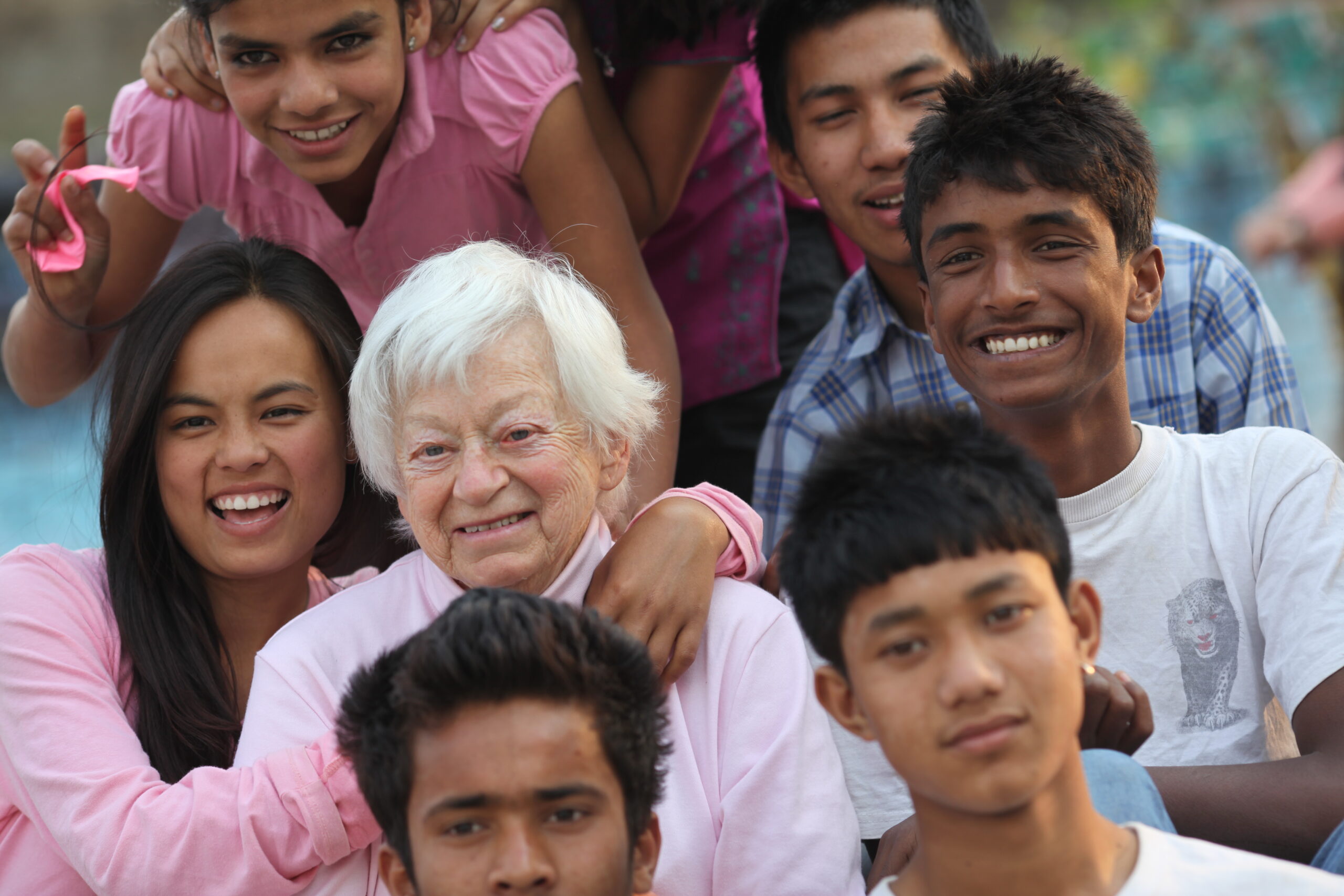 A Letter of Gratitude from NYF's Founder
I always count my blessings on Thanksgiving, but this year, my gratitude is more heartfelt than ever.
The first among many things to be grateful for is that I am returning to Nepal right after the holiday, after an almost three year absence because of Covid. I haven't been away this long in more than 35 years, and I have missed the children more than I can say. So much has changed in the interim, with some of the older kids having left Olgapuri for college, and 15 new adorable little ones have joined the Olgapuri family. Their loving presence in my life is a constant source of joy.
Another highlight will be meeting the Dalit students who have come to Kathmandu from their remote communities to attend law school through our new Educating Dalit Lawyers program. Many of them are young girls (around 17 years old), all exceptionally smart, from towns and rural villages all over the country. This is the first time many of them have been to a big city, so a whole new world is opening up to them.
These passionate young people are coming of age in a culture that still treats members of their caste with dismissiveness and cruelty.
It will be a thrill to see them blossom into confident, passionate, and capable young lawyers ready to advocate for their community and bring about tremendous positive change.
I graduated from law school 68 years ago, at a time when there were very few women lawyers. In my career, I saw first-hand what a difference passionate lawyers can make in supporting social change! It is an incredible privilege to be a small part of these Dalit students' journey. One of the first things I will do after arriving in Nepal is have them all for dinner so that we can get acquainted, and just maybe I might be able to offer some useful advice to these young women in spite of our 80 year age difference!
Happy Holidays,

Olga Murray
NYF Founder and Honorary President
Don't forget to share your GivingTuesday NYF testimonial! This 5-minute gift will help us share NYF's transformative message and grow our community in 2023.
--- Make A Donation
Ensure your #LoveWorks this end-of-year season.
---
Your generous support powers this moment of growth.
The gifts received between now and December 31st will determine the number of young people NYF can support in 2023. GivingTuesday Campaign
Share Your NYF Story. November 29, 2022.
---
Submit your favorite NYF-related story, photo, or donor testimonial.
We'll turn them into shareable graphics! On Nov. 29, we encourage you to share these graphics with your own network. Holiday Gift Cards
Select an NYF-themed eCard for your honoree.
---
This holiday season, give a gift that will empower youth in Nepal.
Each card corresponds to a different NYF program, so you can choose the cause most meaningful to your loved one.