April 29, 2022
NYF's partnership with One Day's Wages: A successful Vocational Education project!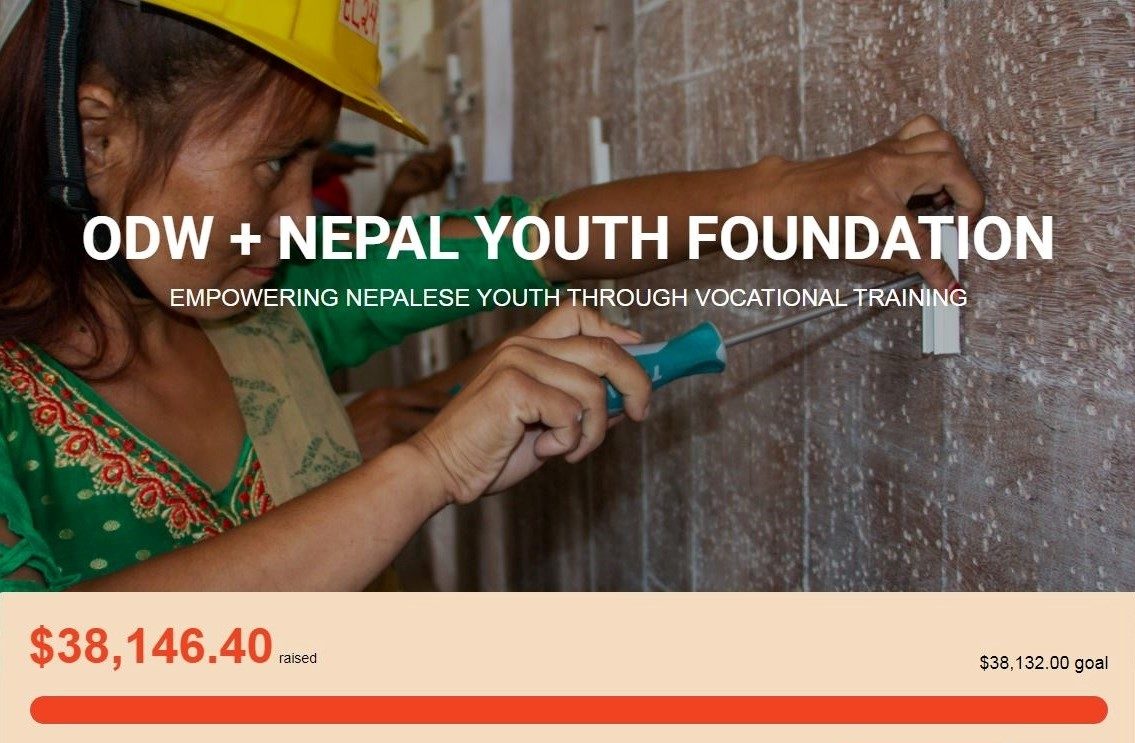 In late 2019, NYF launched a matching campaign with One Day's Wages to fund 52 students in our Vocational Education & Career Counseling program. Thanks to support from friends like you, we were able to meet our fundraising goal— and we received a generous matching grant from One Day's Wages to complete this project in 2020.
Though the pandemic caused a delay in starting and completing this vocational education project, we are happy to finally share how successful it ended up being. We are also incredibly grateful for the One Day's Wages team for being so patient, flexible, and encouraging while working with us on this project as we navigated COVID-19.
The Vocational Education Training Course
This project funded a 12-week training course for 52 students in our Olgapuri Vocational School training program. 31 of these students graduated from the electrical course in Barbardiya Municipality, and 21 from the plumbing course in Bhanu Municipality.
Our original plans were to invite our students from multiple regions in Nepal to Olgapuri Vocational School in Kathmandu. However, NYF had to shift the program to a satellite model due to COVID-19. In this new set-up, our incredible teachers transported their equipment to villages in Barbardiya and Bhanu Municipalities to self-isolate before teaching the twelve-week course to local young adults. These satellite trainings were successful and eagerly received by individual students and communities. As a result, we are working to identify ways to make them a part of our regular programming.
During the training, our students received hands-on instruction and practice (approximately 80% of class time) as well as theoretical material (20% of class time). Theoretical elements included relevant course reading, as well as health, first-aid, and safety training. It also included entrepreneurship development, and life skills components like goal setting and decision making, communication, basic computer use, and job search skills.
In July 2021, our 52 students graduated.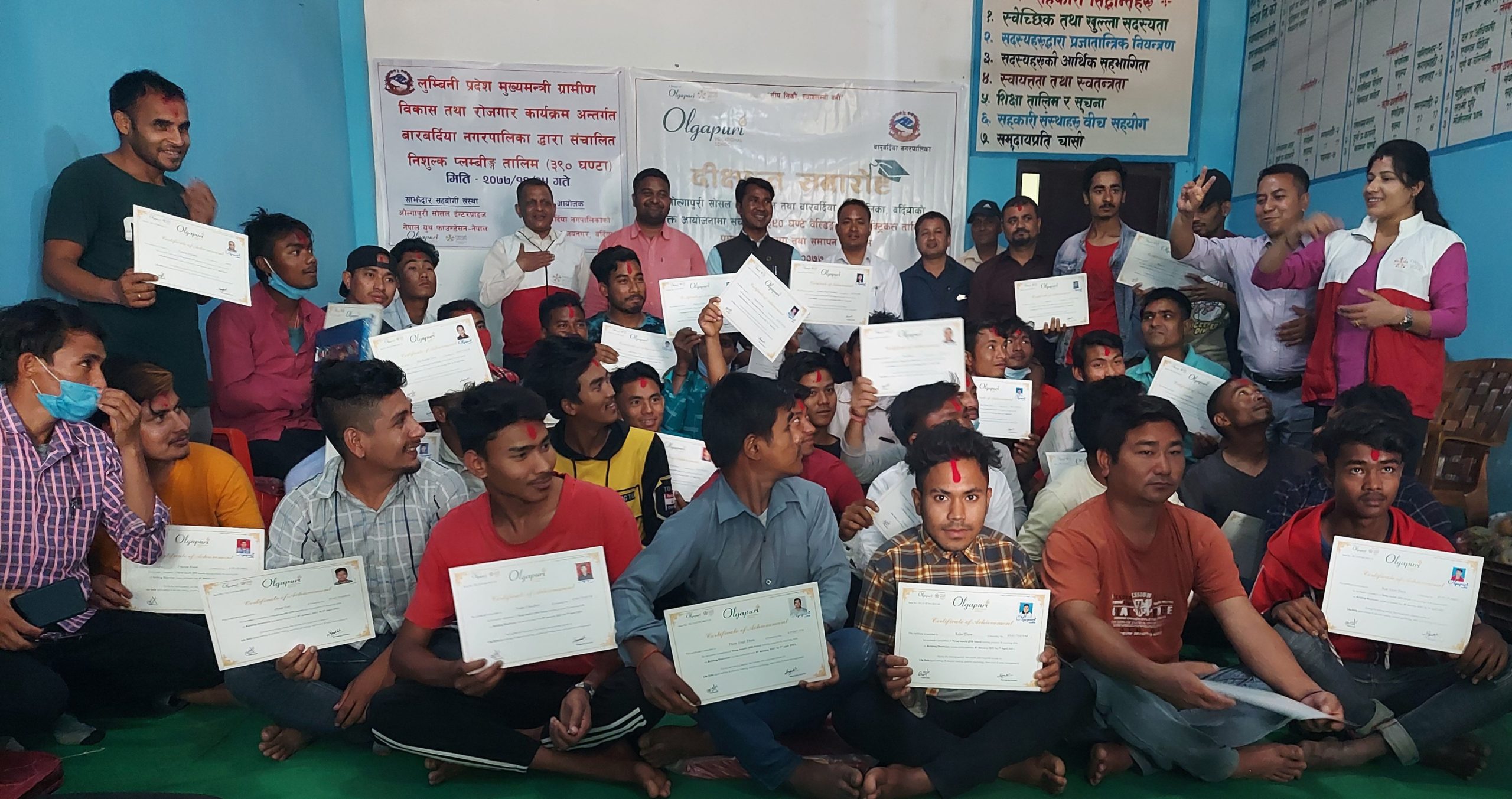 As we come up on one year since the vocational education courses began, we're thrilled to share the positive impact this project had on its students, their families, and their communities.
Community Impact
Much to the benefit of their communities, the majority of our electrical program graduates have decided to work in their hometowns.
Before this program, electricians and their labor were very expensive. That made electricity unreliable at best (and thus more of a luxury than a real utility), and dangerous at worst (in the event someone decided to attempt repairs on their own, without training). NYF's electrical graduates discovered quickly that there was plentiful work available for them close to home.
Local construction businesses can now take on new projects with greater confidence, since now they know there are skilled, trusted technicians nearby to accomplish this work. This, plus the affordability of services, has increased the demand for construction projects in the community. This is already resulting in an economy where local money continues to support local businesses. Even as the COVID crisis drags on, the standard of living is on the rise in the areas that have received these training courses.
Community members, too, soon learned that they can now receive prompt, affordable, high-quality electrical services from local young people who share their dialect.
Some of the plumbers and electricians in these two courses have already established their own small businesses. They've taken on apprentices from among the local young adults — creating new jobs and new experts.
We're also proud that local governments and construction companies in nearby areas are requesting more opportunities for vocational education trainings. Even with this increase of new skilled workers, there is still enormous demand for exactly these kinds of experts. Nepal's infrastructure is developing rapidly, and empowering local young people with the skills they need to provide these services will do tremendous good across the country.
One House, One Tap: Bhanu Municipality
"One House, One Tap" is a country-wide government project that provides municipalities in Nepal with the funds to install running water in each household. This project had been of interest to local officials of Bhanu Municipality for a long time. However, there were not enough skilled plumbers in their region to provide the required labor. Thanks to this campaign, the region now has plenty of new plumbers. This has allowed Bhanu Municipality to finally take advantage of the One House, One Tap project!
We're thrilled to share that our plumbing graduates are involved in installing running water to 55 households in Yansing Village and 32 households in Chokot. By February 2022, 12 graduates had installed and fitted the main underground pipeline to one of the villages. They also built two entire water reservoirs nearly to completion.
Until this time, Yansing Village in Bhanu Municipality only contained 7 taps total, which had been connected to a small natural spring at the top of a nearby hill (rather than to larger-scale infrastructure, as the new ones are). Individuals—most of whom live about 15 minutes from the nearest tap on foot—fetched water from these public taps on a rotating basis. Since it is so difficult to bring this water home, most families reserved it mostly for cooking and drinking purposes only, with hygiene being neglected.
The arrival of plumbers in this region is having a near-immediate, widespread public health impact. With tap water available in each household, families will be better able to maintain far better personal hygiene. This will help slow the spread of disease and increase their available time and energy for other tasks.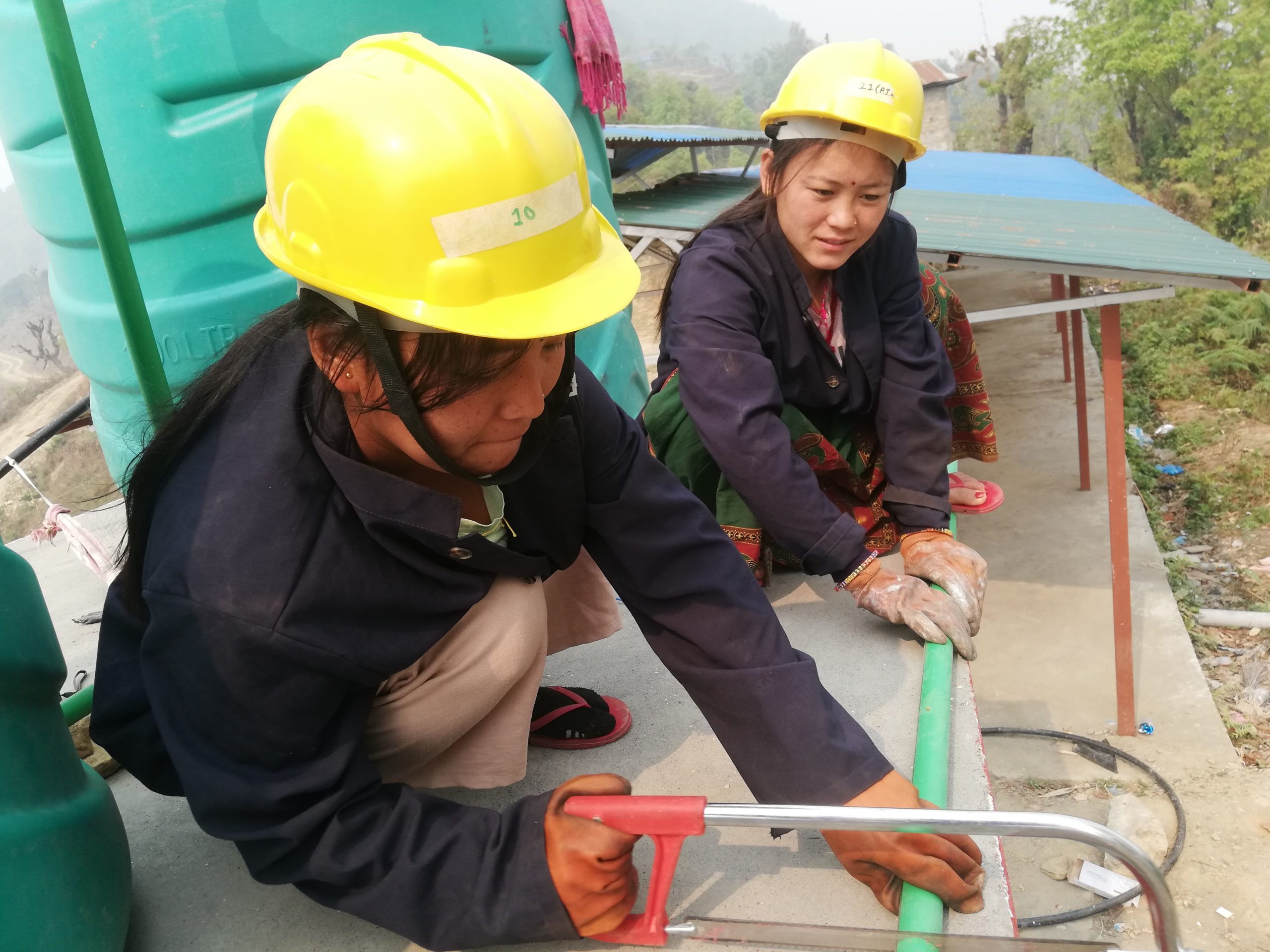 Individual Impact
Upendra G.
Upendra is a village social worker in Bhanu Municipality. He was enthusiastically involved in bringing the NYF training to the area. During the training period, he provided snacks for the trainees.
Upendra was one of the first people to hire the training graduates. He asked four of them to construct a full bathroom at his home. This included a sink, a toilet, a shower, drainage, and tiles, plus a tap for washing muddy feet.
Upendra's bathroom is in a standalone building near his fields. It is also attached to a 1,000-liter water tank. His is now one of the best restrooms in the entire village. Soon after completing the construction, Upendra invited the local mayor to view this restroom.
"The mayor was surprised to see such a good toilet in the village," Upendra said happily. "I shared how thorough and excellent the NYF training is, and how it has helped transform the youth with strong skills. NYF's training has really been transformative for the entire village."
Girija G.
Girija is a young NYF plumbing course graduate from Vanu Municipality. He lives with his family of lifelong subsistence farmers. When he married last year, he started searching for an additional livelihood to ensure the growing family could improve their self-sufficiency. He worried he might have to leave the village, or even the country, to find work.
Following the NYF plumbing course, Girija has good-paying work here in his own village and in villages nearby. This means that his family has the benefit of both his income and his presence. He is currently balancing plumbing work with farming to maximize the effectiveness on his family's farm. This is an enormous gift to his parents, who are aging, and to his wife and their future children. Even working part-time, Girija is bringing in about 20,000 Nepalese rupees per month ($172), which is over 50% more than minimum wage for a full-time job in Nepal.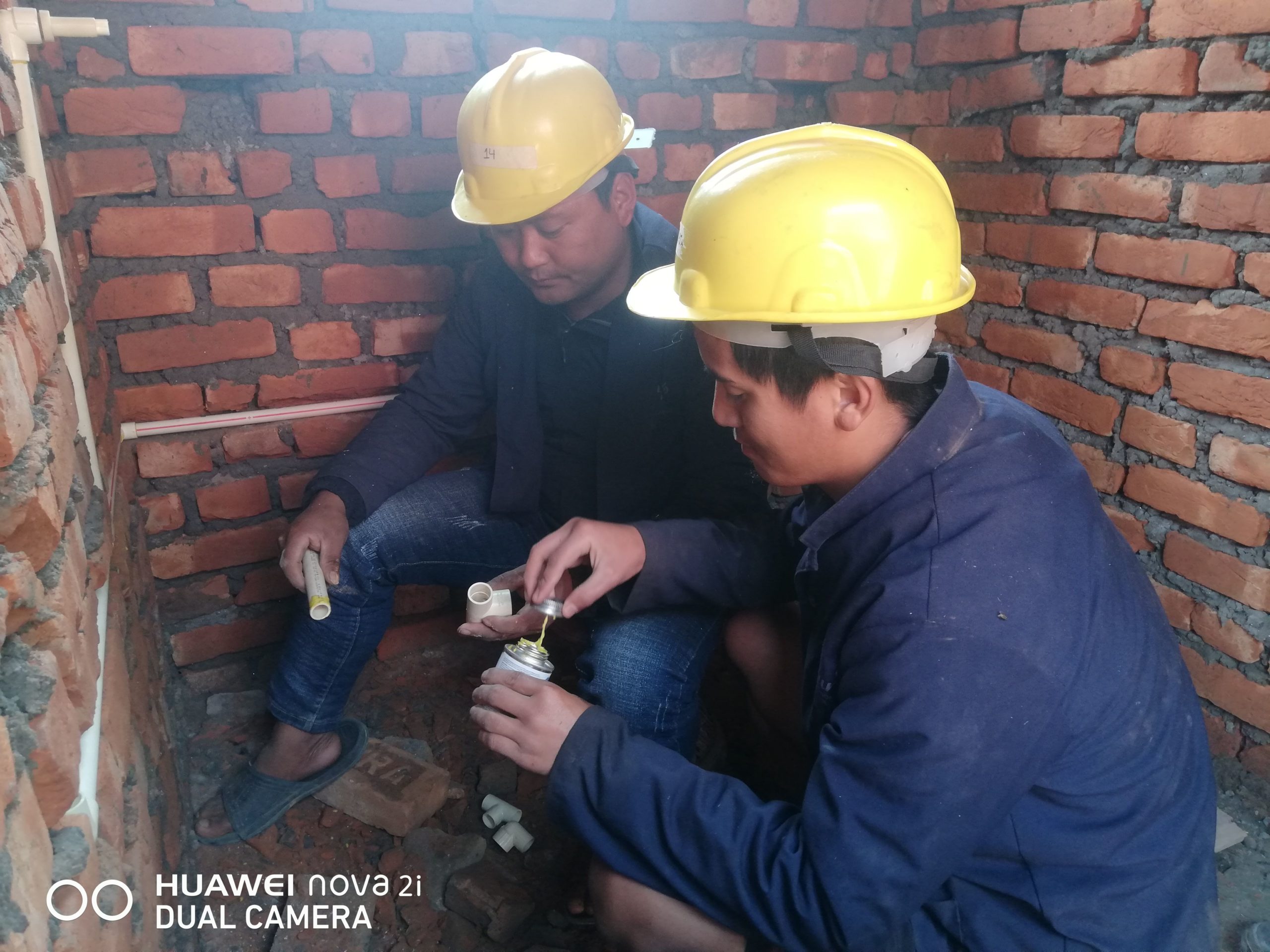 Girija's parents are bursting with pride at their son's accomplishments. He has become a huge credit to the village and is providing for the family in ways they only dreamed possible—everything a parent in Nepal dreams of. Meanwhile, Girija's wife is happy about the family's increased stability, even in this time of uncertainty with the COVID pandemic.
With this money, Girija and his family are excited about future possibilities. A potential full bathroom of their own, for example, which would immediately improve their family's health. They may use some funds to purchase meat, dairy, or other staples to supplement their home-grown diets. They may upgrade some farming equipment, invest in other housing upgrades, or begin saving for schooling for their future children. This vocational education course has opened future possibilities for them all.
---
From all of us at NYF, thank you and dhanyabad!
We cannot overstate the continuing economic impacts of this pandemic in Nepal. Now more than ever, the youth of Nepal need viable job readiness training and career investment to allow the country to recover. Your loving support makes such a difference for these young adults and their communities!