August 25, 2022
Dadeldhura Nutritional Rehabilitation Home Officially Joins the Nepali Hospital System!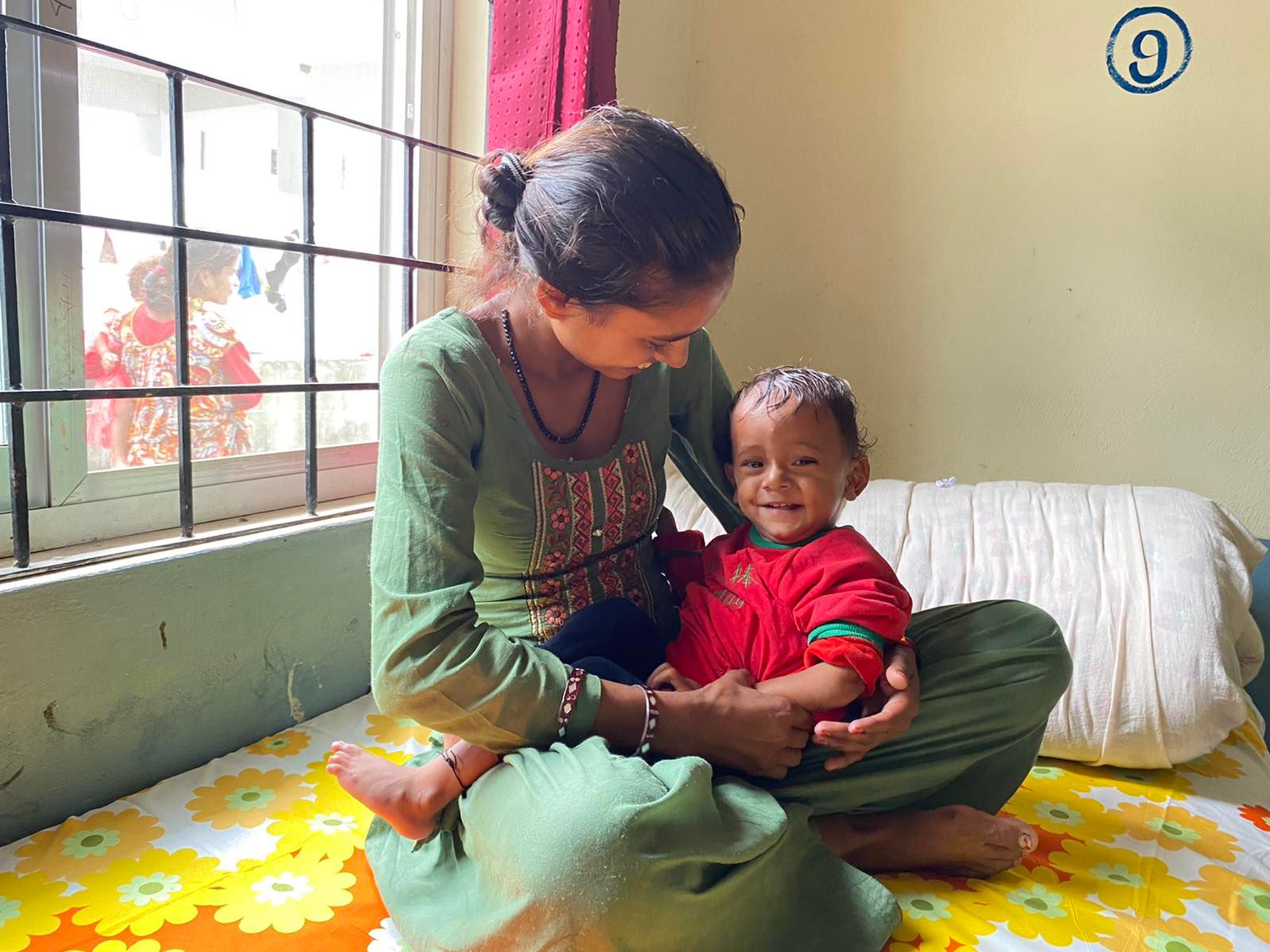 Exciting news! On July 26th, 2022, the Dadeldhura Nutritional Rehabilitation Home was formally handed over to the government-run Dadeldhura Hospital in a special ceremony. This marks the successful conclusion of NYF's work building and launching new Nutritional Rehabilitation Homes—a project that began in 1998.
NYF's pioneering NRH model has been so successful that it has become a central piece of Nepal's national work to end childhood malnutrition. Indeed, the government has already built an additional seven facilities throughout the country—with more on the way! Read more about these remarkable facilities here.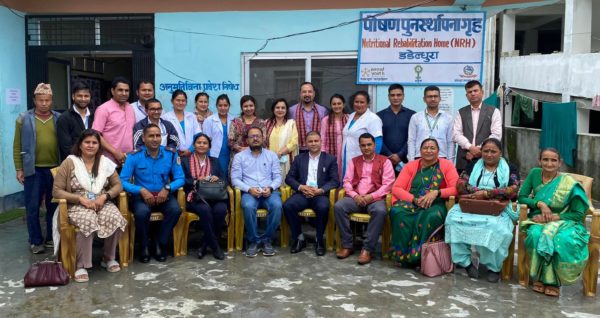 About the Dadeldhura Nutritional Rehabilitation Home
The Nepali government specifically requested the Dadeldhura Nutritional Rehabilitation Home because the children in Dadeldhura District and in multiple adjoining districts were experiencing a very high rate of stunting due to malnutrition. They had identified several of these districts as among the lowest performing in Nepal when looking at rates of stunting, anemia, and low weight in children and mothers of reproductive age.
Mothers in the region were undoubtedly eager to help their babies grow and develop into healthy, active kids and strong, creative young adults. But in many of their households, there's no room in the budget for empty calories.
Every rupee spent on food is a rupee that can't be spent on other necessities like rent, medicine, and school. Without access to knowledge about nutrition—what vegetables contain the nutrients kids need and how to combine and prepare foods to maximize nutritional value—mothers can only make their best guesses with the resources they have.
Many of these parents have shared stories of feeling heartache as they watched their children struggling to put on weight in spite of the adults' best efforts.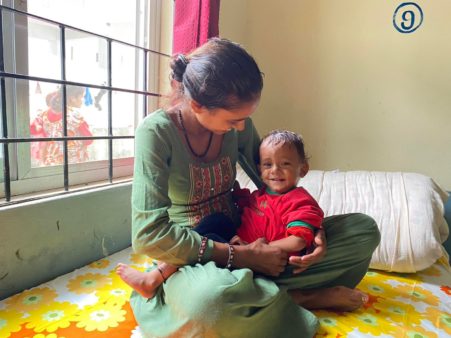 Nepal's government hoped that one of our clinics would provide the medical support and educational resources nearby communities needed to begin reversing this trend.
This 10-bed facility (enough for 10 mother-child pairs) would be NYF's final NRH construction project—the 17th such clinic we had built. We completed construction in August 2017 and started operating on September 1st of that same year.
Achievements at the Dadeldhura Nutritional Rehabilitation Home
In the five years since this clinic opened its doors, nine specially trained staff members have made the Dadeldhura Nutritional Rehabilitation Home a pride of the associated hospital. Here are some of their achievements:
They provided residential treatment and care for 477 children—including diet therapy, 24-hour nursing care, medical check-ups by a pediatrician, and careful monitoring. During these stays, their caregivers, usually mothers, received hands-on training on practical nutrition education and personalized counseling on how to maximize the nutrition in their home diets using only the ingredients available to them.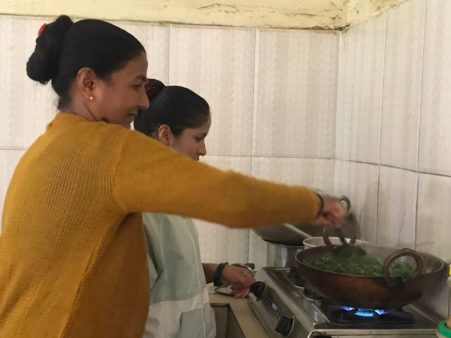 They've conducted nutritional screenings (and provided personalized nutritional counseling for moms!) for 2,266 children who were visiting the Dadeldhura Hospital for other ailments when malnutrition was a contributing factor.
Despite not having a designated field staff, NRH staff managed to conduct 56 home visits to follow-up with discharged children who had been severely malnourished enough that their cases required prolonged monitoring.
They provided community outreach and educational events for their surrounding communities whenever it was necessary, including Breastfeeding Week, Iodine Month, and Nutrition Week.
During the COVID pandemic:
During COVID-19, They conducted an additional 113 follow-up visits over the phone, coaching caregivers on practical nutrition tips, home hygiene, and child health care at home.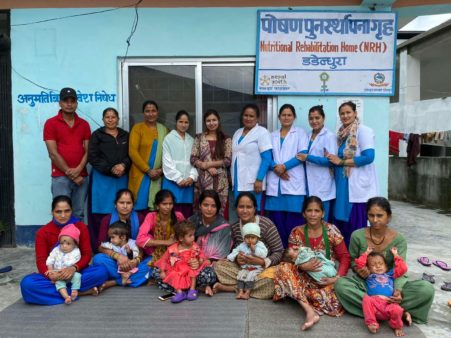 Trainings and Assessments
Staff members have been eager to continue learning to best serve their young patients. Not only have they all participated in annual "refresher" training through NYF's Kathmandu Valley flagship NRH, but they've also made efforts to specialize by attending trainings held by the Nepali Ministry of Health. Several nurses have also attended a maternal and young infant child nutrition workshop. Others have participated in trainings focused on preventing mother-to-child transmission of HIV/AIDS. Most recently, a nurse attended a 5-day workshop on "Nutrition in Emergencies," focused on learnings from the COVID pandemic.
In 2021, a government team conducted an assessment on the full Dadeldhura Hospital. The NRH scored highest among all the clinical settings associated with the hospital.
This incredible work will continue, with NYF still providing follow-up training for NRH staff members across the country. This includes those providing transformative services in Dadeldhura. In fact, we're providing training for NRH staff members at facilities built entirely by the Nepali government! This training takes place at our flagship Kathmandu Valley NRH, led by our incredible Nutrition Coordinator, Sunita Rimal.
New Opportunities in Childhood Nutrition
Nepal, NYF, and other organizations working to combat childhood malnutrition have made tremendous strides over the 24 years since we first began providing holistic nutritional care. But the work isn't finished.
At NYF, we strive to design programs that can one day be sustainably taken over by the communities they are serving. This keeps us at the forefront of social innovation in Nepal—focusing our attention on developing new, focused, daring programs that respond to the toughest challenges.
With the Nepali government now building and operating NRHs on its own, NYF's nutrition team sees new opportunities to conduct life-saving Nutrition Outreach Camps in more and more remote regions of the country.
As Nepal works to improve its nationwide infrastructure, it must contend with its unique, dramatic geography. Sharp elevation shifts throughout the country make building and maintaining roads and bridges incredibly difficult. As a result, many villages are still only accessible on foot. Historically, we've struggled to persuade some parents to bring their severely-malnourished children to the nearest NRH, as the journey to the closest one was often several days long and potentially dangerous.
Now when we find children in these areas in need of immediate medical care, there's an NRH within much closer reach than there has ever been before. That makes it so much easier to save more lives and introduce nutritional education to eager communities.
Thank you!
Thank you so much for being part of this journey. We are so grateful to everyone who has helped make this chapter of NYF's journey such a transformative success—not only for the individual children we've nourished, but for the country as a whole.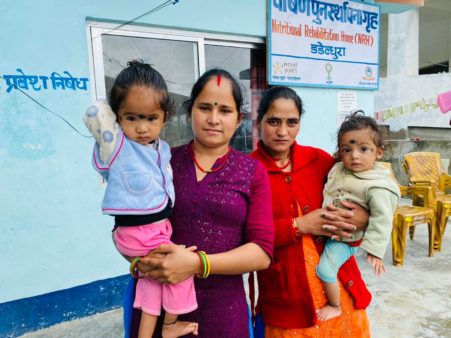 Donate Today
As Nepal recovers from the COVID pandemic and finds a "new normal", NYF is hard at work launching new initiatives, keeping our promises to those already in our care, and integrating new learnings from the past two years. Please help us continue to grow our impact by making a generous gift today right here on our website!
January 15, 2022
NYF's COVID-19 Timeline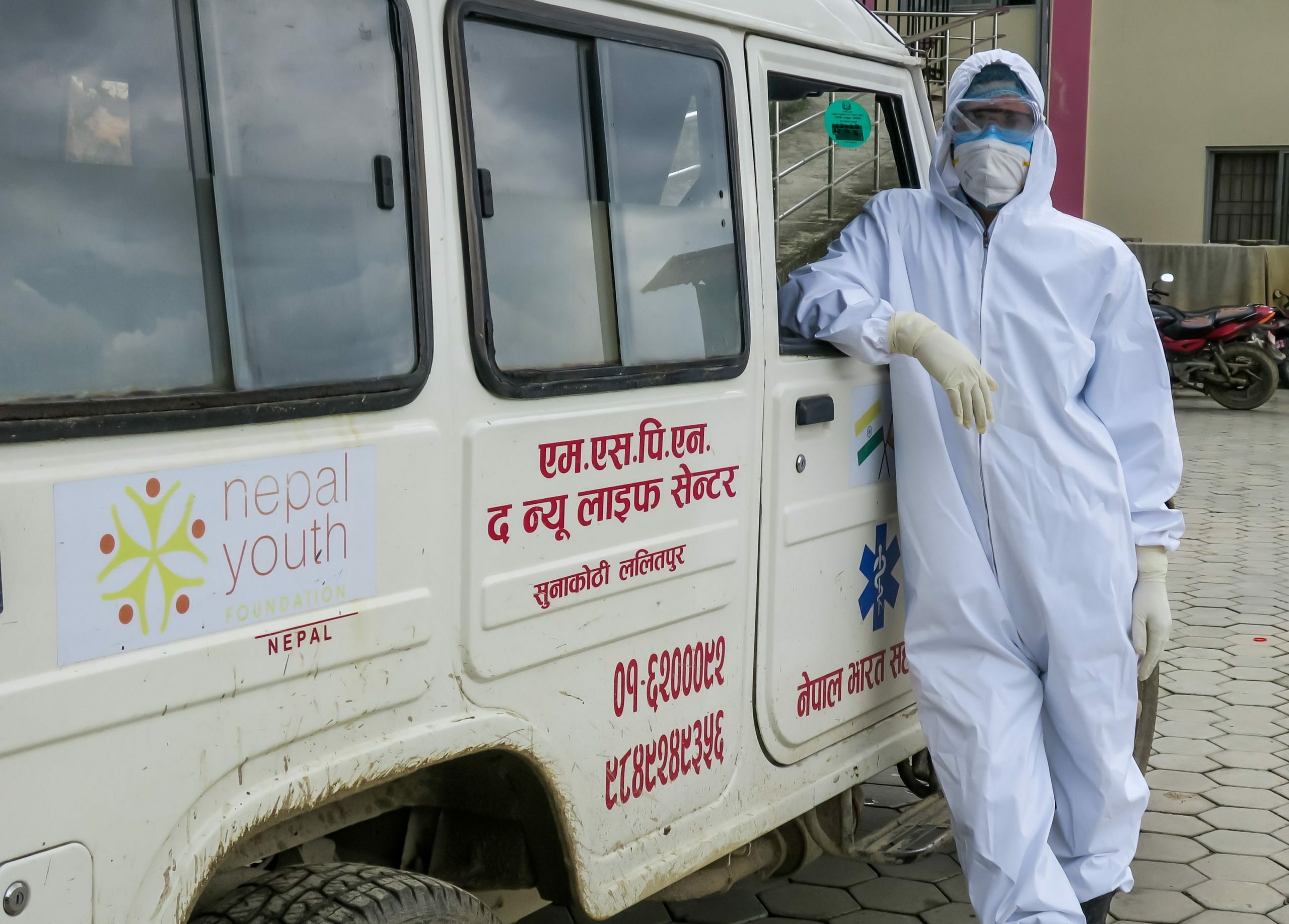 A brief overview of COVID-19 in Nepal; and NYF's strong responses to it.
This timeline regarding NYF's COVID response is a developing piece. Last updated: 3/11/2022
On March 11, 2020, The World Health Organization (WHO) declared COVID-19 a pandemic. Not too long after, on April 4th, 2020, Nepal confirmed its first locally-transmitted case of COVID-19. Since then, NYF has launched five emergency programs in response to the pandemic (Community Nutrition Kitchens, The Emergency Lifeline Halfway Home, Access to Education, Lito for Life, and our very own COVID Isolation Center).
Thanks to our dedicated team in Nepal and loving support from the wider NYF community, these programs have been an incredible success. Chiri Babu Maharjan, Mayor of Lalitpur Metropolitan City, has commended NYF "for its outstanding services since the very beginning of the COVID-19 pandemic in Nepal, and for the well-facilitated quarantine and COVID Isolation Center in partnership with Lalitpur."
NYF's swift and effective response to the deadly surge of the Delta variant in April 2021 has also been highlighted by BBC News.
NYF remains incredibly grateful for our community of supporters, and for our amazing team in Nepal. Thank you all for being so patient, supportive, and generous during these challenging times. Whether you joined us recently or have been here with us since the beginning of this pandemic: Dhanyabad.
---
Please scroll down to view NYF's pandemic timeline.
July 15, 2021
World Youth Skills Day: Celebrating NYF Breakthroughs During COVID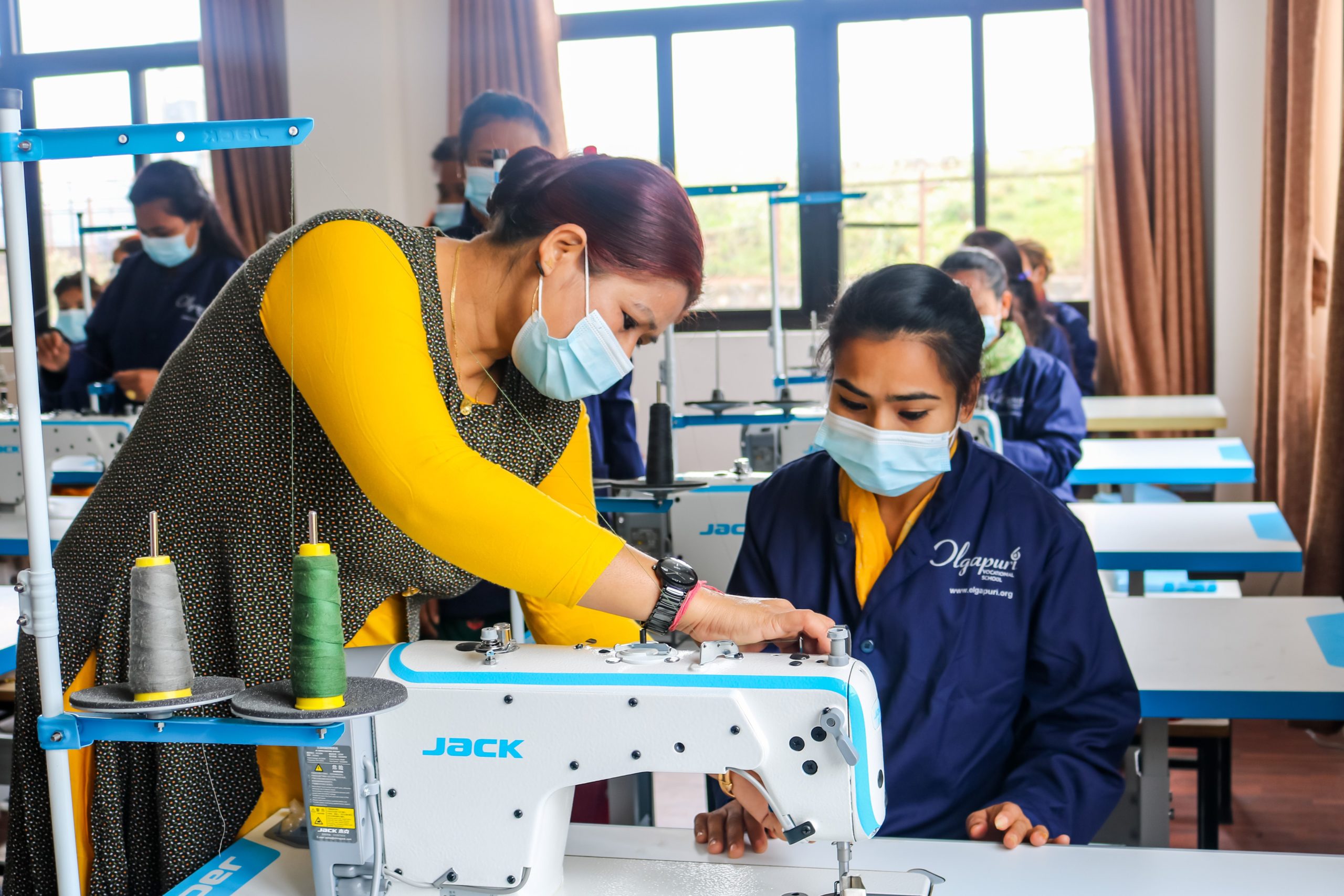 The United Nations General Assembly declared World Youth Skills Day in 2014. Each July 15th since then marks an opportunity to "celebrate the strategic importance of equipping young people with skills for employment, decent work and entrepreneurship."
COVID-19 has hit the world economy hard. But many are surprised to learn that globally, young people aged 15-24 have been impacted more severely than any other group when it comes to employment. World employment for all adults fell 3.7 percent in 2020. For young adults, the rate was 8.7 percent.
Young women have been hit even harder than young men.
Empowering young adults with strong paths to employment will be critical to the global recovery from the COVID-19 pandemic. This is especially true in Nepal, where extremely low pre-pandemic employment levels were already hindering economic growth and opportunity for young people.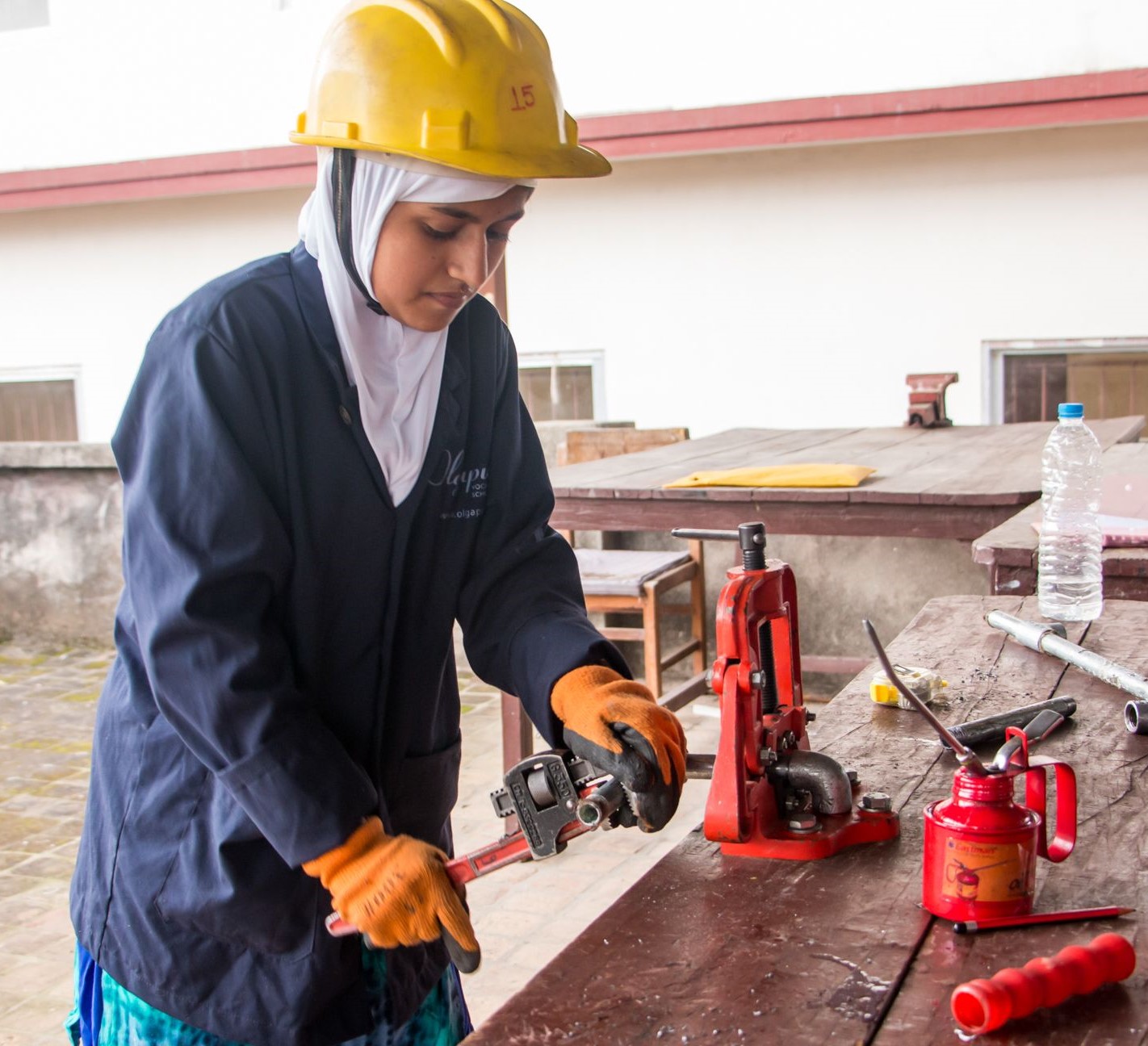 The UN is urging countries to invest more in job-readiness education for young people. This applies not only to traditional academic education, but to vocational education, skills training, career counseling, and other paths towards independence and economic empowerment.
This World Youth Skills Day, NYF is highlighting our work in Vocational Education and Career Counseling—including high-impact programs like Olgapuri Vocational School, Vocational Diploma Scholarships, and our new SAAET (Sustainable Agricultural and Entrepreneur Training) program!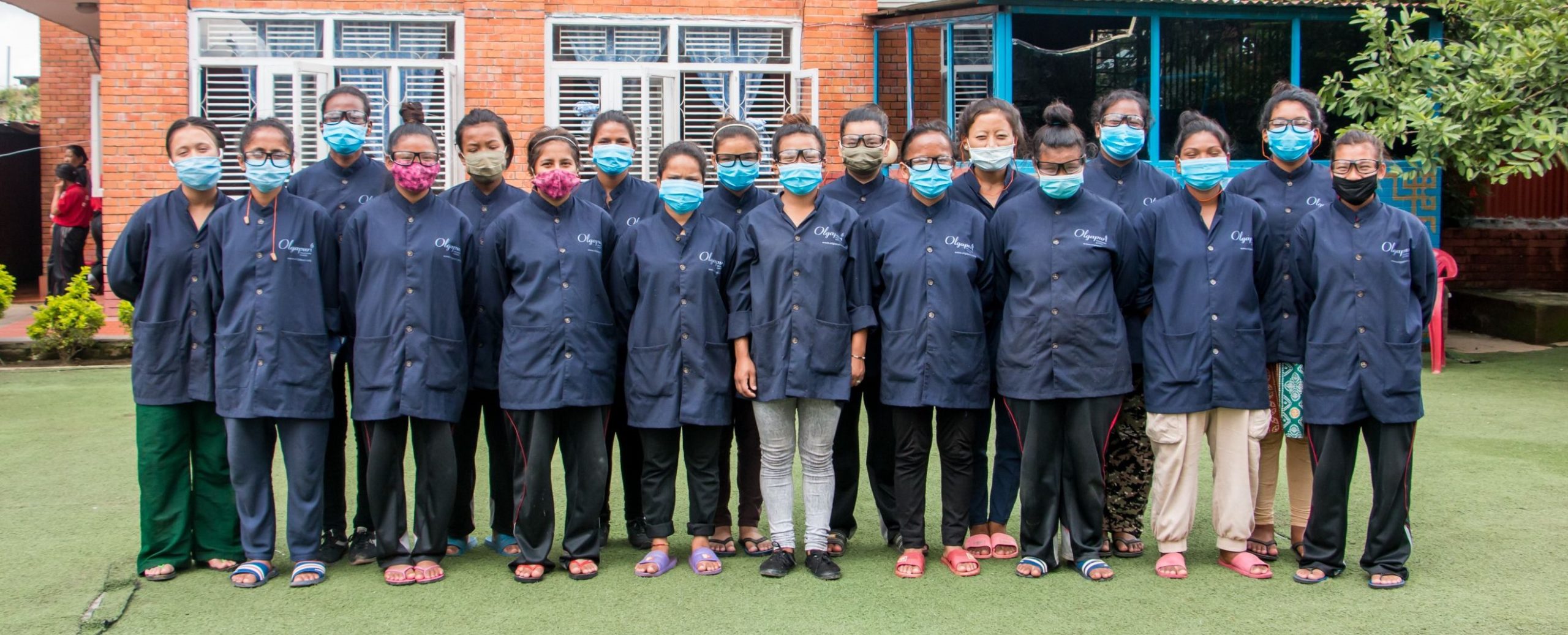 Vocational Education and Career Counseling
Many young people in Nepal are unable to complete their grade school education. Whether due to personal aptitude, economic barriers, inaccessibility, trauma, or other factors, the academic path towards success is sometimes not possible.
The demand in Nepal is high for skilled work. Especially since the 2015 earthquake, many career opportunities exist for welders, electricians, carpenters, woodworkers, and plumbers. During normal years, tourism is also an industry offering strong careers in restaurants and hotels. These careers pay much more than the backbreaking daily labor many Nepalese young people find themselves taking—the labor many of them watched their parents perform for decades while never being able to build wealth and prosperity.
However, though the demand is high for these skills, Nepalese companies often struggle to find qualified, trained local young people. As a result, workers from India and other countries fill so many of these high-paying positions.
Meanwhile, young Nepalese men and women can often only find job prospects beyond their country's borders and far from family, where language barriers and other factors make them vulnerable to exploitation. These overseas positions separate families for months on end and provide workers with barely enough money to get by.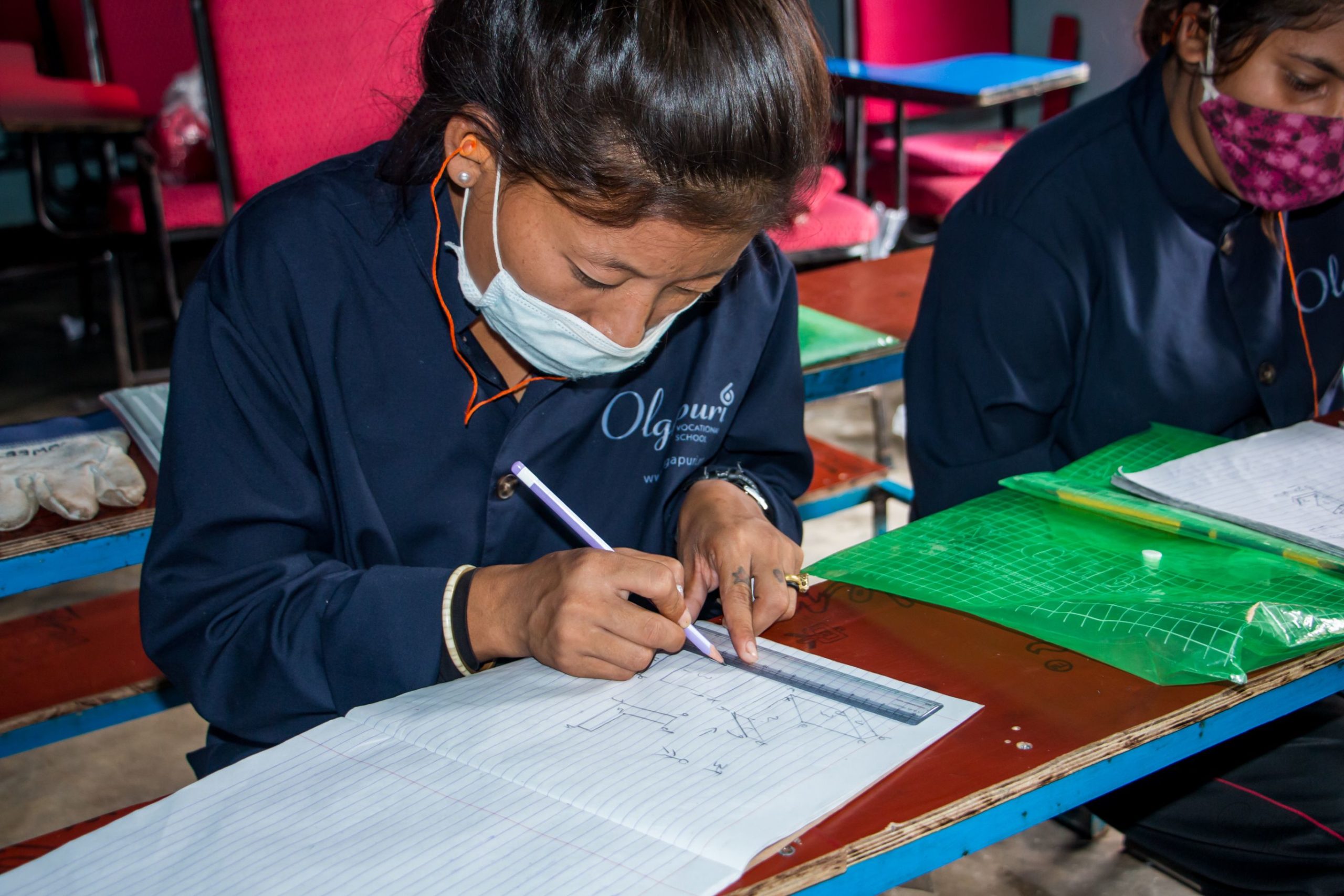 Even for more traditional Nepalese paths, like those in agriculture, valuable modern innovations exist that can raise crop yields and strengthen individual efficiency. But individuals must learn these innovations, and many in Nepal's rural farming communities have limited access to this information.
In recent years, NYF has been working to expand access to career opportunities for Nepal's young people.
Our Vocational Education and Career Counseling program provides young men and women with incredible opportunities. Those in our programs receive intensive skills training from expert instructors, entrepreneurship guidance, small business admin and accounting lessons, resume-building and job search support, start-up microgrants, and connections to other young adults on similar paths towards personal economic empowerment.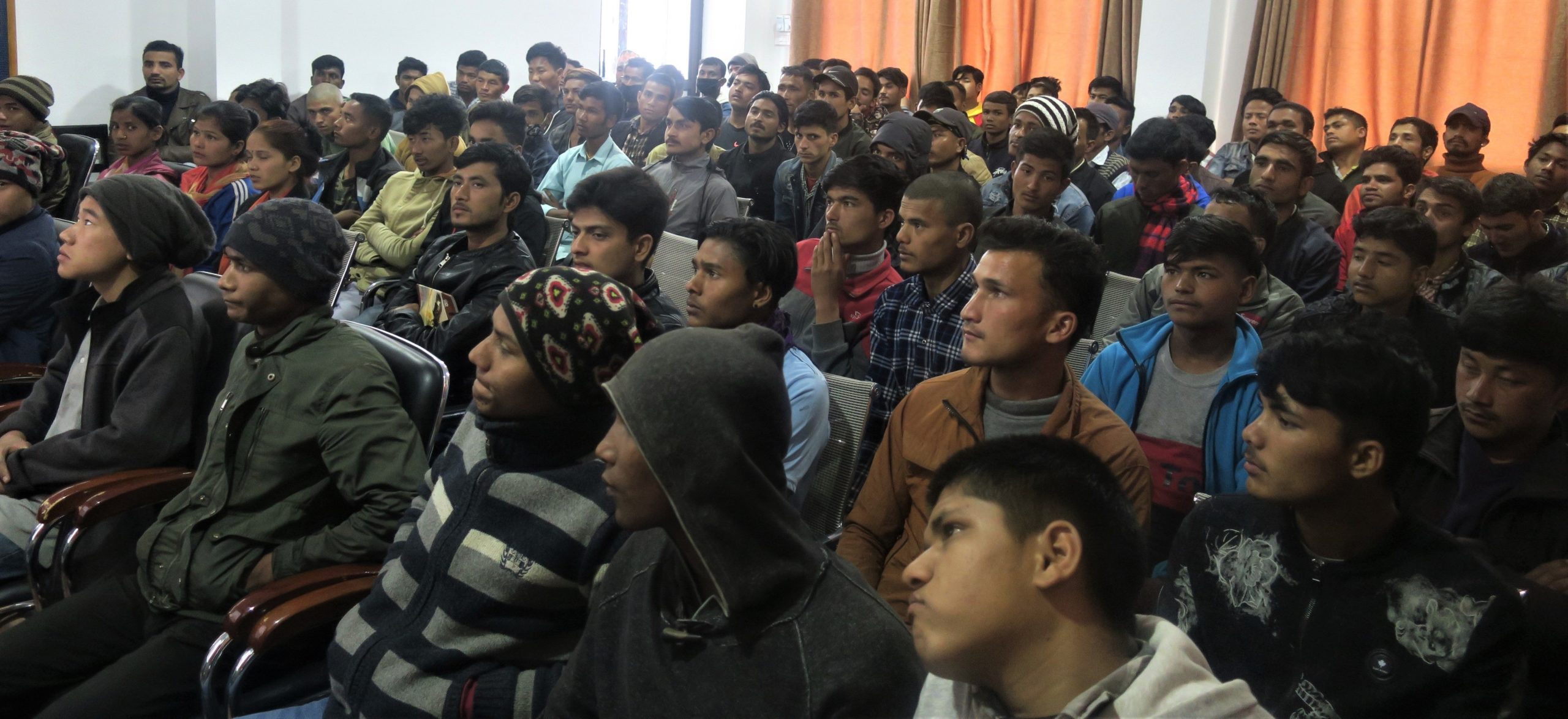 Olgapuri Vocational School
Olgapuri Vocational School (OVS), located on the Olgapuri campus in Kathmandu Valley, brings 20-student classes of men and women together for 3-month certification programs in electrical, plumbing, carpentry, welding, and more. Programs shift to match needs NYF has identified through contacts at major Nepalese companies. We also offer specialized courses in fields like industrial tailoring or special agricultural topics including unique crops (like mushrooms or henna) and innovations (including greenhouse technology).
In normal years, around 90 percent of OVS graduates are employed in their chosen fields within six months.
During most of the pandemic, students have been unable to come to OVS due to travel and safety restrictions. Instead, we have begun taking OVS to rural communities as we launched our Satellite Olgapuri Vocational School program.
Instead of bringing individuals from multiple villages to Olgapuri Vocational School, we sent our trainers—fully equipped with the necessary tools and equipment—out to quarantine in individual villages, conducting the training there before moving to another village.
Soon after launching, municipality offices and schools began reaching out to request these satellite trainings. Requests arrived from all over: including a girl's school, a children's home, and an addiction recovery center for young adults.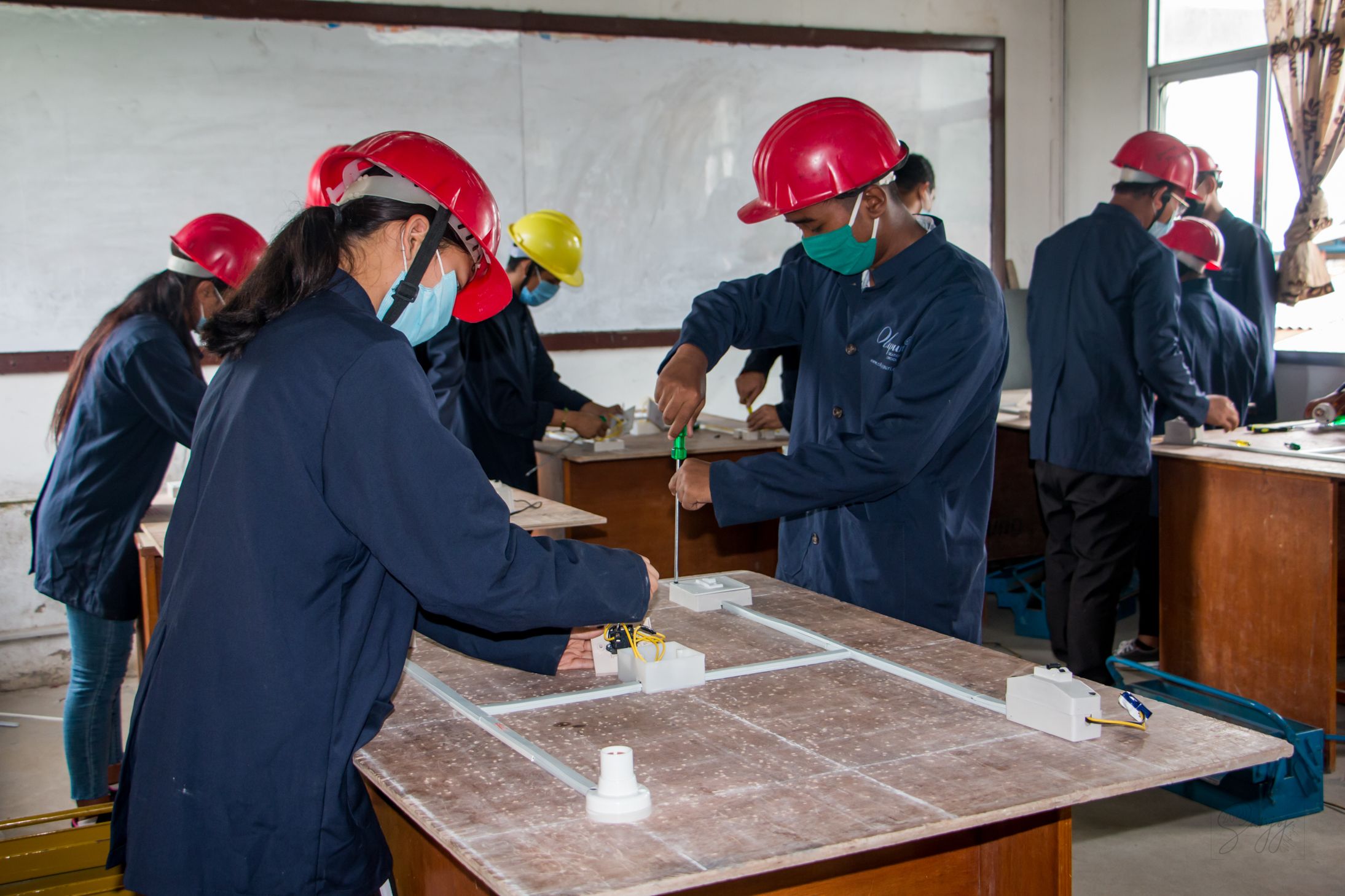 In the final half of 2020, we were able to conduct Satellite Vocational Training courses in nine villages.
A total of 255 students received a full course of training in electrical, plumbing, carpentry, or welding by the end of 2020. Of these, 77 were young women—a higher rate of interest than we usually see. NYF believes this is because the satellite version allowed students to study their new skills without leaving their home villages. This insight is informing the development of new vocational education programming especially for young women.
Empowering Freed Kamlaris
Young Tharu women associated with our Empowering Freed Kamlaris program are still eligible for special skills-based trainings held in their native Terai region of Nepal. Most of these women join our "Tea and Snacks Shop" training program, which teaches the principles of small business ownership and provides start-up funds for each woman to open her own roadside business. Graduates of this program have used their proceeds to buy livestock, to purchase farmland outright, or to educate their younger siblings. Some have even hired their parents or husbands to run secondary locations! In 2020, even through the pandemic, 334 Freed Kamlaris received skills-based training.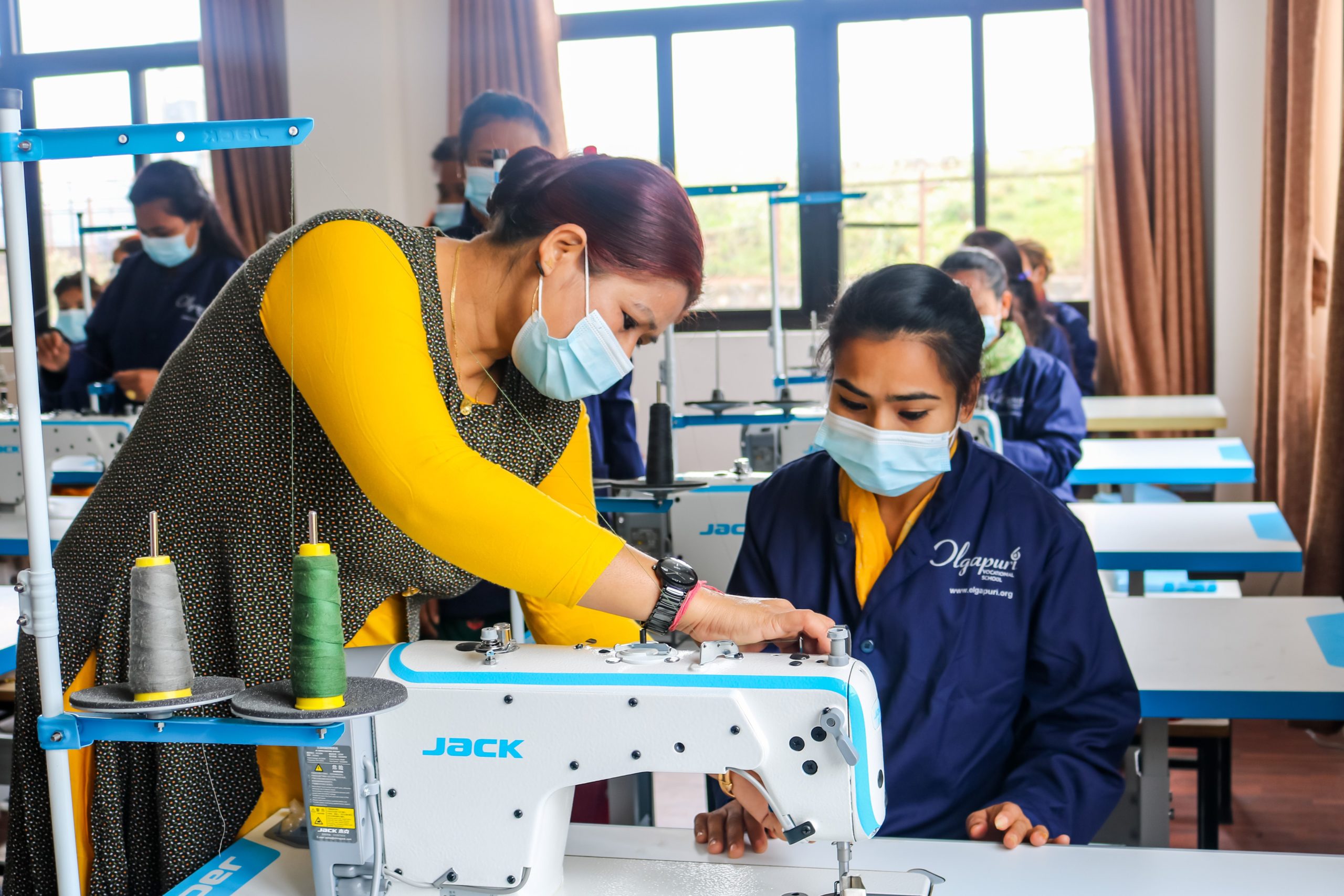 Vocational Diplomas
Finally, young people may receive NYF scholarships for earning Vocational Diplomas at long-term technical institutions. Careers may include nursing, engineering, agriculture, the culinary arts, and hotel management. During our 2019-2020 year, 54 students received vocational scholarships, with 9 individuals graduating.
SAAET (Sustainable Agricultural and Entrepreneur Training)
Saaet means "an auspicious moment of starting a new journey".
As part of NYF's commitment to helping young Nepalese women build personal economic prosperity and to provide an alternative to child marriage in rural communities, we introduced a new vocational education project in 2021. Called the SAAET Project, or Sustainable Agricultural and Entrepreneurship Training, this satellite-type vocational education program teaches young women how to build and maintain greenhouses, use best organic farming practices within them, and to run a greenhouse-based business.
The program launched on March 22nd with 21 young women (all of them Freed Kamlaris) in the first round. These women learned modern, sustainable methods for producing increased vegetable yields with smaller spaces and reduced labor—and many of them have already built their own greenhouses and planted their first crops. They are looking forward to sharing what they've learned with their friends and neighbors!
Visit https://nepalyouthfoundation.org/saaet-project-intro/ for more information!
June 24, 2021
Frontline Warrior: NYF's Lila Tharu Celebrates Freedom Day by Saving Lives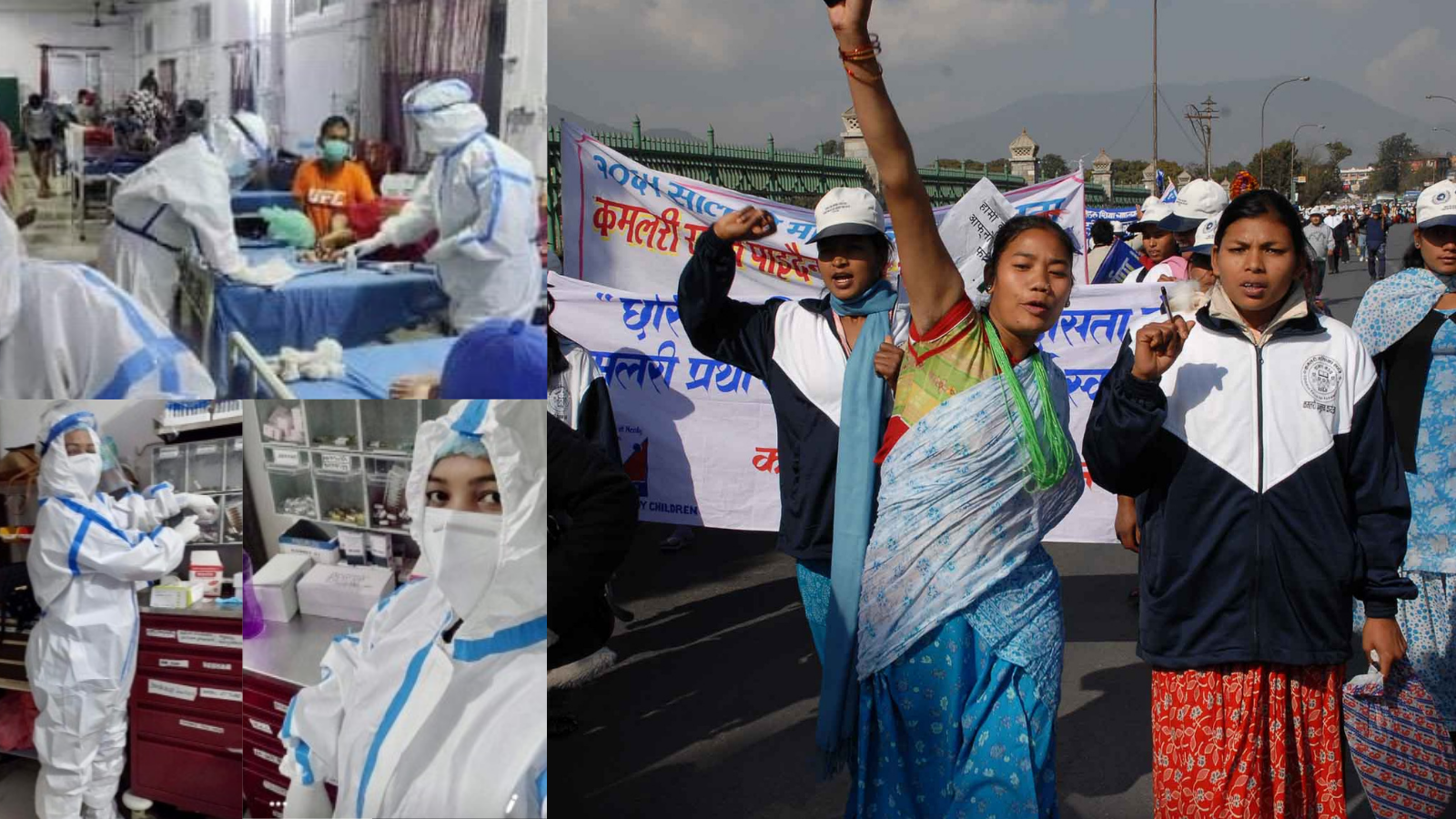 Frontline warrior healthcare workers across the world have spent nearly 18 months battling COVID-19 to defend their communities. These heroes have saved countless lives during the pandemic.
For one of these warriors, Lila Tharu, age 26 (below), her status as a nurse and midwife is a source of particular satisfaction. NYF is proud to count Lila among our many accomplished alumni now to heal their communities during this crisis.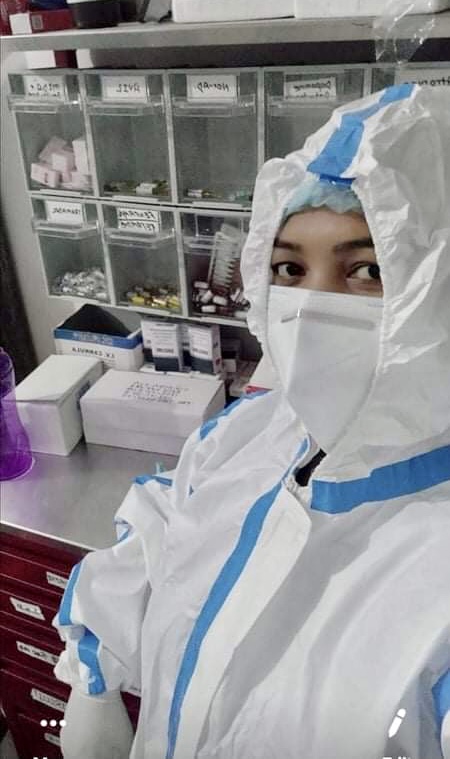 Kamlari Freedom Day
June 27th, 2021 marks the 8th anniversary of the legal abolition of the kamlari practice in Nepal—otherwise known as Kamlari Freedom Day.
Kamlari was a form of indentured servitude which exploited the daughters of the Tharu ethnic minority group in Western Nepal's Terai region. After generations of predatory lending by more powerful "land-owning" groups, the practice emerged as the only way for families to pay back exorbitant generational debts.
At every Tharu New Year, parents sold their daughters—some as young as six years old—to work long hours in the homes of strangers. In return, families would receive an average of only $30 for an entire year of their child's labor. Thousands of Tharu girls spent their entire childhoods in kitchen slavery. Some never returned home.
To people in the Western Terai, the kamlari practice had come to seem inevitable. It was a baked-in cultural truth that very few people dared to question.
Lila Tharu – Kamlari Life, Rescue & Education
Lila was born in Thakurbaba Municipality in Bardiya District. When she was 12, Lila was sent away to work as a kamlari in 2005. Her two older sisters had also worked as kamlaris.
After two years working in her master's house and being denied an education, Lila was identified and rescued by Nepal Youth Foundation in 2007. Through the Indentured Daughters program, her family was provided with economic support to offset Lila's lost "wage." It also included the materials needed to allow Lila to return to school: a kerosene lamp to study by, a school uniform, notebooks, and more.
Lila was a determined student who dreamed of becoming a midwife. Soon after her rescue, she enrolled in grade 7 at a local school. She completed high school (10th grade at the time in Nepal) in 2012, passing her country's notorious SLC "Iron Gate" exam. Lila earned a place in the Auxiliary Nurse Midwife program at Sushma Koirala Memorial Institute in Nepalgunj. NYF provided her with a college scholarship throughout her studies.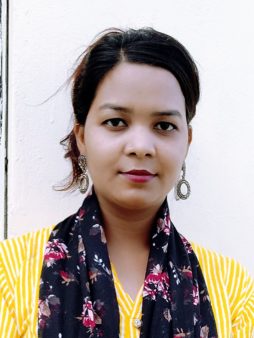 NYF continued to provide career support as Lila began her nursing career in a private hospital in Banke District. And in November 2016, she finally landed her dream job as an Auxiliary Nurse Midwife at Bheri Hospital in Nepalgunj, the largest government hospital in the region. She has remained there ever since, continuing her education by taking Nursing Care and Skilled Birth Attendant trainings to further enhance her skills.
The salary she brings home each month is far beyond what members of the Tharu community thought possible for one of their daughters only 10 to 20 years ago. Not only is Lila serving a critical role in her community's health system—she is proving the incredible potential within a Tharu girl.
Lila Tharu – Frontline Warrior
At the beginning of 2020, Lila was living at home with her mother while continuing her career. Lila's father had passed away years before, and her two sisters were now married.
Things changed in Lila's work life when the pandemic hit. She was added to a special COVID treatment team early on and assigned temporarily to nearby Sushil Koirala Cancer Hospital in Khajura. This hospital had been set aside especially for COVID patients. Lila worked there for several weeks during the pandemic's first wave. She also served COVID patients in mandated isolation in a Kalpatri hotel during this time.
Now, during Nepal's intense second COVID wave, Lila's hospital in Nepalgunj is at the epicenter of the crisis. Many young people from Western Nepal cross the border into India to find work. When the virus surged in India earlier this year, they fled back north to escape the pandemic—not realizing they were bringing the virus home with them.
Bheri Hospital now has four dedicated COVID wards. Lila (below, in white at far right), who has valuable COVID Care experience from 2020, is a frontline warrior in one of them.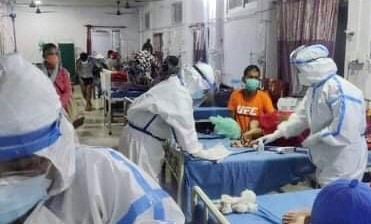 She is hard at work monitoring her patients' vital signs, measuring oxygen levels, and providing intravenous therapy and medicine, as well as other critical care. COVID death rates for hospitalized patients are frighteningly high everywhere, and Lila's ward is no different. During this second surge, they have lost an average of 3-4 patients per day. But Lila tries to remember the lives she has helped to save as well. Many of her surviving patients would not be able to return home if not for her.
In spite of rigorous safety protocols, Lila herself caught COVID in the spring, like many other frontline warriors across the world. Fortunately, her symptoms were mild. After a short isolation, she returned courageously to the COVID ward to continue her lifesaving work.
She will continue this work until her expertise is no longer required in the COVID ward. She (below, preparing medicines for a patient) is proud to be doing this important work in her community—and grateful to the NYF Community for making her journey possible.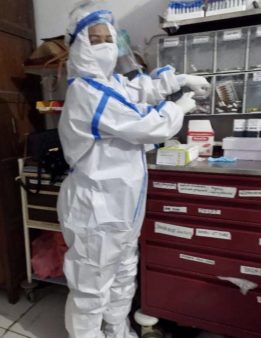 Just One Story of Thousands
Lila says she was afraid when the virus first arrived in Nepal. But now, she is extremely dedicated to the community she serves. Her courage is nothing new to NYF.
Like the other Freed Kamlari women, Lila had already experienced intense hardship and taken many daring steps before COVID arrived. Together, while most of them were still children, these girls dared to challenge their communities, abandon their masters, question their culture, and declare their own worth. Many of them returned home to families who resented them for taking such bold steps. Others were injured while marching for kamlari freedom, as police objected to the girls' protests against the government.
Lila is one of thousands of Freed Kamlari who refused to stop simply at being rescued from an exploitative practice.
She and so many others have claimed their personal power by seizing educational opportunities and chasing their dreams – and working to lift their sisters and daughters in the process. Some are becoming lawyers, determined to defend human rights. Others have become small business owners or specialized farmers, gradually building personal and generational wealth in ways their parents could not.
And some, like Lila Tharu, dreamed of helping others in the healthcare field. They've grown up to be frontline warriors in a global crisis they never imagined.
Happy Kamlari Freedom Day, Lila!
Happy Freedom Day to ALL of the Freed Kamlaris
and to the young girls and women who will never be bonded away!
And Happy Freedom Day to the NYF Community—to everyone who helped support this incredible program. Lila's story, and so many others like it, are proof of the amazing way your #LoveWorks.
Celebrate with NYF today.
To help celebrate this joyous occasion and support the education of brave young women like Lila, please make a thoughtful gift for NYF Scholarships or our Vocational Education program on our donation page. Additionally, join the NYF Community by signing up to receive emails here.
June 17, 2021
Nepal's Second COVID Surge Continues – New Updates from Som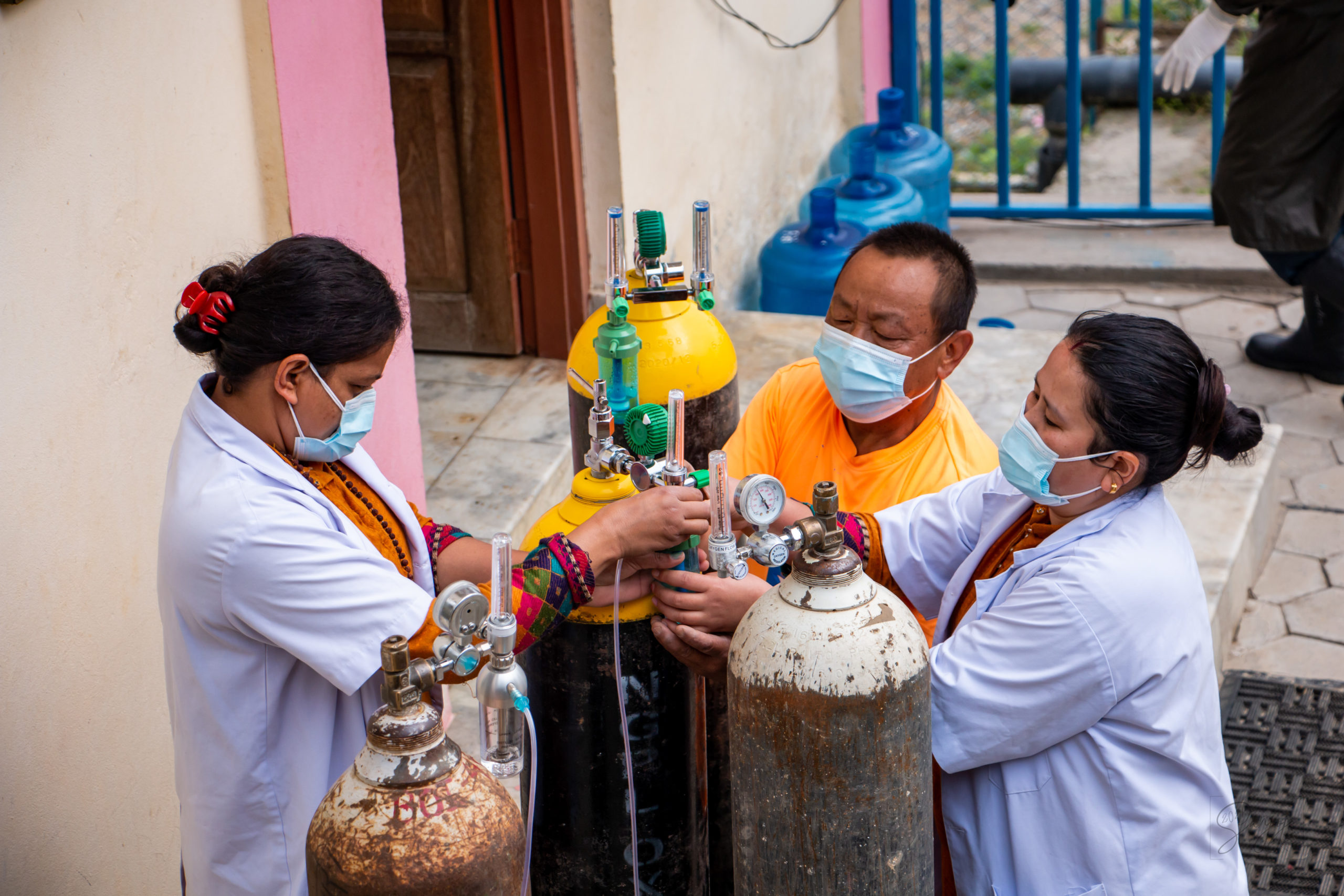 Nepal's second surge of COVID-19 seems to have calmed, but the danger has not passed. This week, NYF president Som Paneru has given the US team an update from his vantage point on the ground in Nepal. (Below, Nutritional Rehabilitation Center staff members arrange precious oxygen cylinders for use in the COVID Isolation Center.)
For details about the impact this most recent crisis has had on our work providing Health, Shelter, Freedom, and Education, please click here. Thanks to the dedicated and compassionate team in Nepal, the children in NYF's care remain safe and healthy!
COVID in Nepal – the Second Surge
Som's description of Nepal's lockdown is intense: essential food outlets are only open for a couple of hours each morning, with the remaining businesses completely closed down to slow the spread. Transportation, both public and private, is halted. Only vehicles for essential services are allowed in the street.
Domestic flights are completely grounded, and only four airlines are allowed to operate international flights. Even these occur only once a week. The passengers are very carefully selected and are either Nepalese citizens returning home or aid workers. Chartered flights arrive periodically, bringing relief materials.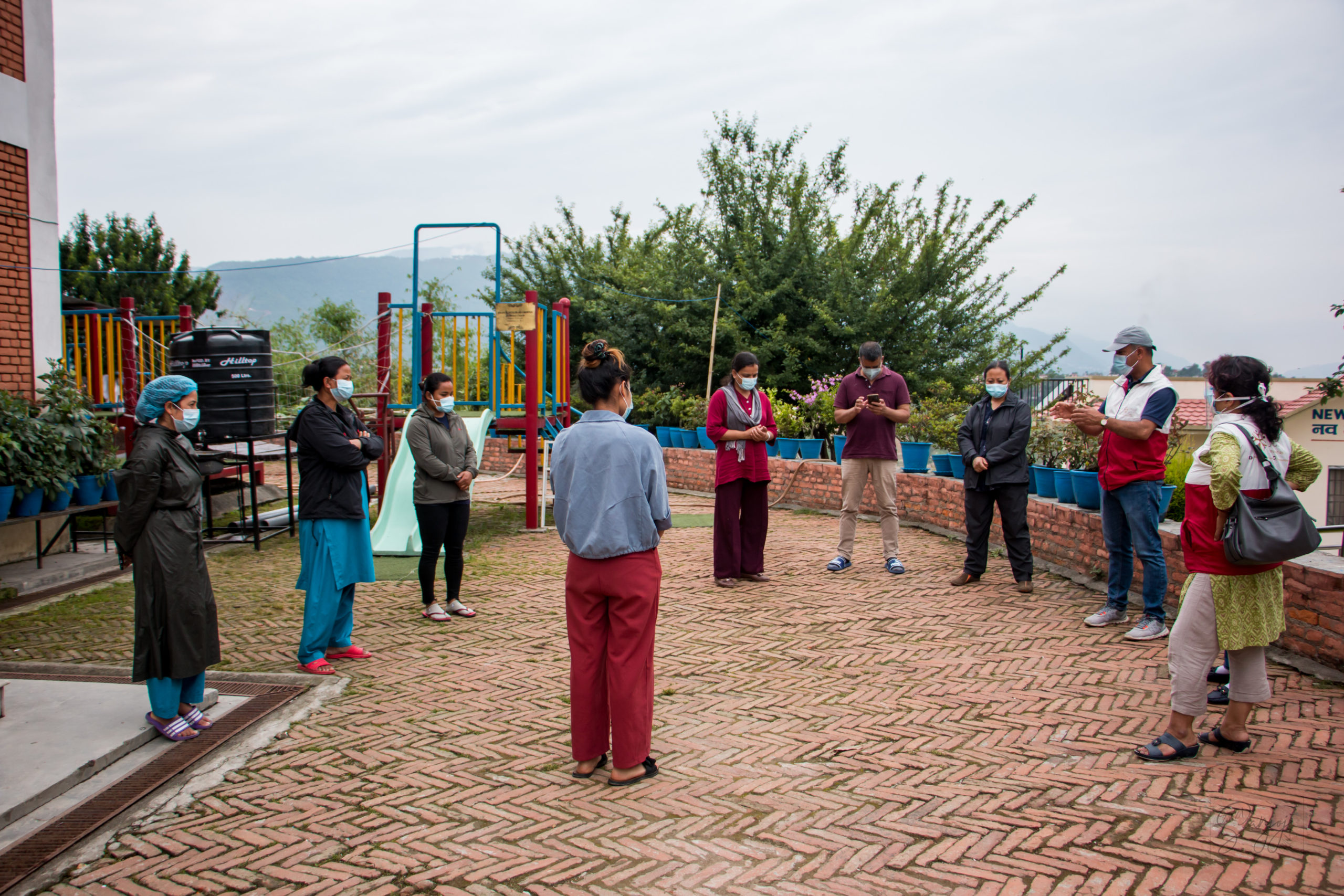 The infection rate is beginning to drop, as is the reported death toll. Som reports that the hospitals are less overwhelmed, and for the moment, there seem to be enough hospital beds for the current patients. (Above, Som and the Nutritional Rehabilitation Home team meet outside to receive up-to-date information.)
However, different from last year, the virus has now reached into very rural areas. Here, people do not have access to COVID tests, and they often do not go to hospitals, making accurate tracking and reporting impossible. Some hospitals in Western Nepal, the epicenter of the current surge, report that they are seeing fewer people arrive – but those who do are arriving from very rural areas, and in critical condition.
These new developments will impact NYF's planning and programming as we proceed into the coming months.
And of course, the halting of economic activities during this extended lockdown is once again worsening human suffering. Families are struggling to make ends meet, hunger is on the rise, and individuals with chronic medical conditions are unable to access care.
But the vaccine situation in Nepal is dire. At the beginning of 2021, vaccine donations arrived from China and India – but future vaccines promised by India never arrived, leaving many people throughout Nepal only partially vaccinated with the first dose of AstraZeneca. Another one million doses have arrived from China, with more donations pending from the UK, Denmark, and the United States, but distribution will be challenging in the midst of this surge. Rural populations will be especially difficult to reach. (When vaccines first arrived in Nepal, front line workers were prioritized, so NYF staff members working with COVID patients have received their vaccines.)
Time to Prepare
Public health officials are predicting a third wave in the fall, with children likely to be impacted more than in the past two surges. The Nepalese government has already warned hospitals, urging them to prepare pediatric ICUs. Ideally, hospitals will prepare at least 25% of their existing ICU beds to suit children.
NYF is taking this warning seriously, planning ahead using lessons learned during this second surge.
Especially in Nepal's urban areas, family homes are often quite cramped, with multiple family members sharing a single bed, and multiple family branches sharing a single residence. In late April, COVID-19 had already reached Nepal from India before the country locked down. This trapped many families in very close quarters with at least one person who was already infected with the virus – and with not enough room for social distancing.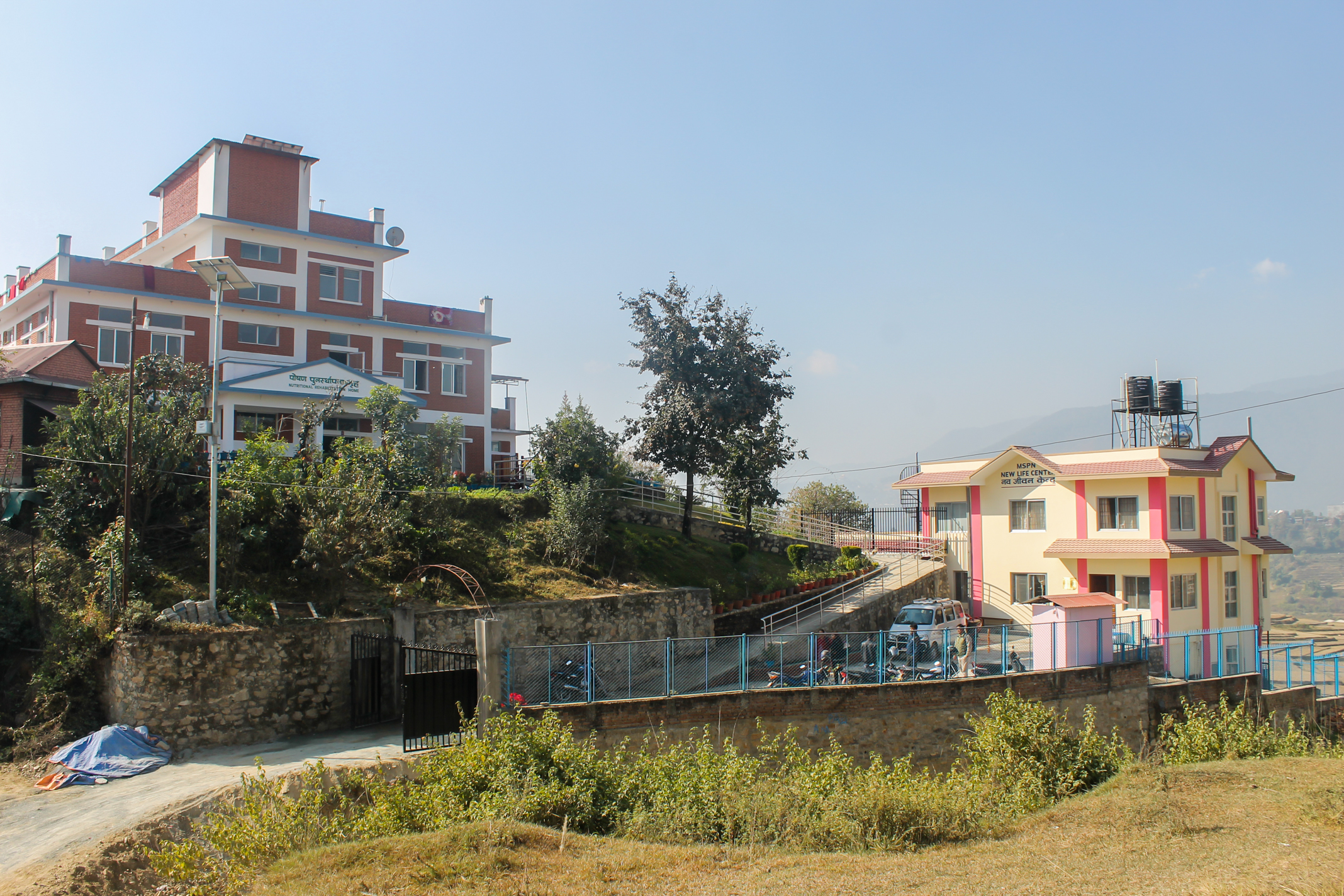 Our COVID Isolation Center (split between our flagship Nutritional Rehabilitation Home, at left in the photo above, and the New Life Center, right) played an important role in slowing the spread in Lalitpur, just outside Kathmandu. But we hope to be prepared to do more during the predicted third surge. Som is working in close contact with local health officials to identify ways we can help lower the risks to families in lockdown and save as many lives as possible.
Emergency Nutritional Care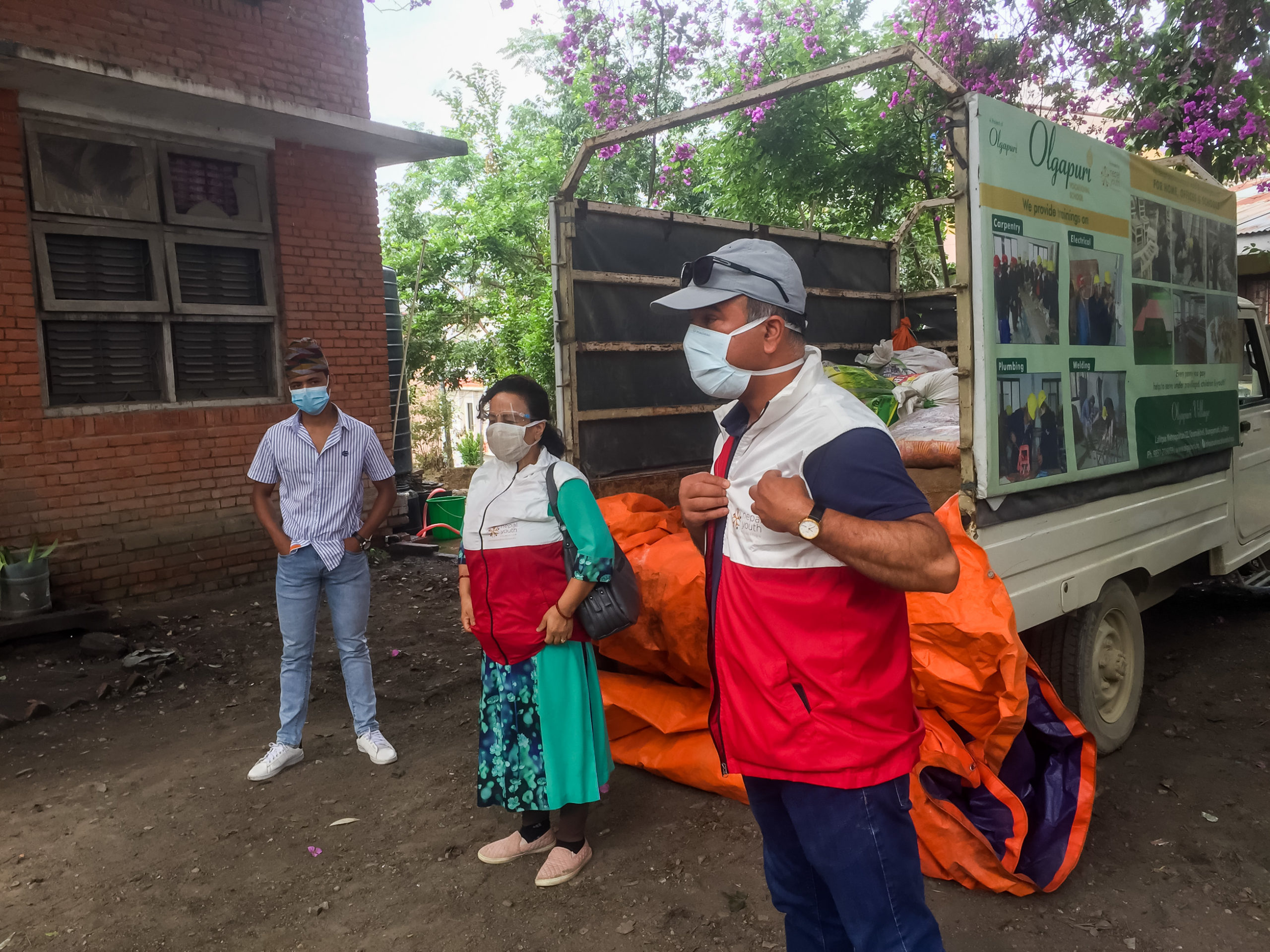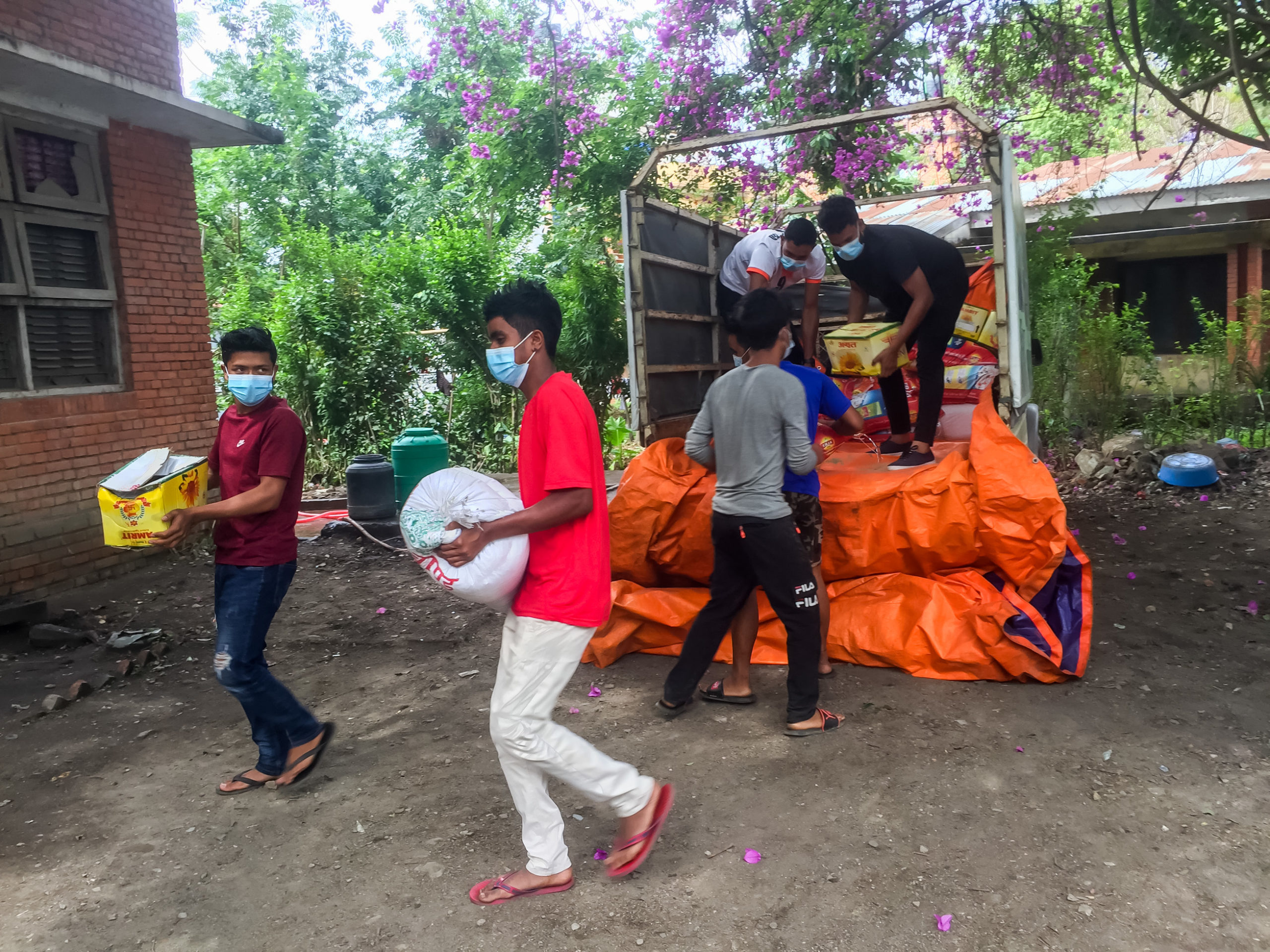 In response to the devastating economic effects of the virus and the extended lockdowns, NYF has expanded our emergency food distribution efforts. We are continuing to run Lito for Life, and we have added food staples like potatoes and other vegetables to our deliveries.
COVID Isolation Center
As COVID-19 tore through Nepal's cities in April and May, hospitals were quickly overwhelmed. Individuals testing positive for the virus were encouraged to isolate at home unless their symptoms became life-threatening.
This approach posed two problems: first, those living in cramped quarters were unable to truly isolate away from their families, and two, many individuals with COVID-19 are unaware of what "life-threatening" symptoms look like. As a result, many people in self-isolation arrived at the hospital too late, and many others unwittingly spread the virus to their loved ones.
Our COVID Isolation Center (in the empty Kathmandu Nutritional Rehabilitation Home and New Life Center) provides a 50-bed space for individuals with COVID-19 who are asymptomatic, or are experiencing mild to moderate symptoms. If symptoms become dangerous, our trained nurses recognize the warning signs right away, and NYF provides a free ambulance ride to the hospital.
In a video made in May, Sajani Amatya shares NYF's gratitude for all those who helped make this swift response possible:
A four-bed High Dependency Unit (HDU) was added as well, providing semi-ICU care to any patients needing to be transferred to a hospital, but for whom a hospital bed had not yet been found. This has been a great life saving addition. Since opening at the end of May, nine patients have received HDU care before being transferred to the hospital.
Most of our patients are under age 18. So far, we have admitted a total of 151 patients, and 115 of them have been discharged after recovering safely. Nineteen individuals have been referred to the hospital, and 17 patients are currently at the center.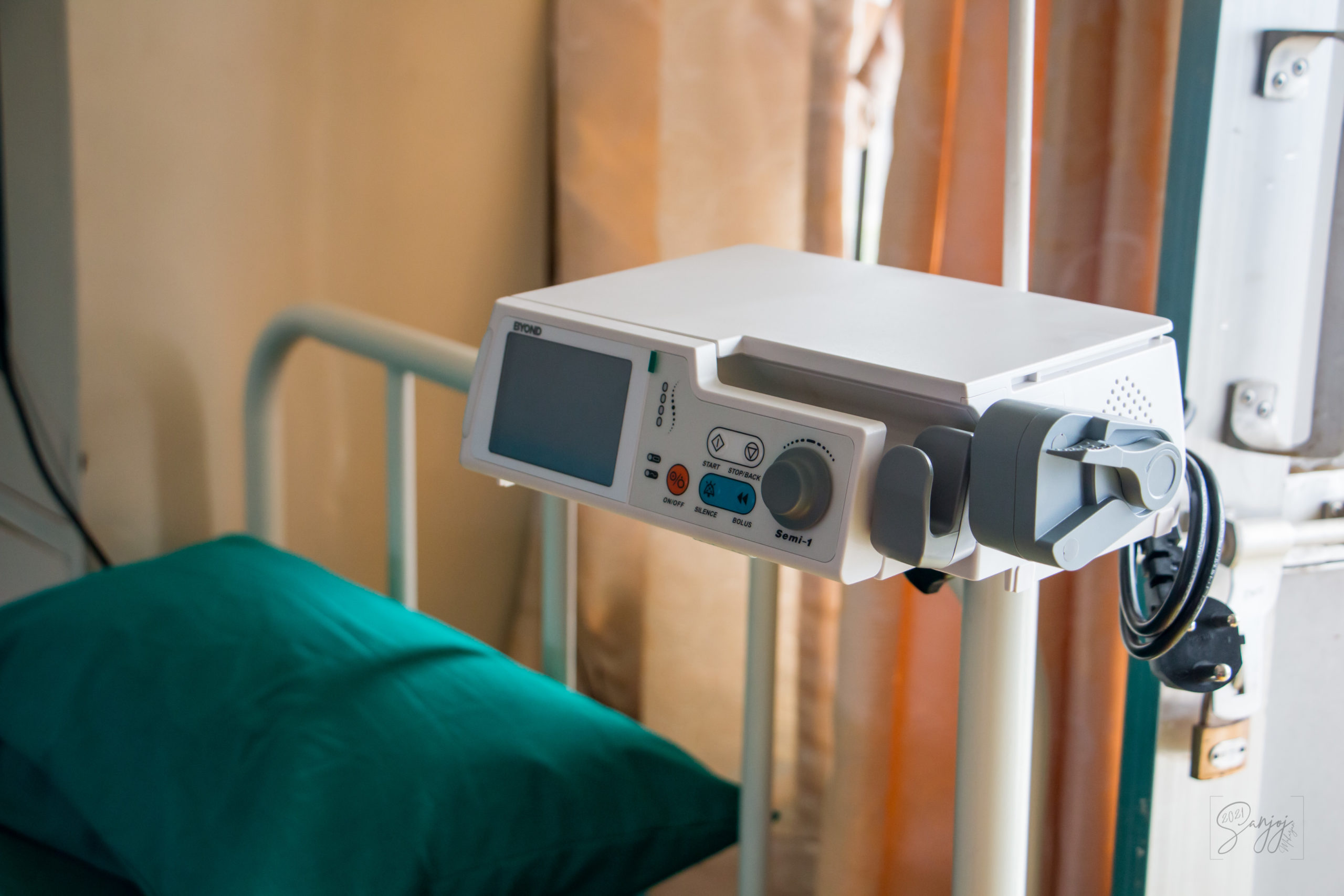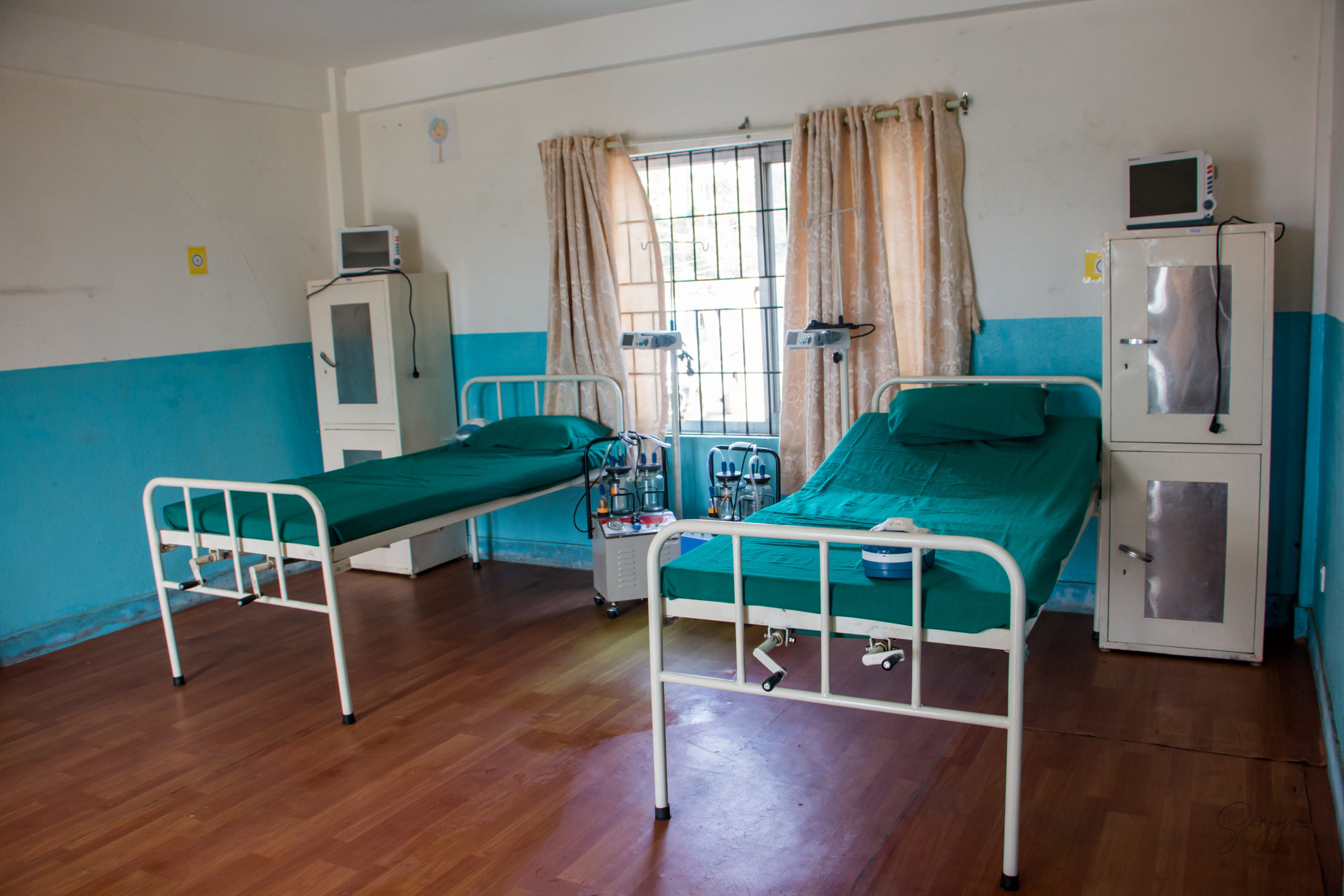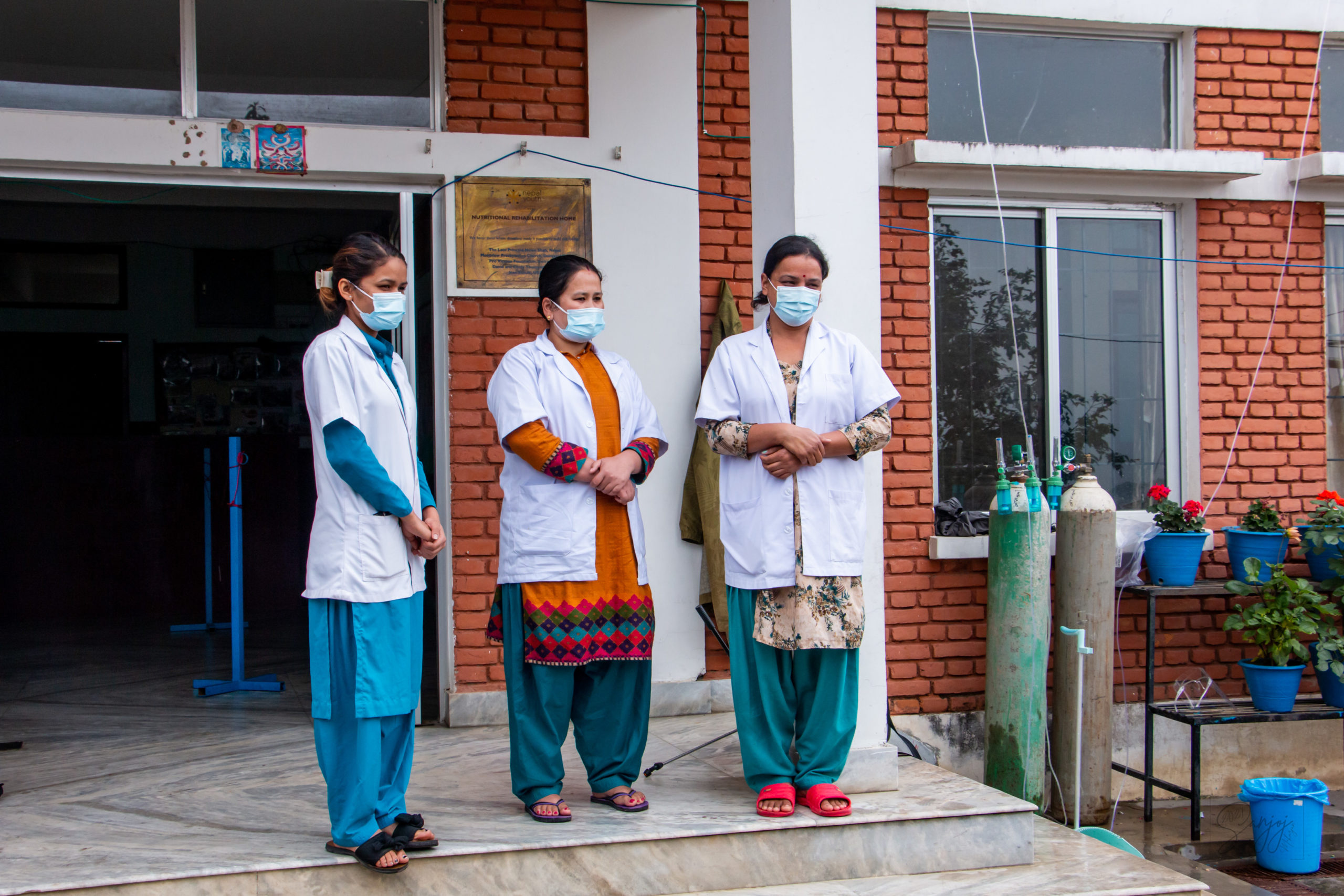 The COVID Isolation Center has also received praise from the National Human Rights Commission, the Women's Right Commission, the District Administration Office of Lalitpur, and even the WHO.
Unrestricted Support
In times like these, even if COVID has provided the inspiration for your gift, the most effective way to give is to provide unrestricted funding. Unrestricted funding allows us to aim each dollar with the maximum flexibility, allowing the needs on the ground to drive our responses as the situation evolves. Unrestricted funding also allows us to continue keeping our promises to the children in our care by ensuring that each of our programs is fully funded and can continue as best as possible throughout the pandemic – and beyond.
To make your generous gift, please click here. Thank you so much for ensuring your #LoveWorks for the children of Nepal!
May 27, 2021
Keeping our Promises – An Overview of NYF Programming During a COVID Surge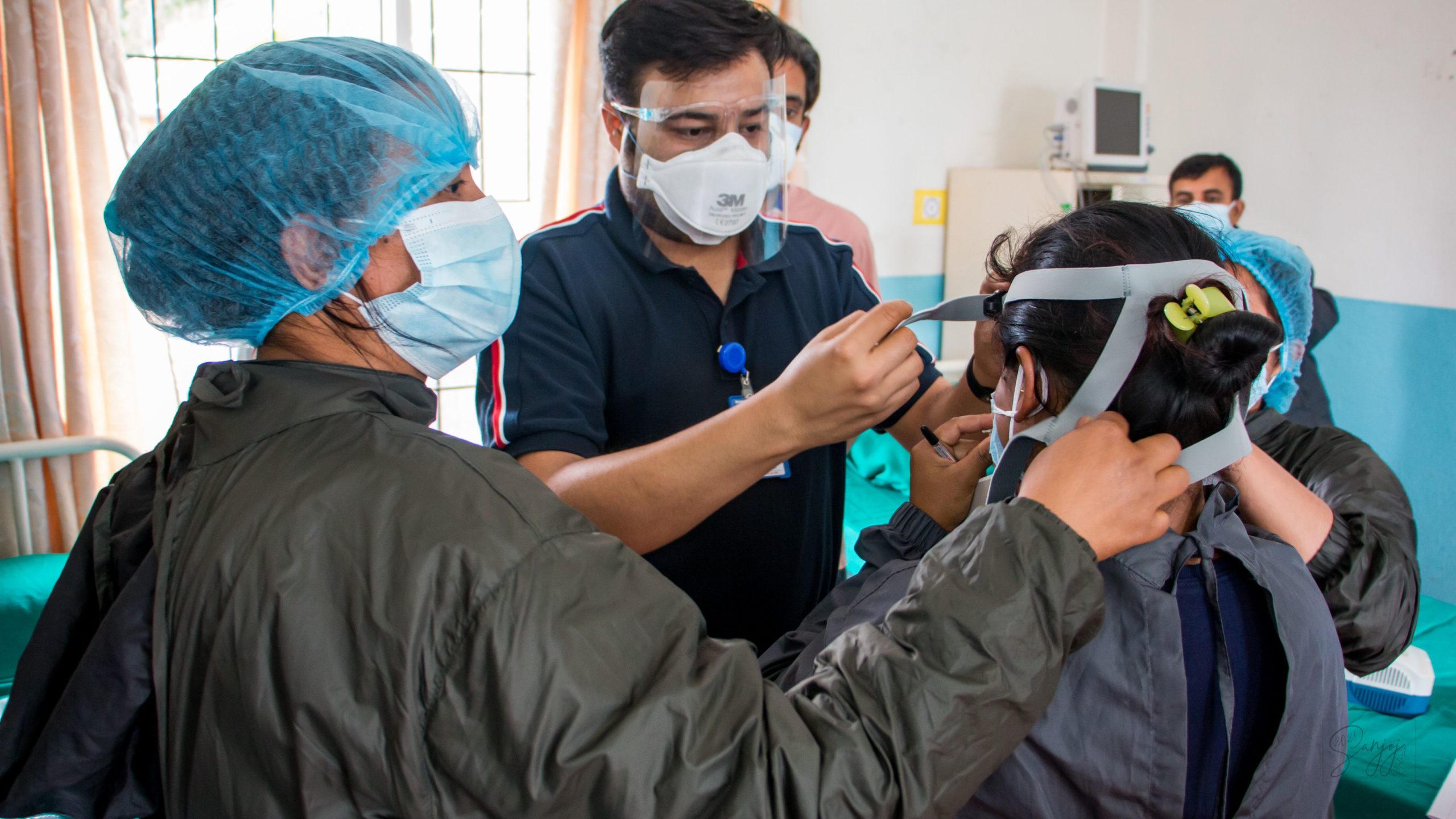 Keeping our promises to the children already in our care is of the utmost importance to NYF in ordinary times. But in these extraordinary times, we're proving our commitment in ways that build trust, enhance lives, and ensure that the NYF community's #LoveWorks.
As a follow up to Som's interviews with the BBC on May 6th and May 24th, our US Team spoke to Som, NYF's president, on Monday evening (May 24th, 2021), to get a broad update on our programs during Nepal's unprecedented second COVID wave.
Here's what we learned:
Regular Programs
When the pandemic first hit in March 2020, NYF pivoted quickly – but those first few months in lockdown weren't easy! (Click here for our COVID timeline.) Like people throughout the world, our staff members and the children we serve had to think creatively to find necessary equipment, develop safety systems, and share information.
Fortunately, after a year of COVID safety measures, this new lockdown in Nepal is easier for our regular programs to navigate. Som says it was very simple for staff members to "switch gears" back into lockdown-mode.
Olgapuri Children's Village – After a brief safe window of returning to school outside of Olgapuri campus, the village is now in strict lockdown again. Olgapuri (below) continues to be one of the safest places in Nepal during the pandemic. You may read more about Olgapuri in lockdown by clicking here.

Ankur Counseling Center – Our counselors at Ankur are continuing to work hard from their home offices, providing regular mental health care to the children in our care, staff members, and others within the community. They have been providing extra support during the second wave to individuals in our COVID Isolation Center as well. (Click here for more Ankur stories!)
Olgapuri Vocational School – Most of the courses planned for this time period have had to be postponed for the safety of staff and students, but one vocational course is actually ongoing!
This group of 20 Freed Kamlaris at Olgapuri Vocational School was nearly through their mandatory quarantine period when the government shutdown began. Since Olgapuri is a completely locked down campus, the young women and NYF staff all agreed that they were safer here than they would be if they travelled home to the Western Terai. Their vocational training program is proceeding almost as normal.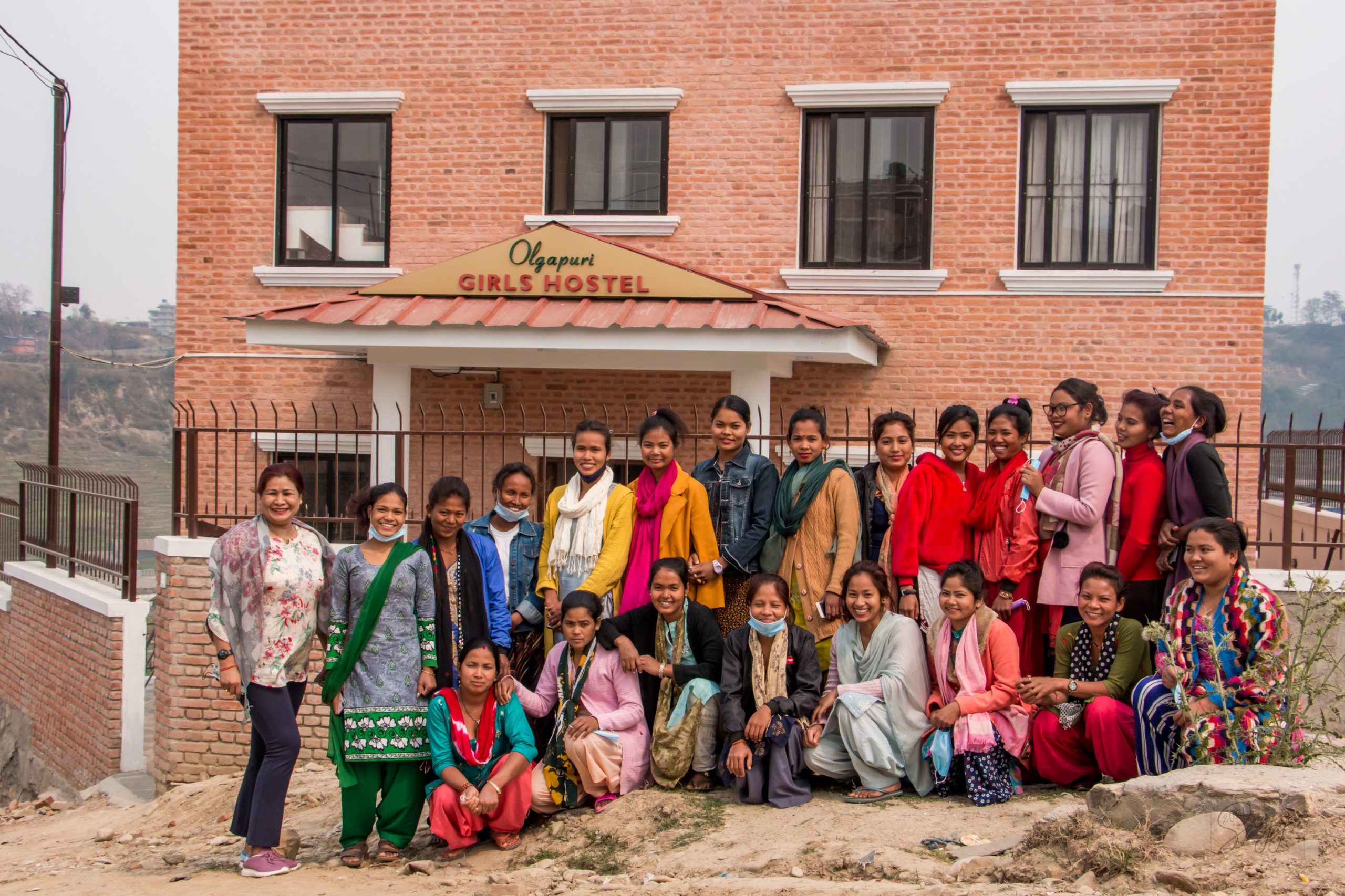 A second program was recently completed in a very remote, isolated village in northwest Kathmandu Valley. The program was well underway when this second surge began, and because the trainer was already in the village with all of the necessary equipment, and because the village is so remote that locking it down was simple, students and NYF staff agreed that this, too, was a safe option for continuing as usual. The new program graduates will be able to put their vocational skills to work once the economy reopens.
As the situation evolves in Nepal, programs like these will be decided on a case-by-case basis, with special care taken to protect staff members and students alike.
Scholarships & Kinship Care – NYF's team has stayed in regular touch with scholarship recipients and families receiving Kinship Care stipends to ensure they are safe, well-fed, and continuing their education as best they can.
Schools around Kathmandu Valley are now able to provide online learning. The main disruption being experienced by our students is exam scheduling, which has been out of sync for over a year. Final exams across the country will be postponed until it is safe for groups to gather again. This may extend the length of some students' studies.
Nutrition – NYF's regular Nutrition staff – those who run the Nutritional Rehabilitation Home in Kathmandu – are currently working completely on COVID response, including Lito for Life and the COVID Isolation Center.
At NYF, we are so grateful for the hard work and dedication that allows these critical programs to continue. Thank you for helping us keep our promises to the children already in our care!
Emergency Programs
Lito for Life – Lito for Life is ongoing. (Click here to learn about this program.) Due to the current surge, no "super flour" is currently being produced, but our stock of already-prepared and packaged Lito is still being distributed, along with other staples like rice and potatoes. To ensure safety, our team members are not making deliveries door-to-door, but we are providing packages to orphanages, children's hospitals, long-term care facilities, food banks, and other locations where individuals can access this critical resource.
COVID Isolation Center – Our Kathmandu Valley Nutritional Rehabilitation Home and the adjacent New Life Center are being used as a COVID Isolation Center for individuals who have tested positive for the virus and are asymptomatic or experiencing mild to moderate symptoms. The resource is designed to allow individuals to isolate away from their families, to slow the spread. Our patients are coming mainly from orphanages, college dormitories and hostels, boarding schools, and housing shared by multiple generations and families within a tight space.
Most of our patients are children and youth, but we serve adults as well. Our youngest patient so far was an 8-year-old girl from a local orphanage, who was isolating with us to protect her 50 friends at home. Our oldest patient so far was a 73-year-old man. He has recovered and returned home to his family.
Many individuals who are isolating at home do not recognize when their symptoms have become too dangerous – and by the time they reach the hospital, it is too late to save them. At our COVID Isolation Center, patients are under the observation of trained medical professionals who know when an individual needs care in a hospital setting. The ambulance ride to the hospital is provided free of charge.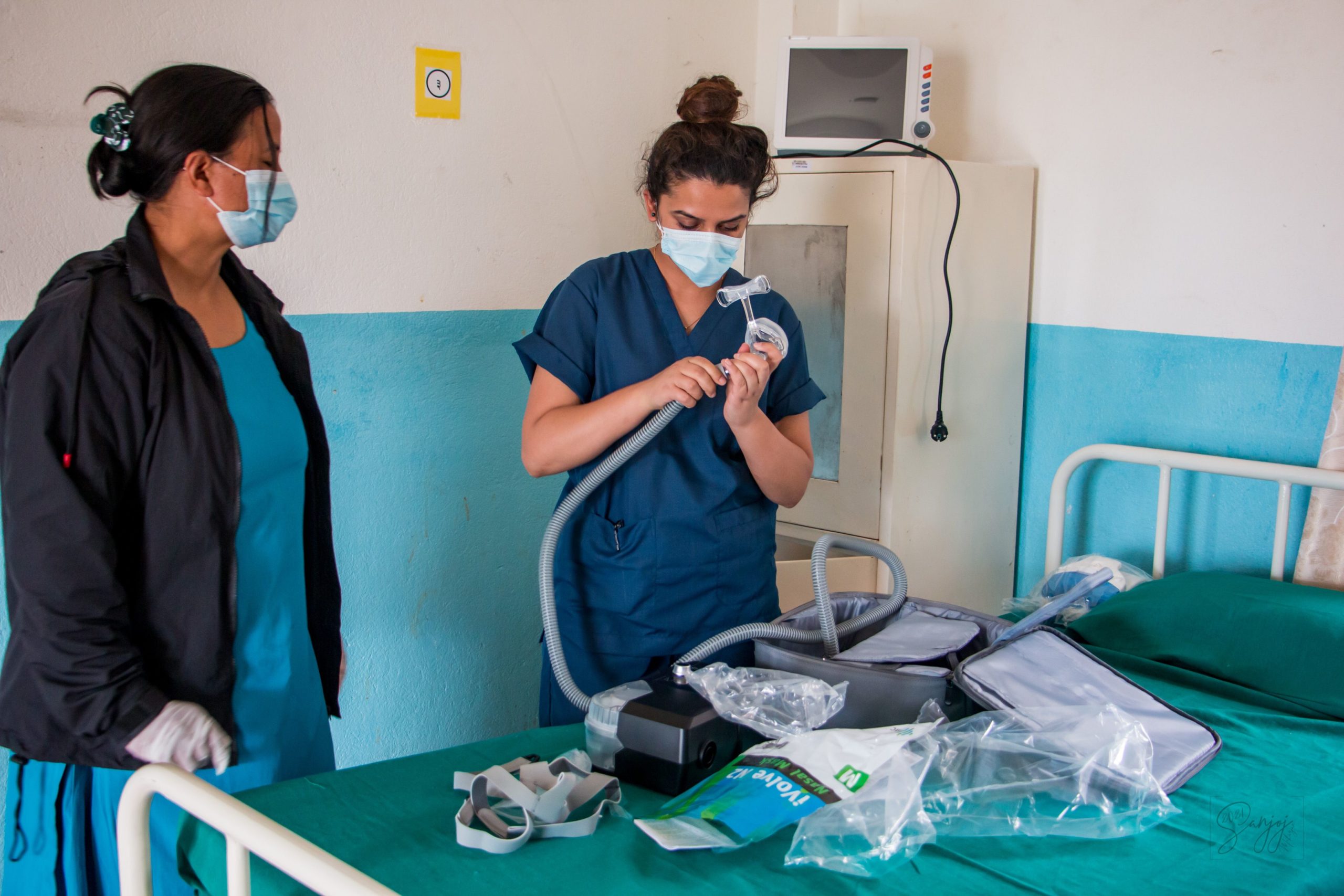 This week, our staff members received special training from a local doctor and his team to ensure that these patients stand the best chance possible as they wait for an available hospital bed to be located. Four beds at the COVID Isolation Center are being set aside for a "High-Dependency Unit" or HDU (above). Patients in need of hospital intervention will be moved to this area and held here, under stabilizing, high-level care and using special equipment, until NYF is certain a hospital ICU bed has been found for them.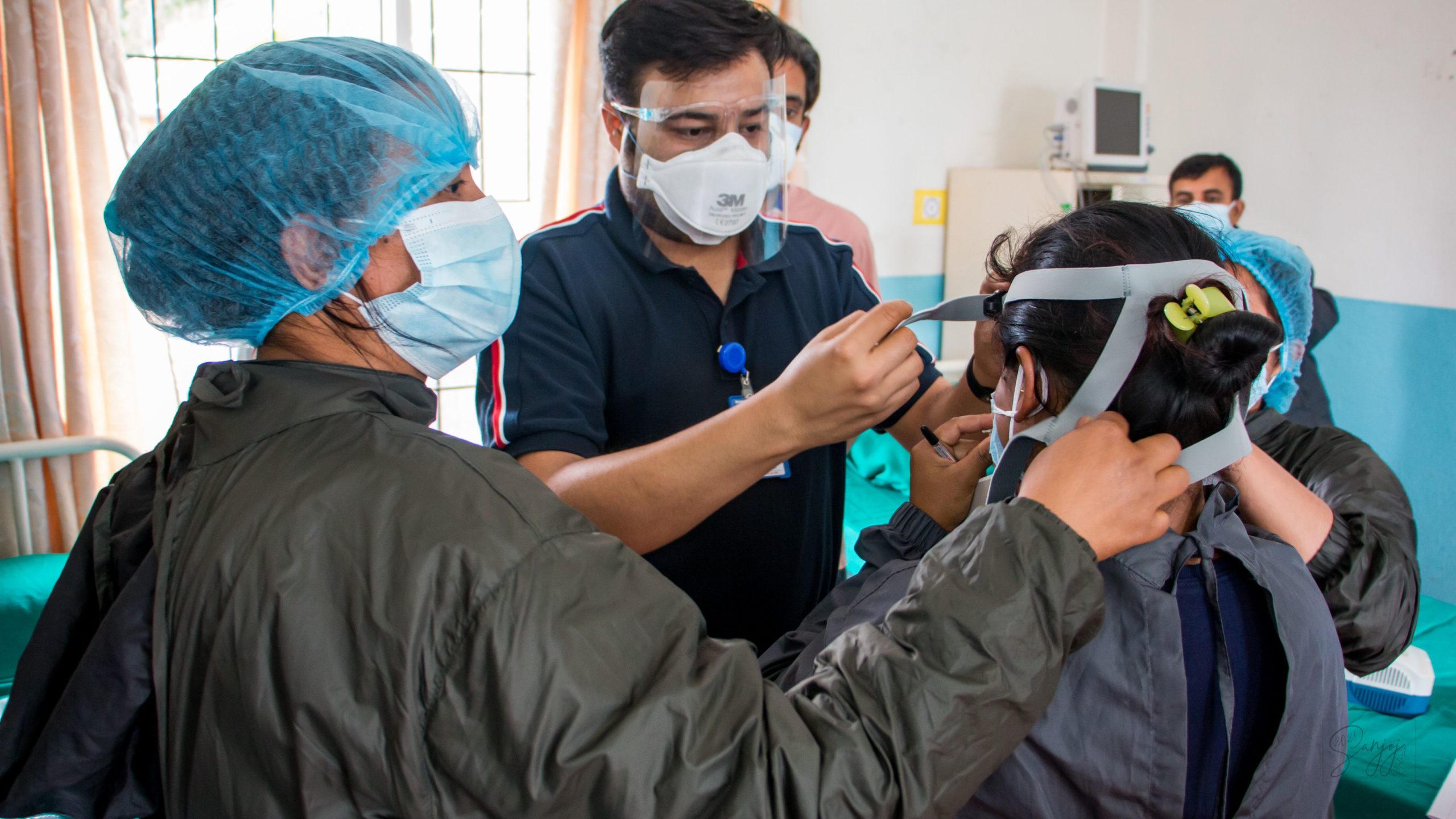 We are looking forward to sharing more about this work soon!
What Comes Next?
The situation in Nepal is evolving quickly, and NYF is working to develop solutions as part of the broader Nepalese community. Som is working with government health officials in Kathmandu Valley on ways to support families who are isolating at home. We hope to share more about this soon!
Here is some good news: Som tells us that, thanks to awareness of the oxygen shortage in India, hospitals in Nepal have received a generous outpouring of oxygen resources from around the world. More vaccines are on the way. And aid is arriving from multiple governments, as well as from the UN.
Experts are warning that a third COVID wave may be coming for Nepal in October and November – just in time for the beloved family-centered festivals of Dashain and Tihar. With younger people being impacted by this second wave (most COVID deaths in Nepal are between ages 20 and 50), the concern is that children may be next. NYF's global team is preparing for this, continuing to develop plans and expertise to meet this moment (and the next) with strength and agility. We are so proud of our team members who are continuing to learn new skills as this crisis continues to unfold.
And we are also proud of our team members in Nepal – house parents, nurses, tutors, instructors, cooks, drivers, counselors, administrators, and more – who are working so hard to continue keeping our promises to the children in our care.
Donations
We at NYF are so grateful for every single thoughtful gift we receive, whether for a specific program, a sponsored student, a piece of equipment, or "our greatest need." Dhanyabad to everyone who has given! Your generosity is a true inspiration.
In times like these, even if COVID has provided the inspiration for your gift, the most effective way to give is to provide unrestricted funding. Unrestricted funding allows us to aim each dollar with the maximum flexibility, allowing the needs on the ground to drive our responses as the situation evolves. Unrestricted funding also allows us to continue keeping our promises to the children in our care by ensuring that each of our programs is fully funded and can continue as best as possible throughout the pandemic – and beyond.
To make your generous gift, please click here. Thank you so much for ensuring your #LoveWorks for the children of Nepal!
May 24, 2021
Nepal's COVID "Humanitarian Crisis is Rising Very Fast" – Som Speaks to the BBC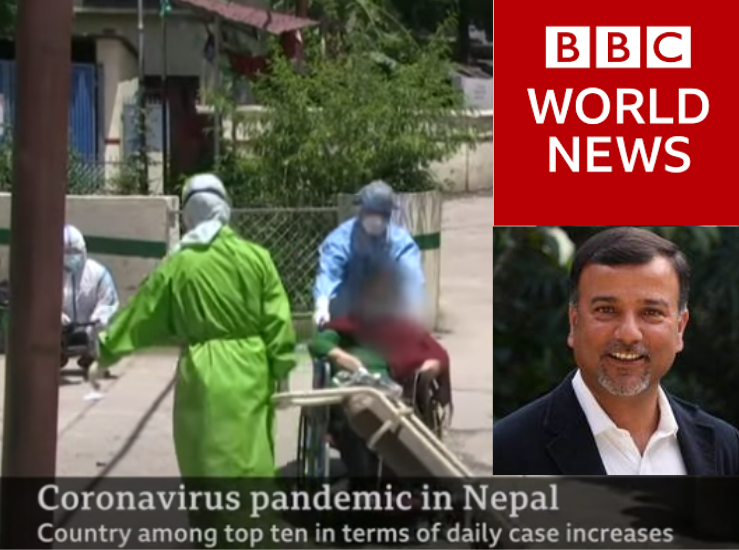 Nepal's COVID humanitarian crisis is accelerating, with cases surging faster than anywhere in the world. The country has been in lockdown for a month now, and with many individuals passing away at home, the true death toll is difficult to confirm. Comparing the number of confirmed COVID deaths to the number of funeral services highlights this grim disparity.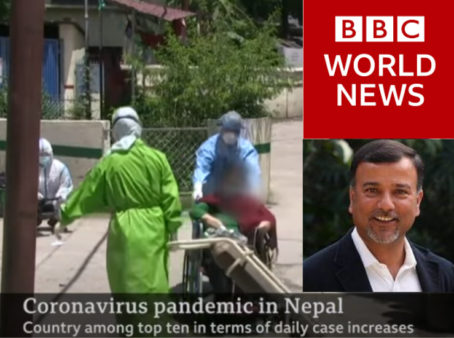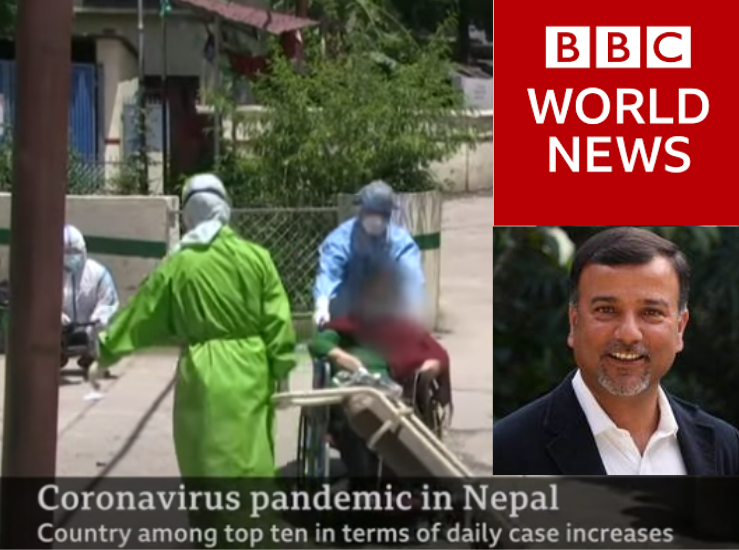 Today, on May 24th, 2021, NYF's President Som Paneru appeared on BBC World News (link below) to describe the situation – and the urgent needs in his country.
Many thanks to BBC World News for helping to share this message. Other news sources, like The Global Herald, are already sharing the story.
NYF is currently using our Kathmandu Nutritional Rehabilitation Home as a COVID Isolation Center for children and adults with COVID-19 who are not sick enough for the hospital. This resource (pictured below), which includes mental health care and dietician-designed meals, allows them to isolate away from their families, helping to protect their loved ones from the virus.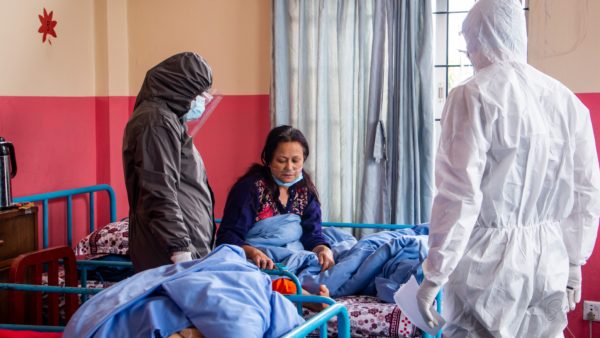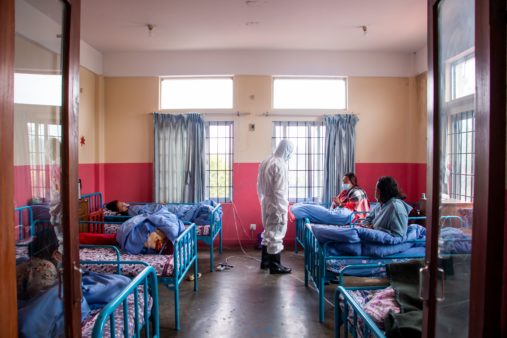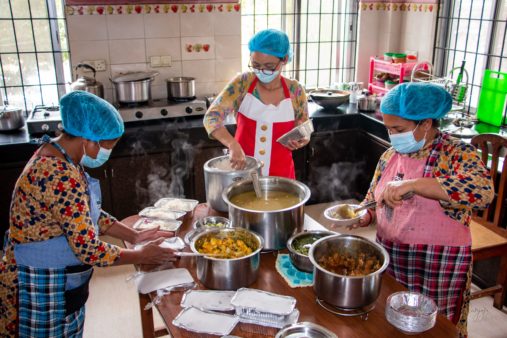 To see what else NYF has been doing in response to Nepal's COVID humanitarian crisis, click here to view our ongoing timeline.
Please donate now to support our efforts to continue providing Health, Freedom, Shelter, and Education to Nepal's children during this unprecedented crisis.
You may watch Som's full interview with BBC World News on the BBC YouTube Channel:
May 6, 2021
COVID Isolation Centers Provide a Lifeline as Nepal Battles a Surge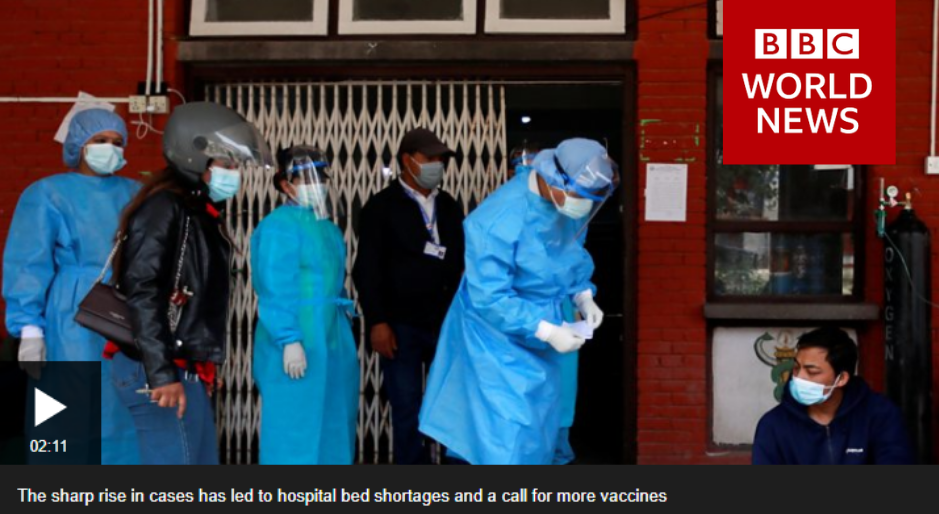 COVID isolation centers are becoming a life-saving necessity for families in Nepal as the pandemic surges through South Asia. Kathmandu is in lockdown once again, with schools closed and hospitals filled beyond capacity.
Nepal Youth Foundation opened our first COVID Isolation Center in our Kathmandu Nutritional Rehabilitation Home on Tuesday, May 4th, and it is already full, mostly with people under the age of 18. Isolation centers provide safe care for individuals who have been infected with COVID-19 and must be isolated from their families, but who are not sick enough to be hospitalized. Our vaccinated staff members are doing all they can to provide high-quality care to these children, working to ensure their safe recovery.
To help us respond to this growing crisis, please make a donation now.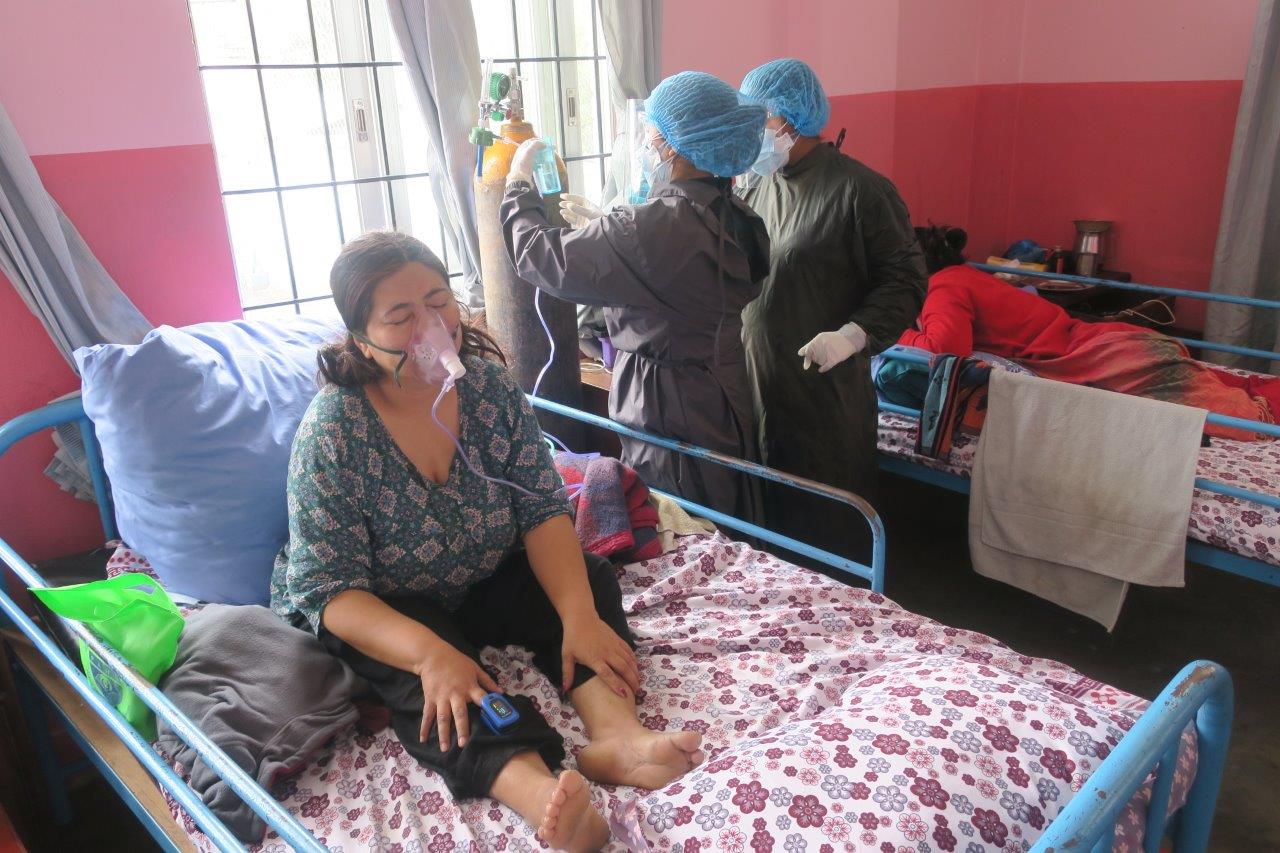 Som Speaks to BBC News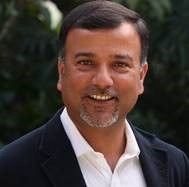 NYF President Som Paneru recently spoke with BBC News about the situation in Nepal. You may listen to the 2-minute interview here, or read the transcription below.
Som: The second wave is causing a great level of distress among the population here. The cases are rising at an alarming rate since the last couple of weeks. People are desperate to find life-saving services like oxygen, hospital beds, ICU, ventilators, etc. So a severe lack of safe isolation places is one of the root causes right now for spreading the virus. Families are living in very congested living conditions, and one family member gets infected and infects the rest. So that's how it has reached every family and eventually the community. So the situation is very desperate, getting very desperate right now.
BBC News: And what are the hospitals saying in terms of, as you say, the beds. How have they been? Because we've been hearing what's happening in neighboring India. How have people been managing if they haven't had the oxygen supplies? Has it been the same where they've been buying their own cylinders, looking for them to be filled, or has it not yet got to that stage?
Som: We are pretty much going towards the same trail like in India. The families are desperate to secure a cylinder to keep at home. Because there are no places to go in hospitals. Hospitals are turning down new admissions in most of the places. Unless it is a really critical situation. So people are losing lives in the ambulance, traveling from one hospital to another.
BBC News: Can you tell us, please, Som, what your organization has been doing to try and help? What have you been seeing?
Som: Nepal Youth Foundation has recently started an isolation center. A safe isolation place for those people who are infected but are not able to go to hospital, and they cannot stay in the family either. So the isolation center is the first step towards breaking this chain of spreading the virus. So we've started one center in Kathmandu, and now there's a huge demand for opening more centers like this across the country.
Slowing the spread of this virus is critical, and safe isolation centers are an important part of this process in crowded cities like Kathmandu. To learn about NYF's other COVID responses, please visit our timeline here. And if you are able to donate, please do so by clicking the button below.
February 2, 2021
Vaccines for COVID-19 Arrive in Nepal!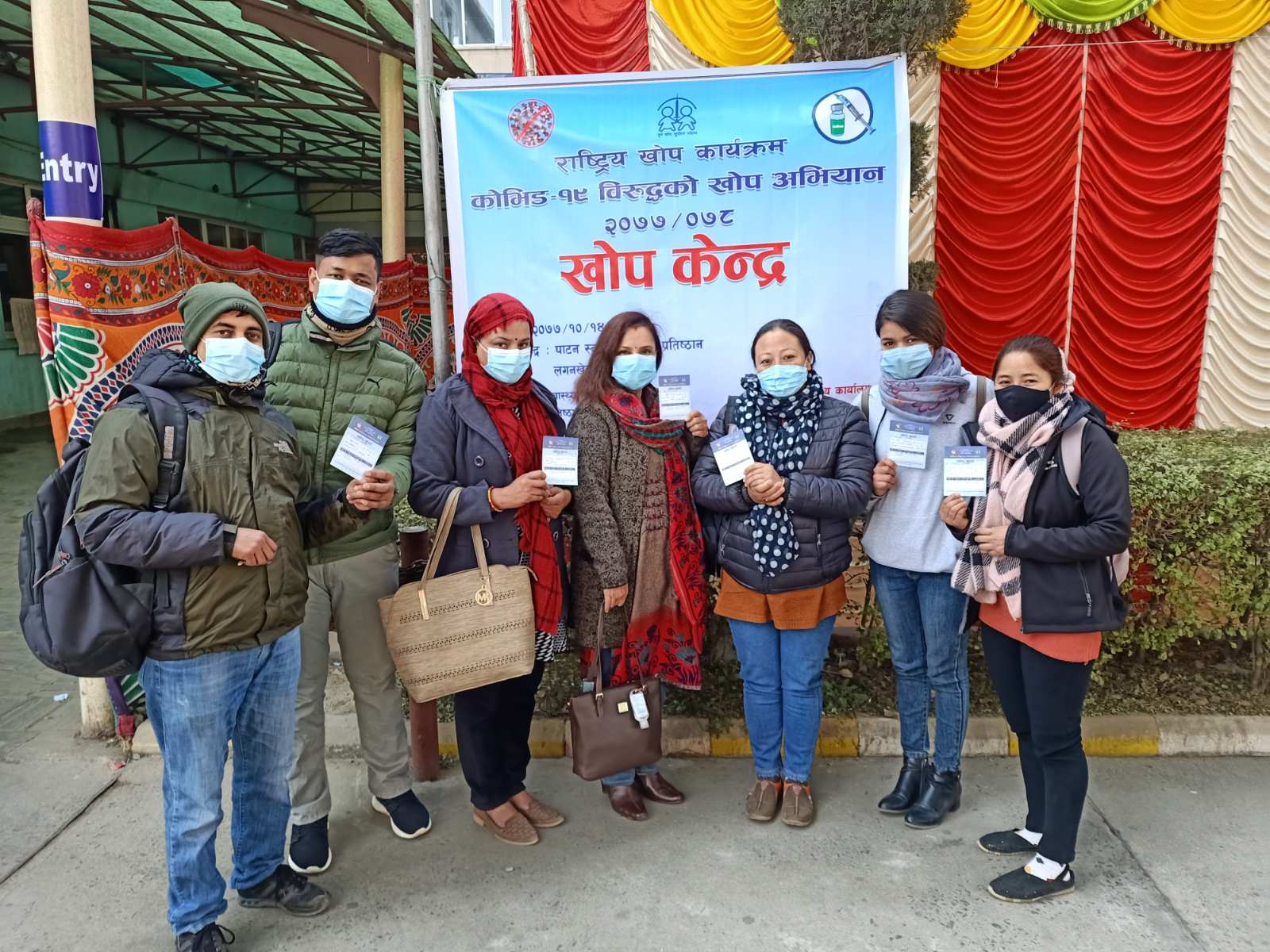 Nepal has successfully secured COVID vaccines through donations from neighboring countries! We're excited to share that they have started administering the vaccines to high-risk groups and essential service providers.
All NYF staff members at the Nutritional Rehabilitation Home and the New Life center have received the vaccine, and the staff at Olgapuri Children's Village are in the process of receiving it.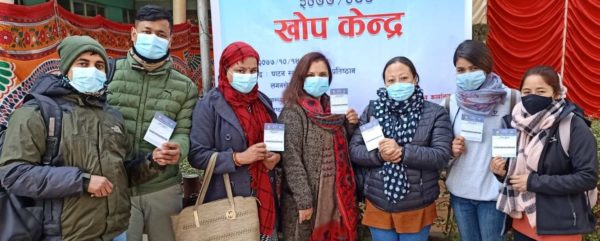 In early February 2021, our Nutritional Rehabilitation Home staff members display their newCOVID vaccine cards.
We will continue the Lito for Life program until this nutritional support is no longer needed in hard-hit communities. But except for Olgapuri Vocational School (which will require extra safety measures), all of our programs have cautiously resumed operations!
Thank you to the NYF community for making all of this possible, and for supporting our work during these difficult times. Dhanyabad!