November 22, 2022
Happy Holidays from Olga Murray!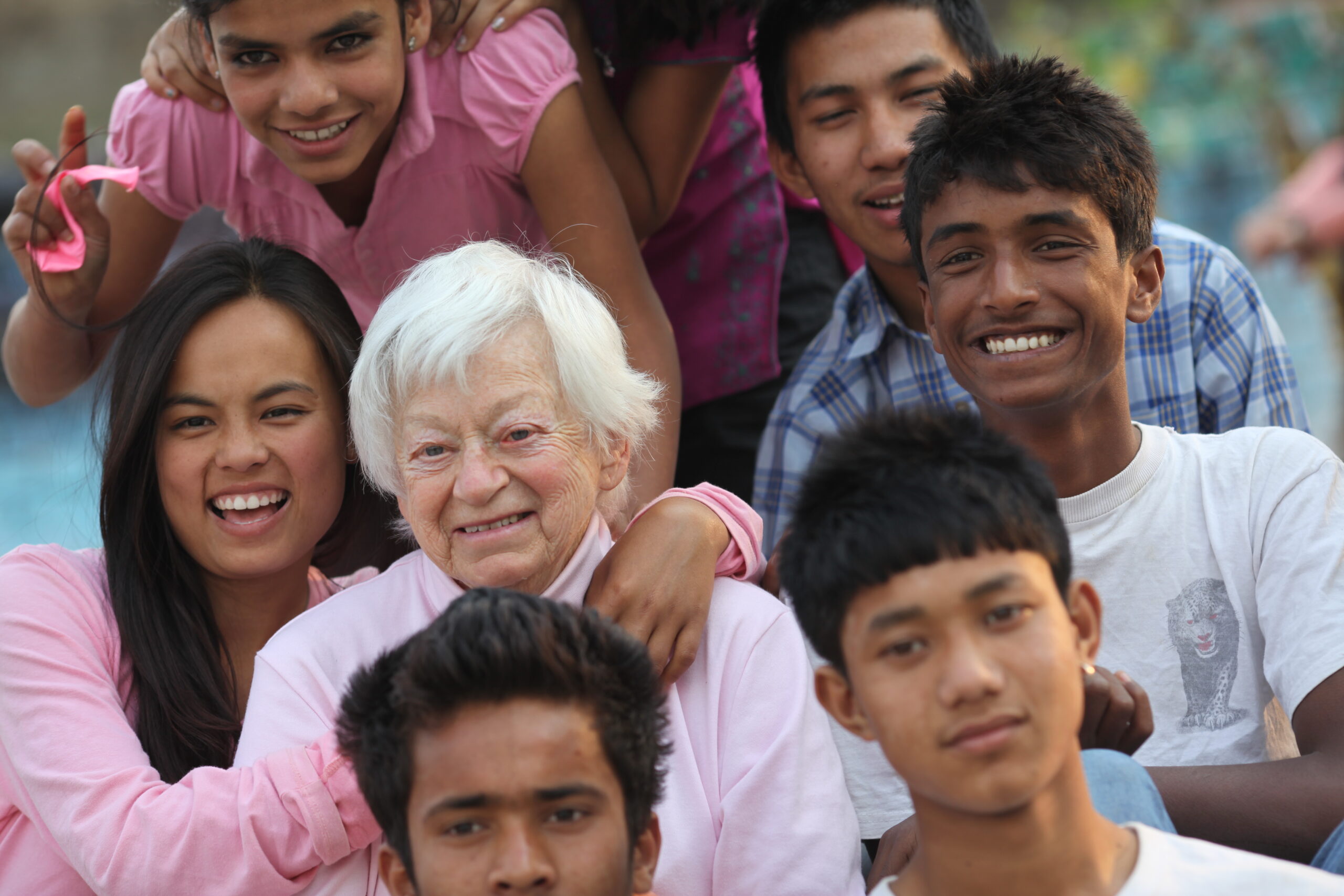 A Letter of Gratitude from NYF's Founder
I always count my blessings on Thanksgiving, but this year, my gratitude is more heartfelt than ever.
The first among many things to be grateful for is that I am returning to Nepal right after the holiday, after an almost three year absence because of Covid. I haven't been away this long in more than 35 years, and I have missed the children more than I can say. So much has changed in the interim, with some of the older kids having left Olgapuri for college, and 15 new adorable little ones have joined the Olgapuri family. Their loving presence in my life is a constant source of joy.
Another highlight will be meeting the Dalit students who have come to Kathmandu from their remote communities to attend law school through our new Educating Dalit Lawyers program. Many of them are young girls (around 17 years old), all exceptionally smart, from towns and rural villages all over the country. This is the first time many of them have been to a big city, so a whole new world is opening up to them.
These passionate young people are coming of age in a culture that still treats members of their caste with dismissiveness and cruelty.
It will be a thrill to see them blossom into confident, passionate, and capable young lawyers ready to advocate for their community and bring about tremendous positive change.
I graduated from law school 68 years ago, at a time when there were very few women lawyers. In my career, I saw first-hand what a difference passionate lawyers can make in supporting social change! It is an incredible privilege to be a small part of these Dalit students' journey. One of the first things I will do after arriving in Nepal is have them all for dinner so that we can get acquainted, and just maybe I might be able to offer some useful advice to these young women in spite of our 80 year age difference!
Happy Holidays,

Olga Murray
NYF Founder and Honorary President
Don't forget to share your GivingTuesday NYF testimonial! This 5-minute gift will help us share NYF's transformative message and grow our community in 2023.
--- Make A Donation
Ensure your #LoveWorks this end-of-year season.
---
Your generous support powers this moment of growth.
The gifts received between now and December 31st will determine the number of young people NYF can support in 2023. GivingTuesday Campaign
Share Your NYF Story. November 29, 2022.
---
Submit your favorite NYF-related story, photo, or donor testimonial.
We'll turn them into shareable graphics! On Nov. 29, we encourage you to share these graphics with your own network. Holiday Gift Cards
Select an NYF-themed eCard for your honoree.
---
This holiday season, give a gift that will empower youth in Nepal.
Each card corresponds to a different NYF program, so you can choose the cause most meaningful to your loved one.
November 9, 2022
Festival Season 2022 at Olgapuri Children's Village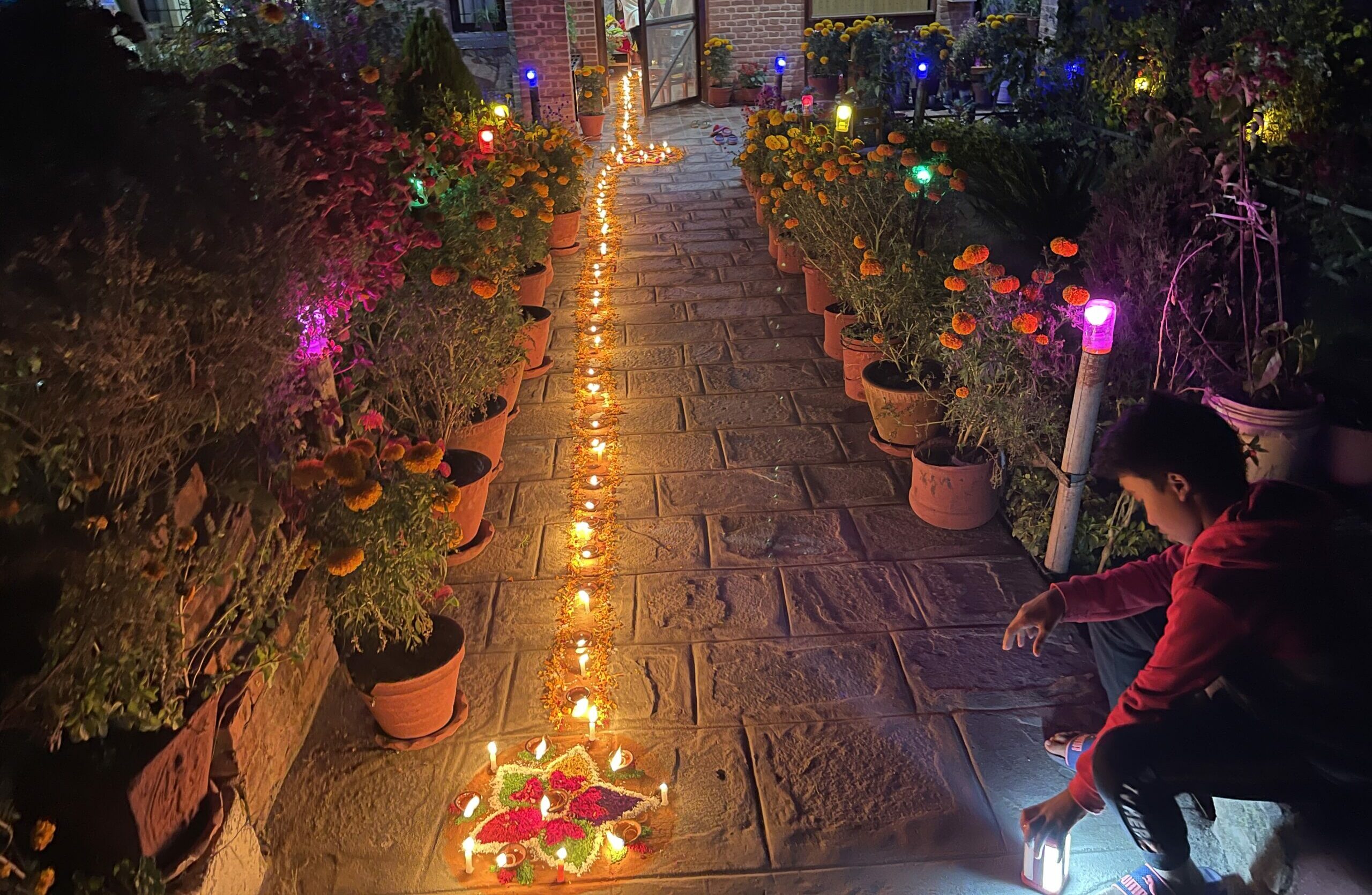 A glimpse into this year's festival season at Olgapuri
This fall, NYF celebrated Dashain (September 26th through October 5th) and Tihar (October 22nd through October 27th).
Dashain (pronounced de-SAI) is a 15-day-long lunar festival that usually occurs in September or October. It's one of the most emotional, colorful, and enjoyable times in Nepal. The auspicious holiday blends harvest-time and fertility with the triumph of good over evil, and family members travel from far and wide to celebrate together.
Quickly following Dashain is Tihar, a five-day festival of lights. Each day is devoted to honoring different religious figures, animals, or sacred bonds. Popular activities include decorating floors or courtyards with colored rice, sand, or flower petals, playing games with each other, and participating in Deusi-Bhailo, which involves children singing songs or performing dances from house to house in exchange for small gifts.
This year, we're excited to share a short video (in addition to the below photos!) that show what our Tihar celebration looked like. Click here to jump to the video.
Dashain – September 26 through October 5
For the first time in two years, many of the children at Olgapuri Children's Village were able to return to their home villages to spend the festival season with their relatives. Those who stayed behind still enjoyed a beautiful celebration, which included wonderful traditions like tika blessings, seasonal games, bamboo swings, and delicious feasts.
A favorite tradition among the Olgapuri kids during the Dashain festival is the tika ceremony. At this ceremony, elders bless the younger members of a Nepali family with a tika, which is made out of red powder and rice. At the village, house parents and other staff members bless each child with a tika on their foreheads. This tradition is an annual ritual of love and belonging.
Tika blessings
elders bless younger members of the family with tika (red powder and rice)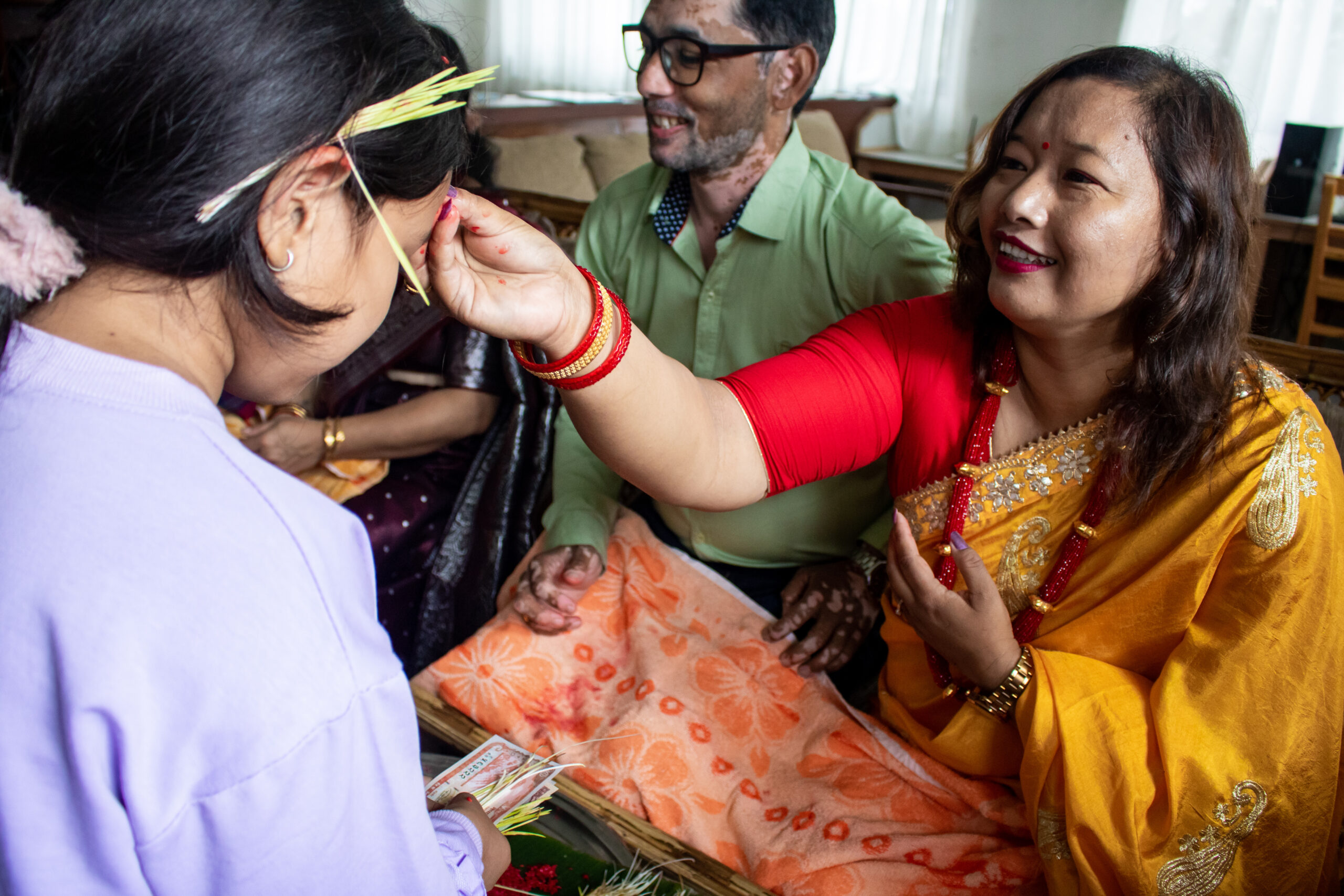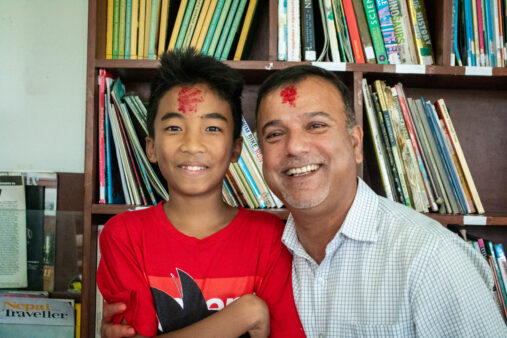 ---
Another favorite during the Dashain holidays is the linge ping—a traditional swing made out of bamboo. It is said that everyone must leave the ground once a year on this special bamboo swing. Assembling it together is half the tradition!
Linge ping
a traditional swing constructed out of bamboo during Dashain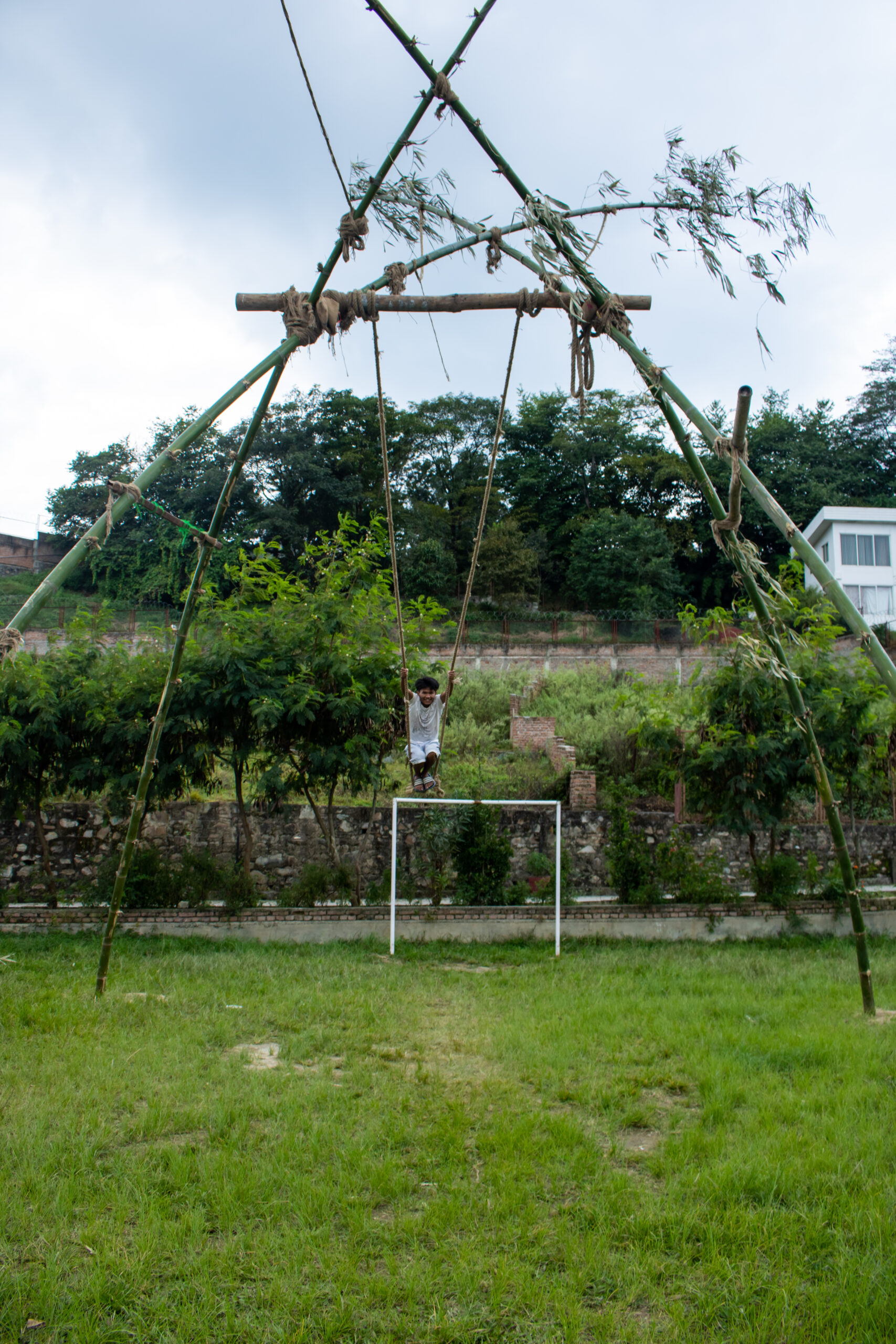 Tihar – October 22 through October 27
During the Tihar Festival this year, the children worked together with the house parents to prepare delicious Tihar treats. They also decorated each house with beautiful lights and flowers, representing wealth, happiness, and prosperity.
On the last day of Tihar, siblings honor each other with a special multicolored tika. This ritual follows a legend in which a goddess protects her brother from the god of death through an elaborate, loving ceremony. Performing this ceremony at Olgapuri has special significance in underscoring the bonds between the children.
Bhai Tika
a multicolored tika given between siblings on the last day of Tihar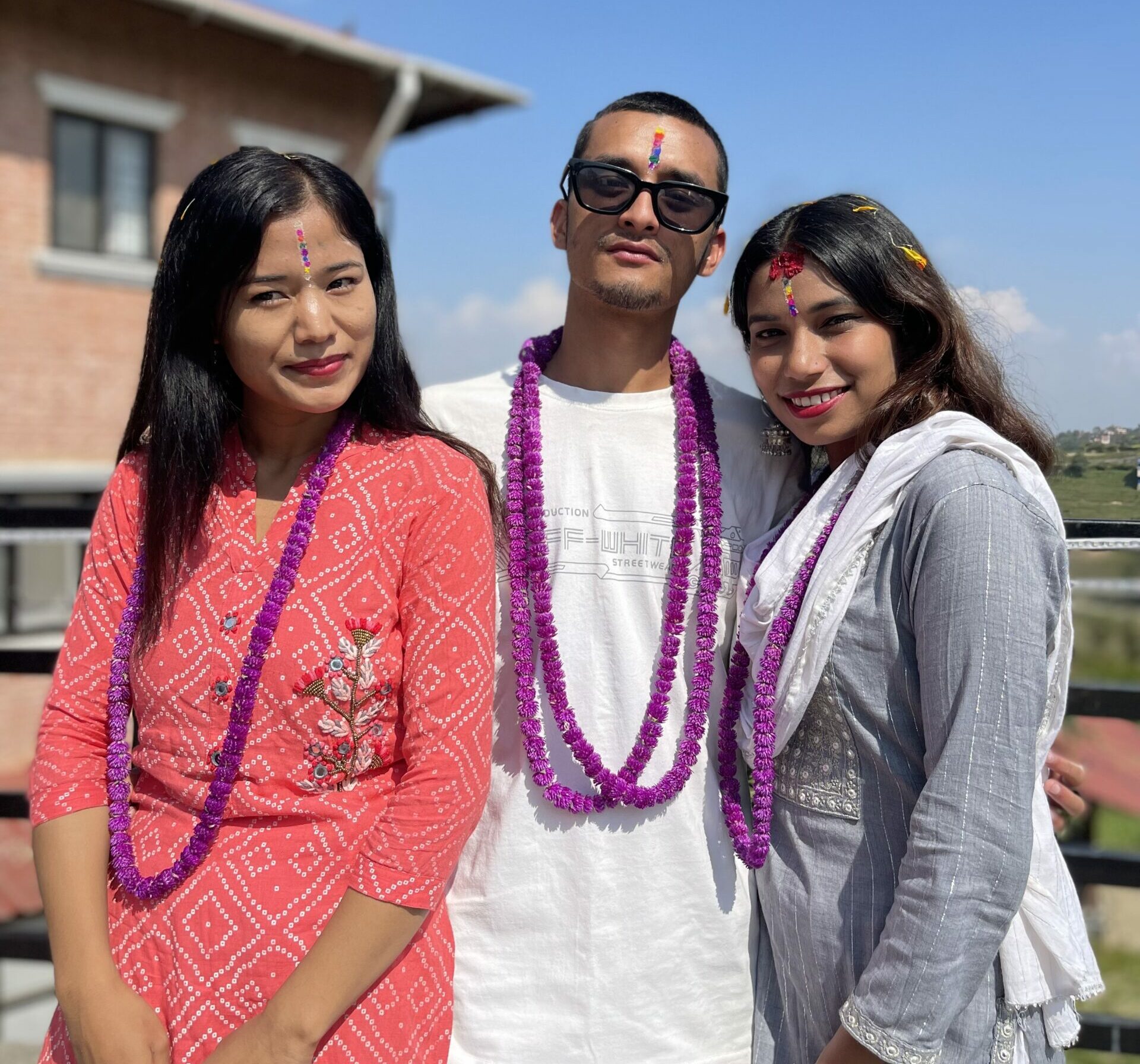 ---
Another beloved activity among the kids at Olgapuri during Tihar is is Deusi-Bhailo, an activity practiced in Nepal and some parts of India. Groups of children travel from house to house, singing two special songs: Bhailo sung by girls, and Deusi sung by boys. The singing is accompanied by dancing. After the performance, those in each house give snacks, sweets, and money to the children, and the children give blessings for prosperity in the coming year.
This year, the children frequented the nearby homes of NYF staff members, who were absolutely delighted (and prepared!) to open their doors to the singing children.
Deusi-Bhailo
a beloved Tihar activity where children sing songs in exchange for small gifts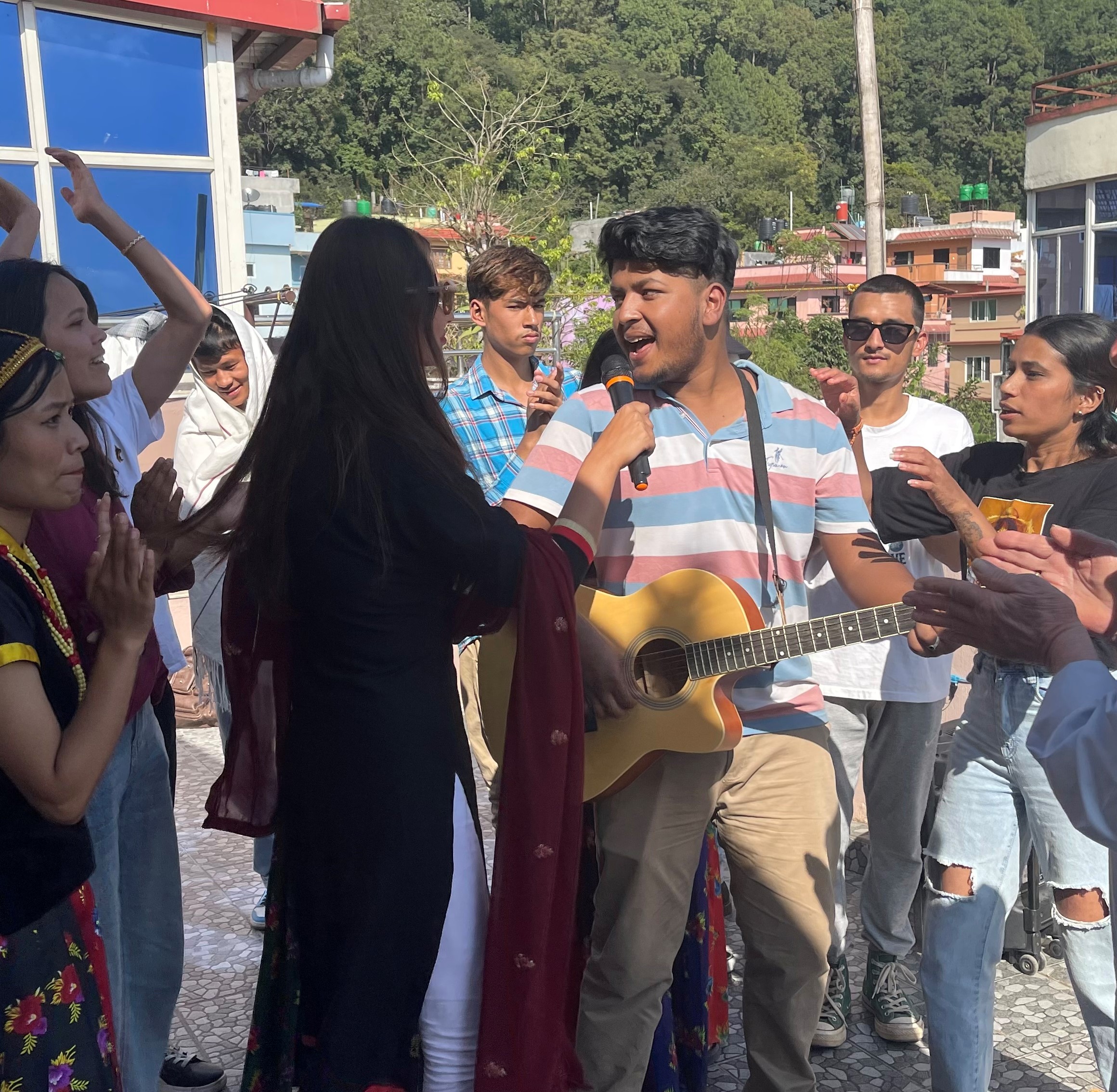 ---
Tihar at Olgapuri – Video
Thank you so much to our staff in Nepal for not only helping to organize the celebrations during this year's festival season, but also for capturing all of these amazing moments to share with our larger NYF Community!
We are so grateful for the global NYF Community. Your generosity ensures that the children at Olgapuri Children's Village can celebrate Dashain and Tihar every year with lots of warmth, laughter, and love.