September 27, 2023
An Expanded Mission for the New Life Center
An expanded mission for the New Life Center (NLC) began effective July 2023, thanks to tremendous progress made in Nepal's fight against pediatric HIV/AIDS!
The New Life Center has become a medical recovery home, not only for children living with HIV, but for kids and expectant mothers visiting Kathmandu for any critical medical treatment or surgery.
---
---
We are so grateful that a loving & enthusiastic NYF supporter has fully funded the New Life Center through June 2024! To support health and wellness for Nepali children this year, please consider supporting our Nutritional Rehabilitation Home. This facility, right next door to the New Life Center, serves hundreds of children per year.
Before: Empowering Kids Living with Pediatric HIV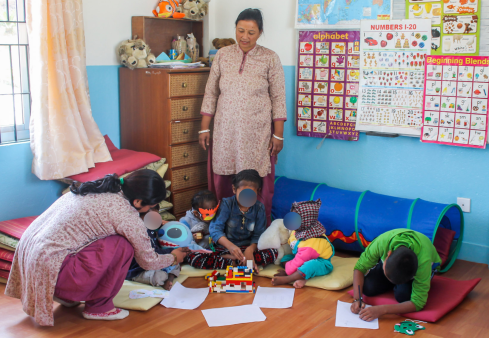 NYF established the New Life Center in 2006 as a specialized care home for children (aged 0-14) living with HIV/AIDS. Our young patients, whose fragile immune systems were already under attack from this aggressive virus, spent time in our care frequently as they grew, receiving special, loving, personalized care from our nursing staff.
Once a child's immune system finished developing at age 15, our team connected them with their local HIV/AIDS organization for adults. This ensured strong continuity of care. Meanwhile, these local organizations referred families to the NLC whenever they learned of a child living with the virus.
Many of these children have also received NYF scholarship support in grade school and beyond!
Between 2006 and 2023, the NLC became a premier resource in Nepal for families impacted by pediatric HIV. Our team has saved hundreds of lives and empowered their families. Their work has also helped lower both virus transmission and the stigma faced by Nepalis living with this challenging diagnosis.
Nepal has made tremendous progress in slowing the rate of mother-to-child transmission of HIV. This has resulted in a reduced need for a specialized facility exclusively for children living with the virus.
Changing Health Needs
In March 2020, NLC patients returned to their home villages to avoid exposure to COVID-19, leaving the NLC almost empty. During the worst of the pandemic, the NLC cared for mild-to-moderate COVID patients who were unable to isolate at home. We offered remote care for our HIV patients, with great success. Thanks to these innovations, in 2022, the NLC received the smallest number of in-person HIV/AIDS patients since opening in 2006. Most beds remained vacant.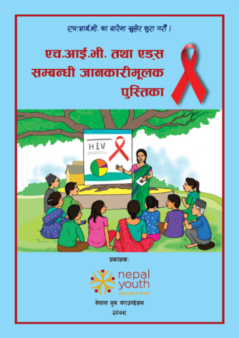 NYF spent 2022 and the first half of 2023 engaged in an ambitious HIV/AIDS Awareness & Advocacy Campaign. We proudly partnered with several grassroots organizations in districts with high rates of HIV. These organizations—Makwanpur Women's Group (Makwanpur District), Bara Plus (Bara and Parsa Districts), and Lumbini Plus (Nawalpur and Parasi Districts)—allowed us to make quick, strong connections with local changemakers and beneficiaries, which maximized our impact. Creating a unified action plan, without interrupting the existing services each organization offered, allowed us all to serve these communities with efficiency and strength. It also created a cohesive, powerful message about HIV/AIDS Awareness & Advocacy.
You can learn more about the original mission of the New Life Center, as well as the HIV/AIDS Awareness & Advocacy Campaign, on our historical New Life Center – HIV/AIDS program page.
Between 2022 and 2023, we printed 14,000 copies of our HIV/AIDS guidebook (view the flipbook here). We originally only planned to print 500, not expecting demand to be so high! Our team distributed copies to families living with HIV, students and their teachers, women's groups, hospitals, doctors and nurses, organizations intersecting with issues related to HIV, government offices, and community representatives. Access to this information is making tremendous headway in educating the public. NYF will continue distributing this resource as long as demand continues.
NYF has a particularly strong reputation in Nepal, for integrity, longevity, and effectiveness. Partnering NGOs reported that our project led to greater trust from the local governments, schools, and even community members living with HIV. Many of the individuals living with HIV in these areas had already intersected with the NLC, either through their own children or from having been a young NLC patient themselves. NYF's public trust in smaller local organizations strengthened the impact of these grassroots resources.
Raising the profile of these locally-led organizations has already made their services more effective. We also trained these passionate local teams with learnings from our 17 years of experience.
Now: An Expanded Mission for the NLC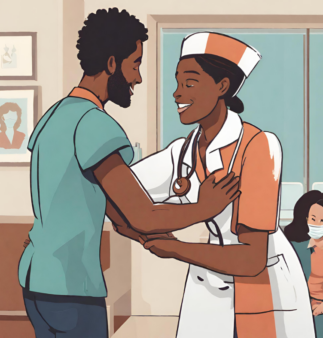 With the need for a specialized pediatric HIV/AIDS facility on the decline and the strengthening of local HIV/AIDS organizations, NYF realized that our beautiful New Life Center could now offer an broader service to the children and families of Nepal.
In 2023, the New Life Center's mission expanded to include children and families traveling to Kathmandu for all kinds of life-changing medical care, including HIV, but no longer limited to it.
This resource allows children from some of Nepal's most remote regions to access their right to healthcare.
Most of Nepal's hospitals—especially those offering specialized treatments—are centralized in Kathmandu. A recent study showed that 57% of Kathmandu patients have traveled for treatment from more rural areas. This is a devastating expense for many families.
The New Life Center empowers children and families to access life-transforming medical care, to heal thoroughly without dangerous complications, and to live full, rich, joyful lives free of the long-lasting burden of crushing medical debt.
Children and their caregivers stay at the New Life Center for an average of 15 days. This is the typical duration required for follow-up and recovery from the acute medical conditions and procedures we typically see. They receive individualized, supportive care free of charge, including monitoring from nurses, nutritious meals created under the recommendation of our dieticians, emergency support and ambulance service where needed, psychological counseling as-needed, and practical, supportive advice from our staff on how to understand and implement their doctors' discharge instructions at home.
Dhanyabad!
Thank you for the loving support that has made the New Life Center's expanded mission possible!
NYF has been an important part of Nepal's remarkable progress in the fight to end pediatric HIV/AIDS. We're continuing to put our knowledge and resources to use in supporting individuals and families who are living with this challenging diagnosis. All of this is possible thanks to loving supporters like you.
Now that the New Life Center is serving a wider audience, our impact is expanding more than ever. Thank you for sharing our mission, bringing Health access to children all over Nepal!