February 12, 2021
Mayama: CASHE's Valentine's Day Collection Shows #LoveWorks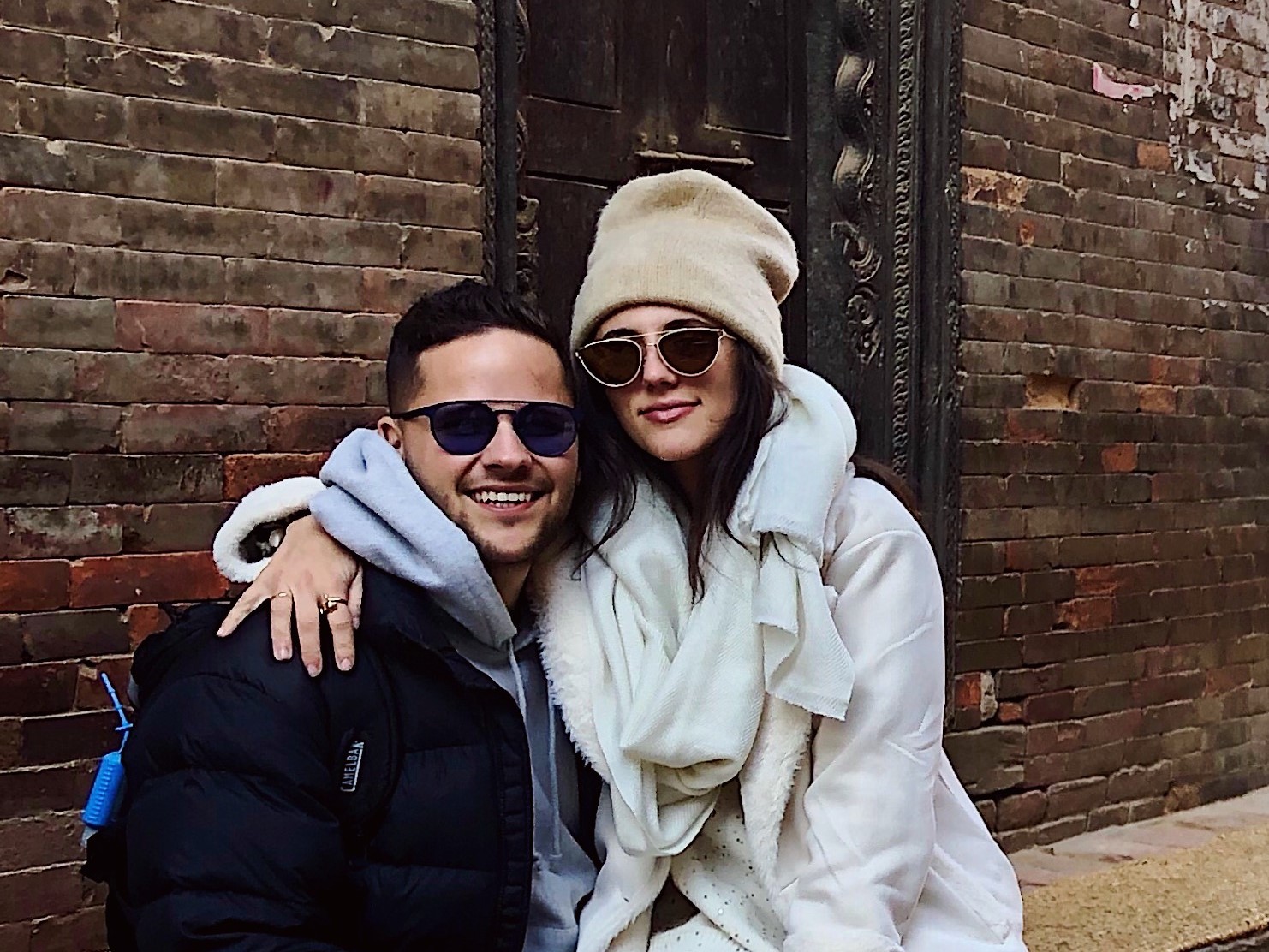 Mayama is Nepali for "In Love." CASHE's founders, couple Giulia Giancola and Vlad Litinetsky, have built their luxury cashmere brand on love, empathy, and appreciation. CASHE introduced their partnership with NYF here, and their brand's commitment to Fair Trade, gender equality, ethical working environments, empowered entrepreneurship for traditional Nepalese craftspeople, and cultural respect make them a joy to work with.
CASHE donates 10% of all their proceeds to NYF, and they're generously using their brand's media attention to boost NYF's visibility. CASHE thoughtfully spotlighted NYF in this recent appearance in British Vogue, as well as in People's Valentine's list.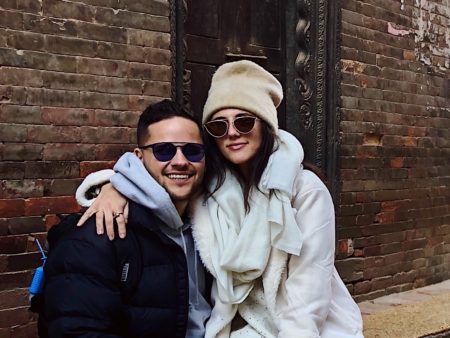 Mayama: the Collection
Now CASHE is offering a beautiful new Valentine's Day collection called "Mayama". These lovingly-designed His&Hers robes capture the timeless spirit of romance. Each purchase supports Nepalese farmers and artisans whose families have worked with cashmere for generations.
Explore Mayama here, and check out CASHE's other luxurious collections. On the CASHE website, you can also learn about the ways philanthropy inspires and guides their brand.

Mayama indeed! We're definitely feeling the love at NYF. Giulia and Vlad's love for Nepal's people and traditions fills us with joy.
Tradition
In a recent Forbes spot, CASHE briefly highlighted the intricate process behind cashmere's unmatched comfort.
Giulia and Vlad fell in love with Nepal and its craftspeople on an adventure trip in December 2019, when they discovered the deep well of culture behind Kathmandu's rich cashmere industry. They marveled at the quality of the handcrafted products available, examining scarves, blankets, and more to admire the differing techniques used by each vender.
Their tour guide and friend, Bipin, was delighted to share stories of cashmere's history as they traveled between attractions.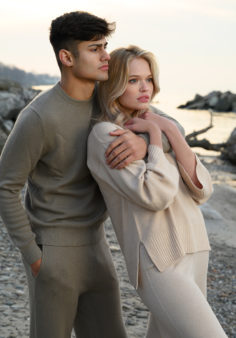 Many people are surprised to learn that even now, 100% cashmere is crafted by hand. From the beginning, as Himalayan farmers hand-brush their cashmere goats to collect the precious raw fibers in the springtime, the process is so delicate and precise that no machine can do it. (And inventors have tried!)
The fibers are hand-sorted to isolate the special, soft, warm undercoat from the goats' coarser outer hairs. Each goat only produces a small amount of this wool each year—not even enough for a single scarf. Nepalese families who have worked with cashmere for generations then wash, dye, and dry the wool before spinning it into thread or yarn—again, by hand.
Machines can't accomplish the spinning because individual raw cashmere fibers are so short. Only well-practiced human fingers can ensure the spinning produces long, smooth, consistent, unbroken threads. This work is painstaking, and there are no shortcuts. The Nepalese artisans behind this work have devoted years of their lives to developing this skill.
Smoother than silk, finer than lambswool, warmer than alpaca; simultaneously durable, biodegradable, renewable, and sustainable—cashmere has been a global fixture of luxury fashion and comfort for centuries.
But so often, the history of cashmere as a textile erases the role of the traditional Himalayan artisans and craftspeople who developed this remarkable product in the first place.
CASHE wants to highlight and elevate these remarkable artists—and to ensure that Nepalese craftspeople are treated fairly in the global market.
"We want our standards as customers to translate into the manufacturing of CASHE," Giulia says.
"There's something so special about knowing how and where your clothes are made, and the cross-generational value that cashmere has in Nepal."
Vlad adds, "There is a great deal of pride in the local craftsmen and women that ensures genuine quality. CASHE is more than ready-to-wear; it's a tool for us to educate our consumers on the craft and its connection to Nepal."
#LoveWorks
Vlad and Giulia's love for Nepal extends far beyond cashmere.
"After spending time in Nepal and getting to know the beautiful culture, its people and their stories, we were motivated to give back and honor the values that brought our ideas to life. Now more than ever, it's crucial that philanthropy is part of our brand DNA," Vlad says.
That's why 10% of all CASHE proceeds are donated to NYF—helping ensure Freedom, Shelter, Health, and Education for Nepalese children and young adults.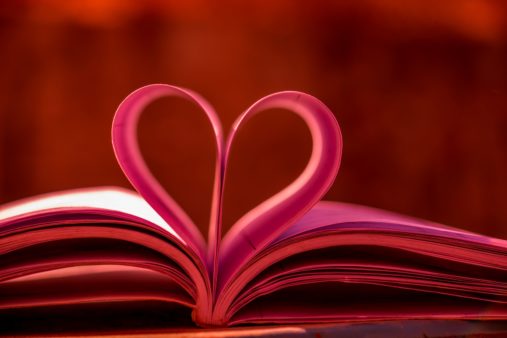 As CASHE and NYF take on 2021 together, we can expect extraordinary momentum around philanthropy, sustainability, and most importantly, education. Giulia is looking to disrupt philanthropic entrepreneurship and female leadership, bringing new meaning to worldly fashion. The Mayama Valentine's Day collection is only a small a piece of that process—but one CASHE is proud to share, spreading love and kindness across the globe.
CASHE is making sure their #LoveWorks by keeping philanthropy and ethical entrepreneurship front and center as their brand grows. And NYF is so proud of the partnership we're building!
As CASHE prepares to launch a new collection in March (promising striking new styles inspired by the natural wonders of Nepal!), we at NYF want to encourage attention to CASHE and brands like them. There are so many ways to ensure your #LoveWorks!
Happy Valentine's Day!
February 9, 2021
Luxury Cashmere Brand CASHE Announces Partnership with NYF!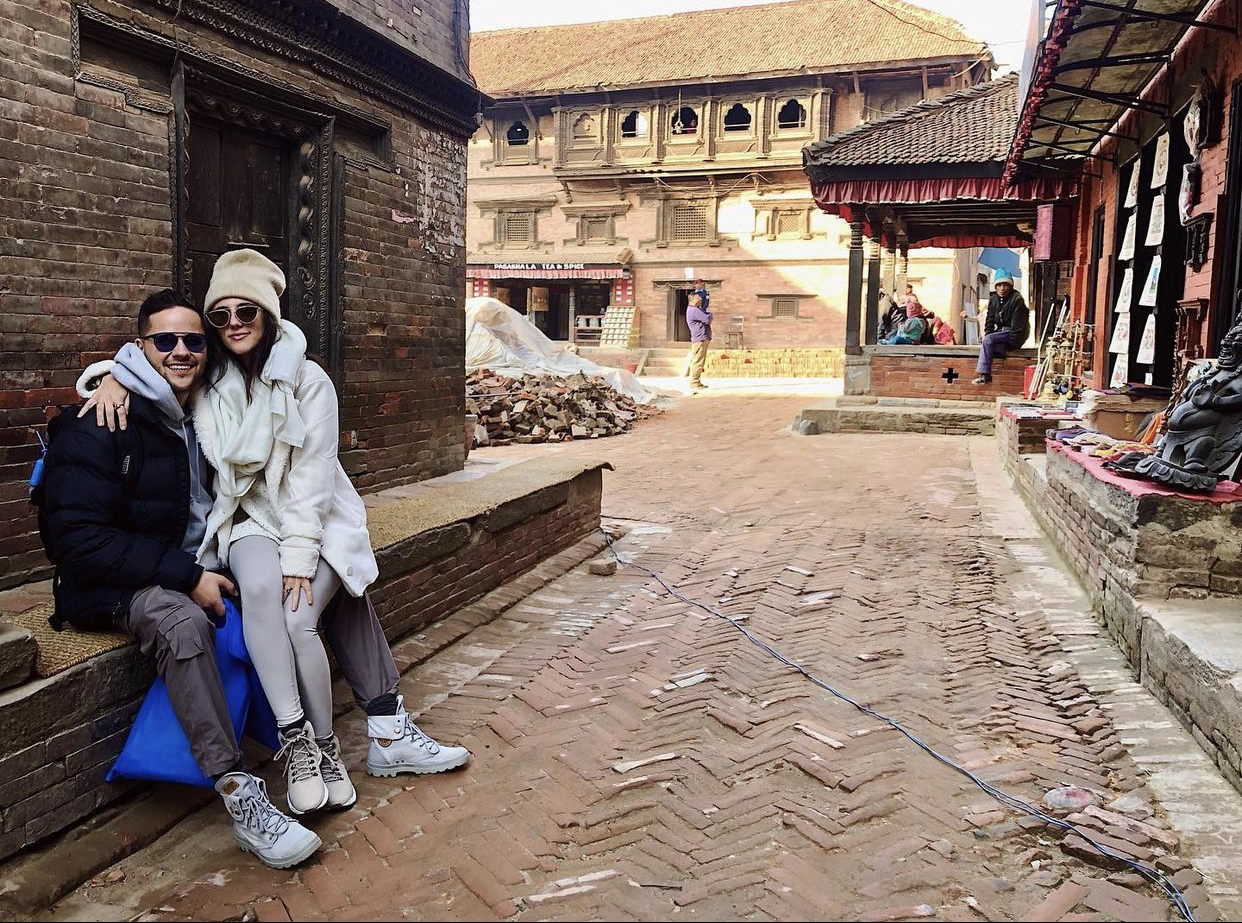 Luxury cashmere is a point of national pride in Nepal. Each artisan's traditional craftsmanship is unique—the result of generations of dedication. This strikingly beautiful textile—thinner, warmer, and softer than traditional sheep's wool—has captivated the world for centuries.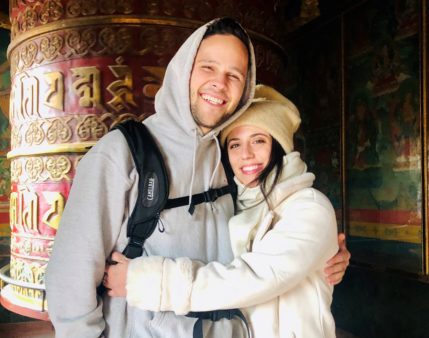 Namasté, NYF friends! We're Giulia Giancola and Vlad Litinetsky, co-founders of CASHE. Designed in Los Angeles and handcrafted in Nepal, CASHE is an ode to the spiritual and skilled craftsmen and women we met on a trip to Nepal's Durbar Square in December 2019. The moment we began sifting through handmade cashmere sweaters, blankets, and scarves, we decided to bring the high-end knitwear home to launch a mindful brand of our own. Our mission is to connect citizens of the world to fine Nepali cashmere.
We're so proud to be announcing our partnership with NYF! Philanthropy is tightly woven into CASHE's direct-to-consumer business model, introducing a unique and natural connection between Nepal and consumers worldwide. 10% of all our proceeds are donated to NYF.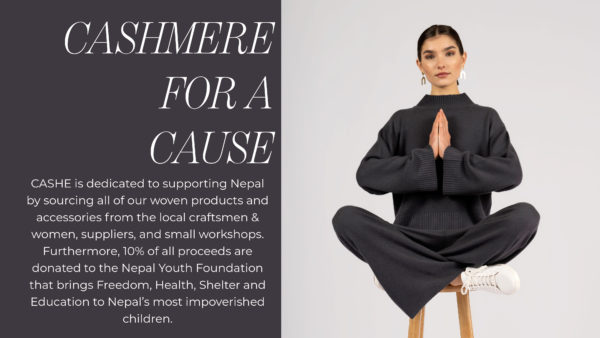 When we launched CASHE in early 2020, we chose to build on the foundations of sustainability, philanthropy, and craftsmanship. We aspire to create an impactful connection between ourselves, our customers, and Nepal by sourcing and partnering with local craftspeople across Kathmandu who devote their lives to the art of bringing forth the world's finest cashmere. You can read more about our story and our ideals here.
Luxury cashmere is much more than a product—it's a cultural tradition guided by generations of human ingenuity. We're still collaborating with our tour guide and friend, Bipin, who noticed our fascination with authentically-crafted cashmere and guided us deeper into this timeless world.
As we explored Nepal, from the Kathmandu shops where cashmere crafts are sold, to the Dhulikhel highlands where cashmere goats live out their lives, our adventure trip evolved into a brand.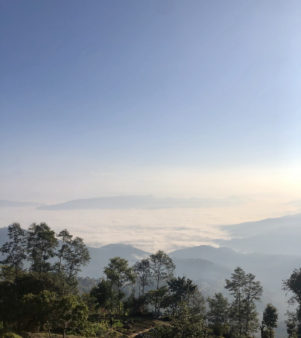 The views in Dhulikhel are unlike any in the world. Cashmere goats and their human caretakers have enjoyed these views for generations, warmed in the cold winter by the unique wool prized across the world.
Each story Bipin told, and each vender we met, deepened our connection to the people driving the cashmere industry in Nepal. CASHE takes pride in ethical sourcing and offering cruelty-free collections of undeniably premier, sustainable and delicate luxury cashmere styles. We are committed to Fair Trade: fair wages and equal pay for equal work to women and men, safe and empowering work conditions, environmental stewardship, and respecting cultural identity.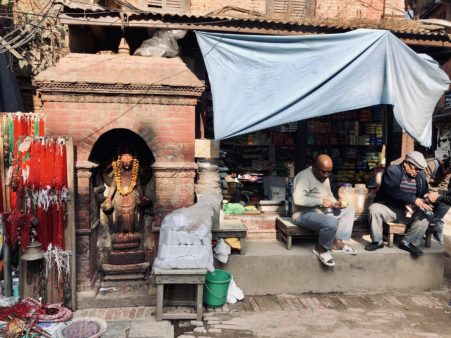 In 2019 Kathmandu, the past and present intermingle. Hidden within each shop are treasures generations in the making.)
CASHE is grateful for the opportunity to support the communities who fight so hard for their traditions and trades.
And we want to do more.
CASHE and NYF are currently collaborating on a variety of creative and educational projects in support of Nepalese women and children. In partnership with NYF, CASHE is producing a short, powerful docu-film capturing the life stories of two Nepali women and their experiences balancing motherhood and work. These stories—of one woman proudly supporting NYF's foundational efforts and another working in manufacturing producing CASHE cashmere—weave together to illuminate the beauty of Nepal's culture, traditions, and the undeniable strength of Nepalese women.
This project is slated to roll out on International Women's Day 2021. CASHE is in talks with a variety of digital distribution partners for media exposure.
CASHE has been featured in a variety of publications in the last few months, including a coveted highlight in the latest British Vogue!
Luxury cashmere from CASHE was also included in holiday gift features in People, PopSugar, W Magazine, Town & Country, Byrdie, and Brit + Co. Giulia's work at CASHE was featured on Guest of a Guest.
Wherever possible, we highlight our partnership with NYF.
Luxury cashmere is only the beginning—and CASHE has been an incredible, gratifying journey so far. Check back soon for more information on our Valentine's Day celebrations!
Thank you for being on this journey with us!
-Giulia & Vlad
February 2, 2021
Vaccines for COVID-19 Arrive in Nepal!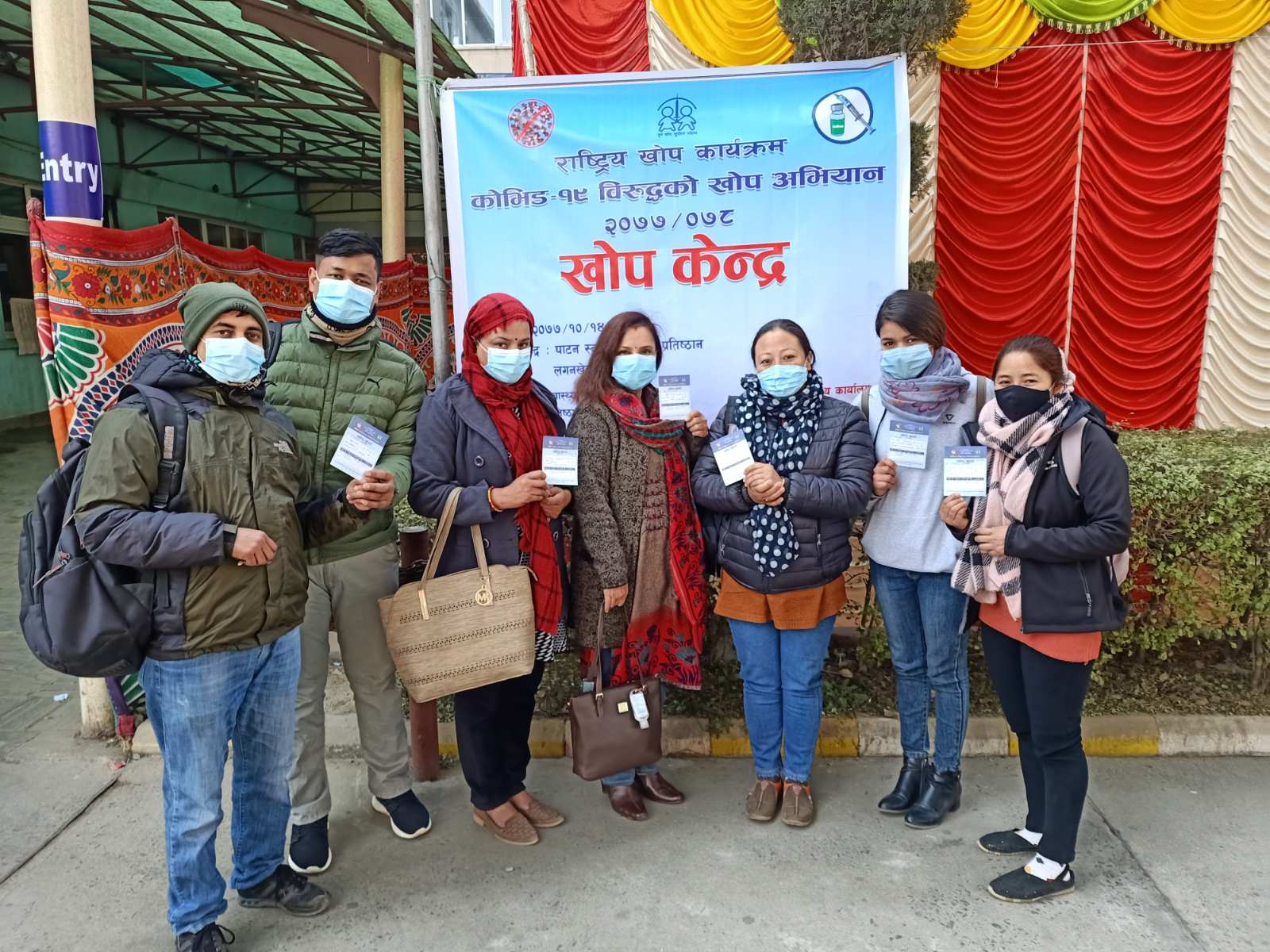 Nepal has successfully secured COVID vaccines through donations from neighboring countries! We're excited to share that they have started administering the vaccines to high-risk groups and essential service providers.

All NYF staff members at the Nutritional Rehabilitation Home and the New Life center have received the vaccine, and the staff at Olgapuri Children's Village are in the process of receiving it.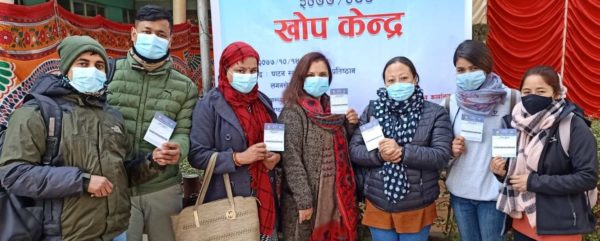 In early February 2021, our Nutritional Rehabilitation Home staff members display their newCOVID vaccine cards.
We will continue the Lito for Life program until this nutritional support is no longer needed in hard-hit communities. But except for Olgapuri Vocational School (which will require extra safety measures), all of our programs have cautiously resumed operations!
Thank you to the NYF community for making all of this possible, and for supporting our work during these difficult times. Dhanyabad!