April 23, 2014
Vocational training is working!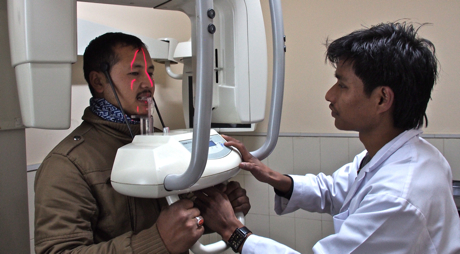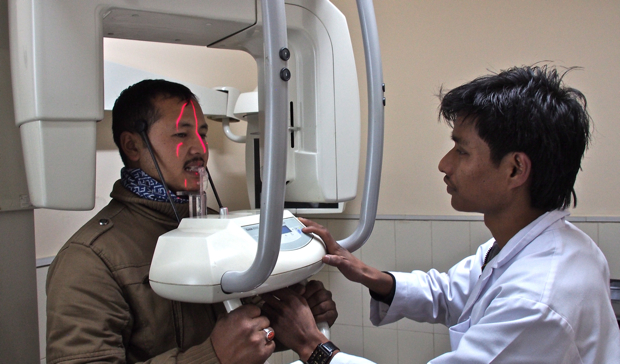 Nearly half of all Nepalis are unemployed, even those with college degrees. Yet workers like plumbers and electricians are often recruited from neighboring countries because most young people in Nepal lack training in these and other skilled jobs.
Unfortunately, vocational counseling and training is severely lacking in Nepal, and without this kind of support many young people languish in unemployment and poverty.
But our Vocational Education and Career Counseling Program (VECC) is helping to change that. VECC has trained hundreds of electricians, plumbers, hairdressers, computer technicians, midwives, auto-mechanics and cooks since the program began in 2007 — and more than 80% of our graduates are now employed.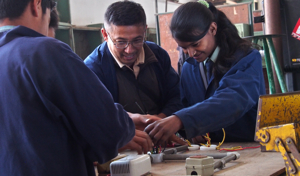 Talent, training and big dreams
Amrita will begin a career as an electrical engineer after she completes her training at Balaju Technical School in Kathmandu. The 15-year-old passed the challenging School Leaving Certificate (SLC) exam, required of all Nepali students to graduate from high school, and won a coveted spot in the vocational program.
Amrita entered her training with an eagerness to learn and a big dream — she wants to solve Nepal's chronic power shortage by building more hydro-electric power systems.
Full service: counseling, assessment and training
Last year, we provided career counseling services to 1,200 young people and enrolled 475 youth in both short and long-term training programs.
Before starting any course of training, students take a series of interest and aptitude assessments. VECC staff work with each student to help them decide whether to pursue higher education or vocational training for a particular career path. Our staff has conducted extensive research throughout Nepal to identify vocational courses that provide high quality training and have proven success in placing young people in satisfying jobs.
VECC staff then identify the best training program for each student's chosen field, pays for the cost of training, and helps them to find jobs. In some cases, VECC provides graduates with support for starting a small business of their own.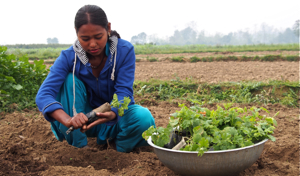 Growing a farm…and more farmers
Asmita was sent away from her family and spent five years of her childhood working as a Kamlari indentured servant before NYF rescued her in 2004. After high school, we sponsored Asmita in an agricultural training program, and then she started her own farm with a loan from the freed Kamlari business co-op. Now Asmita tills the fields with her family by her side. She's also trained 40 other former Kamlari in farming to help ensure their independence.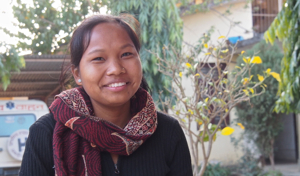 Getting a career, and babies, off to a good start
Renu learned a trade and is studying for a college degree while she works. Smart and hardworking, she received an NYF scholarship and finished high school, passing the SLC exam. Renu then completed the 18-month Auxiliary Nurse Midwife training program.
Now she earns 15,000 rupees ($150) a month (good money in this impoverished country) helping to deliver babies at a small clinic in Western Nepal. But Renu still has larger ambitions, and so she continues in college working towards a bachelor's degree.
Thanks in large part to the generosity of our NYF supporters, the VECC program is proving to be a highly effective means of putting impoverished youth on a track for life-long success.
Learn more:
Read about our Vocation Education and Career Counseling program.
April 18, 2014
Mt. Everest expedition for NYF cancelled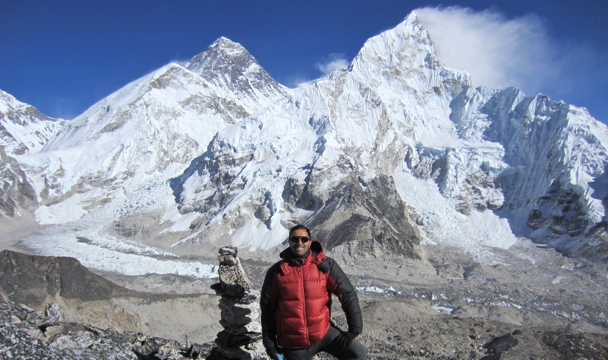 NEWS UPDATE – April 26
We were saddened to learn of the avalanche hit 50 Sherpas working on Mt. Everest on April 18, killing thirteen and injuring others. We join people around the world in sharing a sense of loss and in extending our sympathies to the Sherpa community.
Thankfully, our friend Francesco Rovetta was not in the area of the avalanche and is fine. However, the climbing season on Mt. Everest has been cancelled, so Francesco will not be able to continue on with his expedition to benefit Nepal Youth Foundation.
You can get direct updates at:
https://twitter.com/SummitStories
https://www.facebook.com/SummitStories
We so appreciate Francesco's efforts on behalf of the children of Nepal, and we're so grateful that he and his team are safe.
Our original article published on March 30 about Francesco's expedition follows below.
Mt. Everest expedition to benefit NYF
Francesco Rovetta will climb earth's highest mountain next month to raise money for our New Life Center in Kathmandu, Nepal. The avid mountain climber took a break from his day job to create Summit Stories, a multi-year project that will take him to the top of seven of the world's highest peaks to raise funds for some of the world's neediest children.
"I've been passionate about mountains for a long time," said Francesco, who departs for Nepal in early April. "I'm fortunate enough to do something I love, so why not do it for a good cause?"
At 29,029 feet, Mt. Everest will be the most challenging ascent in Francesco's Summit Stories quest. Francesco has also challenged himself to raise funds for our New Life Center — a healing place for HIV/AIDS affected children and their mothers.
Hope for kids with HIV/AIDS

The New Life Center takes a holistic approach to the treatment of these fragile children — providing nutritious meals, life-prolonging medical treatment, psychological counseling, and tutoring.
Children and their caregivers stay an average of three months before returning home fully nourished and free of secondary infections. The center served 88 children last year, and 65 of them were discharged upon improvement.
Currently housed in a rented house in Kathmandu, we hope to expand the clinic to serve more impoverished children and their mothers. The funds raised by Francesco's expedition will help make this dream come true.
Everest climb takes serious preparation
Francesco will travel to Mt. Everest with seven climbers and an array of guides, Sherpas and porters. The climb up the mountain known as Sagarmatha in Nepal ("the Head in the Great Blue Sky") and Chomolungma in Tibet ("Holy Mother") will take about two months. Francesco will climb to the summit in late May.
An experienced mountaineer, Francesco has trained extensively for the climb. A group of his friends and fans gathered at events in San Francisco and Santa Clara recently to hear him talk about his latest adventure to climb Mt. Everest and to learn about our work. "I am excited, but also a little nervous," he said. "It's a big endeavor and dangerous too."
Many thanks to Francesco and to all the supporters of Summit Stories for caring about the children of Nepal!
Learn more:
Read more about Francesco's quest at Summit Stories.
Learn about NYF's New Life Center.