Tag:
Olgapuri Children's Village
December 3, 2020
Tihar Celebration with Olgapuri, A Children's Shelter in Nepal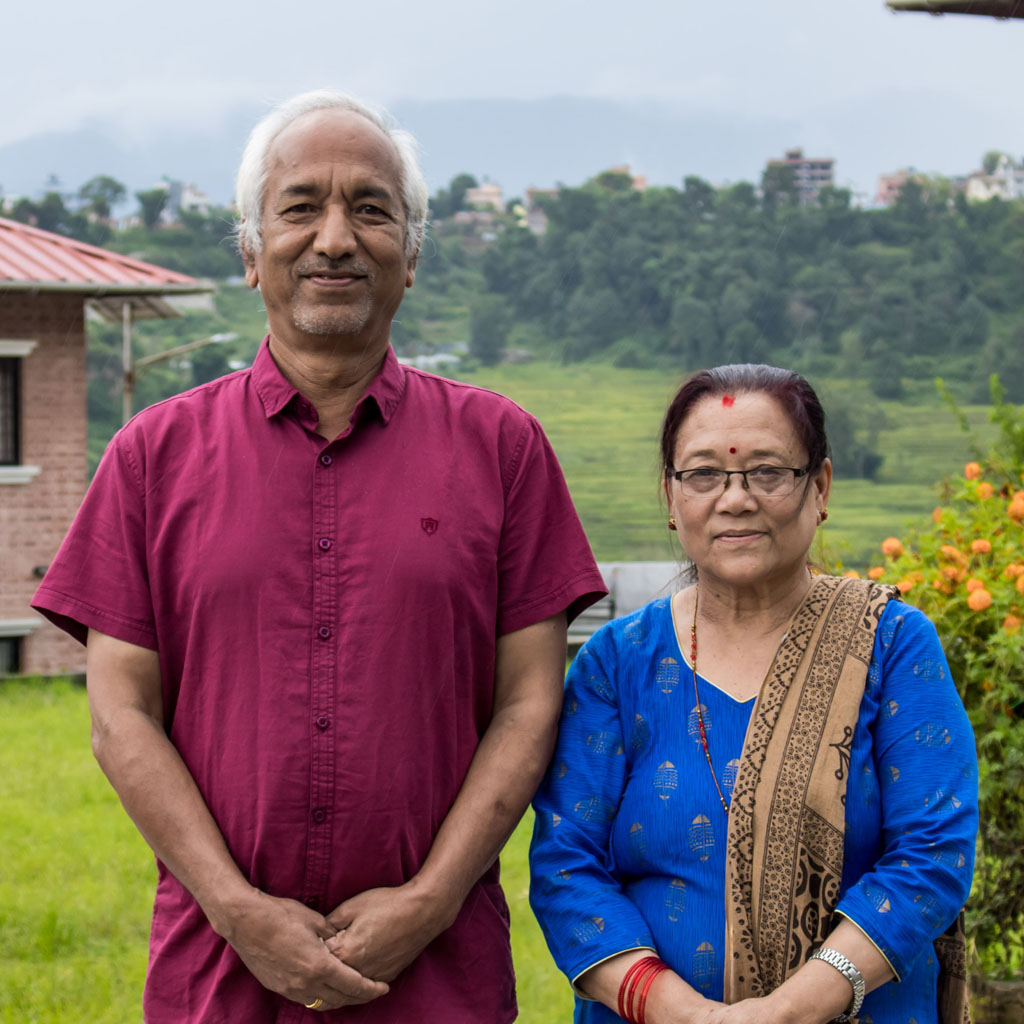 Tihar with Olgapuri House Parents Hem Prasad Shrestha & Binu Shrestha
Tihar, a Nepal celebration comes just one month after the festival of Dashain. Nepalese children love Tihar, especially because it offers special opportunities for siblings to honor one another!
Almost as soon as Olgapuri's Dashain feasting ended, our four sets of loving house parents set to work planning a beautiful Tihar for the 80 children currently living on the locked-down campus. Tihar festivities began on November 13th and concluded on the 16th—to the enjoyment of all.
So far this year, we've spotlighted Dipak & Samana in the junior boys' house, Bhim & Shreemaya in the senior girls' house, and Bishnu & Pushpa in the junior girls' house. As we share Olgapuri's special Tihar celebration with you, we're so pleased to introduce you to the fourth set of house parents: Hem & Binu Shrestha!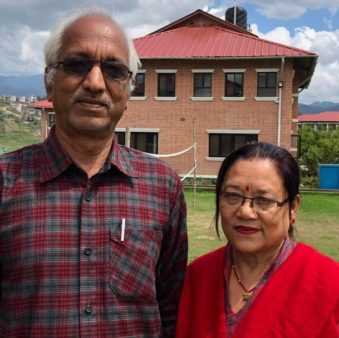 Hem and Binu are parenting the 20 senior boys living at Olgapuri Children's Village. These boys range in age from about 13 to 18—a time of incredible growth, both physical and emotional, when long-term patterns are developed and critical lessons are learned in preparation for adulthood.

The married couple joined the Olgapuri Children's Village team in March 2020, just as the campus was entering lockdown in response to the COVID-19 pandemic. Here, they are the newest team members, but they bring many years of valuable experience to the work they're doing.
Hem-Uncle and Binu-Aunty have experienced incredible changes in Nepal during their lifetimes, including multiple dramatic shifts in government, the long Nepali Civil War, cultural shifts regarding caste and other minority rights, economic changes, and growth in areas like healthcare, education, and technology. Through it all, they have always prioritized the children around them. New generations will continue building their country towards the future. Love and opportunity ripple outward as children become adults.
They've already seen it happen. Hem has worked with NYF since 1996, both directly and indirectly. He even spent many years in leadership positions overseeing NYF's growth on the ground. The two have worked in several children's homes over the course of their careers, but they have always especially admired NYF's loving, long-term, family-style approach.
Even as a very young man, Hem observed practices that made him wary of the way power can feed into corruption. Time and time again, he returned to NYF, because he knew that the resources went directly to the children being served. He recognized NYF's deep, sincere commitment to each individual child's wellbeing and long-term success. NYF staff members are truly focused on the children first, and it makes all the difference.
Hem and Binu are thrilled to bring their history in children's homes to Olgapuri Children's Village, where staff and children alike live together and cooperate like a large family. They have already earned the trust of the children in the senior boys' house. Like the other house parents, Hem-Uncle and Binu-Aunty have spent the lockdown managing online classes for 20 students, organizing outdoor activities, and leading meal preparations. They also value the quieter moments, when the children come to them with concerns, troubles—and happiness as well.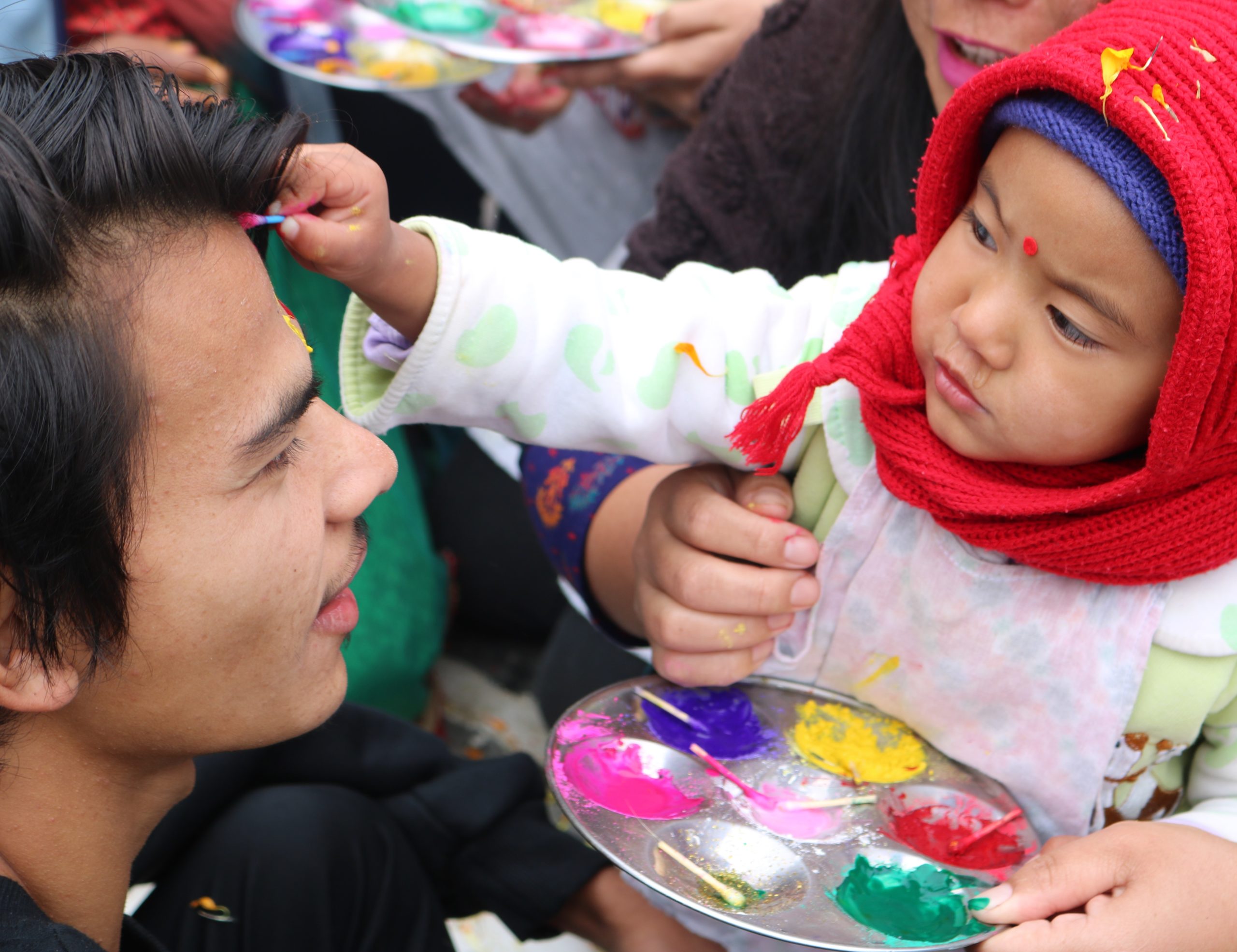 As these 20 boys quickly approach the beginning of adulthood, Hem and Binu are happy to share wisdom and guidance from their own lives. Each child at Olgapuri has a unique story, personality, and set of skills and struggles—like children everywhere. At NYF, we are so grateful to have wise and loving house parents like Hem and Binu to help each of these boys along their journeys of becoming.
And we are grateful for the ways all four sets of house parents ensure moments of celebration, even during lockdown conditions!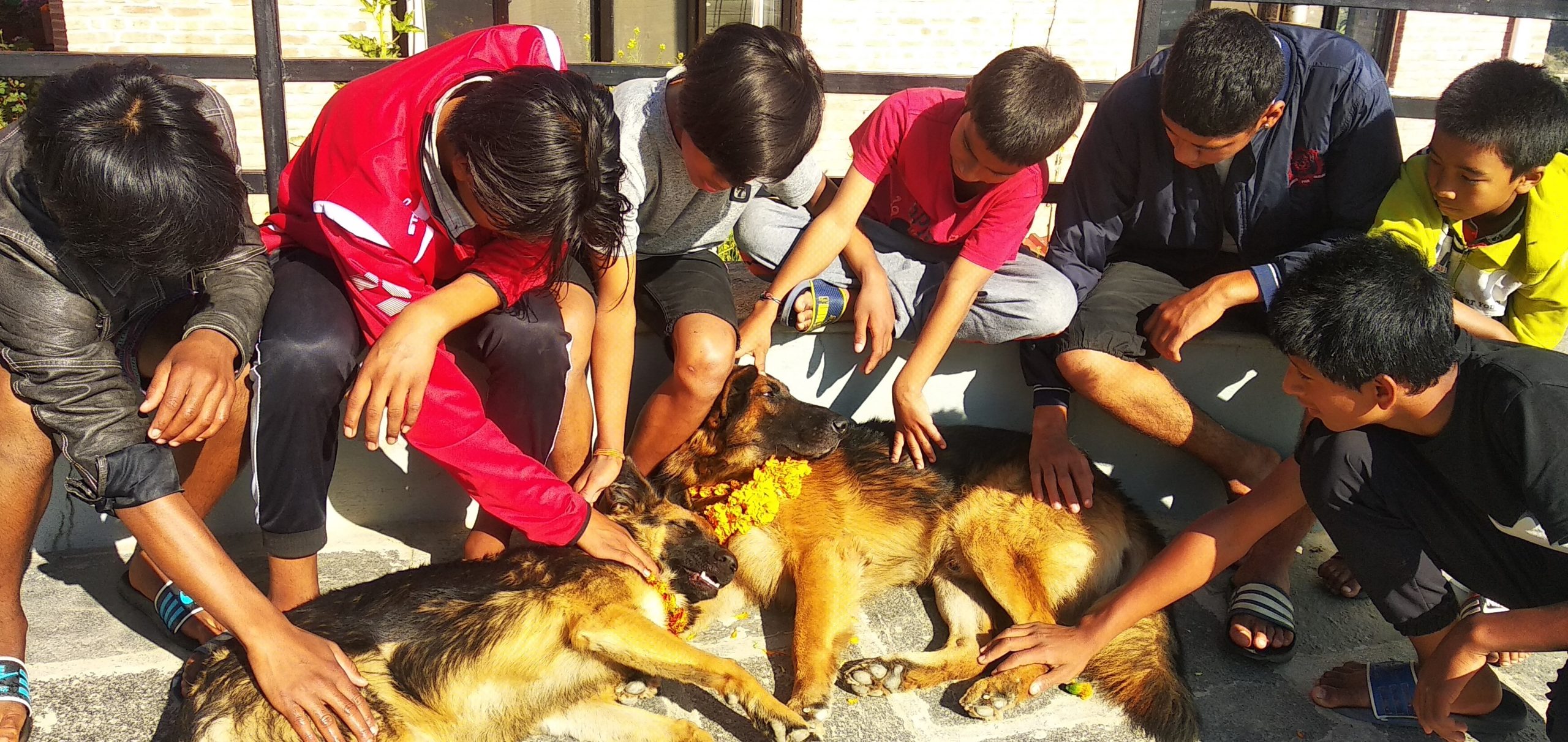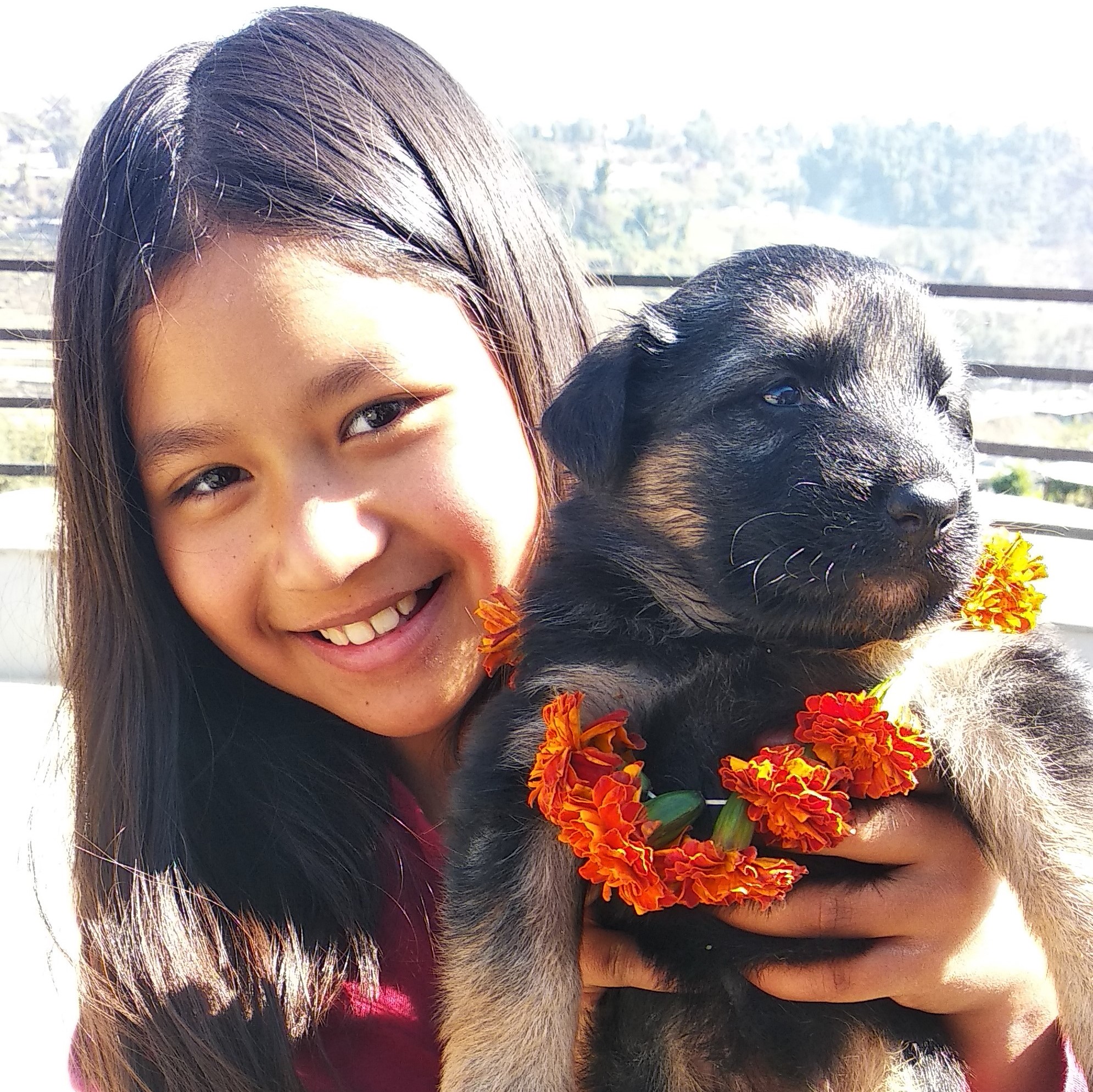 During the Tihar Festival, the children worked together with the house parents to prepare delicious Tihar treats, like selroti (a rice flour-based deep-fried sweet bread), anarasa (a deep-fried sweet pastry puff), arsa (a simple syrupy donut-like treat), and fini roti (a colorful, buttery, flaky sweet pastry).
They decorated each house with beautiful lights and flowers, representing wealth, happiness, and prosperity.
And throughout the holiday, the children played special Tihar games like tass (a card game) and langurburja (a dice game).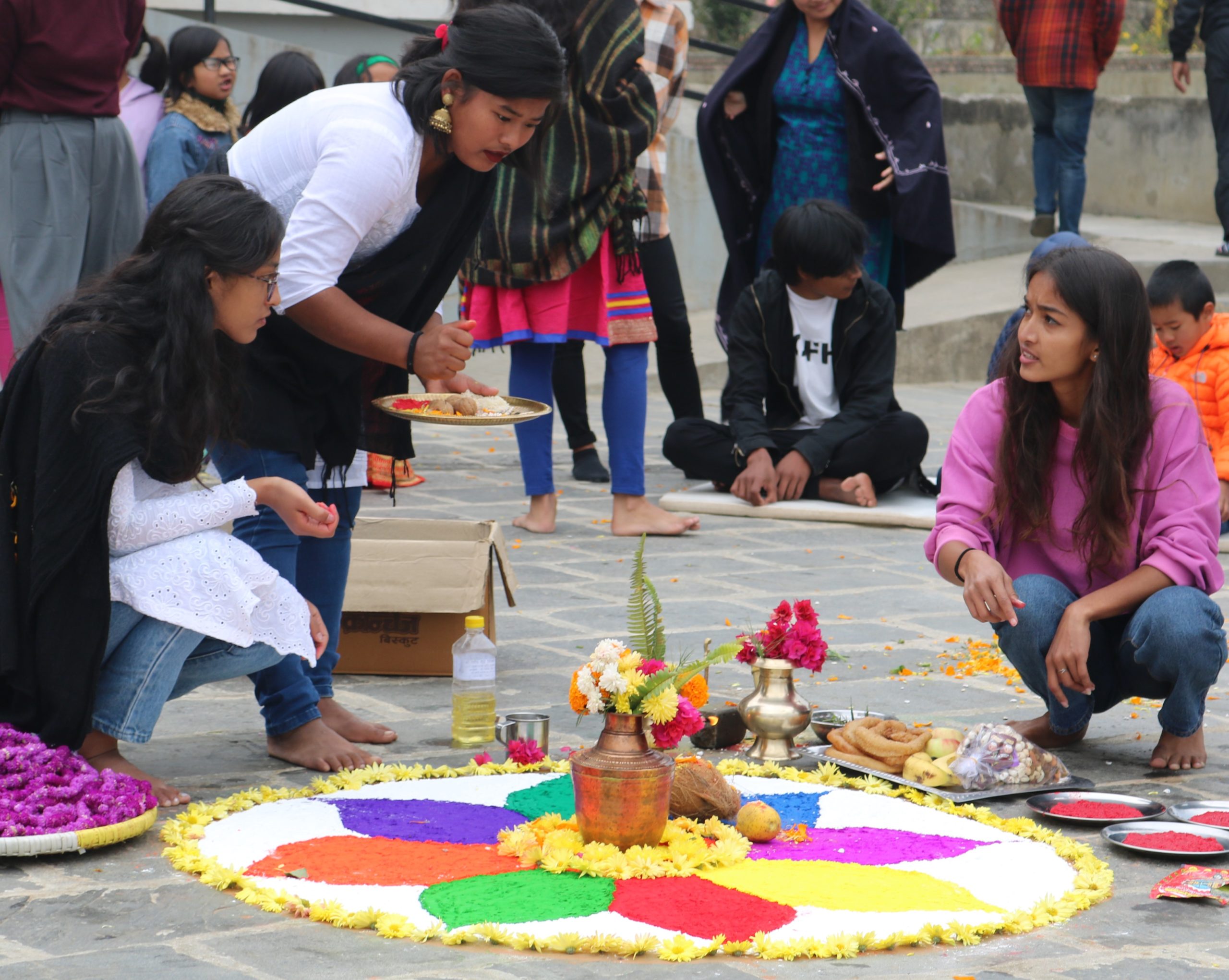 The fourth day of Tihar usually includes a celebration called Deusi-Bhailo, after traditional songs children and teenagers perform in their communities on this day. Similar to the trick-or-treating and caroling familiar to Americans, Deusi-Bhailo performers go door-to-door to people's homes, singing and dancing and giving blessings for prosperity. In return, they collect money, sweets, and snacks.
To everyone's disappointment, this tradition is not pandemic-proof. But at Olgapuri, the children and house parents created a virtual version of the event, streaming their performances to neighbors and friends in the Kathmandu Valley!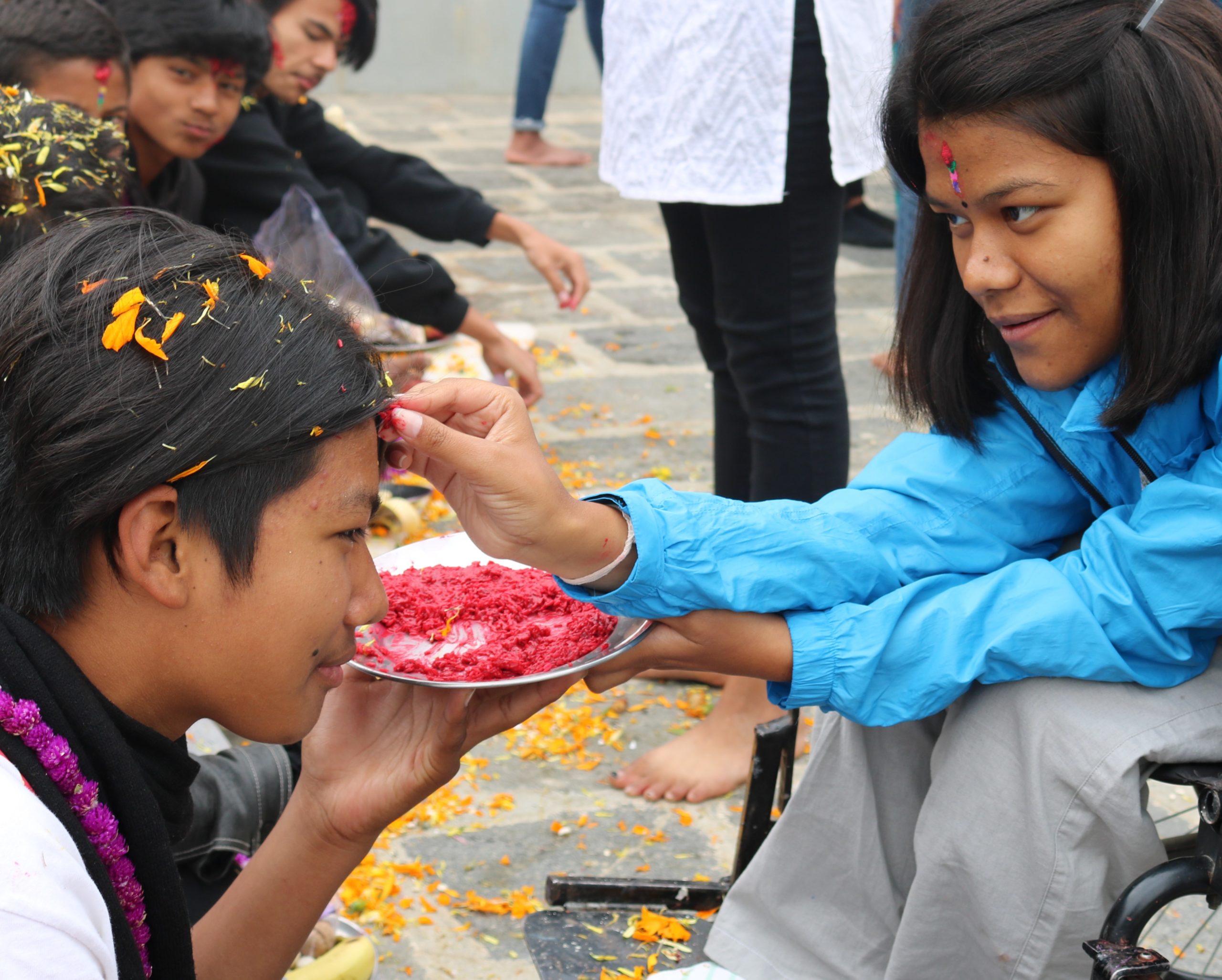 On the final day of Tihar, brothers and sisters show their appreciation for one another, placing special colorful tika on each other's foreheads and exchanging small gifts and blessings.
Love and devotion between siblings is an important part of life at Olgapuri, where the family-style approach has always been the foundation of the work. In the 1990s, when Olga first started her work sheltering children at J House and K House, she recognized that the children she was serving needed stable family relationships as much as they needed housing security, healthcare, and educational opportunities.
All children need a sense of belonging. All children need to know that they are loved.
Hem-Uncle and Binu-Aunty believe in Olga's vision of a children's home that meets the emotional and cultural needs of its residents. So do the rest of the house parents at Olgapuri Children's Village. Our house parents' devotion to the children in NYF's care is an incredible gift. Their loving attention—especially during the lockdown conditions they've been living under for the past nine months!—ensures that each child receives the healthiest, most nurturing personalized care NYF can offer.
Hem and Binu know that their #LoveWorks—and so does yours.
As households throughout the world prepare for a nontraditional, socially distanced holiday season in 2020, we're all working hard to find ways to make meaning and build connection from the safety of home. If you believe in the work Hem and Binu are doing at Olgapuri, please help them by sharing their story on social media with the hashtag #LoveWorks!
October 27, 2020
Dashain 2020 in Nepal – Preparations for Celebration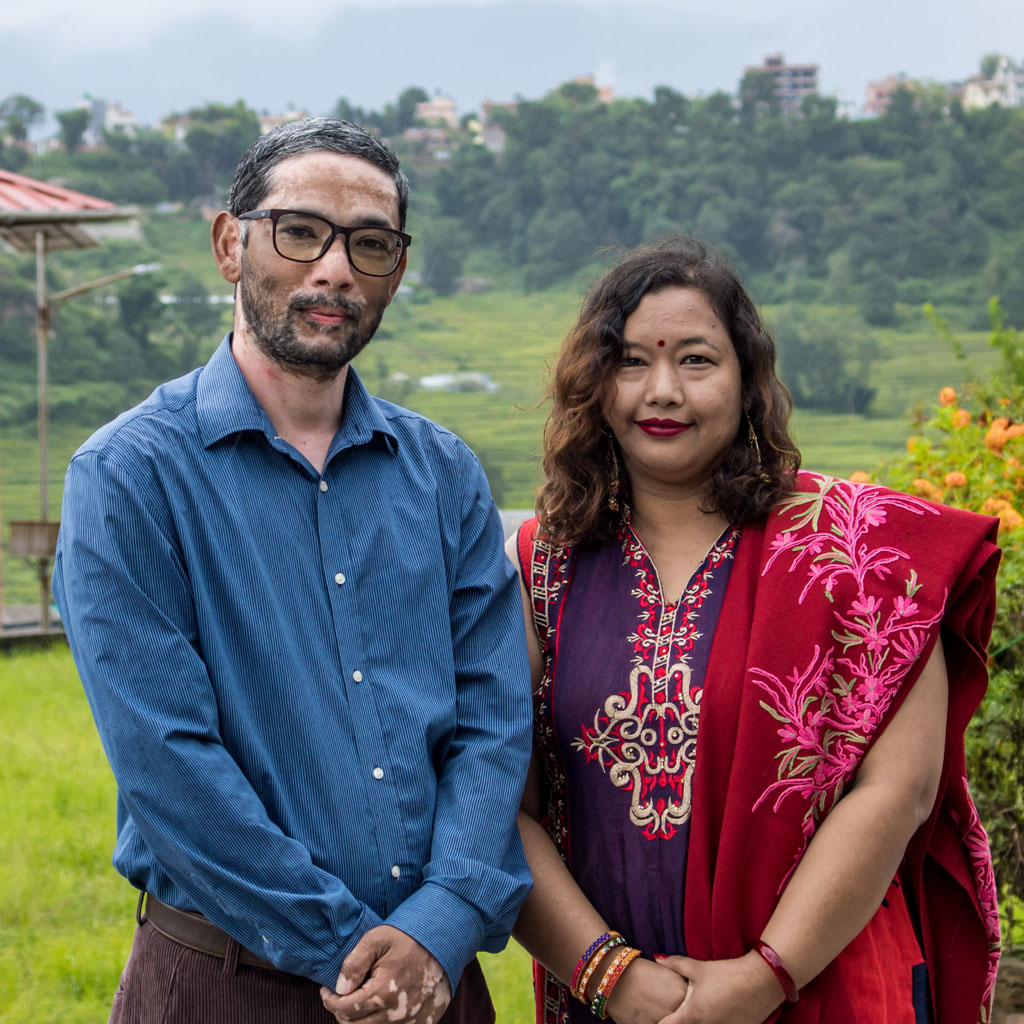 Dashain in Nepal is the longest and most beloved festival. First comes monsoon season—heat, high humidity, heavy dark afternoon clouds, torrential rain, lush green landscapes, deep puddles, long thick grass, and the ever-present scent of soaked soil. All this rain between June and September floods the country's prepared fields, ensuring a rich harvest later in the year.
Nepali celebrate Dashain in the fall. This is the longest Hindu festival in Nepal, traditionally celebrated for two weeks with prayers and offerings to Durga, the Universal Mother Goddess. The great harvest festival of Nepal, Dashain is a time for family reunions, exchange of gifts and blessings, and elaborate pujas.
On the Olgapuri campus, high-energy husband-and-wife duo Dipak Raj Onta and Samana Amatya Onta knew when the monsoon rains started that they'd need to get extra creative to keep their 20 boys entertained this summer.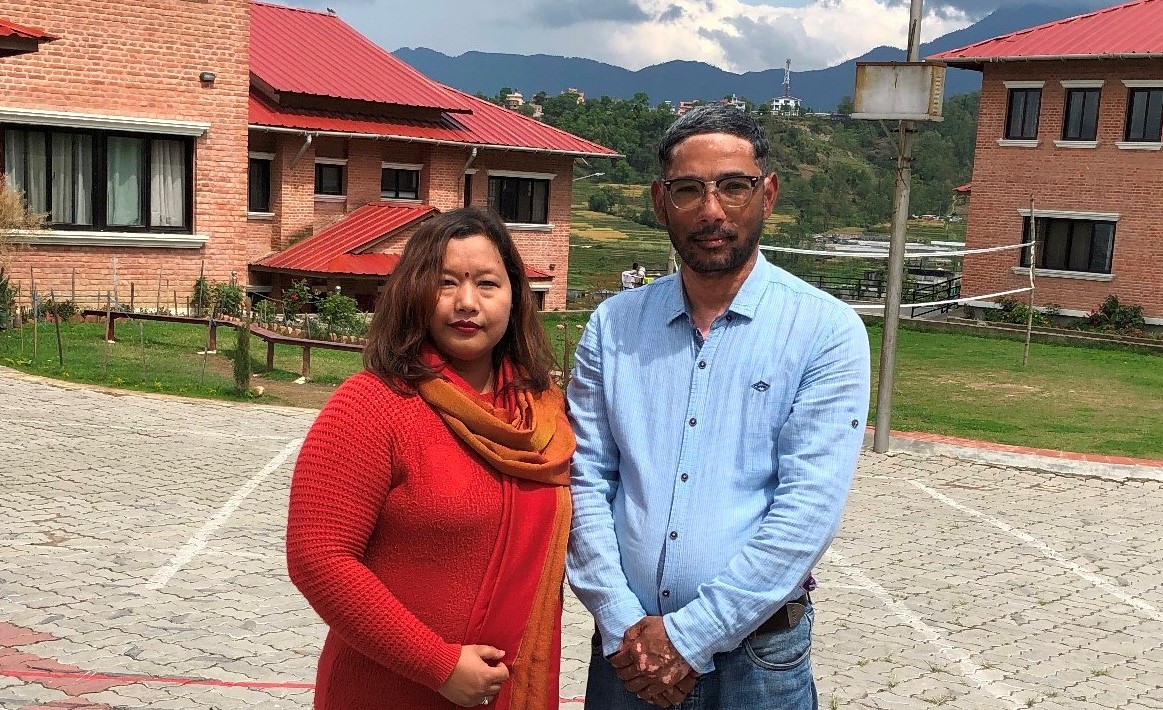 All summer long they've helped organize outdoor activities—the kind of rowdy "big body play" that is so critical to children's brain development, physical health, self-confidence, social growth, and academic success. Whenever they can, the two make sure to join in the fun themselves. They're enjoying the extra togetherness with the kids this year.
The 20 kids in the junior boys' house range in age from 4 to 13, and so, like Bishnu and Pushpa in the junior girls' house, Dipak and Samana are managing online classes and helping with homework for multiple grades at once. They're also teaching the boys age-appropriate cooking and basic life skills, like Bhim and Shreemaya in the senior girls' house.
And this month, all four sets of house parents joined forces to help the kids celebrate a very strange Dashain 2020.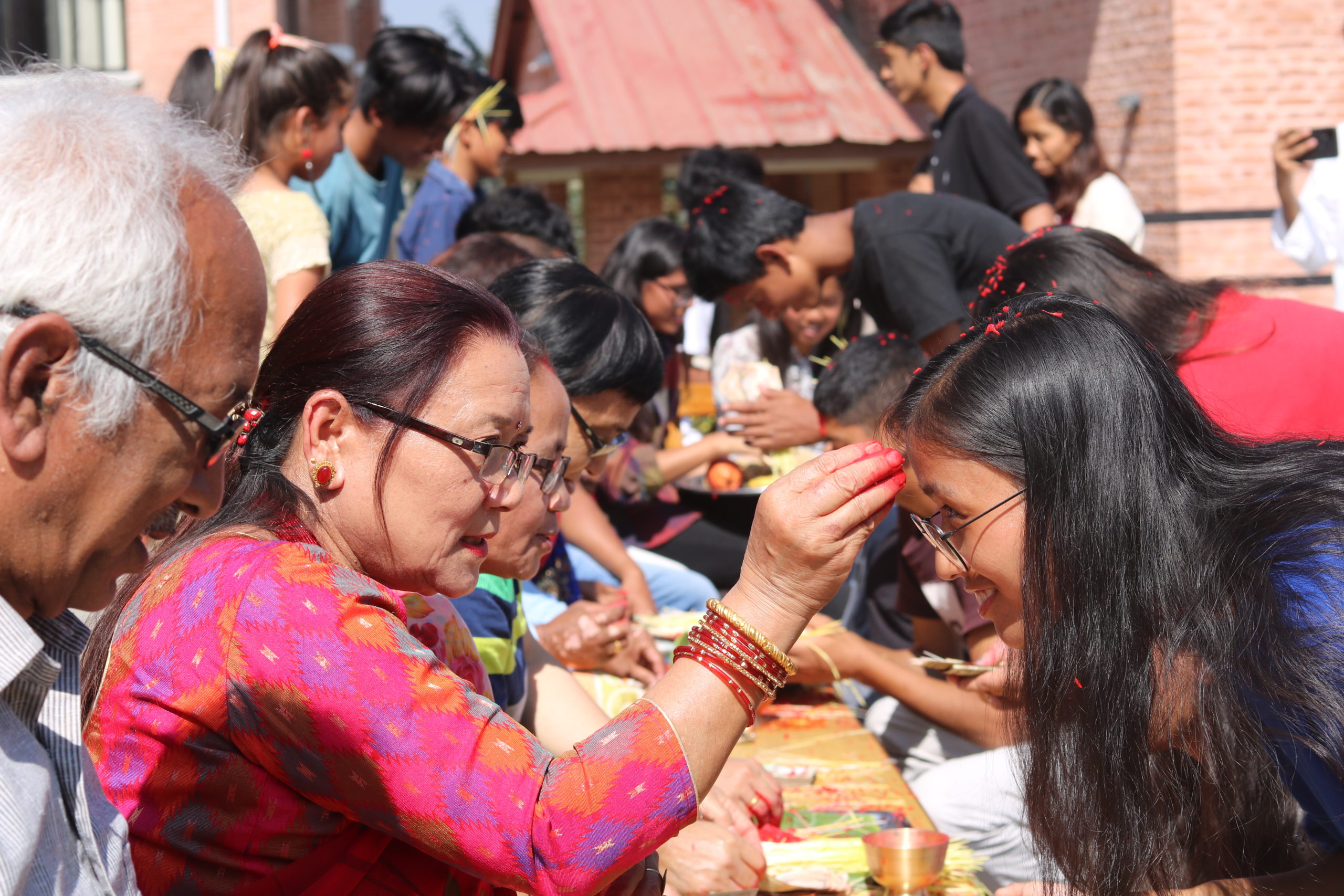 Dashain (pronounced de-SAI) is a 15-day-long lunar festival that usually occurs in September or October. It's one of the most emotional, colorful, and enjoyable times in Nepal. The holiday blends harvest-time and fertility with the triumph of good over evil, and family members travel from far and wide to celebrate together.
The festival's Hindu roots don't keep members of other religions from participating. Everyone enjoys the opportunity to feast with family, exchange gifts (especially new clothes), and trade memories. Elders bless the children. Children play together. Warm feelings fill everyone with joy.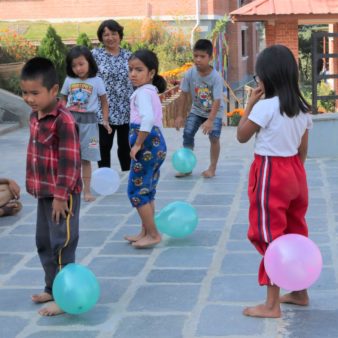 Throughout the world this year, families are working to think of creative ways to celebrate each culture's special moments without risking illness. Nepal is no different. With most travel out of the question, many Nepalese families will be spending a very lonely Dashain—or at least a strangely quiet one.
Many of the children at Olgapuri return to their home villages for Dashain, where they can connect with their region's unique culture. Some still have extended family members who love maintaining a relationship with them, even though they're unable to provide a stable home. NYF encourages these healthy relationships, allowing each child to bond with their world beyond Olgapuri's walls.
But this year, none of the children can travel anywhere. Luckily, Olgapuri is a loving family all its own. Our four sets of house parents, including Dipak and Samana, were determined to give the children the best pandemic-era Dashain they could!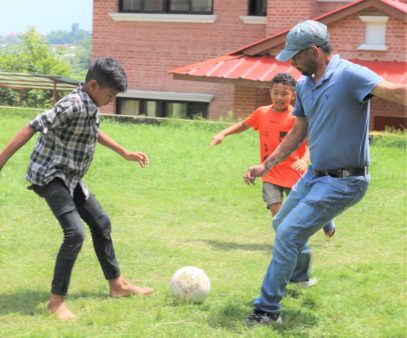 Dipak joined the NYF team in 2015, managing a transit home NYF established in Gorkha District for children displaced by earthquakes. Soon, he was also managing NYF's earthquake scholarship program in the district as well. Managing the transit home was a great fit for Dipak—he loved caring for the children and using the power of play to make their lives feel a little more normal and safe after so much trauma.
In January 2018, Dipak and Samana became the junior boys' house parents, where they've been able to continue this work long-term. Samana was thrilled to join her husband here. She's always loved working with children and didn't have much opportunity to do so in her work as a fashion designer. They are each inspired by Olga's life story and by her commitment to Nepalese children, and they are proud to be part of the work being done by NYF.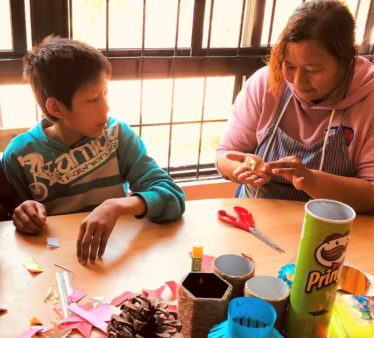 Dipak-Uncle and Samana-Aunty are social and optimistic people, and they love the Olgapuri community—visiting with the other house parents, interacting with the 80 children, chatting with the wide array of staff members. Olgapuri feels like being home with a large family.
Though the element of work is always there, Dipak and Samana feel less like they're doing a job, and more like they're simply raising their own children in a warm, supportive environment.
That's never been truer than right now, during Nepal's most family-centric festival. The house parents managed quite a schedule this year, including an ongoing carnival on the grounds (including sports competitions and more), traditional Dashain card games, feasting, and a special Dashain swing called the linge ping!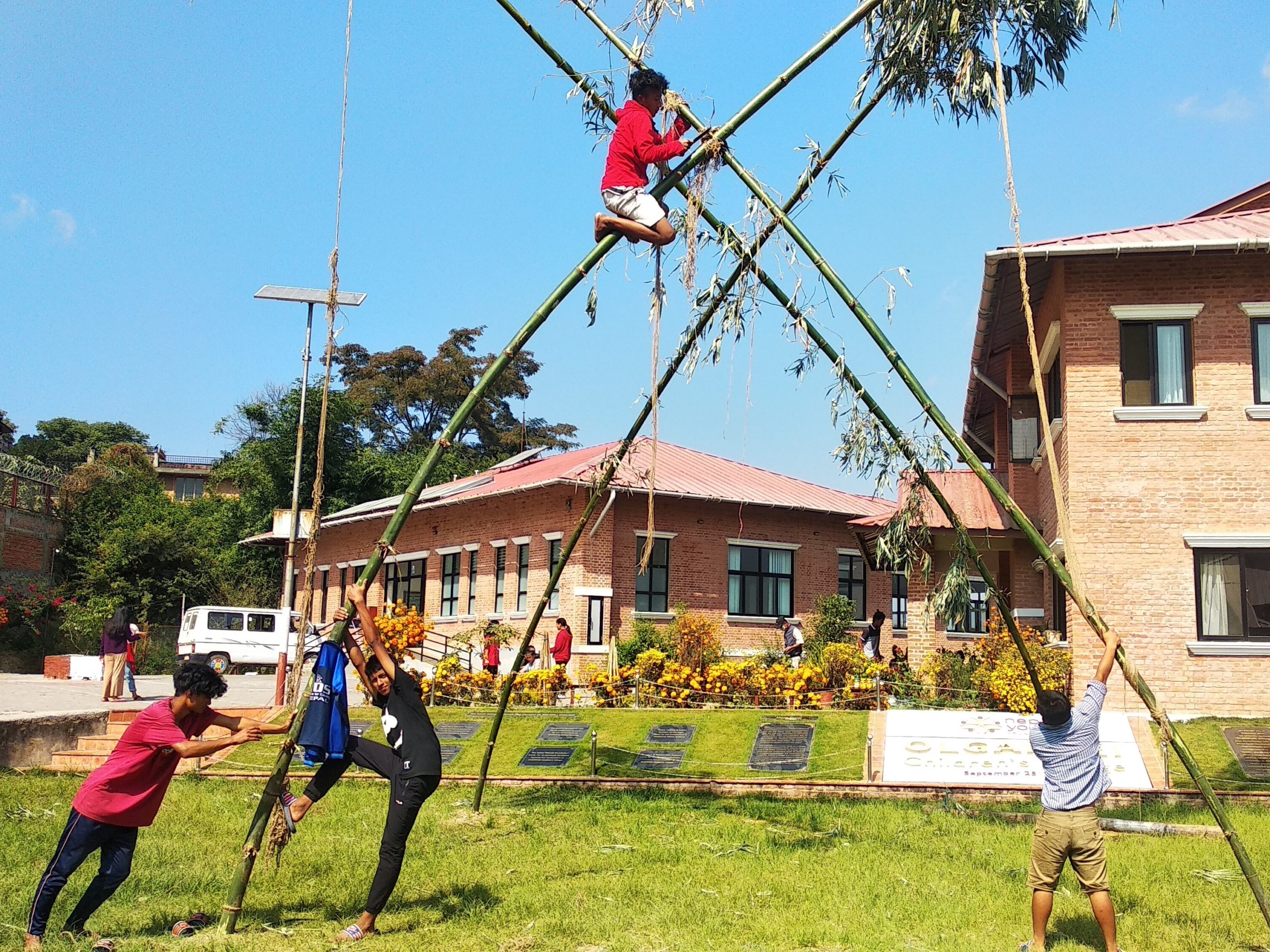 Dipak and Samana's 20 junior boys were most excited about the food, the games, the swing, and the presents—just like kids everywhere! They especially love the tika ceremony, in which the elders bless the children by placing a bright red paste on each of their foreheads. It's a ritual of love and belonging—one our house parents was honored to participate in this practice in celebration of Dashain 2020.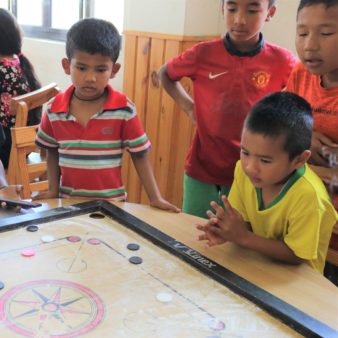 Though many of the children missed traveling, they enjoyed Dashain 2020 with their Olgapuri family. Dipak and Samana feel the same way. As they celebrate with the 20 boys in their care, they're happy to be part of this important work. They cherish the ways each child shows their kindness, helpfulness, creativity, and athleticism.
They love cycling with the children, and playing basketball, soccer, tag, hide-and-seek, and more. On rainy days, Samana enjoys opportunities to show the boys arts and craft techniques while others play board games nearby.
NYF is lucky to have them on our team! Running around with 20 young boys, Dipak and Samana are glad to be part of the reason #LoveWorks.
---
Throughout the world, families are preparing to celebrate major holidays a little differently this year—and Olgapuri is no different! If you believe in the work Dipak and Samana are doing, please help them by donating here or by sharing their story on social media with the hashtag #LoveWorks!
July 12, 2020
Staff Spotlight: Olgapuri House Parents Bishnu Rana and Pushpa Thapa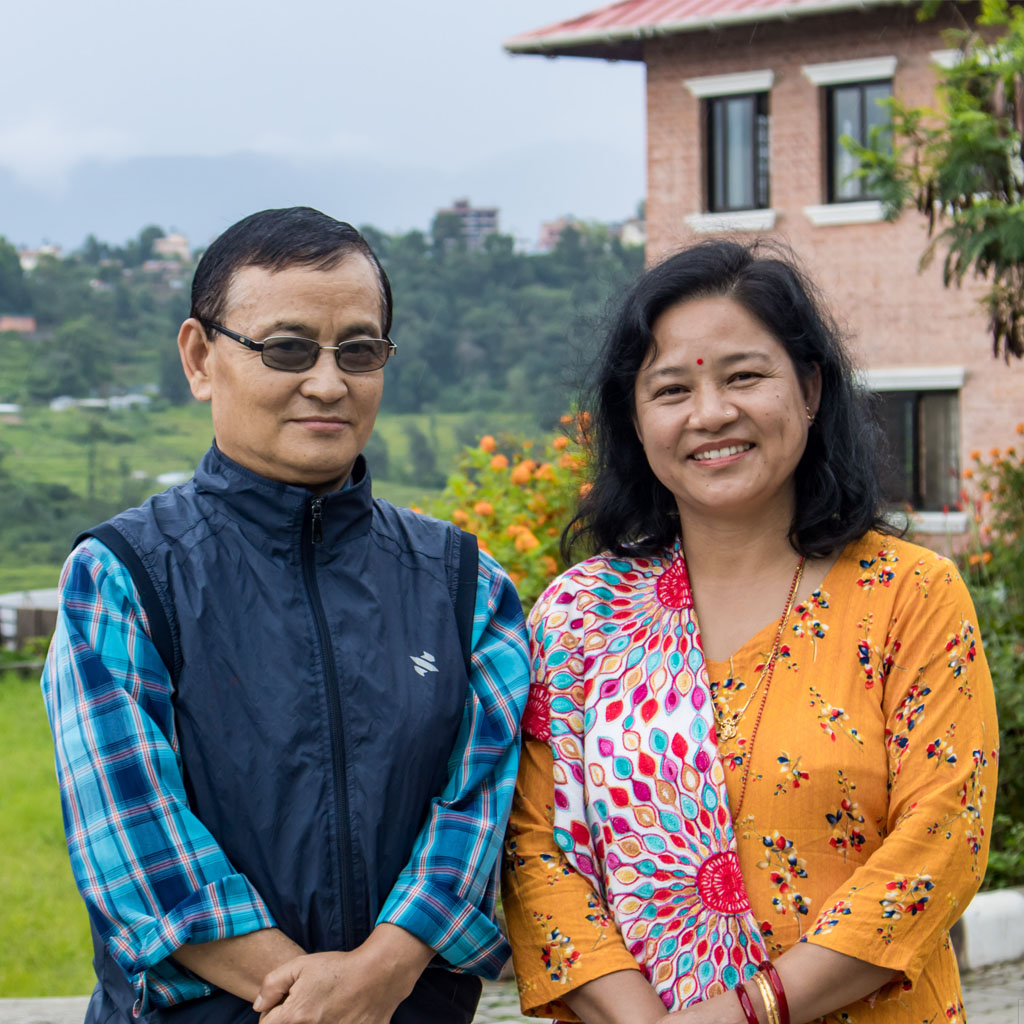 Days start slowly in the junior girls' house at Olgapuri Children's Village. The sun rises over Kathmandu Valley, and Bishnu-Uncle and Pushpa-Aunty sit down together for meditation and a cup of tea as their 20 young girls start waking up.
Some of the smaller girls ask the older ones to braid their hair—French braids, tiny accent braids, lace braids—the more creative the better. The girls range from age 2 to 13, and the youngest ones have loved the extra sister-time during Nepal's months-long lockdown. The older girls enjoy the practice. They loved this nurturing attention when they were little, too.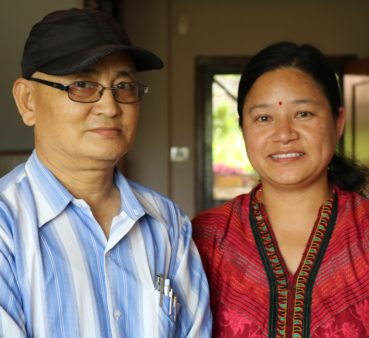 For Bishnu and Pushpa, the husband-and-wife team responsible for parenting in the junior girls' house, the lockdown has been hectic, with added responsibilities and no time off. But they love the children as they love their own daughter and son, who live with them in the junior girls' house, and these early moments of quiet meditation help ground them in the incredible importance of the work they're doing.

Pushpa started her journey with NYF in 2004, when she was a social worker. She knows almost all the NYF children and has remained in close touch with them. Many of them see her as their own guardian.
Meanwhile, Bishnu enjoyed a successful career in banking. But when he retired, he felt called to join his wife helping the children at NYF. The pair became the junior girls' Olgapuri house parents in 2018.
Providing parental care to 20 young girls is a challenge in the best of circumstances, but as parents the world over deal with lockdown conditions, Bishnu and Pushpa are pushing their drive and resourcefulness to the limit.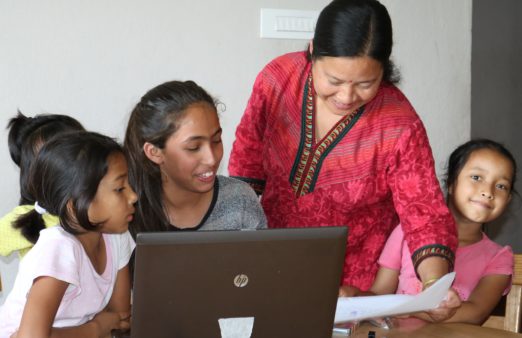 Most of the junior girls are attending online classes over Zoom from 10 to 3 every weekday, with multiple schools, grade levels, and subjects being taught at once—an enormous strain on the slow network. Bishnu and Pushpa spend those hours encouraging the smallest students to pay attention, managing technical problems, and ensuring the available computers, printers, and other equipment are being used fairly. Scheduling has been an absolute necessity, and a few senior house girls have volunteered as mentors.
Some of the girls attend schools that haven't launched online classes, and Bishnu-Uncle and Pushpa-Aunty help them study at home. When class time is through, the house parents make sure each child has the help needed to complete her homework.
As in any family, every child at Olgapuri has unique academic strengths and struggles. Some find schoolwork easy and rewarding, while others struggle to grasp and apply new principles and material. Some of the children are coping with learning disabilities like ADHD, while other have experienced early traumas that impact their focus in the classroom, their confidence with new subjects, or their tolerance for frustration.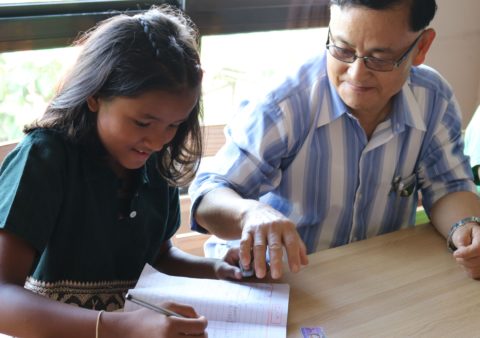 Bishnu-Uncle and Pushpa-Aunty make a point of knowing each child's academic aptitudes, interests, and stumbling blocks, working with each individual and her teachers to ensure each girl is personally and lovingly supported in achieving her best possible outcomes. This incredible investment of time and effort is well-worth the rewards. Seeing a discouraged child begin to grasp new mathematical principles or successfully complete a handwriting assignment fills our house parents with satisfaction and joy. Each triumph is celebrated.
There are creative projects as well. Pushpa-Aunty has been teaching interested girls how to knit, and some of them have gotten quite good! Other girls love painting, and others enjoy paper crafting and jewelry-making. Some of the girls' work is pictured below. Artistic projects are an excellent stress-reliever in times like these and working together to develop these skills is a lot of fun. The older girls are planning to sell their creations when they're able to have carnivals with other children's homes again—a hands-on learning experience that helps kids explore marketing, finances, and business.

Like Bhim and Shreemaya, Bishnu and Pushpa prepare meals and snacks with the girls, using the time to teach age-appropriate cooking and safety skills. The girls are also learning to care for themselves—making their beds, cleaning their rooms, and other chores appropriate for their ages. The littlest among them are beginning by washing their own socks, which helps them feel very grown-up and accomplished, like their older sisters.
Caring for 20 girls under age 13 is an enormous responsibility. That's why NYF is so grateful for the hard work of loving and dedicated staff members like Bishnu and Pushpa. Being house parents at Olgapuri is more than just a job—it's love in action. Bishnu-Uncle and Pushpa-Aunty enjoy providing guardianship and care to these children.
Their commitment to the junior girls' happiness, unity, and success is why #LoveWorks.
All over the world, parents and guardians are working hard to help kids learn, and every story is different! If you believe in the work Bishnu and Pushpa are doing at Olgapuri, please help them by sharing their story on social media with the hashtag #LoveWorks!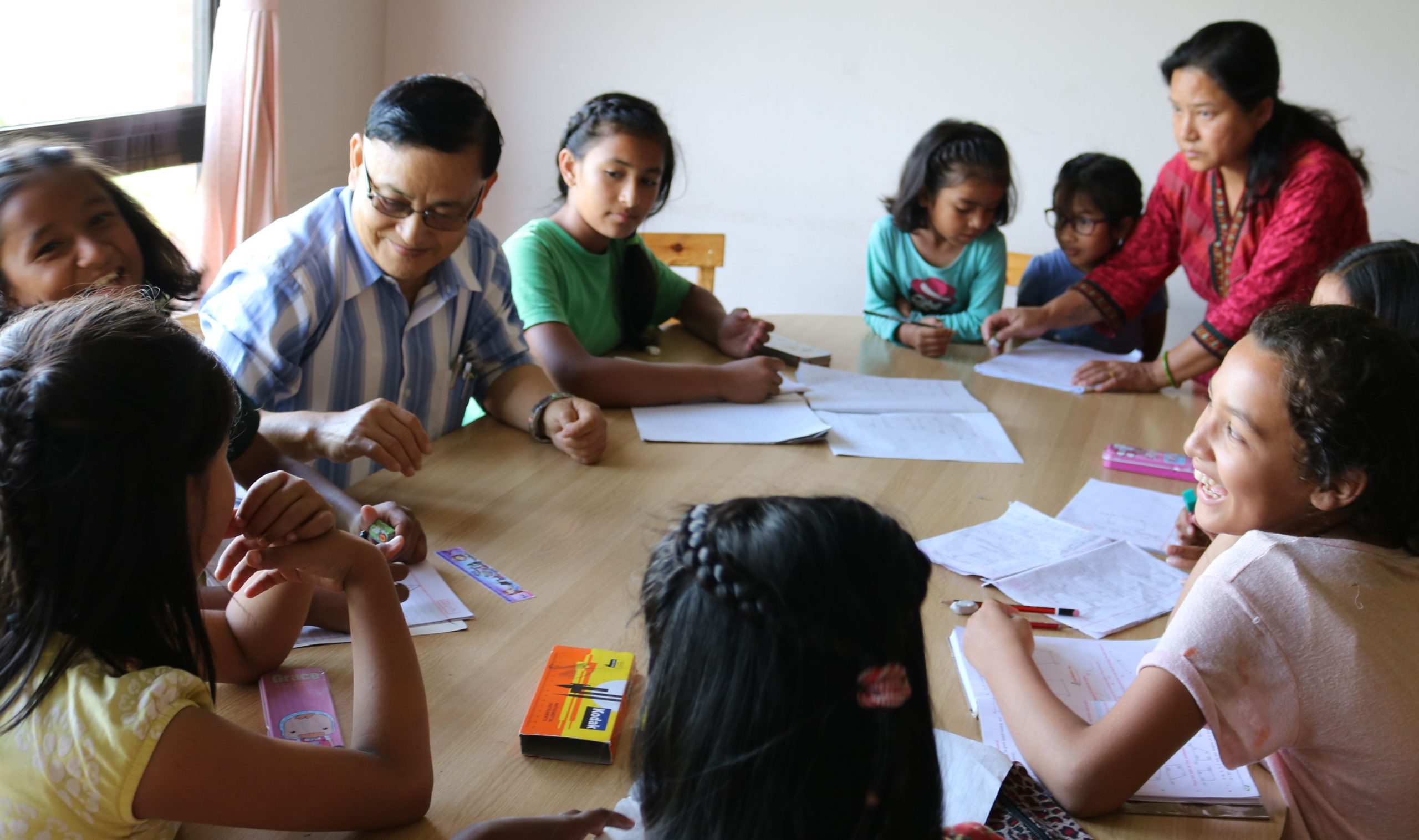 June 11, 2020
Staff Spotlight, Olgapuri House Parents Bhim & Shreemaya Shrestha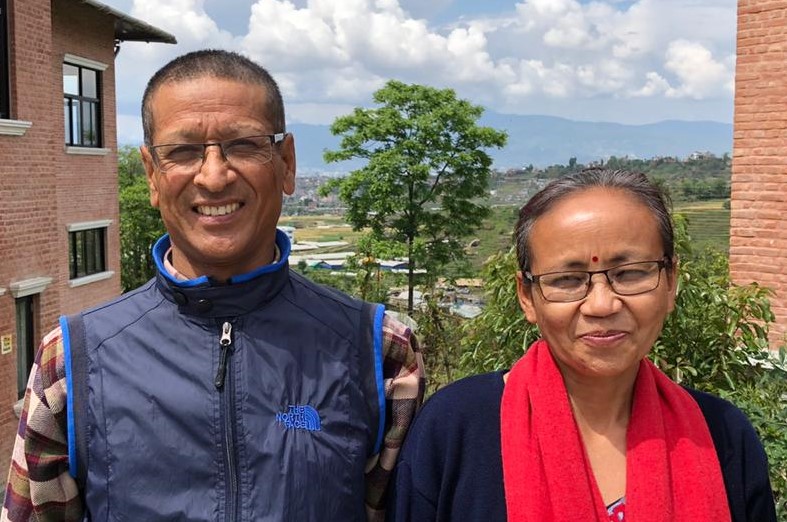 This is a staff spotlight on Bhim & Shreemaya Shrestha, house parents of the senior girls at Olgapuri Children's Village. If you enjoyed reading this, please check out:
Staff Spotlight: Junior girls' house parents Bishnu Rana & Pushpa Thapa at Olgapuri
Staff Spotlight: Junior boys' house parents Dipak Raj Onta & Samana Amatya Onta at Olgapuri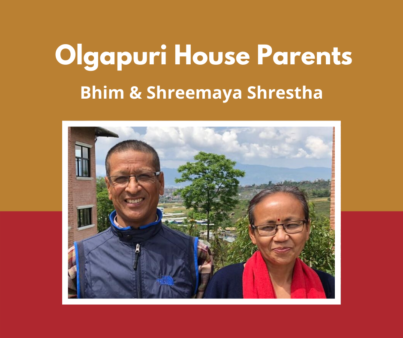 Two months into Nepal's COVID-19 lockdown, the streets of Kathmandu are empty.
But at Olgapuri, the senior girls' kitchen is bustling. Shreemaya-Aunty is demonstrating the proper way to make a beloved snack: samosas. With peas frying alongside fragrant ajwain seeds, onion, ginger, hing, hot peppers, cumin, and other rich spices, the entire room smells absolutely tantalizing. Twenty girls watch eagerly as crumbled potato is added to Shreemaya's large pot.
Shreemaya Shrestha and her husband, Bhim Shrestha, are the house parents in Olgapuri's senior girls' house. For the twenty girls living here, all between the ages of 14 and 19, Bhim and Shreemaya are the primary adult influences, in charge of providing the parental care that all teenagers need—reminders about homework, parent-teacher conferences, life advice, support in social interactions, role modeling, balanced discipline, and, of course, love.
Bhim and Shreemaya came to Olgapuri with a long history of childcare experience. They've worked together in childcare homes for a long time, and have raised many children with their natural warmth, personal care, and love.
The two befriended the Olgapuri children through their work in other childcare homes, and their creative approach to helping children work through problems matched NYF's goals beautifully. Bhim-Uncle and Shreemaya-Aunty formally joined Olgapuri as house parents in 2016.
Back in the kitchen, Shreemaya-Aunty is showing twenty girls how to roll samosa dough to the proper thickness to achieve a crisp, deliciously fried shell. The aromatic potato-peas-and-spices mixture is cooling on the counter, and several girls are tempted to sneak a taste—but they know it'll taste so much better once wrapped into neat packets, deep-fried, and dipped in chutney.
This is just one activity the house parents have devised to make the most of the lockdown. Nobody can leave the Olgapuri campus, and the central dining hall for the four houses has been closed, so age-appropriate cooking lessons have been occurring in the four house-kitchens each day as family meals are prepared. By the end of the pandemic, Olgapuri may have budding chefs testing new dishes on their siblings!
While Shreemaya is teaching the art of the samosa (as well as other day-to-day tasks the girls will value once they've left Olgapuri), Bhim-Uncle is hard at work as well, reaching out to the girls' schools, ensuring homework is complete, and troubleshooting online classes. He's also paying close attention to the ways each girl is coping with the current crisis. Bhim is a counselor with a Master's in Psychology and a Bachelor's in Management. His skills are crucial to ensure that each girl receives the individual care she needs.
Bhim and Shreemaya also work together to help organize outdoor activities on the beautiful Olgapuri campus, find creative ways to hold club activities, and coordinate with NYF staff members to keep programs as active as possible through the crisis.
Normally, house parents take occasional weekends off to visit their loved ones outside of Olgapuri, but during the lockdown, they've all been socially isolated on the campus grounds, just like the children. It's been a "different" experience—an extra-demanding chapter in a demanding career. Bhim and Shreemaya are busy and tired. But their love for the children translates into determined satisfaction. Through it all, they know the most important lesson they are teaching the senior girls is one that will serve them long into the future: how to survive and thrive in difficulties.
Standing in the warm, fragrant kitchen, Shreemaya-Aunty isn't just teaching twenty girls to make a delicious snack. As she offers advice on dough-folding and the proper amount of filling, she is also listening to the girls discussing their worries, their hopes, and their daily troubles. She's listening to the jokes they tell and the ease of their laughter, and she's watching uncertain fingers grow in confidence as the samosas come together, lined up together on a platter, ready for the deep-fryer bubbling nearby.
As the first samosas are lifted carefully from the simmering oil, the scent of deep-fried dough tempting girls to burn their fingers and their tongues on the golden-brown delicacies, Shreemaya-Aunty knows the girls' success is what matters most. And she and Bhim-Uncle are committed to the success of each and every one of them.
It's because of them that #LoveWorks.
All across the world, families are gathering together to cope with the pandemic. If you believe in the work Bhim and Shreemaya are doing at Olgapuri, please help them by sharing their story on social media with the hashtag #LoveWorks!
And if you'd like to try Shreemaya's samosas in your own kitchen, you can! Click here for Shreemaya's very own recipe—a special gift for the NYF Family!
June 11, 2020
Vegetable Samosa Recipe, Shreemaya Shares her Recipe from Nepal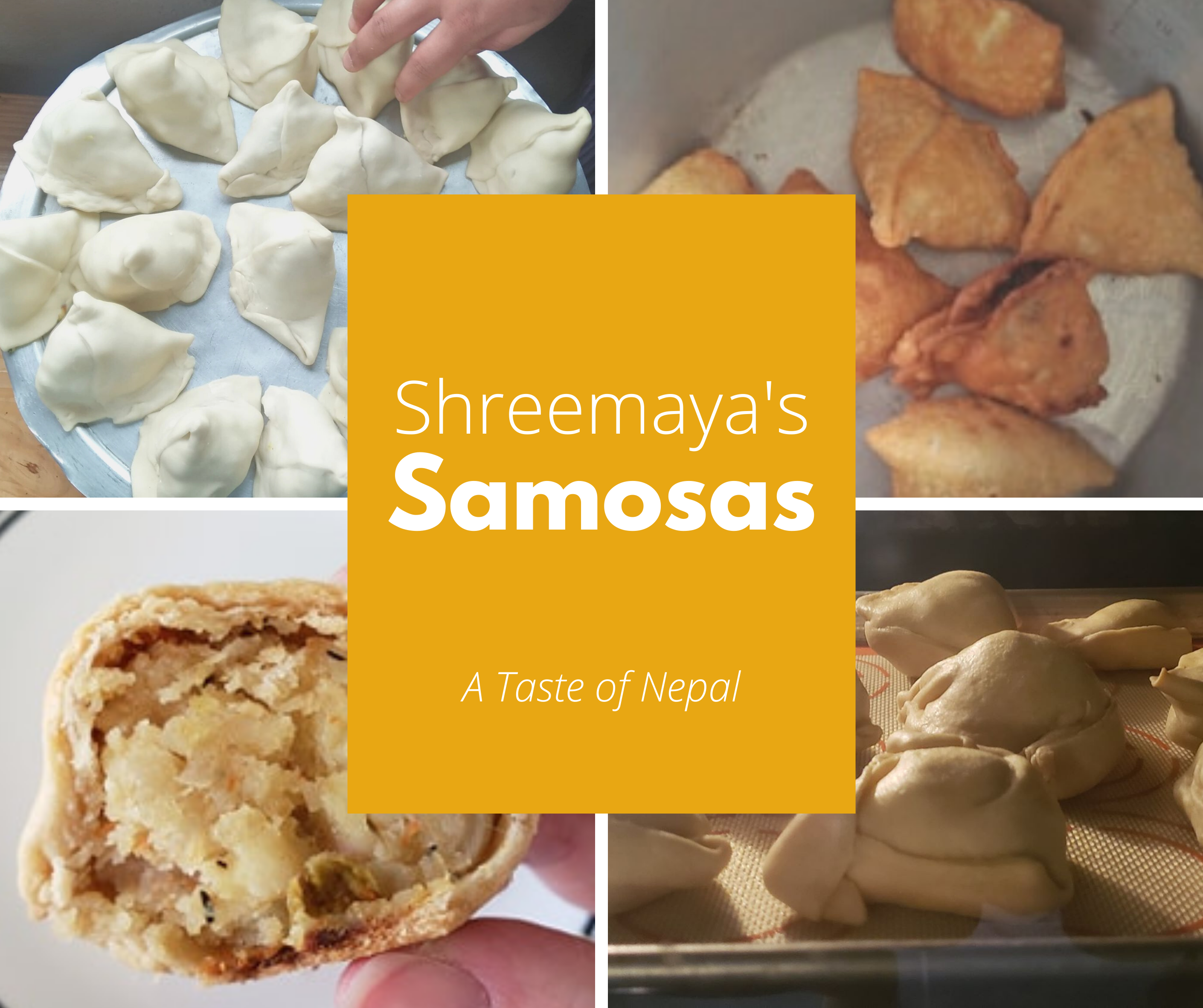 This vegetable samosa recipe is a special gift from Shreemaya-Aunty. She wanted to share this recipe with her NYF english-speaking supporters. Yum, thank you! These deep-fried (or baked) morsels will transport you to Nepal with none of the risks of pandemic travel.
Shreemaya and her husband, Bhim, are the senior's girls house parents at Olgapuri Children's Village, a holistic home for Nepalese children just outside of Kathmandu. To read about their work during Nepal's COVID-19 lockdown, click here.
In our recipe, we've offered substitution suggestions for some specialized ingredients, though you may find both ajwain and hing online. We've also reduced Shreemaya's original recipe (when cooking for twenty hungry teenagers, her recipe calls for 24 cups of flour!). To watch a Nepali YouTuber demonstrate the proper techniques, click here.
The "NYF American Test Kitchen" (NYF staff members and their families!) tried out the recipe below with rave reviews. A few tips: a tester who tried gluten-free flour was unsuccessful, but the filling was still delicious! Another who used puff pastry sheets reported a delicious, buttery result, if a much less "traditional" samosa flavor. And everyone was missing something different in their lockdown spice cabinet—but even without a few key flavors, each of us achieved samosas we'd be happy to eat again!
If you make samosas with your family, please share your photos with NYF on social media, with the hashtag #LoveWorks and a link to Shreemaya's recipe!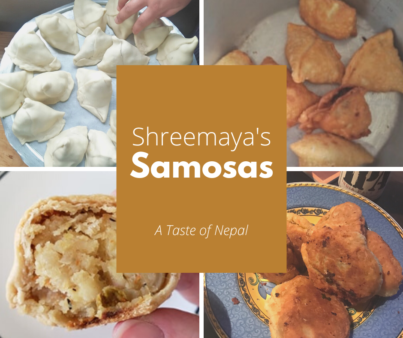 Shreemaya's Samosas
yield: 14 samosas
Dough (or substitute store-bought puff pastry sheets):
2 cups white flour
4 Tbsp. sunflower oil (or olive oil)
¼ tsp. salt
approx. 6 Tbsp. water
Filling:
3-4 medium potatoes
2 Tbsp. sunflower oil or ghee (or olive oil)
½ cup + 2 Tbsp green peas
¼ cup onion, finely chopped
1 tsp. fresh ginger, finely chopped
3 Tbsp. cilantro, finely chopped
Serrano pepper or jalapeno, finely chopped, to taste
1 tsp. ajwain or dried thyme
¼ tsp. hing (asafoetida powder) or garlic powder
½ tsp. turmeric
1 tsp. ground coriander
1 tsp. cumin
Himalayan rock salt (or sea salt) & black pepper to taste

Oil for deep frying, approx. 2 cups
Vegetable Samosa Recipe Instructions:
To make the dough, combine the flour and salt in a bowl. Add the oil, and with clean fingers, begin rubbing the oil into the flour, working the ingredients together for several minutes until the mixture resembles coarse crumbs. You should be able to take a handful of these crumbs and press them together into a mass that holds its shape. Gradually add the water by tablespoonfuls, combining with your hands until the mixture forms a stiff dough. Do not overwork the dough or knead it, as this will create a tough exterior for your samosas. When a stiff dough has been achieved, cover it with a moist cloth or a thin layer of oil and allow it to rest for 40 minutes. Alternatively, you may use store-bought puff pastry sheets or similar to wrap your samosas.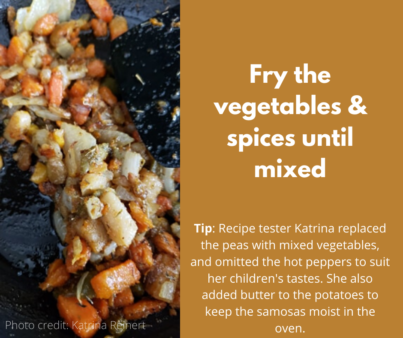 To prepare the filling, peel and boil the potatoes until they are cooked through. Drain and lightly smash them (do not mash them – simply crumble them into small chunks), then set aside. Heat the 2 Tbsp. oil on medium heat and, if you are using ajwain, add it to the oil to begin releasing the flavors (if you are substituting dried thyme, add it later, with the rest of the spices). Add the peas and onions and cook, stirring constantly, until the onions are soft and beginning to turn golden-brown. Add the fresh ginger, then the potatoes and the remaining ingredients, stirring until well-incorporated and cooked through. Remove from heat and allow to cool somewhat.
Break your samosa dough into about seven equal-sized balls, then roll them, one at a time, into elongated ovals around 6-7 inches in diameter. Cut these ovals in half, forming semi-circles, and use a bit of water to create a cone by pinching the straight edge in half (see video for demonstration). Add about 1-2 Tbsp. of the filling to this cone, careful not to overfill, then pinch the opening closed with a bit of water. Set aside for frying and continue until all samosas are filled, keeping the completed samosas covered with a moist cloth to prevent them from drying out.
Using a wok or other deep pan, heat 2 cups of deep-frying oil (good options include sunflower oil, peanut oil, and canola oil). Heat the oil on relatively low heat – when you drop a small piece of dough into the oil, it should take a few seconds to come to the surface. Carefully drop the samosas into the oil by sliding them down the sides of the wok. Fry only 4-5 samosas at a time, slowly, turning them with tongs as they brown. Watch them carefully until you have a feel for how long they take to cook. They may take 15 minutes or so to cook. When the samosas are firm and nicely browned, remove them to a plate lined with paper towels and begin frying the next batch.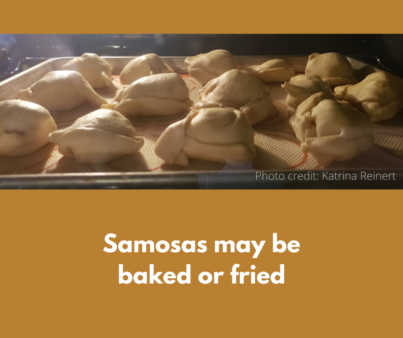 Baked Samosa Recipe Version:
With this Vegetable Samosa Recipe, you may also bake the samosas – once the samosas are shaped, lightly brush them with oil and bake on a cookie sheet at 350 degrees F. for 45 minutes or until golden brown.
Enjoy your vegetable samosas hot, ideally with your favorite chutney!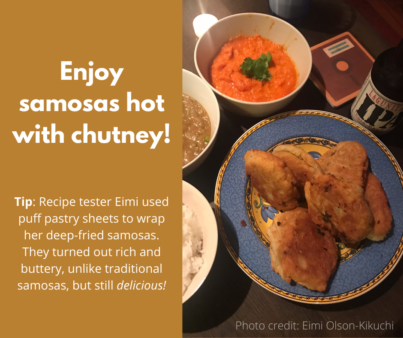 **Photo credits: Photos for this piece were provided by Shreemaya Shrestha, Eimi Olson-Kikuchi, and Katrina Reinert.**