October 8, 2021
AIDS Awareness Month & NYF's New Life Center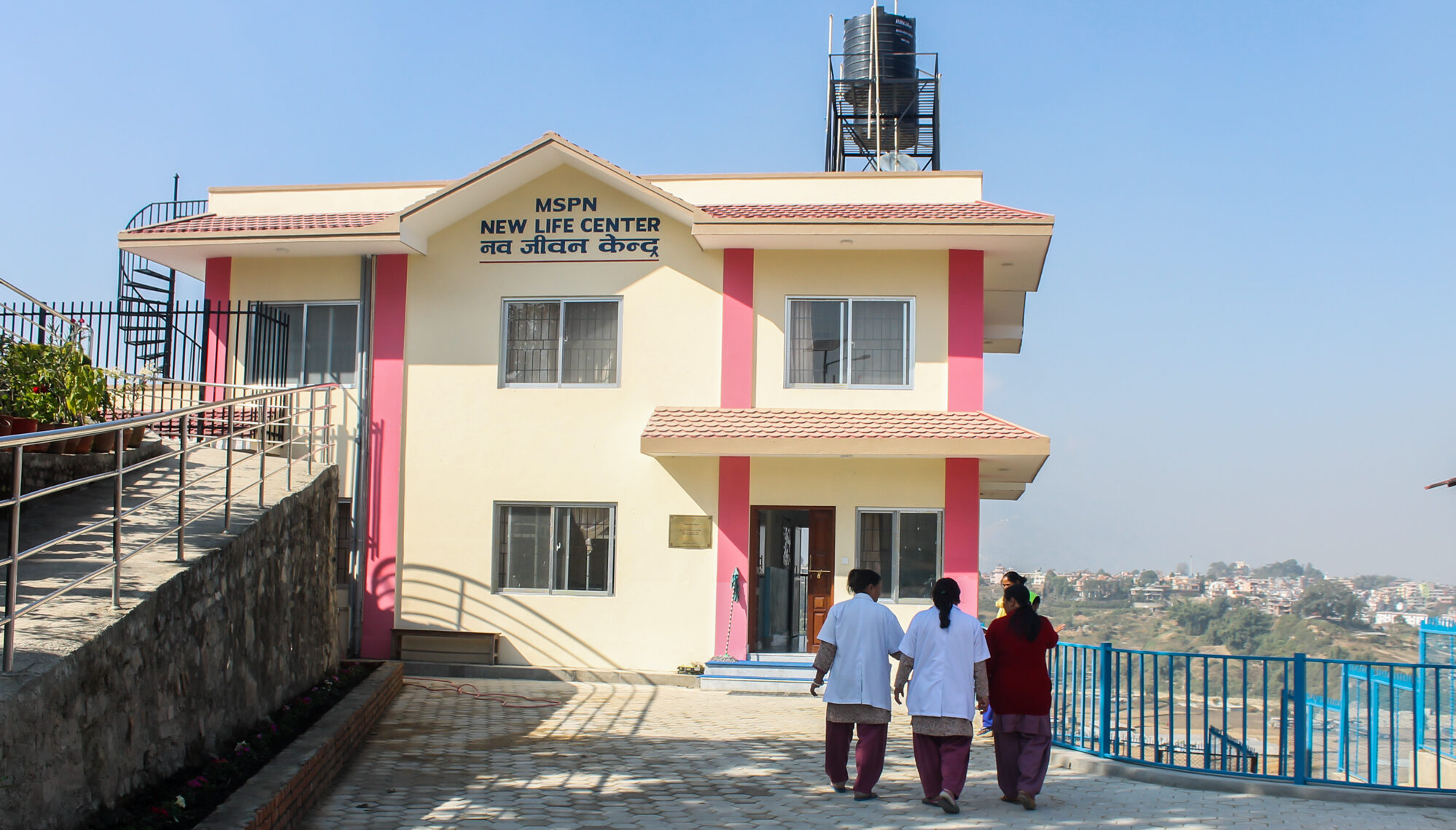 AIDS Awareness Month
AIDS Awareness Month occurs each October. This is an opportunity to share science-based, factual, and clear information about the disease—as well as ways members of the public can help those impacted.
Today, over 37 million people live with HIV worldwide. An estimated 50,200 of these people live in Nepal. Some of those infected are children.
The first diagnosis of HIV in Nepal was in 1988. Within that same year, the Nepali government launched its first response—the National AIDS Prevention and Control Program, led by committees based in both the national and local governments and health services.
But since the beginning, community-based organizations have been the strongest groups addressing HIV in the country. These groups work hard to ensure government resources reach the individuals who need them.
Please note: Due to the extreme level of stigma associated with HIV in Nepal, we take special care to preserve the privacy of our New Life Center children and families. We have blurred the faces of individuals throughout this article. The stories shared below are true, though we have changed all names and some identifying details. Children pictured are not the children from these stories.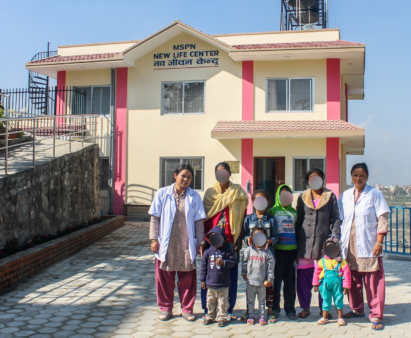 The New Life Center
NYF first joined the fight against HIV in 2006. We stepped into the network of community organizations to serve a vital role delivering special care to children living with this formidable virus.
NYF established the New Life Center (NLC) to provide specialized, supportive care to Nepali children living with HIV. We restore their bodies to health and make their lives not just longer, but more joyful. The NLC also educates caregivers of these children, teaching hygienic practices, nutrition, and the effective management of HIV. Counselors from Ankur Counseling center provide group and individual therapeutic interventions. After discharge, families unable to access the free medicine provided by the Nepali government benefit from delivery services by NLC staff.
New Life Center staff members include cooks, nurses, a nutritionist, a driver, and more, with hospital-based pediatricians visiting at least once a month during non-pandemic times. (We shared stories about our remarkable New Life Center nurses in 2020. Read more here!)
Treatment at the NLC
Capable of treating up to 18 child-mother pairs on-site at a time, the NLC strives to provide holistic residential care to between 50 and 60 children living with HIV each year (often alongside their mothers, who are often also living with HIV). A few children who have lost their parents and have no other options for guardianship remain in NYF care on a permanent basis. One-week residential services are provided to an additional 20 children during their routine follow-up visits to Kathmandu. Besides medical care at the NLC, patients also receive psychological support provided in partnership with NYF's Ankur Counseling Center. For discharged patients unable to access antiretroviral medication refills, NLC staff members deliver government-provided medication to remote villages throughout Nepal. In 2019, our team took took 180 such trips via motorbike.
AIDS Awareness Means Knowing the Challenges
People living with HIV/AIDS in Nepal face social isolation, medical neglect, and physical and emotional abandonment. Though the Nepali government offers HIV medication and other treatment programs free of charge, these services are difficult to access for patients in remote villages. Some hospitals still refuse care to affected people. Many children only receive a diagnosis after their fathers, and sometimes both parents, have died of the disease. Tragically, low diagnosis rates have resulted in some mothers unknowingly passing the virus to multiple children.
These children are at extremely high risk. HIV/AIDS is one of the most stigmatized illnesses in Nepal. Schools shut their doors. Non-infected children won't play with them. And they're banned from many village activities. As kids living with HIV/AIDS become desperately sick with opportunistic diseases and feel brutally ostracized, their quality of life plummets.
Problems related specifically to HIV/AIDS in Nepal—in particular where children are concerned—include:
(1) Scarce specialized programs for people living with HIV/AIDS, (2) limited access to available programs and resources, particularly for families in geographically remote villages, (3) cultural stigma and superstition around HIV/AIDS status, (4) low and late diagnosis rates, especially for rural communities, (5) parental death leaving behind orphan children unable to access care, (6) large families prioritizing uninfected children, (7) necessarily-long hospital stays for children receiving care, and (8) endemic malnutrition throughout the country. Pediatric malnutrition, the focus of many of NYF's programs, is a systemic issue impacting children throughout Nepal. But it poses a special threat to immunocompromised children like those living with HIV/AIDS.
NYF works closely with many other local organizations serving communities living with HIV to respond to these problems as effectively as possible.
---
AIDS Awareness in a Developing Nation
In developing nations like Nepal, there is often a sharp divide between urban areas (which are beginning to access and enjoy the technological and economic advances available in industrialized nations) and the rural areas (where infrastructure—like roads, running water, electrical connectivity, and internet access—does not yet exist to allow those advances to spread equitably).
Parents and caregivers for children living with HIV/AIDS in remote Nepal face heartbreaking dilemmas. True subsistence farming—an economic model nearly forgotten in the developed world—is still the reality for many throughout Nepal. Subsistence farmers grow food crops not to sell in marketplaces, but to feed themselves and their families throughout the year with little, if any, surplus. Many of Nepal's subsistence farmers struggle to produce enough food throughout the year.
A family's level of wealth or poverty is measured in part on how many months of the year they can achieve self-sufficiency.
All family members must participate in farming as much as possible. Ideally, they would manage to produce more in crop yields than they consume. Failing to do so may result in months of hunger for the entire family. In families wherein a father has passed away, and in which a mother of young children has learned (having become extremely sick herself) that she is now living with HIV/AIDS, the illness itself is only a piece of the greater extended family's dilemma. This is especially if accurate information about HIV is not available in the community. And if children at infected, the situation is worse.
For many, the choice of whether an adult should travel hundreds of miles to Kathmandu to find hospital care for one of their children—even care that is provided free of charge—is the impossible choice between healthcare for one family member versus food for them all.
Once the trip is made and the diagnosis of HIV/AIDS is confirmed, often not only for the child but for the parent as well, these caregivers must weigh the prognosis as they understand it culturally. They must bear in mind the stigma to come, the impact it will have on the entire family, and the seeming impossibility of stable, long-term medical care for a family living many rugged miles from the nearest provider.
Families who try to manage their child's illness often struggle, and many fail, in a system without a safety net. This is no one's fault. The challenge of pediatric HIV, within already-demanding circumstances, is devastating.
---
Pediatric AIDS Awareness
The children who visit the New Life Center are referred to NYF either through Nepal's hospital system (when a child arrives terribly sick and their HIV status is discovered) or through local HIV/AIDS advocacy organizations for adults (who are approached by caregivers searching for resources). Because pediatric HIV/AIDS requires specialized care, these groups know to send these children to us. Nepal Youth Foundation is highly trusted within the network of HIV resources in Nepal.
An average initial stay at the New Life Center lasts for three months. Families served here return fairly regularly for support. Because children's immune systems are not fully developed, children living with HIV get much sicker than adults. And they do so more often as well.
These children are exposed to all the same illnesses as other children, but even when their HIV is well-managed, their weakened immune systems struggle to fight effectively against common ailments like the flu, the common cold, urinary tract infections, and more.
Tuberculosis and pneumonia are special dangers for Nepalese children living with HIV.
Getting a child living with HIV safely across the age-15 threshold is a tremendous undertaking. But it is also extremely worthwhile to see these children regain their health, engage with their educational opportunities, and chase their dreams.
For many families, the New Life Center is an absolutely crucial piece of their journey with HIV, and our role in their lives lasts for years.
When each of these children reaches the milestone of their 15th birthday, they are considered adults in HIV-treatment terms. NYF facilitates connections with their local organizations for adults, ensuring seamless, continued support for the duration of their lifetime. These young people are full of promise and opportunity, having learned important skills for maintaining their health. In spite of intense cultural stigma, they also find found confidence in their own worth as human beings
Through extensive awareness campaigns and other interventions, Nepal's government has made remarkable progress in lowering the rates of mother-to-child HIV transmission. Doctors are diagnosing far fewer cases of pediatric HIV in recent years. Resources for these individuals are easier to access.
Unfortunately, many families are still unable to reach the care available in Nepal. This includes the significant time investment required to visit the New Life Center. This reality has been a challenge the New Life Center has grappled with in recent years, in the hopes of expanding our reach into more remote regions of Nepal. Since early 2020, at the start of the COVID-19 pandemic, our focus on this challenge has sharpened.
AIDS Awareness During COVID-19
When the COVID-19 pandemic began, we realized that the New Life Center patients would be safer in rural isolation than they would be in Kathmandu, and we sent them to their home villages. Only a few children remained at the NLC—those living completely under NYF's care.
We focused our efforts on maintaining contact with families over the telephone. Our staff often scheduled times when caregivers could visit a location with a stable phone connection. Caregivers would share information on their child's health status, and our staff members would provide them with advice and encouragement. This included advice to visit the nearest hospital when necessary, and the financial assistance necessary to do so.
In early 2021, the New Life Center staff organized a massive nutritional relief delivery trip. Our staff used as much care as possible and coordinated with four community-based NGOs working on HIV. We made deliveries in seven different districts across Nepal. Altogether, 167 families of children living with HIV received nutrition relief packages containing rice, legumes, oil, eggs, and other essential food items, plus a special hygiene kit to protect against COVID-19.
As we coordinated this care, our NLC team began to see new solutions to old problems.
---
Expanding Access with Home-Based Care
In 2021, the New Life Center is beginning a new phase of development, incorporating lessons learned during the pandemic into an expanded program beyond the walls of our dedicated facility.
Residential treatment will remain a valuable piece of the New Life Center's work. However, using our connections to other grassroots organizations, we are expanding our outreach capabilities.
New elements for the program will include more regular nutritional delivery visits, wrapped into our existing medication deliveries. These visits will now involve check-ups for the children. Our hope is that this will allow NLC staff members to catch warning signs early, making return trips to the New Life Center unnecessary. Home visits will also allow our staff members to make more personalized recommendations to families. These may include advice ranging from thoughts on hygiene best-practices to reasonably-simple garden additions. All should vastly improve family nutritional health.
Mothers in need of income generation help will also become eligible for some of our programs aimed at small business start-ups.
Ankur Counseling Center's role in this work will grow.
Previously, counseling services have focused on those currently staying in the New Life Center. Now, counseling will be available to children and caregivers over the telephone. This allows for a stable, sustained counseling experience which will help families cope with day-to-day challenges.
In coordination with our hospital friends and grassroots partners, NYF will expand our AIDS Awareness campaign efforts. Our team will share accurate information about the illness—including information about preventing the spread of HIV—in the hopes of alleviating cultural stigma. We will provide a telephone helpline for those hoping to keep their status private. And we will produce and distribute Nepali-language educational resources for caregivers.
Our hope is that by expanding our reach in this way, we can save and enrich many more lives—and help Nepal continue its progress in addressing this global challenge.
---
Spread Awareness!
To help us commemorate AIDS Awareness Month at Nepal Youth Foundation, please share our message on your social media, including the hashtags #AIDSAwarenessMonth and #LoveWorks.
Do you know anyone interested in supporting causes like global health or pediatric HIV healthcare? Take a moment this month to reach out and share our story. We would love to connect!
September 17, 2021
Updates from NYF President Som Paneru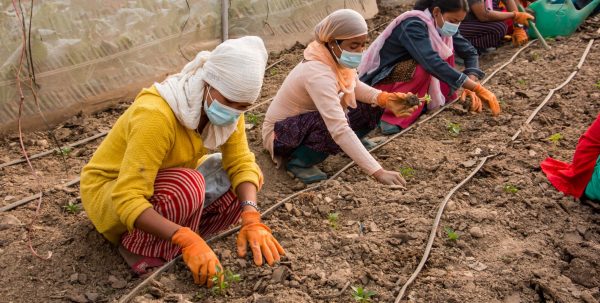 Dear NYF Community,
I hope you are all continuing to stay safe and healthy. Earlier this month, the Nepal government made an announcement to ease COVID-19 restrictions. Among other things, this included the physical re-opening of schools and public spaces. This decision has several impacts on our programs at NYF, and I am delighted to share these new updates with all of you.
---
COVID-19 Updates & Response Programs
NYF's COVID Isolation Center at our flagship Nutrition Rehabilitation Home (NRH) ran until September 16, 2021. Since its opening, we've admitted and treated more than 240 COVID-positive patients at our facilities. Following this recent government decision to re-open public spaces, NYF suspended isolation center services on September 17th to fully resume our regular NRH programming. We are continuing to produce Lito, our homemade "super" flour, at the NRH and are still distributing them to communities in need via the Lito for Life program. For more updates and information about our COVID-19 response, visit NYF's COVID Timeline.
---
Education
Until now, schools and colleges nationwide have been closed. Out of the 643 scholarship students NYF currently supports, 70% have been attending online classes run by their schools and colleges. After this most recent decision, most NYF children will likely be able to return to in-person classes later this fall. Additionally, after a massive COVID-related delay, the long-awaited examinations for grade 12 students finally took place on September 15, 2021. About 40 NYF students took the exam.
---
Vocational Education & Career Counseling
As you may recall, most of our vocational training programs were put on hold earlier this year. We are happy to announce that NYF has safely resumed some training programs in the electrical, welding, carpentry and plumbing trades. Effective last week, we have 4 vocational training satellite courses currently running. NYF is also preparing to complete 2 more Sustainable Agriculture and Entrepreneurship Trainings (SAAET) by the end of the year.
---
Nutrition Rehabilitation Homes (NRH) & Nutrition Camps
There are currently 8 children being treated at the NRH for malnourishment. We are expecting an increase in the number of admissions as we resume our regular services and programming. Our NYF nutrition staff is also busy strategizing how to safely conduct our regular nutrition camps this year.
---
New Life Center (NLC)
Due to travel restrictions brought about by COVID-19, patients had a difficult time traveling to the New Life Center in Kathmandu Valley to receive treatment. In order to increase access to supportive care for children living with HIV/AIDS in rural communities, NYF has redesigned the NLC program.
The aim of this redesign is to bring New Life Center resources to a larger population of children. To do so, we've moved beyond the "residential-treatment only" approach to an expanded "outreach and community-based" approach. According to the new plan, the NLC will cater residential services to approximately 20 children, while all the other services will be completed in rural communities via community outreach. These community outreach programs include awareness and advocacy, food and essentials delivery, financial support for caretakers, and tele-counseling services.
While this program will still be run from the NLC office in Kathmandu, we are excited to partner with a number of grassroots organizations — all doing incredible work in the communities we plan to serve.
---
Olgapuri Children's Village
First and foremost, all 71 children (and house parents!) at Olgapuri remain safe and healthy. This year, nine students will soon be moving out after graduating high school. We are so proud of each graduate, and look forward to seeing them go on to do incredible things!
---
Thank you for your support.
Friends, we are deeply grateful for your continued love and support for the children, young adults, and families in our care. Thank you, also, to our staff on the ground in Nepal and for their incredible work. As always, if you have any questions about these updates or would like more information about our programs in general, please don't hesitate to contact us at info@nepalyouthfoundation.org.
---
With gratitude,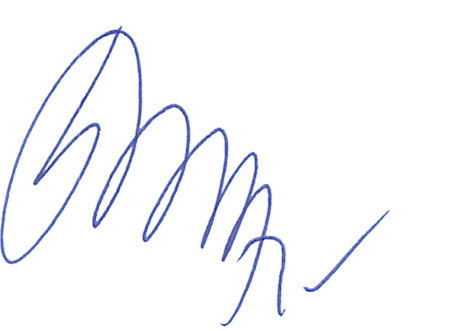 Som Paneru
NYF President
July 6, 2021
Olga Inspires on CBS Evening News: Still Sharing Her Life's Mission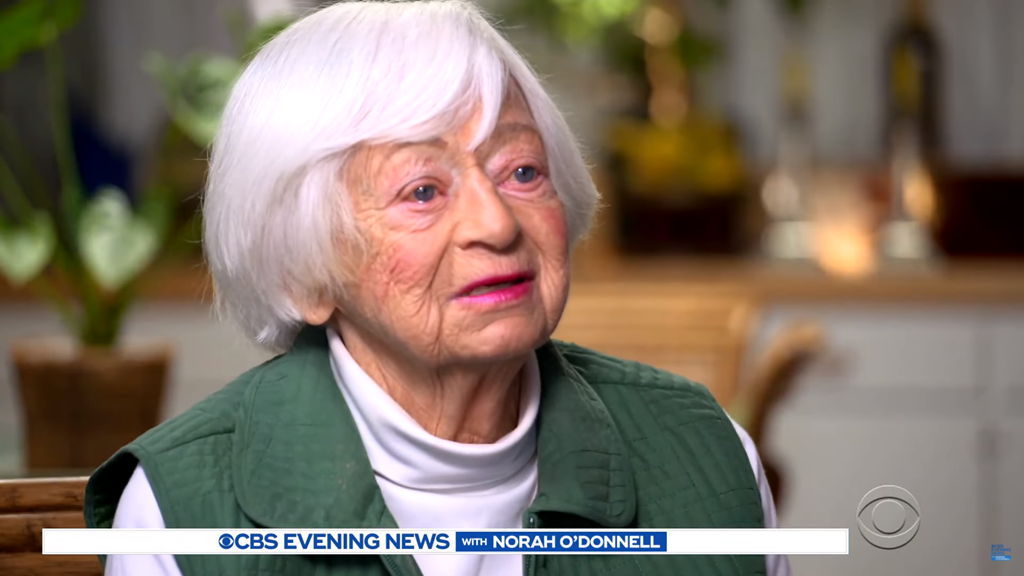 Olga inspires just about everyone she meets, so the NYF team was delighted when CBS Evening News with Norah O'Donnell asked to feature her recently.
Viewers who tuned in for the spot's original airing on the night of July 5th, 2021 learned a bit about Olga's mission: extending educational opportunities to Nepal's children, as well as providing health, freedom, and shelter.
We are so grateful to CBS News correspondent Jamie Yuccas for helping Olga inspire new audiences with her story of personal impact in a world that often downplays "women of a certain age". With support and solidarity from friends around the world, Olga and NYF are helping Nepali children chase their dreams and build brighter futures for themselves, their families, and their communities.
"I don't think about stopping," Olga says. And neither does the global NYF team. Thank you all for being part of this incredible continuing journey!
You can watch the full segment on YouTube or Facebook. CBS Evening News also tweeted about this special segment, which can be viewed here.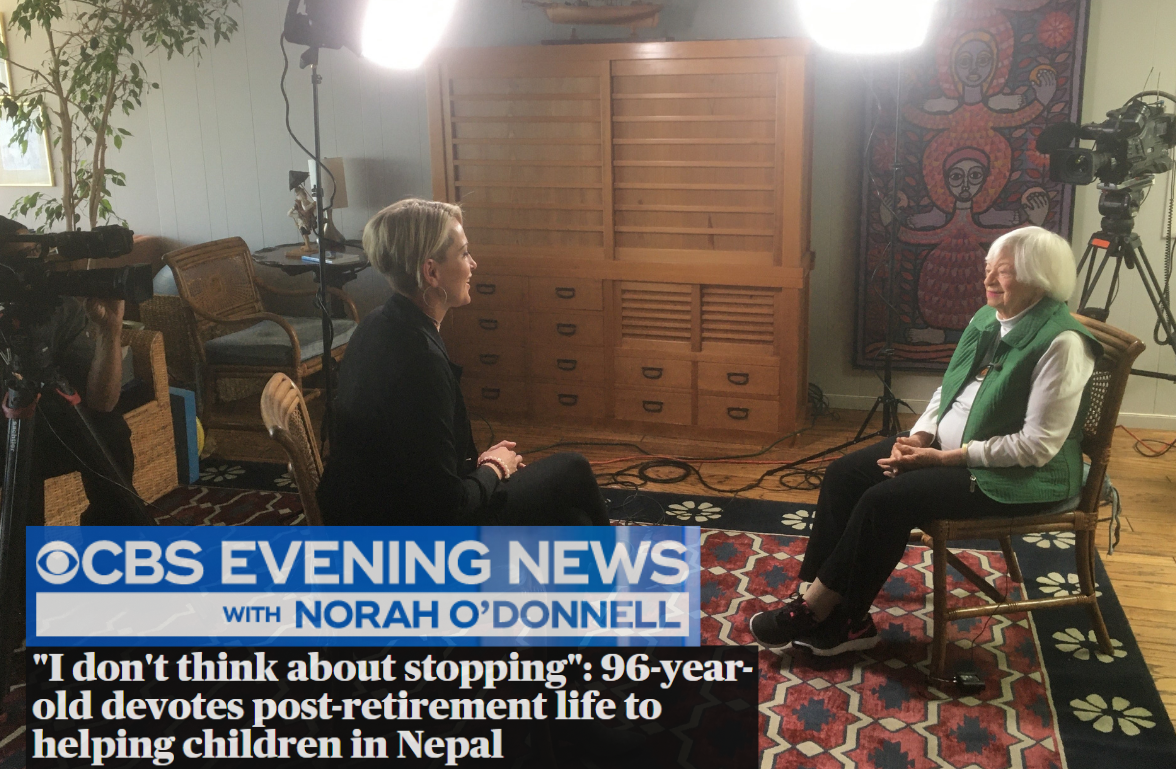 May 17, 2021
Purposeful Living & Olga Murray: A Celebration and an Invitation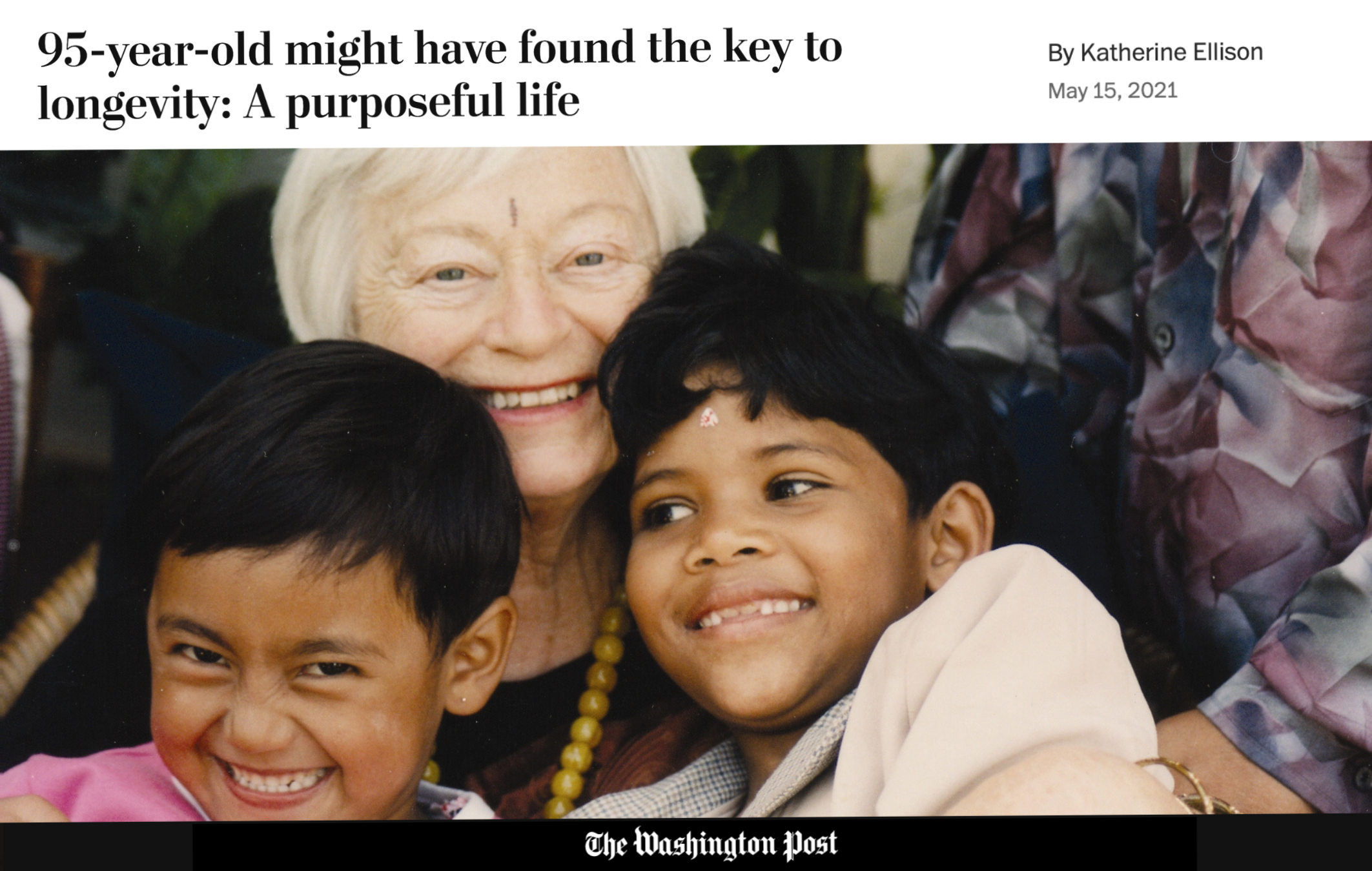 Purposeful living is the focus of a new Washington Post article about our very own founder, Olga Murray (click the link to open the article in a new tab – it is a beautiful tribute by Pulitzer-Prize winner Katherine Ellison!). Our beloved Olga, on the cusp of her 96th birthday, has been an inspiration during the past year of lockdowns and uncertainty.
' "I'm not a doctor," ' the article quotes Olga during a recent interview, ' "but I do know that when I get out of bed every morning and think that I might help a little kid in Nepal, I'm not focused on my body… My main focus is on the kids."
In her interview, Olga is characteristically modest. So much of Olga's work is driven by her belief in others. She believes in those she partners with at NYF, like President Som Paneru. She believes in her friends, her connections – all those generous donors who make her work possible. Most of all, she believes in the children of Nepal, and in the incredible things they can accomplish if given the proper opportunities. (Bishnu Chaudhary, the young woman freed from domestic slavery who recently passed the Nepalese bar exam, is just one example!)
Even with purposeful living fueling her longevity, "I'm not going to be around forever," Olga says pragmatically. "And the thing I want most in the world is for this program to go on."
The NYF community is determined to make that wish come true.
If you'd like to learn more (and to see Olga Murray live over Zoom!), click here to register for our upcoming virtual Founder's Day celebration! Join NYF's email list here.
To support NYF's mission during this challenging time – bringing Education, Health, Shelter, and Freedom to Nepali children – please donate here. For more powerful impact, consider making yours a monthly donation!